Why Did You Choose Healthcare Administration?
With hundreds of staff, dozens of interlocking systems and thousands of patients, managing a hospital or healthcare facility demands a keen mind and a gift for organization. If these attributes apply to you, a career in healthcare administration could be a great fit. The field is growing rapidly, and because of career opportunities an increasing number of students are choosing healthcare administration when seeking a bachelor's degree, turning their skills to the complex and rewarding work of coordinating our most vital institutions.
The program focuses on building cutting-edge capabilities in a field that's growing rapidly. New healthcare technologies, especially those related to electronic medical records, mean that demand for qualified healthcare administrators is skyrocketing. The Bureau of Labor Statistics projects a 20% increase in medical and health services manager positions from 2016 through 2026, along with a median annual salary of more than $98,350. That's well ahead of many other positions outside and even within the healthcare industry.
Diverse sectors of the healthcare field await graduates of the bachelor's in healthcare administration program, including hospitals, government agencies, pharmaceutical companies and even consulting firms. The world of medicine has never been more complex or more in need of ambitious minds.
Of course, the work engages every aspect of students' professional and academic abilities. This field deals with more than just technology and regulation. The core curriculum also focuses on creating strong stakeholder teams, understanding the specific economics of the industry, and acquiring strong management techniques.
Learning how to run a medical organization means learning how to build strong cultures, interpret complex data and propose changes to improve the overall efficiency and development of a team. It means growing your knowledge in the fields of policy, administration, ethics and information technology. It means challenging yourself on the professional and the academic level to move into the next stage of your career.
A Challenging and Rewarding Career Path
Students working toward a bachelor's degree in Healthcare Management hail from diverse backgrounds. Some, like Olivia Maynard, SNHU Class of 2015, relate professional and personal experiences when asked 'why did you choose healthcare administration?'
"My passion for healthcare started when I became pregnant with my son in 2008. I found the world of pregnancy and obstetrics fascinating, and always told myself that once I got my feet back on the ground, I would go back to school full-time," she said. "I graduated with my associate in medical billing & coding, and I received cum laude honors. I took a full year off school and decided with my family that my potential was not fully used, so I enrolled myself, here at SNHU, in late 2013."
For someone who has already worked on the frontline of the administrative side of healthcare, a higher degree unlocks new possibilities and challenges. Prior experience represents one key motivator - and a big advantage.
Others, like Berness Swan, seek new challenges while keeping past commitments. "I decided to go back to school after so many years for two reasons," he told SNHU. "The first being to keep a promise to my parents, who unfortunately have both passed away, and the second being to achieve a certain level in life. I have the support of my wife and my advisor, Bryon Favreau. Both have been instrumental in my success so far at SNHU."
Flexibility and Practicality
SNHU's online healthcare administration degree is flexible and practical, even for those students working full-time.
"SNHU was not only affordable, but seemed to have the set of courses I would need for healthcare management where I am working now," Angela Lehoux, Class of 2016, said. "The admission process was easy. All of my questions were answered. Much to my surprise, I qualified for financial aid. I also discovered there is tuition reimbursement through work. The courses are online; I work from home, set my own hours and my family is willing to help out with anything that needs to be done, so I can go back to school. "
Find out more about the tuition, courses and requirements for the Bachelor's of Science in Healthcare Administration at SNHU.
Explore more content like this article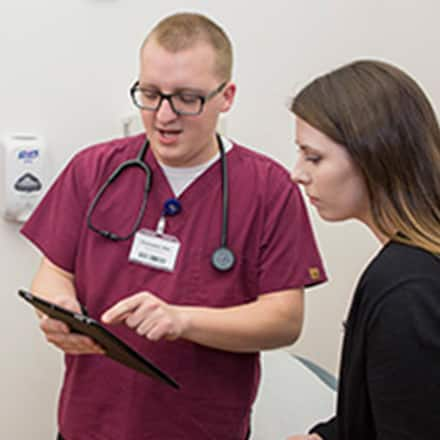 October 14, 2021
So many career paths can leave new and seasoned nurses alike wondering which specialty is right for them. To help, we've compiled a list of the 16 types of nurses employers are looking to hire, including information on salary, growth potential and required nursing degrees.
October 05, 2021
Both the nursing profession and some employers are calling on registered nurses (RNs) to obtain a Bachelor of Science in Nursing (BSN) to improve safety and help prepare for future healthcare challenges.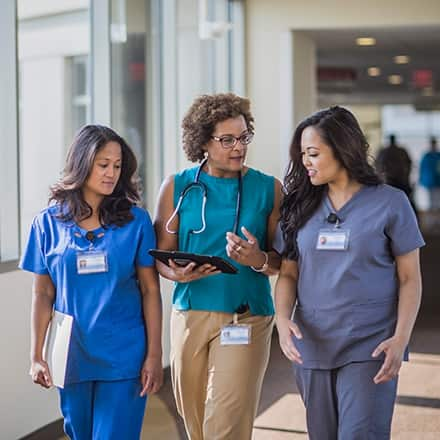 September 30, 2021
While nursing has always been a respected career, many people don't know that there are actually several different levels of nursing degrees and many different specialties available.