How Long Does it Take to Get a Master's Degree?
How long it takes to get a master's degree depends on you and the program you choose. Your degree, college, desired pacing and personal goals are all factors to consider. Typically, it can take you about two years from start to finish. In some cases, you can finish in less time, and in others, you may want more time to progress through your courses or may need longer to meet specific program requirements.
If you're mapping out your career goals, a master's degree may be a critical step to help you get where you want to be. You'll want to consider how and when the credential can help you, as well as what goes into the master's degree journey.
Which Degree is a Master's Degree?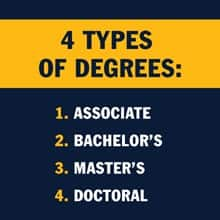 Wondering what a master's degree is, exactly? It's a graduate degree some people choose to earn to gain mastery in a particular subject. Sometimes it's for personal fulfillment, but often it can help you advance in your current career or start a new one.
A master's degree is one of four types of degrees – the third highest when considering them in hierarchical order:
Associate
Bachelor's
Master's
Doctoral
One difference between a bachelor's and a master's is the order in which you earn them. To get your master's degree, you must have a bachelor's degree under your belt.
Many times, your master's degree does not need to be in the same subject as your bachelor's; however, some master's programs require you to have a specific bachelor's degree. For example, if you want to earn your Master of Science in Nursing (MSN), you'll first need a Bachelor of Science in Nursing (BSN).
How Long Does it Take to Earn a Master's Degree?
One of the biggest variables when it comes to the length of a master's degree is the number of credits. While bachelor's degrees are typically 120 credits, making them 4-year degrees, master's programs can range from 30-60 credits. For example, a master's in creative writing at Southern New Hampshire University (SNHU) is 36 credits, while a Master of Fine Arts (MFA) in Creative Writing is 48 credits.
The standard master's program could take you as few as 15 months to complete, while the MFA program – a terminal degree—might take closer to two years. A terminal degree means you have reached the highest level of education in that particular academic discipline.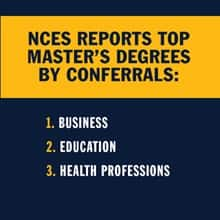 In addition to the varying program lengths, institutions operate on different schedules. Traditional campuses often have semesters that are 15 weeks in length. Other schools may offer shorter terms year-round. At SNHU, for instance, master's degree classes are 10 weeks long, and you have the option to take one (part-time) or two (full-time) courses each term. If you take the maximum course load without taking a term off, you could get about 30 credits done in one year.
How you progress through your program is up to you and your timeline. When you enroll, you can work with an academic advisor to determine how many classes you can take per term and whether you'll need any terms off or wish to plug away at your degree year-round.
It's important to note that your timeline can be flexible too, and your academic advisor can help you adjust it as needed. For example, you might start by taking one class at a time and later decide you want to double up one term. Or, if you know a particular time of year is busy for you, you may opt to take just one course during that time – or take the term off altogether.
Can You Get a Master's in 2 Years?
Absolutely! Most master's degree programs will take an average of two years from start to finish – about half of the time it takes to earn your bachelor's degree. While bachelor's degree programs involve many introductory and general education courses, a master's degree curriculum is all about the subject area you selected to study.
As you consider your reasoning for getting a master's degree and your anticipated graduation date, completing a master's degree in two years is a reasonable goal to set for yourself.
Can You Finish a Master's in 1 Year?
Many college programs are designed with time in mind, and you may be wondering just how quickly you can finish your master's degree. A Master of Business Administration (MBA) at SNHU takes about one year to complete. Plus, you have a choice of more than 15 concentrations – such as accounting, human resources, marketing and project management – that help you narrow your focus to the part of business you enjoy.
If finishing fast is your priority, be sure to do your research – find an accredited college or university with a program that works with your interests, career goals and timeline.
What Does it Take to Get a Master's Degree?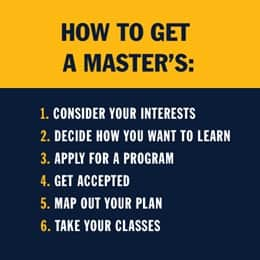 If you're ready to take your education to the next level and are wondering how to get a master's degree, you can follow these steps:
Step 1: Consider your interests, experiences and goals. What do you want to study? Would a particular subject be helpful in your current career? If you're looking to change your career, what degree would help you move into your desired field? If you're getting your master's out of personal fulfillment, what interests you or excites you most?
Step 2: Decide how you want to learn. Do you prefer to attend classes face-to-face on a traditional college campus? Or would taking online classes better suit your busy schedule? Do some research on your desired school and ensure it has the proper accreditations and offers your intended program. Don't be afraid to talk to an admission counselor – ask questions and determine whether the school feels like the right fit.
Step 3: Apply for a program. Once you've picked a college or university you'd like to attend and decided on your major, you will need to apply. Applications vary by institution and program, but they will generally ensure you have met any requirements needed to enroll – such as a letter of interest or portfolio item. You will also need to provide information about your previous education. Some institutions will need you to obtain an official transcript, while others will take care of that step for you.
Step 4: Get accepted. Waiting for an acceptance call or email may feel like the most challenging part of the whole process, especially if you need to wait for a specified acceptance period. Some schools, such as SNHU, have rolling admission, so you'll likely hear back from an admission counselor sooner.
Step 5: Map out a plan with your advisor. Once you're accepted, an academic advisor will explain how classes work and walk you through any questions or concerns you might have. Your advisor will also discuss what courses and electives your program offers, help you map out a tentative timeline and register you for classes.
Step 6: Take your classes. No matter how you're pacing your degree program or which classes you're taking, earning a master's takes commitment, discipline and work. As you navigate through your courses, motivation is key, and each semester or term gets you one step closer to receiving your diploma.
All master's programs take time. If you choose to pursue your master's online, the good news is that you can consider an online degree at your own pace. Asynchronous classes are available 24/7, meaning you can do coursework at whatever time makes sense for you. With set deadlines each week, you'll know what to expect and can plan your schedule accordingly.
Some schools, such as SNHU, also offer around-the-clock support from the online learning center, meaning you can connect with a tutor no matter the hour.
Is it Hard to Get a Master's Degree?
A master's degree should be rigorous, and it's designed to challenge you. That being said, it's also manageable if you put in time and effort. Consider time management strategies to help you stay on track and know it's okay to step away for a little bit to recharge and refocus.
You can also lean on the people supporting you as you get this degree. Whether it's a family member, friend, co-worker, advisor, instructor, tutor – or maybe all of the above – there are people in your corner that you can turn to for encouragement and help along the way.
Which Master's Degree is Most in Demand in the US?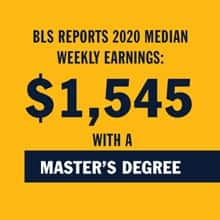 You can get a master's degree in a wide range of subjects – from history to nursing, cyber security to finance and everything in-between. If you're wondering what some of the most popular programs people choose, the National Center for Education Statistics (NCES) found that more than half of all master's degrees conferred in the 2018-19 school year were in:
Employees with a master's level education took in a median of $1,545 in weekly earnings last year, the U.S. Bureau of Labor Statistics reported. That's $240 more than those at the bachelor's level, indicating that the time you put into your studies can pay off in the end.
If you're ready to advance your education, learn how you can get a master's degree.
Rebecca LeBoeuf '18 is a writer at Southern New Hampshire University. Connect with her on LinkedIn.
Explore more content like this article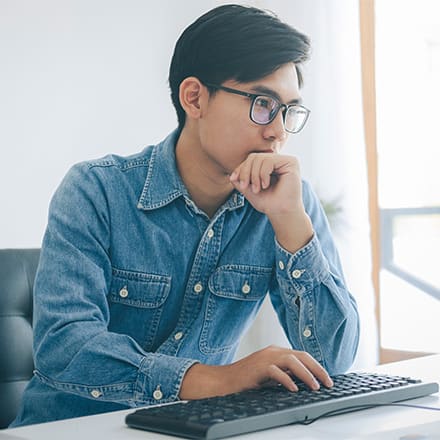 October 15, 2021
Generally taking only two years to complete, an associate degree provides foundational academic knowledge and technical expertise for a variety of career fields without the time and financial investment of a four-year degree.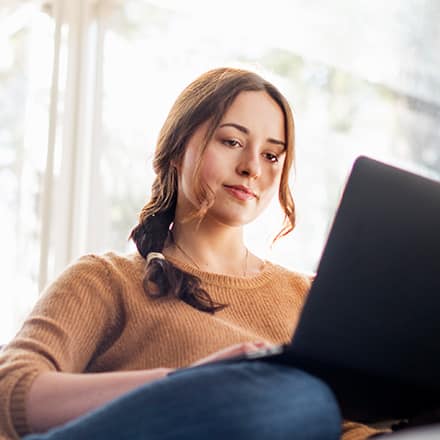 October 13, 2021
Choosing the right MA degree is a matter of your current accomplishments – academic and professional – and your goals for the future. Which MA degree is right for you will depend on your current career and where you want to go from here.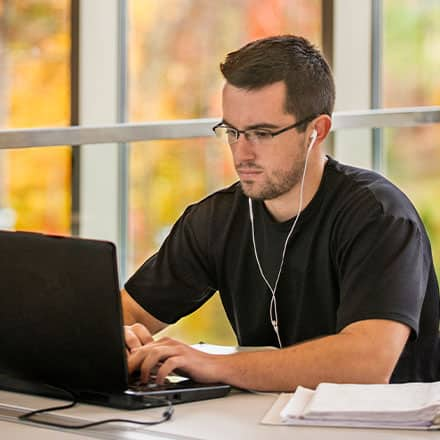 October 12, 2021
There's a clear benefit to getting an associate degree. Workers with an associate degree had median weekly earnings of $862, $132 more than people with a high school diploma alone, according to BLS.