Master Management Online
$637/credit (36 credits total)
Transfer up to 12 graduate credits
Complete in as few as 15 months, or at your own pace
Program accredited by ACBSP
Learn soft skills for management
3 industry-targeted concentrations
Master's in Management Online Program Overview
Effectively manage people and projects with a Master of Science in Management online degree.
This graduate degree in management seeks to equip current and aspiring managers with the people and project skills to be flexible, responsive and resilient in the face of unprecedented business challenges.
At Southern New Hampshire University, you'll have the opportunity to develop advanced management skills in a variety of areas and contexts. By earning your master's in management, you can become a professional who supports an organization's mission, values and goals while getting the most out of its teams, resources and processes.
To specialize your knowledge even further, you can choose from 3 concentrations: construction management, emergency management and healthcare.
What You'll Learn
Methods for supporting & developing talent
Communication & business relationship skills

Critical thinking, data analysis & ethical reasoning applications
Integration methods for project management tools
Strategies to articulate the importance of data & analysis
How You'll Learn
At SNHU, you'll get support from day 1 to graduation and beyond. And with no set class times, 24/7 access to the online classroom and helpful learning resources along the way, you'll have everything you need to reach your goals.
Concentration Options
Build up a skill set that helps you plan and manage aspects of the construction process when you earn your master's in construction management online concentration through the MS in Management program.
Courses may include:
Construction Budgeting, Estimating & Bidding
Construction Law and Contracts
Construction Materials & Methods
Construction Quality Management and Productivity
Develop the skills that allow you to prepare for and respond to crises, natural disasters and security threats when you earn an online master's in emergency management concentration through the MS in Management program.
Courses may include:
Applied Emergency Management
Disaster Response and Recovery
Emergency Planning and Preparedness
Principles of Emergency Management
The healthcare industry is full of opportunity, with a strong, upward trajectory of double-digit job growth projections – more than twice the growth expected in all occupations.1
The need for well-educated professionals at the helm of that growth is more important than ever before. Healthcare management provides unique opportunities to combine the best in business standards with highly focused healthcare principles, concepts, systems and practices.
Southern New Hampshire University's Master of Science in Management with a concentration in Healthcare degree can help set you up with the people and project management skills needed to be flexible, responsive and resilient when faced with complex business challenges. At the same time, it can provide critical knowledge integral to strategic decision-making and promotion of continuous, enterprise-wide healthcare quality improvement.
"The healthcare concentration prepares graduates to promote continuous quality improvement to reform our healthcare system through theories, skills, practices and techniques students apply throughout the curriculum," said Dr. Michelle Caron, associate dean of graduate business programs at SNHU. "Students also have the opportunity to explore how healthcare information management systems support and transform patient care."
The master's in healthcare management degree program provides a dynamic fusion of vital business principles with a solid concentration in healthcare. Among the business principles you'll explore are:
Effective business communication
Leadership
Organizational culture and brand
Project management
Strategic planning
Talent support and development
Core management courses enable graduates to embrace broad opportunities in a variety of organizations, while concentration courses allow for more focused managerial positions within healthcare.
Career outlook:
Healthcare is the largest industry in the U.S. – and still growing. The U.S. Bureau of Labor Statistics (BLS) projects more than 2 million new healthcare jobs between 2021 and 2031, more than any of the other occupational groups. According to the BLS, employment of medical and health services managers is projected to grow 28% through 2031, much faster than the average for all occupations.1
SNHU's program continues to evolve to meet marketplace demand, helping position you for success in procuring management roles in the healthcare segment and other diverse industries.
According to the American College of Healthcare Executives (ACHE), healthcare executives are needed in many settings2, including:
Consulting firms
Healthcare associations
Hospitals
Long-term care facilities
Mental health organizations
Public health departments
Universities and research institutions
And with recent world events, the need for qualified medical and health service managers is even higher.
"The demand for medical and health service managers was exceptionally high prior to COVID-19 and will likely surpass anticipated projections in light of the global pandemic," Caron said. "Healthcare is one of the largest employers and healthcare executives are called upon to successfully lead broad service networks."
Courses may include:
Health Policy and Law
Healthcare Information Management
Healthcare Quality
Healthcare Reimbursement Systems and Finance
If it's a leadership position you seek, you may also be interested in an online master's in healthcare administration.
Career Outlook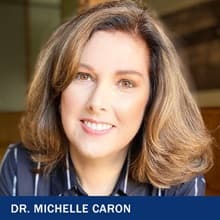 Today's managers are tasked with a multitude of strategic and tactical responsibilities, and the master's in management online was designed to prepare you to be an agile and adaptive leader.
"There has never been a better time to earn a master's in management," said Dr. Michelle Caron, associate dean. "COVID-19 has brought to light efficiencies that developed out of necessity versus innovation and these will remain in place for a myriad of industries."
Job Growth
According to the U.S. Bureau of Labor Statistics, management occupations are expected to grow 8% through 2031.1
Salary
The median annual salary for management occupations was $102,450 in 2021.1
This degree prepares managers for an ever-changing and increasingly connected world, and the problem-solving, critical thinking and creativity you'll learn in the program could benefit any industry.
The MS in Management is the ideal degree for individuals looking to move to that next step in their organization, into a managerial and leadership role.
Because aside from the business skills that you'll learn with your Master of Science, you'll have the opportunity to develop much-needed soft skills – the qualities that can turn a manager into an inspiring leader. Characteristics like:
Communication: Knowing how to talk to a team and individuals – as well as understanding when it's important to hear what others are saying – can take you further.
Problem-solving: Crucial to moving business forward, this skill can help you thrive and advance in the workplace.
Purpose: Fully understanding the "why" of your organization and living its mission can help the team better connect to the overall strategic goals.
Trustworthiness: No one wants a micromanager, so being able to build a relationship based on transparency and motivation can help both parties do more.
Employee recognition: By showing that you've noticed the great work your staff is doing, you build loyalty among your team and to your organization.
When you combine the job requirements of hard skills with workforce-necessary soft skills, the versatility of this master's degree is boundless.
Where Could You Work?
Construction
Plan, coordinate, budget and supervise construction projects from start to finish.
Corporations
Manage stakeholder teams and direct operations to keep businesses running smoothly.
Public Relations
Direct the creation of materials that will enhance the public image of an employer or client.
Government
Map out strategies and policies to ensure that an organization meets its goals.
Healthcare
Plan and direct a medical facility's services to ensure patients are offered top care.
Nonprofits
Expand awareness of an organization and further their mission through events/fundraisers.
Start Your Journey Toward an Online Management Degree
Why SNHU For Your Master's in Management
Flexible
With no set class meeting times, you can learn on your schedule and access online course materials 24/7.
Affordable
As part of our mission to make higher education more accessible, we're committed to keeping our tuition rates low. In fact, we offer some of the lowest online tuition rates in the nation.
Prior coursework and work experience could also help you save time and money. SNHU's transfer policy allows you to transfer up to 12 credits from your previous institution. You could also earn college credit for previous work experience.
Respected
Founded in 1932, Southern New Hampshire University is a private, nonprofit institution with over 160,000 graduates across the country. SNHU is accredited by the New England Commission of Higher Education (NECHE), a regional accreditor, which advocates for institutional improvement and public assurance of quality.
Recently, SNHU has been nationally recognized for leading the way toward more innovative, affordable and achievable education:
"Most Innovative" regional university honors from U.S. News & World Report each year since 2015
A $1 million grant from Google.org to explore soft skills assessments for high-need youth
Recognition as a 2017 Digital Learning Innovator by the Online Learning Consortium
Network
At Southern New Hampshire University, you'll have access to a powerful network of more than 300,000 students, alumni and staff that can help support you long after graduation. Our instructors offer relevant, real-world expertise to help you understand and navigate the field. Plus, with our growing, nationwide alumni network, you'll have the potential to tap into a number of internship and career opportunities.
93.6% of online students would recommend SNHU (according to a 2022 survey with 17,000+ respondents). Discover why SNHU may be right for you.
Expanding access to quality higher education means removing the barriers that may stand between you and your degree. That's why you can apply at any time and get a decision within days of submitting all required materials:
Acceptance decisions are made on a rolling basis throughout the year for our 5 graduate terms.
If you're ready to apply, follow these simple steps to get the process going:
Preparing You for Success

Cera Wilson '21
"My degree has paid dividends already. It has increased my ability to make change... from the minute the program started through post-graduation, it has had such a powerful impact on my performance."
Courses & Curriculum
Focus on management, support and development of people in the real world with the online MS in Management curriculum. Emphasis is placed on the philosophy, science and practice of effective management.
The degree curriculum is a balanced mixture of conflict negotiation, project and people management and strategic leadership. A blend of management across multiple areas can give learners a holistic, managerial experience adaptable to any industry.
The program consists of 8 core courses that focus on such crucial leadership topics as:
Communication
Culture
Decision making
Human behavior
Project management
Research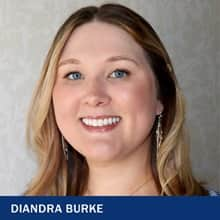 Diandra Burke-Costa '21 was able to put those leadership skills to work – at work.

"In many ways, this academic program guided me into my current senior specialist role at the company," said Burke-Costa, who chose the healthcare management concentration. "I remember watching my management team handle situations and relating them to what we were learning about in class. I could relate what I was working on with my leadership and work experience."
You then have the option to choose 4 elective courses in the general management track, or specialize your degree with courses that ladder up to one of 3 concentrations:
Construction management: Analyze projects within various industries to plan, implement and manage critical aspects of the construction process.
Emergency management: Evaluate crisis, emergency and disaster management strategies to plan, prepare and respond to critical threats and events.
Healthcare: Navigate the intersection of healthcare finance and reimbursement, policy and information management in modeling strategic decision-making that promotes continuous healthcare quality improvement within organizations.
For students who have little or no business background, we can help set you up for success with a Business Foundations course prior to starting the program. This class gives you the tools you need to better understand basic business terms, finance and market concepts.
Overall, the curriculum focuses on developing your leadership skills to help you assess a variety of situations, make critical decisions and strategically address the ever-increasing demand to "do more with less." The end result: reflective practitioners who are competent, lifelong learners in their approach to management in a wide variety of fields and industries.
List of Courses
Courses May Include
MS in Management Online
MGT 510
Cultivating Organizational Culture
Business leaders are responsible for cultivating, maintaining, and fostering an organizational culture that accurately represents the organization internally and externally, encourages and supports people, and holds organizational members accountable to the vision, mission, and goals of a business. This course provides students with the skills, theories, and practices necessary to identify a strong culture that permeates the ethics, decision-making, and behaviors of the organization. Students will work through advanced cases and apply these experiences to their own learning and organizations.
MGT 600
Resource Planning and Decision Making
This course serves as an advanced exploration into ill-structured situations requiring strategic plans and effective resource management. Students are asked to develop strategies around personnel management, budget allocation, performance metrics, and goal setting. This course prepares students for the advanced concentration courses in their area and serves as a precursor to the integrated capstone experience.
MGT 701
Critical Issues in Management Capstone
This capstone course is the culminating experience for the M.S. in Management program. The aim of the capstone is to assess students' ability to synthesize and integrate the knowledge and skills they have developed throughout their coursework, rather than introducing new concepts. This course is structured to support student success in fulfilling program requirements.
OL 500
Human Behavior in Organizations
This course is a study of individuals and groups and their interaction. Students examine theories of motivation, communication, leadership, power and change with practical relation to contemporary issues. They also study organizations for key design variables and reward systems aimed at improved performance and organizational efficiency through employee motivational programs, participative management and cooperative decision making.
OL 600
Strategic Human Resource Management
Examine key regulatory procedures and human resource requirements as they relate to applications in organizations. Analyze the strategic role of the human resource manager in performing functions of recruitment, hiring, training, career development and other contemporary processes within the organizational setting. Study concepts aligned with the Society for Human Resource Management (SHRM) Body of Competency and Knowledge (BoCK).
QSO 500
Business Research
This course presents an overview of the various primary and secondary research methodologies used in the business world and the application of statistical techniques to those strategies. The focus of this course is the design and execution of a practical, primary research. It is recommended that this course be one of the first three taken in degree programs in which it is required.
QSO 640
Project Management
This course includes the study of concepts, tools, and practices of project management. The course adopts a managerial process approach to Project Management, which consists of initiating, planning, executing, controlling and closing the project. Major topics will include project scope, project time, project cost, project quality, project risk, project resources, project communications and how to be an effective project manager. Cases are utilized to integrate the learning in the course and provide decision- making experience for the student.
Total Credits: 36
Minimum Hardware Requirements
| Component Type | PC (Windows OS) | Apple (Mac OS) |
| --- | --- | --- |
| Operating System | Currently supported operating system from Microsoft. | Currently supported operating system from Apple. |
| Memory (RAM) | 8GB or higher | 8GB or higher |
| Hard Drive | 100GB or higher | 100GB or higher |
| Antivirus Software | Required for campus students. Strongly recommended for online students. | Required for campus students. Strongly recommended for online students. |
| SNHU Purchase Programs | | |
| Internet/ Bandwidth | 5 Mbps Download, 1 Mbps Upload and less than 100 ms Latency | 5 Mbps Download, 1 Mbps Upload and less than 100 ms Latency |
Notes:
Laptop or desktop?  Whichever you choose depends on your personal preference and work style, though laptops tend to offer more flexibility.
Note:  Chromebooks (Chrome OS) and iPads (iOS) do not meet the minimum requirements for coursework at SNHU. These offer limited functionality and do not work with some course technologies. They are not acceptable as the only device you use for coursework. While these devices are convenient and may be used for some course functions, they cannot be your primary device. SNHU does, however, have an affordable laptop option that it recommends: Dell Latitude 3301 with Windows 10.
Office 365 Pro Plus is available free of charge to all SNHU students and faculty. The Office suite will remain free while you are a student at SNHU. Upon graduation you may convert to a paid subscription if you wish. Terms subject to change at Microsoft's discretion. Review system requirements for Microsoft 365 plans for business, education and government.
Antivirus software: Check with your ISP as they may offer antivirus software free of charge to subscribers.

Tuition & Fees
Tuition rates for SNHU's online degree programs are among the lowest in the nation. We offer a 25% tuition discount for U.S. service members, both full and part time, and the spouses of those on active duty.
Online Graduate Programs
Per Course
Per Credit Hour
Annual Cost for 15 credits
Degree/Certificates
$1,911
$637
$9,555
Degree/Certificates
(U.S. service members, both full and part time, and the spouses of those on active duty)*
$1,410
$470
$7,050
Tuition rates are subject to change and are reviewed annually.
*Note: students receiving this rate are not eligible for additional discounts.
Additional Costs:
Course Materials ($ varies by course)
Frequently Asked Questions
What is a master's in management studies?
A master's in management studies gives current and aspiring managers the skills they need to be flexible and responsive leaders in the face of evolving business challenges.
A graduate degree in management can prepare you to assess management issues, think critically to make important decisions and strategically lead others toward a common goal.
"Since being enrolled in this program, I have had the opportunity to become an operation battalion chief, as well as a fire marshal," said Paul Lindley '21. "I have not only learned vital management traits, but I have now applied them in my new position. I was able to step into this new role, with an immense amount of knowledge to where outside people did not know I was newly appointed to my managerial position."
You'll learn how to develop talent and grow teams, guide organizational change and build relationships across an organization. You'll also explore how to track business performance and measure key financial metrics to make data-driven decisions.
"This [MS Management] program specifically has helped me see our organization in a new light," said Cera Wilson '21. "How we are structured, how we approach change management, and how we collaborate as a team."
With concentrations in construction management, emergency management and healthcare, this master's degree in management can equip you with industry-specific skills that prepare you to lead in these fields.
What are my concentration options for the MS Management program?
At SNHU, we offer 3 MS in Management concentration options, each built to fit your desired career track. They are:
Construction management. "Construction Management is a high-demand, lucrative field with 6-figure earning potential," said Dr. Michelle Caron, associate dean of graduate business programs at SNHU.
"There's a growing need for business development managers and construction managers with specialized skillsets in planning and coordinating project budgets, as well as monitoring compliance with safety codes and regulations. There is also an opportunity to expand and promote quickly in this industry."
Our construction management concentration is unique, she says, in that it's highly focused on practical application.
"This concentration offers exceptional learning opportunities that are immediately applicable to the industry," she said. "Students are taken on a journey that begins with detailing the schedule, scope and cost of a project to comparing construction materials, methods and equipment."
"Along the way, the inclusion of real-world case studies brings the course to life for learners as they explore quality control processes, construction law, and risk assessment as essential components developed to prepare students for work in the field."
Emergency management. This concentration gives graduates the tools and education they need to develop and navigate crisis management plans for an organization.
"Emergency Management is exceptionally relevant amidst the current challenges of COVID-19," said Caron.
"Disaster Response and Recovery is an essential component to the curriculum as it builds necessary skills, such as collaboration and communication skills with multiple stakeholders, including critical incident stress with the public."
Healthcare. Last, but not least, is healthcare. This concentration empowers graduates to succeed as managers in healthcare – another high-demand field given the recent pandemic.
The curriculum for the healthcare concentration at SNHU was developed by experienced healthcare industry professionals who understand the challenges today's leaders face.
You'll learn specialized skills to help prepare you for leadership in areas such as clinical services, health and wellness, healthcare operations, public relations and business development.
"Being a healthcare leader comes with its own unique challenges," said Cera Wilson '21. "Often we are scientists by trade, trying to understand business perspectives and principles. Even more so, healthcare finance, laws, and policies are unique. This program is a great opportunity to grow oneself as a leader and a healthcare provider."
Earning a management degree can prepare you to take on a new leadership role, expand your knowledge to grow in a current management job or help you stand out when applying for a new position or promotion.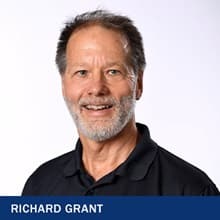 "Through education, managers can build knowledge that will help in the decision-making process. Managers can learn the theoretical framework that will then get applied on the job," said SNHU career advisor Rich Grant. "Master's degrees can be a way to hone a manager's grasp of the industry and business functions for an organization."
That's what Janet Patton '22 needed in her healthcare role.
"I noticed that people with a business background think about things differently," she said. "I realized that it would be helpful to understand their thought process and speak their language. Each of the program courses provided useful information along the way that I can take back to my work in healthcare," which was also the degree concentration she chose.
Earning a master's in management also has the potential to boost your pay and further your career in a growing field.
According to the U.S. Bureau of Labor Statistics (BLS), the median annual wage for management occupations was $102,450 in May 2021.1 On average, workers with a master's degree earn more than their peers with a bachelor's degree. In 2022, master's degree holders earned a median weekly salary of $1,574, compared to $1,334 for bachelor's degree holders – an 18% pay increase.1
What kind of jobs can I get with a master's in management?
A manager oversees the productivity and interpersonal relationships of a working group and are usually responsible for supporting both the day-to-day operations and the long-term strategic goals of an organization.
A master's in management will provide the key organizational and logistical skills you need to be an agile and adaptive leader across a variety of organizations and industries.
The critical-thinking skills you'll learn in SNHU's online master's in management program can help you land management positions in nonprofit organizations, government agencies, public and private organizations, and startups or global institutions.
Jobs for management master's degree holders1 may include:
Advertising, promotions and marketing managers: Coordinate with various departments to produce marketing and advertising campaigns and conduct market research to promote a product or service. 2021 median pay, according to BLS: $133,380.
Construction managers: Plan, coordinate and supervise construction projects from start to finish, including preparing cost estimates, tracking spending and collaborating with architects, designers and clients. 2021 median pay, according to BLS: $98,890.
Emergency management directors: Plan, prepare for and lead the response to natural disasters and other emergencies in coordination with public safety officials, elected officials, nonprofit organizations and government agencies. 2021 median pay, according to BLS: $76,730.
Human resources managers: Oversee the recruiting, interviewing and hiring of new staff, consult with top executives on strategic planning, and serve as a link between an organization's management and its employees. 2021 median pay, according to BLS: $126,230.
Medical and health services managers: Plan, direct and coordinate medical and health services, including the management of finances, regulatory compliance and facility staff. 2021 median pay, according to BLS: $101,340.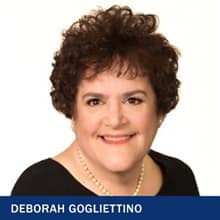 According to BLS, management jobs are projected to grow 8% through 2031, resulting in about 883,900 new jobs.1
"There is always going to be a need for skilled organizational leaders – today, tomorrow and afterward," said Deborah Gogliettino, faculty lead for human resources at SNHU. "Organizations will always embrace someone who can bring a vision, especially one of growth and sustainability. That's a trend I don't ever see going away."
What is the difference between an MBA and a master's in management?
Both a master's degree in management and an MBA can prepare you to take on a leadership position across many industries, but the 2 degree programs do vary in their course offerings.
In SNHU's master's in management degree program, the emphasis is placed on the philosophy, science and practice of effective management. Courses focus on decision-making, human behavior, corporate communications and project management.
MBA degree programs place more emphasis on general business skills, exploring themes like ethics, communication and social responsibility. MBA courses include financial analysis, business law, economics, statistics and operations management, in addition to specific management courses.
At SNHU, online MBA concentrations are available to dive deeper into specific fields of management, including:
Related Articles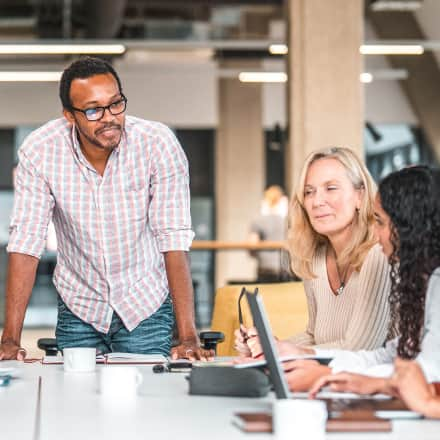 Whether building processes for multi-national businesses or identifying logistical hurdles to save costs, operations managers keep organizations running. If you're interested in driving efficiency at work, see if operations management is the right career path for you.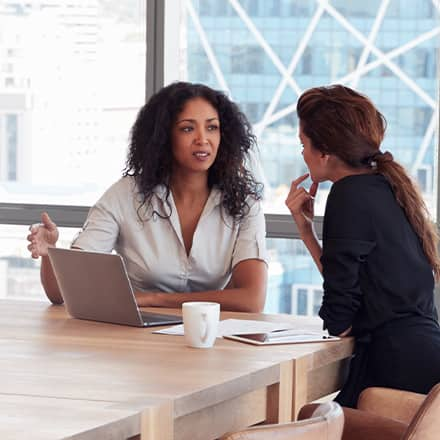 Human resources is an integral part of any organization, playing a key role in the strength and vitality of its workforce. While HR roles can vary, the overall goal of the field is the same: to support employee recruitment, retention, engagement and overall productivity.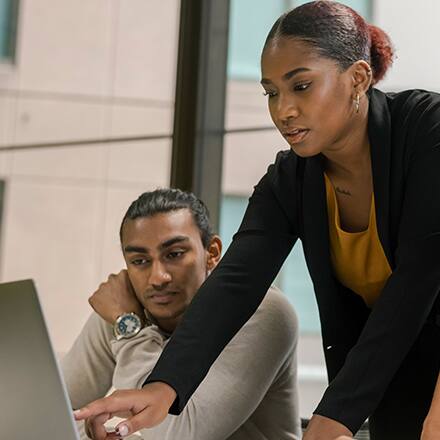 A business degree is a course of study that allows you to explore the business world. Studying business offers students a lot in terms of preparation for the workplace. Being skill-forward and workplace-relevant keeps business degrees positioned as one of the most popular degree fields around.
References
Sources & Citations (1, 2)
1Bureau of Labor Statistics, U.S. Department of Labor, Occupational Outlook Handbook, on the internet, at:
https://www.bls.gov/ooh/healthcare/home.htm (viewed Nov. 4, 2022)
https://www.bls.gov/ooh/management/medical-and-health-services-managers.htm (viewed Nov. 4, 2022)
https://www.bls.gov/ooh/management/home.htm (viewed Nov. 4, 2022)
https://www.bls.gov/emp/chart-unemployment-earnings-education.htm (viewed Nov. 4, 2022)
https://www.bls.gov/ooh/management/administrative-services-managers.htm (viewed Nov. 4, 2022)
https://www.bls.gov/ooh/management/advertising-promotions-and-marketing-managers.htm (viewed Nov. 4, 2022)
https://www.bls.gov/ooh/management/financial-managers.htm (viewed Nov. 4, 2022)
https://www.bls.gov/ooh/management/construction-managers.htm (viewed Nov. 4, 2022)
https://www.bls.gov/ooh/management/emergency-management-directors.htm (viewed Nov. 4, 2022)
https://www.bls.gov/ooh/management/human-resources-managers.htm (viewed Nov. 4, 2022)
https://www.bls.gov/oes/2018/may/oes111021.htm (viewed Nov. 4, 2022)
Cited projections may not reflect local and/or short-term economic or job conditions and do not guarantee actual job growth.
2American College of Healthcare Executives, "Your Career as a Healthcare Executive," on the internet, at https://www.ache.org/career-resource-center/special-groups/resources-for-students-and-early-careerists/your-career-as-a-healthcare-executive (viewed Sept. 24, 2021)