Expert Offers Safe Online Shopping Tips
The holiday shopping season is over, but it still pays to be smart when you provide personal information while shopping online. Dr. Denise Kinsey, a technical program facilitator in SNHU's cybersecurity program provides advice and best practices to protect your identity.
What are the latest cyber scams going on?
Many of us are very busy, and scammers take advantage of our lack of time and instinct to move through emails as quickly as possible. We need to suppress any urge to breeze through our inbox and carefully review any email that appears important from our creditors. Do not respond to the email, in case it is a phishing attempt, but do check what is being shared with you so actions can be taken to limit damage and inconvenience if necessary. If an email states that your credit account has been compromised, you should reach out to your creditor. Do not respond to the email. Call the number on the back of your credit card or reach out to the lender directly on their website or give them a call.
Clicking the links or responding to the scams can have long term consequences including loss of money, fraudulent charges or accounts opened, personal information leaked for later use, and ransomware, which encrypts your hard drive and locks you out of your data until you pay the ransom. Another scam on the rise is a bit lower tech using the phone. Scammers will call pretending to be a family member - often a child or grandchild - in desperate need of rescue from arrest, kidnapping, etc. These scammers prey on our emotions to protect the ones we love anyway we can.
What are some ways to beat/avoid being hacked, etc?
Check your credit report. It is so easy to do and it's free.
Be careful when clicking links or opening attachments in emails. Any clicking of a link allows access to your system and information.
Install antivirus software on all devices. For phones go to the App Store and search for antivirus or free antivirus. There are many good, free options available. This can help avoid 80% of malware attempts.
Create strong, long passwords that are unique to each device or account. Studies show that the longer the password the better.
Verify online vendors. Customer reviews may not be real. When making an online purchase the address/URL should change to include a lock at the left of the address or in the bottom corner of the screen to denote it is a secure communication when you enter your credit card number.
Try to use only one credit card so if it is compromised you will have others to help get you through your necessary purchases until the fraud is resolved.
Do not use open/free Wi-Fi for purchases or to authenticate with any account.
About Southern New Hampshire University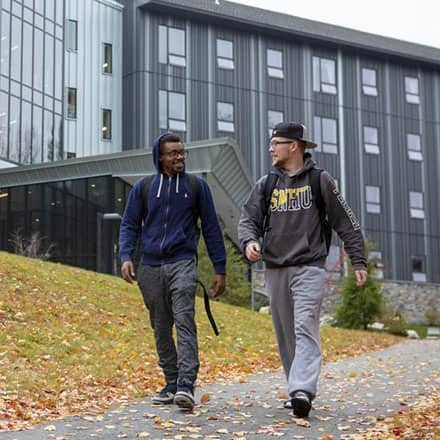 SNHU is a nonprofit, accredited university with a mission to make high-quality education more accessible and affordable for everyone.
Founded in 1932, and online since 1995, we've helped countless students reach their goals with flexible, career-focused programs. Our 300-acre campus in Manchester, NH is home to over 3,000 students, and we serve over 135,000 students online. Visit our about SNHU page to learn more about our mission, accreditations, leadership team, national recognitions and awards.