Jesús Suárez: Honoring His Father's Legacy Through His Degree
The moment Jesús Suárez '21 received his diploma in the mail was one he and his family will never forget.
"Once I opened it, it was real," Suárez said. "I walked through the finish line. I got it. It's a fabulous feeling to have. No one can take that feeling away."
Suárez's partner, John, who captured the milestone with his phone, echoes the feeling.
"When Jesús opened his diploma, I knew what a big moment it was for him," John said. "It was an overwhelming feeling of emotion."
For both of them, this was more than a degree—it was a cap to an incredible journey. While there was a series of hardships along the way, there was a persevering sense of love and accomplishment.
A Father's Dream for His Sons
Born in a small town in Mexico, Suárez moved to the U.S. when he was a child—a move fueled by the support of his dad.
"The story goes that I told my dad I wanted to learn English," he said. "So he moved us to a small town in Texas, where I was raised."
The move, Suárez says, was reflective of a bigger goal. "My dad's thing was: Education was very important," he said. "My dad only had a 6th grade education. He wanted his sons to have more."
'I Felt a Connection'
As an adult, Suárez knew he wanted to achieve his goal of earning a degree. The problem was, as hard as he tried, life kept getting in the way.
But that all changed when he talked to someone at Southern New Hampshire University (SNHU).
"I knew SNHU was trustworthy in that first call," Suárez said. "Once I got to talk to my advisor, I felt like a friend was going this route with me. We just clicked."
For the first time ever, Suárez didn't feel like a number. "I felt I met somebody who cared about my studies and cared about what I was trying to accomplish," he said. "I didn't feel judged about the 10-year gap from when I first started school to now. I felt a connection. And that's what allowed me to continue and move forward with my degree."
Beyond support, Suárez was also able to use his prior college experience to help him reach his goals faster. "I was able to transfer a lot of my credits from previous schools," he said. "It made it easier for me, knowing I didn't have to start all over again."
'It Was My Calling'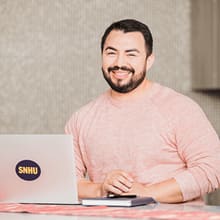 When it came to choosing the degree program, Suárez knew exactly what he wanted: an online bachelor's in graphic design and media arts.
"Part of my job is coming up with themes and events and workplace experiences," he said. "I had to work with branding a lot. It's all about colors and logos and things like that."
By digging deeper into the principles of design and getting feedback from his instructors—all of whom had real-world experience in their field—Suárez found himself speaking a new language at work.
"Funny story: I was just minding my own business, and the branding team was having a meeting, and they were talking about colors," he said. "And I just turned to them, like an expert, because I'd just taken color theory, and I said 'yes, that is monochromatic.' I felt so good because I knew what they were talking about."
What started as an interest soon became a passion. "The online program at SNHU, it was amazing," he said. "It showed me that it was my calling. This is what I was meant to do."
A Team of Support
Fueled by the support of SNHU and his family, Suárez found ways to navigate through the program. He would plan around weekly benchmarks: discussion posts on Thursday, papers and assignments on Sunday.
Meanwhile, John showed his support by taking care of daily tasks—like chores, bills and meals—so Suárez could remain focused on his studies.
"The way that I was able to support him was to help him not worry about anything besides school," John said. "And it took me a while to figure that out because I thought I needed to help him with his studies. But I just had to get out of the way. Let him focus on doing him, and let that be the only thing he has to focus on."
His academic advisor, Chad Payson, also kept him on track. "My advisor was holding my hand all the whole way through," Suárez said. "He was there. He supported me with getting me the classes and making sure I followed the path."
He had another supporter in his corner—the man who inspired his love of learning from the very beginning.
"My dad was one of the reasons I went back and was one of the biggest supporters I had," he said. "He always asked me: how is school going? Are you okay with school? What do you need?"
This was exactly what Suárez needed to keep going.
"For him, it was always a push," he said. "I always knew that he wanted what was best for me."
The Final Push
Suárez, it seemed, had found his groove. But in 2019, during one of his terms, the unthinkable happened: his father passed away. He was devastated.
"SNHU, and the staff and advisors and teachers, they were so amazing, and they understood that hardships happen," he said. "I had to withdraw from the class, and I got full support. They cared about my feelings."
Suárez took time to grieve. And in the process, he rediscovered the support his father always gave him.
"When I learned he left me money to finish my education, it was the final push," he said. "It was like: you've got to finish this. There's no reason you can't. He had my back. And he made sure, if he wasn't going to be there, he was still going to be pushing me. Without him, I wouldn't have had that extra push."
'I Feel So Powerful'
Today, Suárez uses his degree to live a life that would make his father proud.
"The way that I feel about myself now that I've earned my degree: I feel so powerful," he said. "My biggest thing is self-confidence. This is something I never thought that I was going to accomplish; now it's like: I can do a lot."
This newfound confidence didn't go unnoticed by the people around him, either. Everyone, from advisors and teachers to colleagues and family, saw the difference as Suárez found his voice.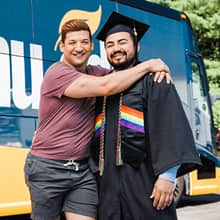 "If you see Jesús, remember his name and his face because he is just the type of person you know will change the world," said Payson. "He brings out the best in people just by being himself."
As much as his degree helped prepare him for professional success, it marked another major life goal, too.
"Me and John have been together for 15 years," Suárez said. "He always said, if you want children, you have to get your degree first. So, I finished my degree, and now I can say that we're expecting." Come December, the couple will be celebrating the arrival of their first child.
Suárez is now living a life he'd only ever dreamed of—and it means more because of the support he's had along the way.
"I did this for myself, I did this for my partner and I did it for my dad," he said.
While his father is not here to celebrate this important milestone with him, Suárez knows just what he'd say to him if he was.
"I would tell him: I did it," he said. "Yo lo hice y lo hice con tu ayuda. I made it with your help, with your support. And this degree, part of it is for you. Es parte de ti y por ti."
Consider how a bachelor's degree can change your life.
Spencer Hensel is a copywriter in higher education. Connect with him on LinkedIn.
Explore more content like this article
October 20, 2021
Interested in starting a new job or advancing in your current field? An Associate of Arts (AA) degree can give you the broad-based education and in-demand career skills you need to reach your goals. Learn more about earning an AA degree and what you can do with one.
October 07, 2021
A communications major is a great way to prepare yourself for a career in fields ranging from media relations and journalism to marketing, corporate communications and many more.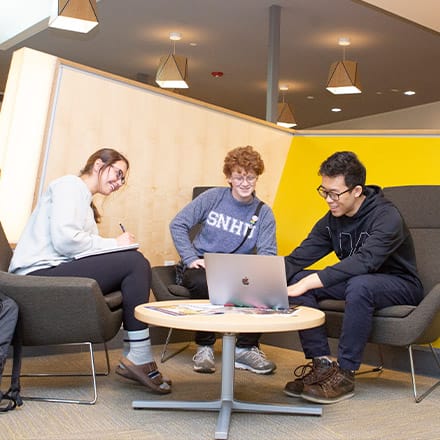 October 04, 2021
Liberal arts majors are strong communicators, who bring creativity and critical thinking to the table. If you're willing to be flexible in your search and smart about branding yourself, you can find there are many opportunities.