What Can I Do with a Master's in History?
A master's in history allows you to deepen your knowledge of the people, places and events of the past and make meaningful connections to what's happening today.
Whether you're interested in ancient history or the causes and implications of the Civil War, a graduate degree in history can prepare you for careers in which you can share your understanding and interpretations of the past with others.
Master's in History Jobs
Looking to advance your career? There are many opportunities available for history majors, but a master's in history prepare you to become a teacher, historian, archivist, political scientist - or even an archaeologist. In addition, it builds a solid foundation for further study in law or education, according to the American Historical Association.
Here are a few popular careers:
How to Get a Master's Degree in History
Because a graduate degree in history is versatile and not tied to any one career path, you can pursue a variety of jobs in the public, nonprofit and private sectors, according to U.S. News and World Report. No matter what period or region you choose to study, you'll gain the tools and knowledge you need to analyze the past to determine why leaders, governments or cultures evolved in a specific way.
In today's history graduate programs, you focus less on memorizing dates and facts. For example, students enrolled in the online master's in history program at Southern New Hampshire University analyze historical data, hone their research skills, and create their own documents. Whether you want to specialize and develop expertise in a niche time period, or develop skills to help you land a management role; a graduate degree in history sharpens your research, writing and critical thinking skills. Advanced study in history also prepares you to enter the growing field of public history, or "history beyond the walls of the classroom," where you can bring historical artifacts and documents to life in various community settings, including museums and historical sites, according to the National Council on Public History.
The best history graduate programs incorporate new technology into their programs, ensuring that you are able to access information and present your research on the web and in other digital formats. That's why coursework often requires tapping into high-tech programs to conduct research, digitize records, and catalog artifacts. In fact, many world heritage sites have been re-created by historians, thanks to technologies such as 3-D digitization, projection, and printing, according to a commentary in Fortune.
With a graduate degree in history, you'll be well equipped to apply your research and understanding of the past in a rewarding career that allows you to share your passion in a variety of ways.
Krysten Godfrey Maddocks '11 is a writer and marketing/communication professional. Connect with her on LinkedIn.
Explore more content like this article
October 20, 2021
Interested in starting a new job or advancing in your current field? An Associate of Arts (AA) degree can give you the broad-based education and in-demand career skills you need to reach your goals. Learn more about earning an AA degree and what you can do with one.
October 07, 2021
A communications major is a great way to prepare yourself for a career in fields ranging from media relations and journalism to marketing, corporate communications and many more.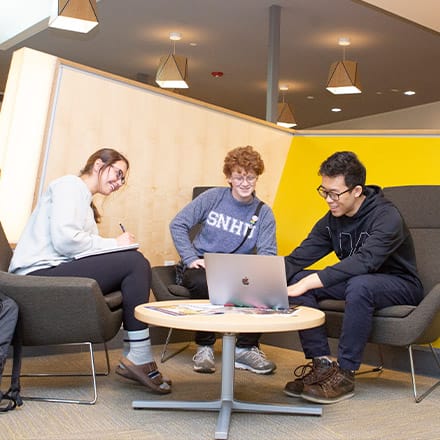 October 04, 2021
Liberal arts majors are strong communicators, who bring creativity and critical thinking to the table. If you're willing to be flexible in your search and smart about branding yourself, you can find there are many opportunities.