What Can You Do With A History Degree?
A bachelor's degree in history deepens your understanding of the world and opens the doors to jobs that demand strong research, writing and presentation skills – key competencies today's employers demand. Furthermore, an undergraduate degree in history builds a solid foundation for students looking to pursue professional careers in the areas of academia, public administration or law.
There are many reasons students choose to major in the broad field of history. Some study American history because they are interested in a particular time period; others want to deepen their knowledge of European, Middle Eastern or medieval history. Veterans and others might wish to explore the rich tradition of our country's military history.
"History gives us a sense of what people have gone through in their lives and how it has shaped our political environment," said Rob Denning, associate dean of history at Southern New Hampshire University (SNHU). "It's good to be able to understand why a particular industry is in the position it's in – for better or for worse. Somebody graduating with a bachelor's degree in history will by no means be an expert in all aspects of history, but they will come out trained to be able to find the data to help explain it."
What Are the Benefits of Studying History?
Historians are trained to study patterns and perspectives. While history does not exactly repeat itself, it does "rhyme," according to Natalie Sweet, a history instructor at SNHU, who also works as a public historian at the Abraham Lincoln Library and Museum in Harrogate, Tennessee.
Public history refers to history applied to real-world issues to increase the understanding of the general public. Public historians often interpret history to school and community groups, focusing on a particular topic, historical time frame or historic location. They might be referred to as historical consultants, museum professionals, oral historians, cultural resource managers, curators or community activists, according to The National Council on Public History.
Part of Sweet's role includes educating school and senior groups about her museum's 35,000-piece collection, all dedicated to the life of former President Abraham Lincoln.
One of the benefits of studying history is understanding how we might have reacted to historic events that are similar to what happens in our daily lives.
"Lincoln's son died of typhoid and we have a lock of his hair … people are still affected by this story 157 years later. The humanities help people in the sciences think of how they might respond to a family receiving that news," she said.
According to an article published by Peter N. Stearns for the American Historical Society, studying history not only helps us understand what drives human behavior, but it also can be useful in the workforce. It helps us better comprehend:
People and societies;
Change and how our modern-day cultures came to be;
Self-identity;
Our role as citizens.
Students engaged in the study of history are able to review primary and secondary source materials to make educated inferences on a variety of things. They develop the ability to:
Assess evidence
Evaluate conflicting interpretations
Understand and recognize past examples of change
What Can a History Degree Lead To?
From teachers to journalists and archivists to public historians, individuals with history degrees find themselves directly prepared for variety of jobs. However, many history majors are also well-equipped for other careers in the business, government and nonprofit sectors.
You may be wondering, 'what are some jobs I can do with a history degree?' Here are a few popular roles for history majors.
History Majors Can Often Find Work in Business, IT and Creative Fields, Too
Historical thinking skills are widely marketable to a number of employers. It's important for history majors to spend time networking and positioning their skills to hiring managers both in-person and online to show how their academic backgrounds correlate to the work they'd be doing in a professional role, according to Glassdoor.
While a history degree may not seemingly lead to a career as directly as a STEM degree, the critical thinking skills students develop studying history teach them the soft skills hiring managers across industry sectors look for in candidates.
David Numme, associate dean of STEM at SNHU, earned his undergraduate degree in history, but has worked in a variety of information technology roles since then. His experience mirrors other IT industry giants who chose to major in history, such as Carly Fiorina (ex-CEO of Hewlett-Packard) and Susan Wojcicki (CEO of YouTube).
"Many famous technology leaders effectively used their framework in history as a launching pad," Numme said.
More and more often, business and technology leaders find themselves wrestling with the ethical implications of their work, thanks to the power of artificial intelligence and advances in data science. History provides experts with the "ethical guardrails" people should consider as they explore this new frontier, he said.
History majors can find themselves to be well-suited for a host of creative jobs, too. Dr. Christopher Chan, a member of the adjunct history faculty at SNHU, works as a public historian, where he spends much of his time researching Agatha Christie novels and writing articles and games for AgathaChristie.com. He holds a bachelor's degree in history and English and completed graduate work in modern American history and library and information science.
His interest in the mystery genre, research, writing and presentation skills made him a perfect match for this niche "dream job."
"I'm a private investigator who writes about only fictional crimes," Chan said. "It's a case of digging around and getting the story behind the book."
No matter what your motivation for studying history may be, a bachelor's degree can prepare you for a variety of careers that benefit professionals who are able to deftly gather facts and data to offer useful insights for their organizations.
Krysten Godfrey Maddocks '11 is a writer and marketing/communication professional. Connect with her on LinkedIn.
Explore more content like this article
October 20, 2021
Interested in starting a new job or advancing in your current field? An Associate of Arts (AA) degree can give you the broad-based education and in-demand career skills you need to reach your goals. Learn more about earning an AA degree and what you can do with one.
October 07, 2021
A communications major is a great way to prepare yourself for a career in fields ranging from media relations and journalism to marketing, corporate communications and many more.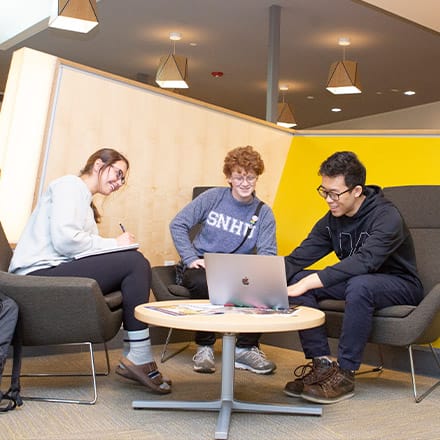 October 04, 2021
Liberal arts majors are strong communicators, who bring creativity and critical thinking to the table. If you're willing to be flexible in your search and smart about branding yourself, you can find there are many opportunities.