Service Member Receives Special Diploma Delivery in Hawaii
On a Tuesday morning at Fort Shafter, Hawaii, Staff Sergeant Diana Tafoya Sanchez took her final steps toward her undergraduate degree. For the last four years, she has been working toward a bachelor's in business administration at SNHU while serving in the U.S. Army, and in early July, she celebrated her hard-earned success with a special diploma delivery.
The 25-year-old California native said the graduation celebration was her motivation throughout her final classes and late-night study sessions. "All I could think about is the day that (the USO and SNHU) were coming here," Tafoya Sanchez said.
Since her enlistment in 2014, Tafoya Sanchez has worked as a human resources specialist, which is why she decided to pursue an HR management concentration with her bachelor's degree. Her interest in human resources began before the military when she became a nurse's assistant in California and worked with the HR department during the hiring process.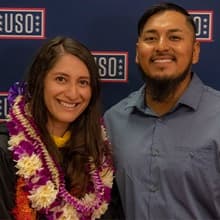 "I just thought they had the coolest jobs. They're so happy all the time, and they just walked me through everything," she said. "Their jobs are awesome."
That desire to advance in the HR field and her determination ultimately led to her degree.
Tafoya Sanchez is one of the many active-duty service members enrolled at SNHU. Military-affiliated learners face unique challenges on the path to a degree, and oftentimes, aren't able to attend graduation in person. Having the opportunity to celebrate her accomplishment on base, surrounded by her unit and loved ones, made this milestone all the more special.
"It was just such a blessing for me to be chosen for something that important," she said.
The United Service Organizations (USO), a worldwide education partner of SNHU dedicated to helping service members and their families transition to civilian life, helped coordinate the diploma delivery for Sanchez.
"Creating special moments like this diploma delivery is just one example of how through great partnerships, like our work with SNHU, we deliver on the USO mission to keep service members connected to family, home and country," said Chad Hartman, vice president of development and corporate alliances. "This is a tremendous achievement for Diana and it was an honor to work with SNHU to coordinate an event where we could give more than thanks and really express our gratitude by gathering her friends, family and base leadership to recognize all of her hard work."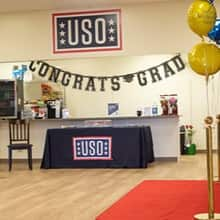 Since the beginning of the partnership, many military members and their families have received educational and financial support to help them through their specific journey of service. With the help of the USO, SNHU has awarded 13 military-affiliated individuals with full-tuition scholarships to support their educational aspirations.
That support for service members was something that stuck out to Tafoya Sanchez when she was researching undergraduate programs. Of all the schools she outreached, SNHU was responsive and helpful throughout the entire process and seemed to understand the needs of military students. She found that same support and assistance as she earned her degree.
One of the biggest supports she said was her academic advisor, who would consistently follow up with her about how work and school were going. Her professors were so supportive, she said, especially when she didn't have an internet connection in the field and were flexible when it came to due dates. Tafoya Sanchez quickly saw a military presence in her courses, too.
"I've noticed in most of my classes, there is at least a handful of people that are military," Tafoya Sanchez said. "So as far as the discussion boards, it's really nice, because you always can relate to them and some of the experiences directly correlate with our military experience."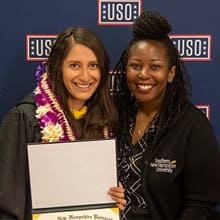 Her goal is to one day become a director of human resources in the medical field and will use her education and military experience to help her reach her full potential.
Tafoya Sanchez is continuing her education at SNHU, starting her master's degree in human resources management in hopes of getting closer to her dream job. She recommends that others should do the same.
"I definitely suggest that anyone go back to school … if that's something that they want to do," she said. "Getting an education is extremely important because knowledge is power, and everybody knows that."
Learn about SNHU's partnership with the USO.
Jillian LeVeille is a media relations coordinator at SNHU and a student at Syracuse University, pursuing a bachelor's degree in magazine journalism with minors in art history and French and Francophone studies. Connect with her on LinkedIn.
Explore more content like this article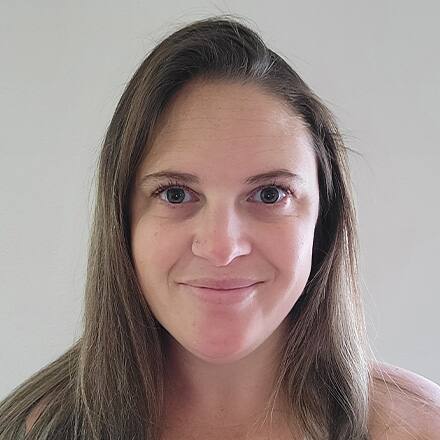 September 24, 2021
As a long-time military spouse with three children, Heather Poss has had little time to focus on herself and her aspirations. But, as her children get older and her family has been able to settle in Hawaii, she is ready to put her goals at the forefront.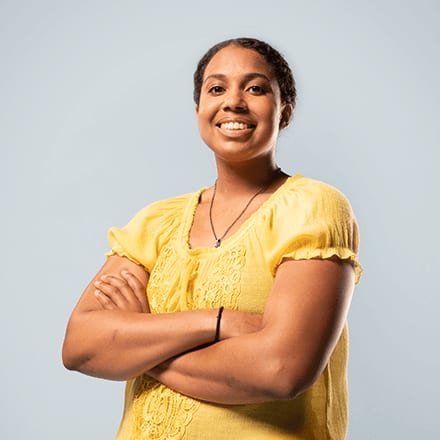 July 19, 2021
Even before she enlisted in the military, Bethanie Thomas knew she wanted to earn her degree. She even knew which field she wanted to study. The only thing missing was the right school.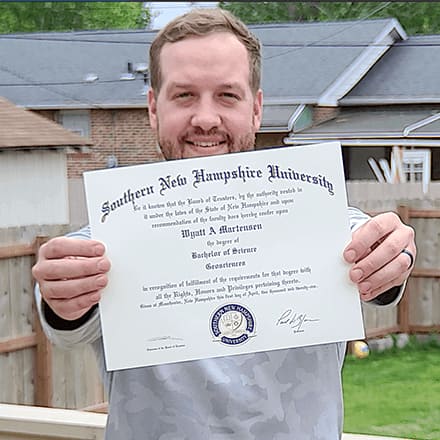 July 15, 2021
When your chief warrant officer asks you to do something with him, you're most likely going to do it. That's how Wyatt Martensen '21 tells the story of how he ended up returning to school to earn his bachelor's degree online.