Two Military Spouses, Moms Awarded Full-Tuition Scholarships
Military spouses seldom have an opportunity to put themselves or their dreams first. They're often busy raising children while supporting their service members. Many are subject to frequent station changes and deployments. And some don't have relatives nearby to lend a hand. It's not uncommon for their educational and career goals to take the backseat in the unpredictability of it all.
"Military spouses have to endure countless moves and career shifts while navigating the military life, many times doing so without a complaint," said Dr. Kendra Thomas, regional director of military and academic alliances at Southern New Hampshire University (SNHU), veteran and military spouse.
SNHU believes in the lasting impact an education can have on a person's life, and that's why it partners with Operation Homefront each year to award four military spouses with full-tuition scholarships to earn a college degree online.
Having the chance to continue this initiative during the pandemic, which has disrupted so many lives, was especially meaningful. "Education equates to hope," Thomas said. "The hope of a better life in the future. The hope of brighter days and hope for positive change. Education is the one thing that does not depreciate over time."
After careful selection, Shawn Hill and Shaquita Callier became the 27th and 28th military spouses, respectively, to receive the scholarship through this partnership. Shortly after, both women welcomed baby boys into their families and spoke with SNHU about their motivation to finish the degrees they began years ago.
Ready to Advance Her Career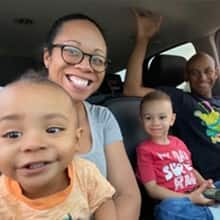 Shawn Hill began her college journey in 2002, but when her grandmother was battling cervical cancer, she left school to care for her. When she did return, her heart just wasn't in it. "I knew my grandmother wanted me to finish school … but without that motivation that she (used) to give me, I felt like I could just get by without it," Hill said.
Over the years, Hill's strong work ethic and quick learning abilities have not gone unnoticed by her supervisors, but she's struggled to advance her career as an administrative assistant. "I also have been in situations where I've done the exact same job as other people supporting the same level of people as they have, but they were paid way more than I was because I didn't have a degree," she said. "Our job titles were even different."
It would be a mentor – the vice president of an aerospace organization she used to work for – that pointed out what Hill was capable of in her career. "She knew that I was underestimating myself and selling myself short at the same time. After a few conversations, she informed me that she was paying attention to what I was really good at and encouraged me to look into (the organizational leadership) degree field," Hill said.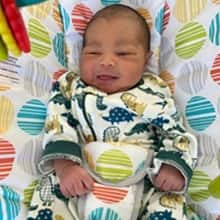 After learning Operation Homefront was hosting an event in Colorado, where she, her husband, Octavious, and their three sons are stationed with the U.S. Army, Hill knew it was time to finish what she started nearly two decades ago. With the hopes of advancing in her career with a bachelor's in organizational leadership, she applied for the scholarship.
"I knew that there would be a lot of other people applying for it that were just as qualified and worthy of the scholarship as well," she said.
But her application stood out to the scholarship committee because it illustrated her will to succeed, confidence to finish her degree and the strength she possessed, according to Thomas.
When Hill got the news, she cried. "It was at that point that I realized that there was absolutely nothing that would be holding me back from obtaining that degree," she said.
With online, asynchronous classes, further relocations won't stop her, even if she moves halfway around the world to Germany, where she's hoping her family's next duty station is.
While these moves can often be unpredictable with last-minute changes and training, Hill is grateful for the opportunity to live in different places. "Being able to let my kids experience other people's cultures and be taught at their schools is something that money can't always buy," she said.
'Breaking Barriers'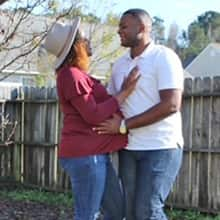 As a spouse to a Marine Corps trainer, Shaquita Callier is no stranger to these military-related moves. Since she married her husband, Jacorian, in 2012, she's lived in California, Japan and now North Carolina. "You get to experience different cultures," Callier said, and make friends around the world.
Becoming a military spouse was not part of Callier's plan, especially after growing up in a military family and knowing the sacrifices that come with it. But she's grateful for all of the opportunities it's granted her and her family. "There are sacrifices, but I believe there are benefits that balance the sacrifices," she said.
With each move, Callier noticed just how much career opportunities could vary by location, but that child and adolescent development professionals are needed everywhere. Luckily, this is an area of interest for her. When she became a mother, she started taking free classes, and she volunteers in nurseries and ministries, working specifically with children and teens.
"Knowing that my passion (for) working with kids is everywhere assured (me)," she said. After some encouragement from her husband, she decided to finish her bachelor's degree, enrolling in SNHU's psychology program to concentrate on child and adolescent development.
She initially met Jacorian at a community college, where they were both recruited for athletics, and Callier was pleased when her hard-earned credits transferred toward her psychology degree.
With about a year and a half left of her program, she applied to the SNHU/Operation Homefront scholarship. Her application left a lasting impression on Thomas, who remarked on Callier's background, growing up with financial limitations as one of 11 children.
"Shaquita mentioned that she wants to be a 'static breaker' in her family. She will be the first in her family to graduate with a four-year degree," Thomas said. "... She decided to break the cycle, and her education will be an added tool to accomplish that goal."
Callier was speechless to hear that she won. "I was in total shock," she said. "I was excited. I was happy because I am so motivated and determined to get this degree … I was paying out of pocket because I want this degree so bad."
A degree will help her achieve her goal of working for a school system, helping children through behavioral problems. Ultimately, her dream is to continue through a master's and PhD program to become a psychiatrist.
"Why not learn all that you can in this life?" she said. "... I believe education is powerful." With a degree, Callier said she could get a foot in the door, so when she's ready to go back to work, she can.
Plus, she knows her four young children are watching her. "I do believe that my kids will go higher than me," Callier said. "Seeing me and their father in school now influences them."
Her husband, who is also finishing his bachelor's degree, wasn't in the least bit surprised by her latest achievement. "He was just telling me how inspirational I am, just breaking barriers," she said.
A Virtual Celebration
Scholarship winners are honored at Homefront Celebrations in their areas, which are traditionally nights out for military spouses to dine, dance and socialize with one another.
"As a military spouse, building a network and community is tremendously helpful, and these events help spouses meet and connect with each other, which can be more complicated during a pandemic," said Jenny Valderas, senior director of Family Support Services at Operation Homefront. "That network of support can make a family feel more quickly at home in their new communities."
That's why it's more important than ever to host these events, according to Valderas. While the pandemic may prevent military spouses from gathering in person, Operation Homefront is bringing people together in an intimate, virtual environment.
She is pleased by how enthusiastic and engaged the events are. "We have gotten to hear the spouses' stories, meet their pets and kids and get to know more of them individually – which are not things that happen at the usual event," Valderas said. " … It has been a special experience to really meet people where they are and get to celebrate together during this time."
During the virtual events, military spouses still can hear from guest speakers, meet other spouses in breakout sessions and win prizes. Valderas said it's a way for Operation Homefront to let their communities know they remain a supportive fixture for military families during this challenging time.
Rebecca LeBoeuf '18 is a writer at Southern New Hampshire University. Connect with her on LinkedIn.
Explore more content like this article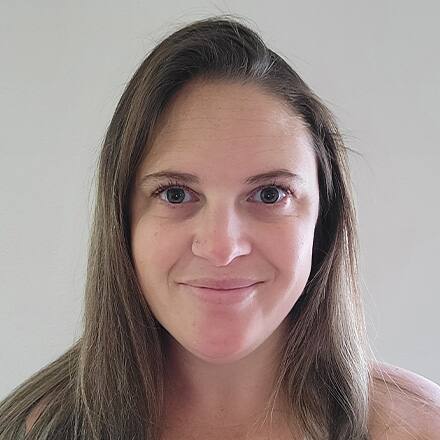 September 24, 2021
As a long-time military spouse with three children, Heather Poss has had little time to focus on herself and her aspirations. But, as her children get older and her family has been able to settle in Hawaii, she is ready to put her goals at the forefront.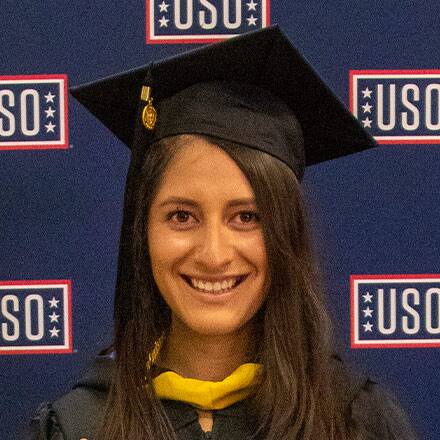 July 27, 2021
In Fort Shafter, Hawaii, Staff Sergeant Diana Tafoya Sanchez took her final steps toward her undergraduate degree. Working toward a bachelor's in business administration at SNHU while serving in the U.S. Army she celebrated her hard-earned success with a special diploma delivery.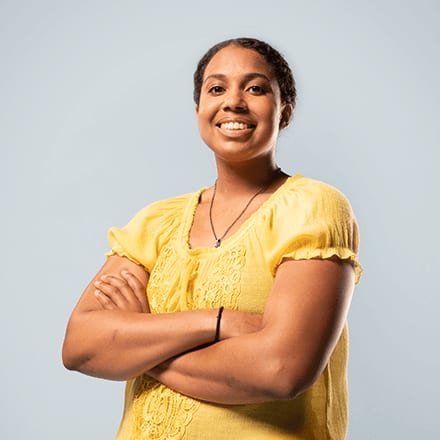 July 19, 2021
Even before she enlisted in the military, Bethanie Thomas knew she wanted to earn her degree. She even knew which field she wanted to study. The only thing missing was the right school.