A List of Helping Professions: Big Hearts, Big Opportunities
For those who strive to help others live better, there are plenty of career options in one of the helping professions. Whether you want to deliver patient care, help make your community safer, or support programs that protect and rehabilitate vulnerable populations, working in one of the helping professions can fulfill both your personal and professional goals. Even more promising, the future job outlooks for several helping professions continue to brighten, according to the Bureau of Labor Statistics.
A List of the 7 Top Helping Professions
1. Clinical Mental Health Counseling
More than 43 million American adults deal with mental illness each year, according to the National Alliance on Mental Illness (NAMI). With issues such as addiction, childhood trauma, and dementia in the aging population driving the demand for licensed counselors, the need for them is expected to grow more than 23% through 2026, according to the U.S. Bureau of Labor Statistics (BLS).
Mental health counselors support their clients through difficult life experiences, help them set goals, and provide critical emotional support. They enjoy a rich, rewarding career where they can make a difference by using their listening, problem-solving and interpersonal skills.
Licensed mental health counselors must earn a bachelor's degree and then a master's degree in clinical mental health counseling. They then undergo rigorous post-graduate training to become licensed in their state. They assist people of all ages and socioeconomic backgrounds and practice in nonprofit, hospital, government and private settings.
The median annual wage for a mental health counselor in 2018 is $44,630, with higher salaries found in the government sector and specialty hospitals, according to BLS.
Marc Wilson, executive director of the online master's in clinical mental health counseling program at Southern New Hampshire University, said earning state licensure as a mental health counselor offers great advantages to practitioners, and the profession itself brings great rewards.
"Becoming licensed through your state and receiving that training prepares you to know what to do no matter who walks through your door. These days people in counseling settings deal with complex post-traumatic stress disorder, addiction or chronic mental illness," he said.
2. Criminal Justice
Have you always had a desire to serve and protect? With a degree in criminal justice, you could make a difference in the fields of law enforcement, corrections, security and surveillance, or in other social services jobs. Those who major in criminal justice also find work as probation officers and private investigators.
The demand for police and detectives is projected to grow 7% from 2016 to 2026, about as fast as the average for all occupations, according to BLS. The continued need for public safety is expected to lead to new openings for officers, although demand and salary vary greatly by location. Many police officers earn at least an associate degree in criminal justice, with some federal government agencies requiring a bachelor's degree. Most police and detectives must graduate from their agency's training academy before completing a period of on-the-job training, according to the BLS .
The median annual salary for a police officer in 2018 is about $63,380 per year, but depends on location, size of a department and rank, according to the BLS. The lowest 10% of police officers earned less than $34,970, and the highest 10% earned more than $102,750.
Still across the country, many police departments say they struggle to find recruits.
"Police departments across the country are experiencing difficulties in filling vacancies and getting good quality candidates," Boulder, Colo., Police Chief Greg Testa said in a recent article published in the Daily Camera. "As I talk to other law enforcement agencies, they are all experiencing the same thing."
A security career in the gambling industry could be a good bet, too. The need for security and gaming surveillance is expected to grow 6%, according to BLS. Specialists in this field require experience in security and video surveillance, and may need to register with their state to carry a firearm.
3. Human Services
Human services professionals channel their compassion and empathy in a range of roles that help those in need - from caseworker to group home coordinator to juvenile court liaison. These types of jobs appeal to those who want to care for or advocate on behalf of vulnerable populations in their communities.
Individuals in human services careers could provide hands-on care, or may look at changing policies or developing educational programs for young children, adolescents, adults or the elderly.
According to BLS, the demand for social and community service managers is projected to increase by 18% through 2026. Drivers include a large aging population and the increased demand for substance abuse treatment and mental health- and health-related services.
Those entering human services professions typically have a bachelor's degree in human services, social work, public health, public administration, or a related field. However, some positions also require a master's degree. They work in various sectors including government, nonprofit, healthcare, and mental health services, according to BLS.
The median annual wage for social and community service managers is $64,680, according to BLS, with local government paying the highest at $79,680.
4. Nursing
Nurses make a huge difference in people's lives, offering compassionate care in a variety of healthcare settings; including hospitals, nursing homes, schools, government agencies, and home health settings. They may also work within a particular specialty, such as oncology or substance abuse treatment; or with a particular population, such as infants or the elderly. They not only help assess patients and aid in their healing, but also help them manage chronic healthcare conditions and support their treatments. In addition to assisting patients, nurses collaborate with doctors, medical staff, and administrators.
According to the BLS, the need for registered nurses is projected to grow 15% through 2026, more than twice the average for all occupations. The need for nurses will continue to swell for a number of reasons, including an increased emphasis on preventive care and demand for healthcare services from older adults, as they live longer and more active lives, according to BLS. Nurses also will be needed to educate and care for patients with chronic diseases like arthritis, dementia, diabetes and obesity.
Registered nurses may earn a bachelor's in nursing, an associate degree in nursing, or a diploma from an approved nursing program and be licensed. To become licensed, nurses must graduate from an approved nursing program and pass the National Council Licensure Examination (NCLEX-RN), according to BLS.
The median annual wage for registered nurses is $68,450, according to BLS. The lowest 10% earned less than $47,120, and the highest 10% earned more than $102,990.
The demand for advanced practice registered nurses (APRNs) is expected to grow a staggering 30%, and includes roles such as nurse practitioners, nurse midwives and nurse anesthetists, BLS reports. Individuals in these roles must earn a master's degree, be licensed in their state and pass a national certification exam. The median pay for these roles topped out at more than $107,000, with nurse anesthetists earning more than $160,000, according to the BLS.
Many men and women feel they've been called to be nurses to bring about positive healthcare change that could potentially impact the lives of those in under-served populations. Because nurses are rated as having high trustworthiness and ethical integrity, organizations such as Nurses on Board Coalition are working to recruit nurses to provide critical insights to health-related and corporate boards.
5. Psychology
Psychology is the study of the mind and human behavior, providing a critical foundation for anyone working in one of the helping professions. The field of psychology encompasses many roles, from clinical psychologists and counselors to research psychologists and forensic psychologists. Those with a psychology degree also work in human resources, public relations and marketing careers.
Psychologists may work with children, adults or the elderly in a variety of settings. Most earn at least a bachelor's degree, but usually need a doctoral degree and a license to enter clinical practice, according to BLS. Most prospective psychologists must have pre- or postgraduate supervised experience, including an internship. Candidates must complete an internship before they can qualify for state licensure. The required number of hours of the internship varies by state.
The role is expected to grow 14% through 2016, according to BLS, with median pay coming in at $75,230.
Even if you don't aspire to become a licensed psychologist, other careers such as human resources specialists are in high demand and command a median pay of more than $59,000, BLS reports. Human resources specialists recruit, screen, interview and place workers. They often draw upon their knowledge of organizational behavior to build relationships and help navigate healthcare benefits for workers.
6. Public Health
Public health is a broad field that involves protecting individuals, populations and communities and increasing their quality of life. Individuals in public health roles may provide education on the prevention and treatment of illnesses within a community or a hospital setting. Or, one can work in a public health role that has global reach with an aim to prevent epidemics, ranging from the spread of the flu to Zika, and work to improve the health of entire nations, according to Public Health Online.
The Centers for Disease Control and Prevention (CDC), a major division of the U.S. Department of Health and Human Services, is a national research institution dedicated to educating and informing the public on health issues from general wellness and genetic disorders to preventing virus transmission and eradicating infectious diseases. The CDC explains that while medical personnel and physicians treat individuals, "public health professionals focus on improving health at the population level through disease control and prevention."
A public health degree can prepare those interested in careers such as medical and health services manager, community health educator, epidemiologist and biostatistician.
According to BLS, community health educators assess a population's health needs and teach individuals and communities about behaviors that promote wellness. They collect data, develop programs, train health professionals, and advocate for policies that promote improved health. The demand for community health educators is expected to grow 16% by 2026, commanding a median salary of just over $53,000, the BLS reports.
7. Social Work
Those who wish to enhance the well being of individuals, families, or specific groups may find their calling in social work: a helping profession that helps bring about social change and advocates for social justice for both individuals and vulnerable populations. Social workers help people solve and cope with problems in their everyday lives. Clinical social workers also diagnose and treat mental, behavioral and emotional issues. They work in mental health clinics, child welfare and human service agencies, hospitals, community development corporations and private practices. Most have at least a bachelor's degree, although clinical social workers require a master's degree, supervised clinical post-graduate work, and a license. An online degree in human services could be a starting point and help you reach your goals faster.
According to BLS, the job outlook for social workers is expected to increase 15% through 2026. The median annual wage for social workers is $46,890, with social workers earning more than $57,000 in a hospital setting.
Whatever helping profession you choose, there continues to be a great demand for employees who lead with their hearts, as well as their talents.
Krysten Godfrey Maddocks '11 is a writer and marketing/communication professional. Connect with her on LinkedIn.
Explore more content like this article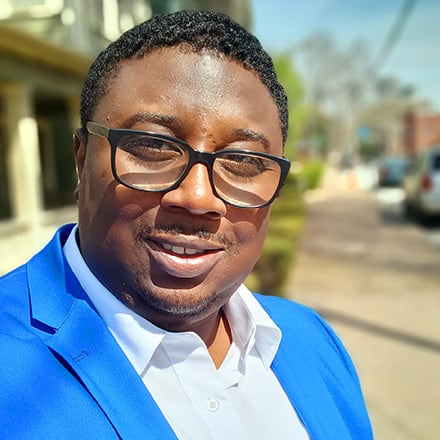 Although Darryl Johnson has been advancing as a professional in the psychology field and nonprofit world for some time now, he really accelerated toward his goals in August when he presented at the 2022 APA Convention and completed his master's degree in psychology at SNHU.
Homeland security is a mission-driven career field focused on national threats such as terrorism, natural disasters and public health crises. While everyone working in homeland security helps to keep the nation and its people safe, careers can vary quite a bit.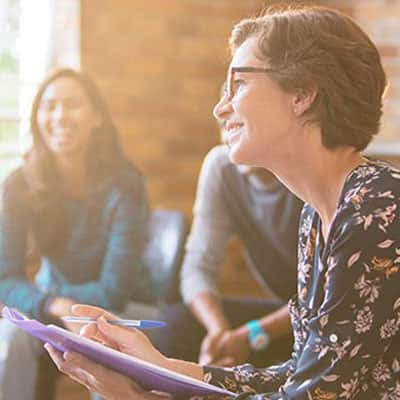 If you enjoy helping people, then a degree in human services is worth considering. With this degree, you can make a difference in the world around you — working in community, government, health, and mental health services, and nonprofit and social work.
About Southern New Hampshire University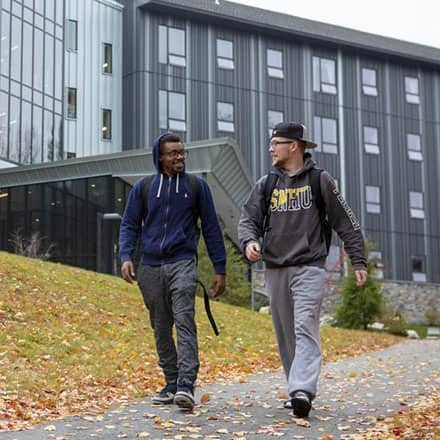 SNHU is a nonprofit, accredited university with a mission to make high-quality education more accessible and affordable for everyone.
Founded in 1932, and online since 1995, we've helped countless students reach their goals with flexible, career-focused programs. Our 300-acre campus in Manchester, NH is home to over 3,000 students, and we serve over 135,000 students online. Visit our about SNHU page to learn more about our mission, accreditations, leadership team, national recognitions and awards.