How to Become a Nurse
If you want to become a nurse, you can start by researching career paths and determining your goals. From there, you'll want to get a nursing degree – either an ADN or BSN. After that, it's important to sit for the NCLEX licensing exam and apply for licensure through your state's board of nursing.
Nurses are the heart of the healthcare system. As highly valued members of the healthcare team, they administer care and act as an advocate for their patients. If you want to spend your career helping others, exploring how to become a nurse could be a good fit.
The nursing industry is constantly evolving thanks to new technologies, medical advances and changing nursing roles. Whether you want to work in a small setting where you can get to know each patient personally or you seek the high-energy, fast-paced work environment of a hospital, there are a variety of career opportunities within the field.
The path to becoming a nurse is also varied, with many different options for nursing degrees, licensure and certifications available. But before you start exploring possible career paths, it's important to have a good understanding of the industry to determine if nursing is right for you.
The Field of Nursing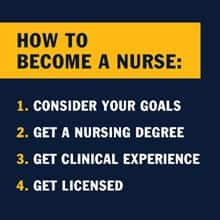 Nurses are the most employed profession in healthcare, according to the American Association of Colleges of Nursing (AACN), and the role is only continuing to grow. Registered nurses (RN) are the occupation with the sixth-highest projected increase in new jobs in the U.S. between 2020 and 2030, according to the U.S. Bureau of Labor Statistics (BLS).
"The thing I have loved about nursing the most is the variety of careers that are out there," said Dr. Lyndsay Goss, director of continuing professional development for nursing at Southern New Hampshire University (SNHU). "There are so many opportunities out there as a nurse and so many directions you can go in, which is exciting."
Nurses can work in a variety of settings and take on many different roles. According to BLS data:
1.7 million nurses work in hospitals
192,300 nurses work in offices of physicians
169,630 nurses work in home health care services
150,380 nurses work in outpatient care centers
143,250 nurses work in nursing care facilities
To get more specific, AACN reports that registered nurses are also in demand in both short-term care and community settings, including:
Healthcare maintenance and research organizations
Insurance and managed care companies
Mental health agencies
Nursing education centers and schools
Nursing homes and hospices
Primary care clinics, public health agencies and private practices
Many older patients also prefer to be treated at home or in residential care facilities, so registered nurses are in demand in those settings too, according to BLS.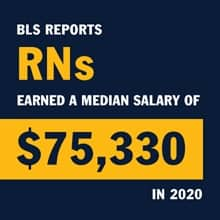 And these jobs aren't going anywhere. According to BLS data, nursing jobs are projected to grow 9% from 2020 to 2030 - much faster than the national average for all occupations. In 2020, the median annual wage for registered nurses was $75,330.
As the healthcare industry continues to grow, skilled nurses are in high demand. No matter where you work, you'll play a critical role in patient care, often acting as the face of the system and providing key communication to patients and their families.
How to Become a Nurse in Four Steps
Now that you have a better understanding of the nursing field and the types of jobs available to nursing school graduates, it's time to break down exactly how to become a nurse - from the education you'll need to get your nursing degree or license, to the things you can do to stand out in the field.
Step One: Determine Your Nursing Goals
While becoming a registered nurse is a common path to a nursing career, there are plenty of other opportunities that could impact the preparation you'll need for your career.
It's important to research each career path and determine which may be right for you - and research the educational and licensure requirements to join that particular nursing profession.
There are many different types of nurses and nursing jobs, including:
Advanced Practice Registered Nurses (APRN)
Certified Nursing Assistants (CNA)
Clinical Nurse Leaders (CNL)
Licensed Practical Nurses (LPN)
Nurse Anesthetists
Nurse Educators
Nurse Practitioners
Registered Nurses (RN)
Whether you want to help patients with their daily care needs as a certified nursing assistant, wish to enter the teaching field and
become a nurse educator
or take on another role in the field, you will need a nursing education of some kind. The most common types of nursing degrees are an Associate Degree in Nursing (ADN) and a Bachelor of Science in Nursing (BSN).
What are the Requirements to Become a Nurse?
Nursing requirements vary by state, but each candidate is expected to complete at least an ADN or BSN from an accredited institution, as well as gain state licensure. On top of the educational requirements, gathering hands-on clinical experience is also necessary.
Step Two: Get A Nursing Degree
Your education is the most important step when determining how to become a nurse. Typically, if you want to become a registered nurse you'll need to start with an associate degree or a bachelor's degree.
Associate Degree in Nursing
An associate degree in nursing is a two-year program typically offered through community colleges, universities or vocational schools. With an ADN you can get the knowledge and hands-on clinical experience you need to sit for the National Council Licensure Examination (NCLEX), a standardized licensing test that nurses must pass in order to become a registered nurse.
If you want to become an RN but also want to get started in the nursing field right away, earning an ADN is a great way to begin your career faster and get valuable real-world experience while working toward a bachelor's degree in nursing, said Goss.
Bachelor of Science in Nursing
While you don't need a bachelor's degree in nursing to get started in the field, a four-year degree can help you advance your career, stand out among job applicants and expand your nursing knowledge.
Bachelor's degrees are in high demand in the nursing field, said Goss. Studies have shown that nurses who hold BSN degrees tend to deliver safer, more effective care that leads to better patient outcomes overall.
Today, the AACN recommends the BSN degree as the entry-level degree for all professional nurses, suggesting that BSN graduates are better qualified to meet the demands of the evolving healthcare system.
"It's important to know that bachelor's degrees will continue to be something that's valued in the future," said Goss.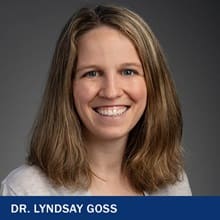 A nursing bachelor's degree is typically a four-year program that includes nursing-specific courses and also explores other key areas of study, such as communication, humanities and social sciences. There are also pathways from your ADN to your BSN that could be completed as a working RN.
In a BSN program, you can learn how to use evidence-based practices to plan and evaluate outcomes of care, form strategies to promote better health across patient populations, lead new healthcare initiatives and interpret trends in healthcare policy and regulations.
BSN courses explore key topics including:
Ethics in healthcare
Healthcare management and finance
Information management and patient care technologies
Leadership
Public health
How Much Does a Nursing Degree Cost?
The price of a nursing degree varies based on the program you choose and the institution you attend. Your past educational experience can also impact the cost of your degree program. If you've already completed some nursing courses or general education courses, for example, you may be able to transfer those credits toward your nursing degree, saving you time and money.
If you're already working as a registered nurse, your professional experience may also reduce the number of courses you need to take, reducing the cost of your degree even further.
Step Three: Get Clinical Experience
Getting real-world healthcare experience is one of the most important parts of exploring how to become a nurse.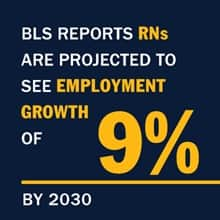 Clinical hours are typically built into any nursing degree program, but the actual number of hours varies depending on state requirements, the type of degree and the institution's curriculum. Most schools also take into account state laws regarding supervised work experience needed for licensure, according to Nurse Journal.
If you're already working as an RN and are enrolled in an online BSN program, your nursing job will give you a unique opportunity to apply your classroom learning to the real world – and vice versa, said Goss.
"This is one of the great opportunities of online nursing programs," said Goss. "You're able to bring what you're learning directly out into the field, but you're also able to bring your experience in the field into the classroom, which leads to more engaging discussions."
Step Four: Get Licensed
Once you've completed a nursing degree, the next step toward becoming a nurse is to seek state licensure. While each state has its own eligibility requirements for licensure, all nurses are required to sit for the NCLEX licensing exam and then apply to their state's board of nursing to become a registered nurse.
Once you earn your license, it's important to focus on continued learning and professional development, said Goss.
While state requirements vary, nurses are typically required to renew their license and get 15 to 30 hours of professional development every two years to ensure they're staying up to date on the latest technologies and nursing best practices.
How Long Does it Take to Become a Nurse?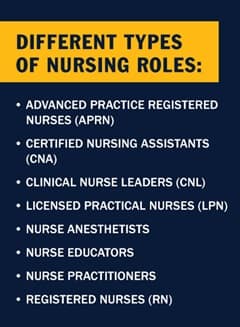 How long it takes to become a nurse will vary based on the degree you seek, the institution you attend and your prior educational and professional experience.
With so many great opportunities in the nursing field, it's no surprise that many students have the same question: Can you become an RN in 2 years? While timelines for nursing school and licensure do vary, it's possible to start working as a registered nurse very quickly.
With an ADN, you can earn your degree in about 2 years and sit for your licensure exam soon after. This is one of the quickest ways to start working in the field as an RN, said Goss.
But even if that's not the path you take, there are still a growing number of accelerated ways to get your nursing degree and start gaining real-world experience more quickly. Many colleges and universities offer degree programs that build on students' existing nursing credentials with programs such as:
LPN to ADN
RN to BSN
RN to MSN
These programs allow students with prior nursing degree experience or licensed nursing credentials to move more quickly through a bachelor's degree program.
In SNHU's transfer-friendly RN to BSN program, for example, students can earn 45 credits for an unencumbered RN license and transfer up to 45 more into the BSN program. With a full transfer credit, the RN to BSN program could be completed in as little as one year.
Stand Out in The Nursing Field
Once you've earned a nursing degree and secured your state nursing license, it's time to seek employment as a registered nurse. While there are many job opportunities available for nurses across the U.S., it's still important to do what you can to stand out among other job applicants and ensure you get the job you want.
Be Prepared to Get Hired
There are strategies that you can use to get hired when embarking on your new career.
One strategy is to ensure that your resume is updated and highlights your strengths and experiences as a nurse. A strong resume can connect your skills and experiences with employer needs, according to the Nurse Journal, and understanding what employers want is a way to stand out professionally.
The Nurse Journal also has several tips you can use for ensuring your nursing resume stands out, these include:
Be specific about professional experiences
Include a cover letter
Save your resume document under a professional name
Tailor your resume to the hiring organizations
Try to keep it easy to read and to one page (based on experience)
Another way to stand out is to prepare for a job interview. Job interviews offer a great opportunity to showcase yourself and make a connection with the employer. Job interviews also give you the opportunity to ask questions related to the job and organization to see if they are the right fit.
Consider Specialization
One of the great things about nursing is the wide variety of opportunities to specialize in a particular area of study, said Goss.
The American Nurses Credentialing Center and National League for Nursing both offer nursing certifications in a variety of subjects, including:
Informatics
Medical-surgical nursing
Nurse education
Nurse leader
Nursing professional development
Most of these specializations do require a certain number of hours of professional work experience, so these are typically a great way to advance your nursing career once you learn more about the type of work you want to do long term.
Earning a certification can help you get the job you want. Many nursing positions specifically seek applicants with an existing certification or ask that candidates earn their certification within a few months of hire, said Goss.
Consider a Master's Degree
Earning a master's degree in nursing is another great way to advance your nursing career and stand out when seeking jobs. While a master's degree is not necessary to work as a registered nurse, it can provide key knowledge and skills to help you become a nurse leader, nurse practitioner or other advanced nursing position.
According to the AACN, nurses are more and more often acting as leaders in the movement toward healthcare reform. Nurses with advanced degrees often have more opportunities to take on these key roles and can also earn higher salaries. One of these roles is a clinical nurse leader, as their position calls on them to be a leader in healthcare and manage the broader systems such as the patient's caregivers, payment structures and institutional policies.
Earning a master's degree is also helpful if you want to advance your career in a specific area of nursing. Some specialized nursing master's degrees include:
MSN in Nurse Executive Leadership
Master Key Skills
One of the most important aspects of a successful career in nursing is to master - and continue to develop - key soft skills and technology skills. Nurses are the faces of healthcare, and most often the healthcare workers who are interacting with patients on a personal level.
From working on communication and collaboration skills to exploring cultural competency, improving your soft skills as a nurse is an ongoing process, said Goss.
"It takes a certain type of individual to be a nurse and dedicate their career to caring for others," said Goss. "Many new nurses graduate and go into the field and there's an excitement for the work. It's important to try not to lose that. It takes persistence, resilience and self-care to stay impassioned in this field."
If you're interested in becoming a nurse, a great place to start is understanding the difference between an RN and BSN.
Danielle Gagnon is a freelance writer focused on higher education. Connect with her on LinkedIn.
Explore more content like this article
January 18, 2022
Both the nursing profession and some employers are calling on registered nurses (RNs) to obtain a Bachelor of Science in Nursing (BSN) to improve safety and help prepare for future healthcare challenges.
January 06, 2022
Clinical nurse leaders are hands-on RNs who also make sure systems like payment structures, institutional policies and data collection are organized in ways that best serve patient safety and care.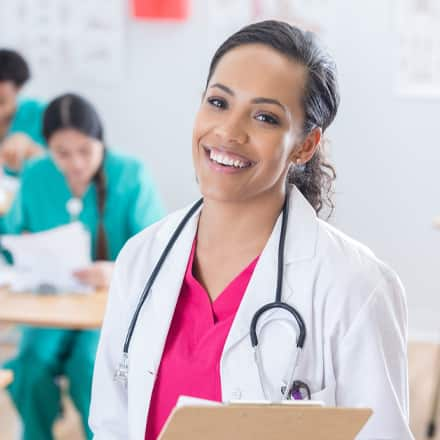 December 30, 2021
If you're struggling to decide whether to be a nurse or a teacher, nursing educator careers could be for you. As a nurse educator, you can apply your clinical nursing experience to the classroom, helping to educate the next generation of nurses.