How to Become a Social Worker
To become a licensed social worker, you need to get licensed in the state in which you intend to practice. While each state sets its own guidelines for licensing social workers, this generally means earning a traditional or online social work degree from an accredited program.
Social work as a professional practice and academic discipline centers on helping individuals, groups, communities and society as a whole achieve their goals.
If you're interested in making a positive difference in people's lives and affecting social change, social work can be a meaningful and fulfilling career. It's also a sector of the workforce that's projected "to grow 12% from 2020 to 2030, faster than the average for all occupations," according to the U.S. Bureau of Labor Statistics (BLS). That's due to increased demand for healthcare and social services.
What Qualifications Do Social Workers Need?
To become a licensed social worker, you need to get licensed in the state you intend to practice. Each state sets its own guidelines for licensing social workers. But it's important to note that the term "social worker" is sometimes used in different ways by the general public and employers.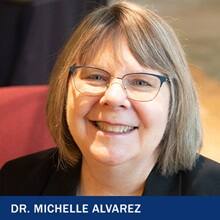 "The public will talk about social workers generally and associate the term with a range of social service positions," said Dr. Michelle Alvarez, associate vice president of program councils at Southern New Hampshire University (SNHU) and former associate dean of social sciences. "Employers, meanwhile, understand that if they title a position "social worker" or hire someone to practice social work, they need to be licensed according to state laws."
For that reason, the longer answer to the question of how to become a social worker involves the following, according to Alvarez:
Shadow a social work professional in your field of interest (e.g., health care, education, government, etc.) to determine if this area is a good fit for you.
Learn about the licensing requirements in your state or jurisdiction.
Identify the Council on Social Work Education (CSWE) accredited programs of interest in your area or online.
Understand and complete the application requirements by the due date. You may have to secure transcripts, write an essay or get references, each of which can take a considerable amount of time. If you don't get accepted, ask for feedback to improve your application for the next due date.
Complete either a traditional or online social work degree program, including any necessary field experience.
Pass the licensing examination (as required by each state or jurisdiction).
The Skills, Roles and Responsibilities of Social Workers
According to BLS, "Social workers help people solve and cope with problems in their everyday lives. Clinical social workers also diagnose and treat mental, behavioral and emotional issues."
"Social workers, perhaps more than the other helping professions, are able to meet people where they are – socially, emotionally, even physically – and view the person in their whole environment," Alvarez said. "We're not only working with that individual; we're thinking about the broader system in which they're involved. That's why you often find social workers out in the community, on-site, or wherever they need to be to support the client."
To this end, social workers need to master several skills. These include:

Interpersonal and communication skills – Social workers need to build relationships while maintaining appropriate boundaries with clients. In addition to good written and verbal communication, they must also keep sensitive information confidential to comply with legal regulations, per the National Association of Social Workers' Code of Ethics and the HIPAA Privacy Rule for healthcare or FERPA for education.
Stress management and self-care skills – Casework and investigations can be stressful. "A lot of people with challenges in their own backgrounds want to enter into the social work field to help others," Alvarez said. "That's great as long as you remember to take care of yourself first, so you can then take care of your clients."
Multi-tasking skills – In addition to being flexible and adaptable, social workers must be able to plan, organize, manage and supervise multiple cases and projects. "They need to be able to see the big picture while also taking care of day-to-day tasks such as engaging a client, developing and implementing an evidence-based treatment plan, connecting them with services and evaluating the process along the way," Alvarez said.
Problem-solving skills – In order to help their clients, social workers must know when and how to apply the various models, methods and theories of the discipline to their practice. Flexibility, adaptability and creativity are crucial.
Your specific responsibilities may vary depending on the population you support. A majority of social workers assist children, families and schools, BLS reported. You can find others working with clients in environments focused on healthcare, mental health and substance abuse.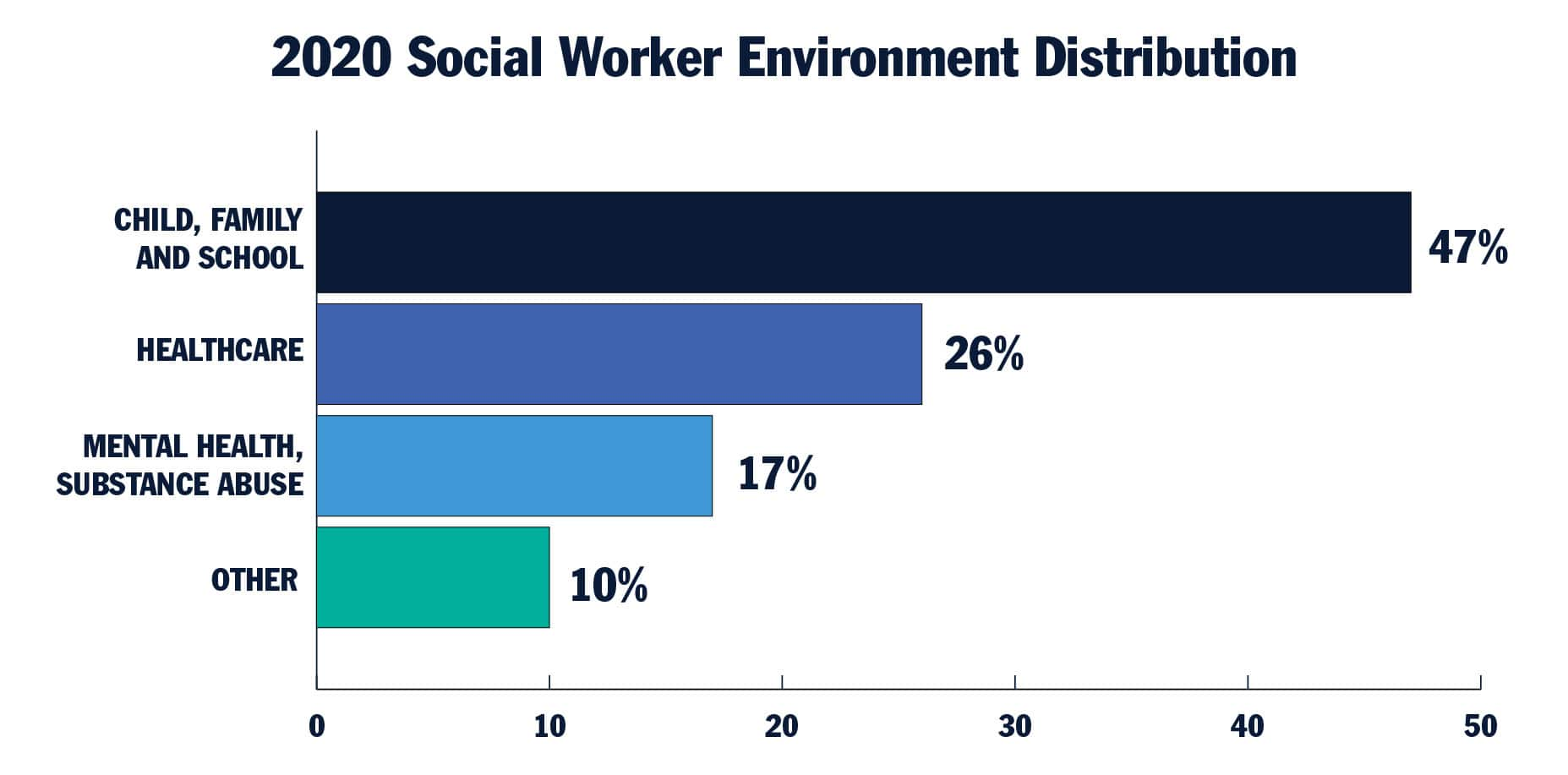 What is the Best Degree for Social Work?
If you're eager to become a social worker, earning both a bachelor's and a master's degree is necessary. You'll want to start with a bachelor's degree in social work or a program that positions you for a related helping profession. From there, you'll need to focus on a Master of Social Work (MSW) to prepare you for your desired designation.
Licensing examination categories are defined by jurisdiction (such as a state, province, territory, etc.) and include:
Bachelor of Social Work (BSW) Degree
This is typically required for entry-level administrative positions or general psycho-educational roles in social work or human services. But a BSW alone is generally not sufficient for career advancement in most jurisdictions. However, "completing a BSW means you can qualify for advanced standing in the Master of Social Work program," Alvarez said.
In other words, having a BSW can position you to complete your MSW in one year instead of the two it would take otherwise.
Master of Social Work (MSW) with No Post-Degree Experience
Most people who hold the job title "social worker" or advance in the field have at least master's-level educational training. Yet you don't necessarily need a BSW to pursue an MSW, which is the crucial degree required to becoming a Licensed Social Worker (LSW) or Licensed Master Social Worker (LMSW) in many states.
Some undergraduate programs can also prepare you for an MSW program, such as:
Advanced Generalist MSW
An advanced generalist Master of Social Work requires two years post-master's supervised experience.
Depending on the jurisdiction, this level of licensing can lead to a variety of designations such as:
Certified Master Social Worker (CMSW)
Licensed Certified Social Worker (LCSW)
Independent Social Worker (ISW)
Certified Social Work Manager (CSWM)
Licensed Advanced Practice Social Worker (LAPSW)
Licensed Master Social Worker – Advanced Practice (LMSW-AP)
Certified Independent Social Worker (CISW)
Licensed Advanced Social Worker (LAWS)
Clinical MSW
A clinical MSW requires two years of post-master's direct clinical social work experience. This level of licensing can result in a person becoming (again, depending on the jurisdiction) a:
Licensed Clinical Social Worker (LCSW)
Licensed Independent Clinical Social Worker (LICSW)
Registered Clinical Social Worker (RCSW)
Associate Clinical Social Worker (ACSW)
Licensed Specialist Clinical Social Worker (LSCSW)
Clinical Social worker (CSW)
Provisional Licensed Clinical Social Worker (PLCSW)
All states have adopted the ASWB licensing examinations, "but the specific license requirements for a social work license, in terms of the necessary education and field experience, vary state by state," said Alvarez. "Generally speaking in the United States, a social work degree from a program accredited by the CSWE is the requirement for the field."
Is a Social Worker Degree Worth It?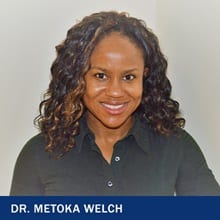 As part of your traditional or online social work degree, you learn about the profession's code of ethics, cross-cultural perspectives and competencies, human behavior, systems theory and more, often while gaining valuable real-world experience through field placements. Through education and training, you also come to understand how evidence-based approaches support your work and how to measure client outcomes.
While there is overlap between the job functions of social workers and other helping professions (BLS identifies several similar occupations), "there are philosophical differences as well as real-world differences, for example, in terms of titles and income," said Dr. Metoka Welch, the director of counseling programs at SNHU. For that reason, you might consider pursuing a degree or credentials in related fields like psychology, counseling (mental health counseling, school counseling, marriage and family counseling, etc.), human services or human development.
Regardless of which degree or career path you choose, you can expect to work with others from the helping professions. "Ideally, all the members of the client's team, including the social worker, the counselor, the psychologist, the medical doctor, can come together on behalf of a person in order to coordinate their efforts to help," Welch said. "An integrated approach to caring for the whole person is a best practice in the helping professions."
How Long Does it Take to Become a Social Worker?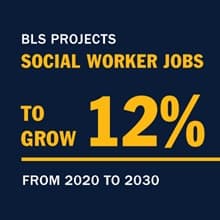 If your goal is to become a practicing social worker, you'll need to dedicate several years and degrees to educational preparation and licensure requirements.
While timelines can vary based on program, experience and pacing, many bachelor's degrees take four years to complete. From there, plan on two more years until you've finished your master's degree. An academic advisor can help walk you through the variables and map out a plan that works for you.
Depending on how long it takes you to complete the degree portion of your social work prep, you may need to spend a couple more years earning hours in the field to prepare you for licensure.
Social Work Jobs and Resources
Nowadays, social workers can be found working across a variety of settings, including hospitals and medical settings, crisis and rehabilitation centers, schools (elementary through higher education), for-profit and nonprofit organizations, private and public sectors.
In fact, according to the National Association for Social Workers' 2011 "Social Workers in Government Agencies" report, social workers are "key employees in federal, state and local government agencies" who often work on-site, in collaboration with non-governmental agencies, or as independent contractors or consultants (NASW pdf source).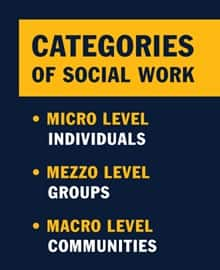 Importantly, Alvarez said, there are three broad categories of social work practice or service:
Micro level – Working with individuals
Mezzo level – Working with groups or families
Macro level – Working on the community- or system-wide side, whether in leadership, advocacy, research, academia or public policy roles
"A person needs to ask themselves, 'How do I think change happens and where do I want to make the biggest impact?'" said Welch, who prefers the in-depth interactions of one-on-one counseling sessions.
Meanwhile, working in school settings allowed Alvarez to work with individual students, families, teachers and administrators—sometimes all in one day. The key to entering the field is recognizing your strengths, limitations and preferences—and then pursuing social work positions that align with those.
Finally, as a way to start or advance your social work career, you may want to learn about or join professional organizations for social workers. Check out the following:
If you're looking to earn your bachelor's degree and want to explore helping professions like social work, find a social sciences program that aligns with your interests.
Sofia Tokar is a freelance copywriter and editor in higher education. Follow her on Twitter @stokar or connect on LinkedIn.
Explore more content like this article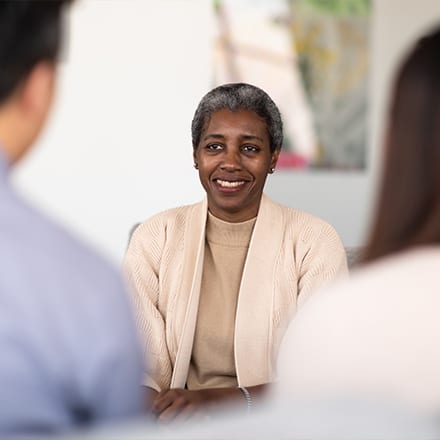 October 08, 2021
If you're fascinated by the mind and how an individual, a community or an organization thinks, earning a master's in psychology can lead you toward a career field that is engaging and growing.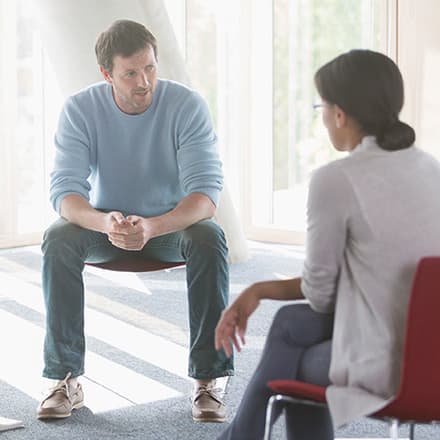 October 06, 2021
With a degree in psychology, you can use core skills such as research, decision-making and communication to work in a vast array of fields, including business, counseling, human resources and many more.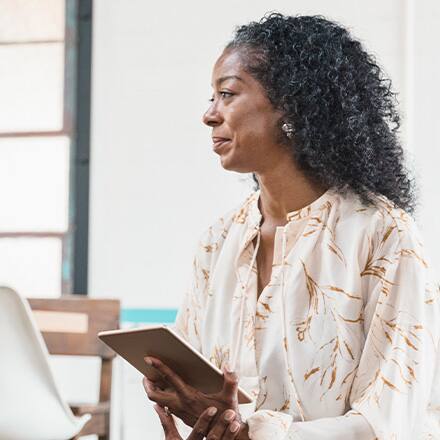 September 27, 2021
To become a therapist, it's key to explore the different specialties available and choose the one that's right for you. Providing therapy can be a rich and rewarding career, offering many ways to help others become their best selves.