3 Things Service Companies Should Do to Prepare for AI and Automation
There are three ways that businesses can adapt to evolving technological landscapes: investing in education and training, transitioning from already outdated systems and communicating regularly with employees about the future.
Artificial Intelligence (AI) and automation are often highlighted in fields like manufacturing, transportation and technology. After all, these industries are already incorporating technology in ways that have become commonplace. Manufacturing plants are more automated than ever, inventory can be tracked electronically, and we can even buy plane tickets, check-in for our flights and check our bags without ever speaking with a human being.
But, what about businesses like travel agencies, real estate practices or independent retail shops? Or industries like hospitality and customer service? Is any industry truly technology-proof? Will anyone's job stay the same?
While different industries may adopt new technologies at different times, AI and automation changes are coming to everyone sooner than you might think.
Although service-oriented industries require competencies that are distinctly human, like rapport and empathy, other aspects of these roles require routine tasks. To streamline costs and increase guest satisfaction, actions like delivering towels or even cleaning hotel rooms may be shifted to automation.
How Do You Prepare for Automation?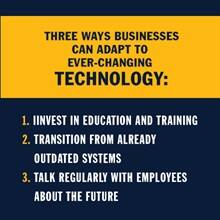 As businesses look to incorporate new efficiencies through AI and automation, there are three main ways that any service-oriented business can prepare their employees to change along with them while remaining competitive in the marketplace. These actions will help employees and businesses alike not only survive the predicted influx of AI and automation but thrive as the business world adapts to new and ever-changing technology.
1. Invest in Education and Training
Otherwise known as upskilling, investing in education and training for employees is the number one way employers can support their staff, according to a report conducted by Southern New Hampshire University (SNHU). Businesses can invest in their people in more ways than one.
Providing volunteer opportunities, either through organized events or by allowing for a set amount of time off during the year to volunteer, promotes the support of the community. This is a deeply rewarding way of investing in human capital. Providing paid internships and funding scholarships for staff members and even their families is another way to continually invest in the lifeblood of any organization.
Workforce training can and should continue throughout a career, be it through additional college degree programs or earning micro-credentials. This type of additional training can help future proof businesses and prepare them for advances in technology.
2. Transition From Already Outdated Systems
Changes do not happen overnight. Service businesses require careful planning to accommodate changes in technology, workforce needs and budget. Alignment with company culture and mission is also critical.
Using outdated systems not only prevents a business from moving forward; it can also cause a business to take several steps back. Using technology that is already or is soon to be obsolete hinders progress, slows processes and creates roadblocks to productivity.
While there are industries that seem more technology-proof than others, it's important not to be complacent. Service companies should consider their existing systems and start planning updates now so they aren't caught by surprise when the systems become obsolete. By building in time today to prepare for change tomorrow, service industries will be better positioned to not only ride the wave of change but weather the increased costs that inevitably come with purchasing new software and implementing new systems.
3. Talk Regularly with Employees About the Future
There are many ways for companies of every size to communicate with employees.
Here are some ideas:
Provide career counseling
Hold regular town hall meetings
Create an online discussion board where employees can have an ongoing conversation about their concerns
Be honest and straight-forward in addressing employee questions and concerns
Offer ongoing presentations to employees with updates on new technology, plans and ideas for future change
Trust your employees to make good decisions, give them the tools they need to do their jobs, and then step out of the way to let them shine. Celebrate milestones for individuals and as a team as new processes are developed or new ideas are implemented.
Most importantly, allow employees to speak up and be heard. Truly consider their ideas and address their concerns. The more open you are to creating an ongoing dialogue, the more your employees will trust in your leadership and function as a cohesive team.
Upcoming Trends in AI
2021 has been a challenging year for businesses to find employees as there is a massive labor shortage due to the COVID-19 pandemic. The shortage has led to interruptions in workflow and delays in production. Hyperautomation maximizes AI's abilities in the workplace and is one potential solution to the worker shortage that could offer businesses some relief. According to IBM, "hyperautomation is the concept of automating everything in an organization that can be automated."
The goal is to streamline processes across an entire organization using both AI and robotic process automation and by getting the job done with as little human intervention as possible. In reference to a Gartner survey, IBM noted that 85% of participants would "either increase or sustain their organization's hyperautomation investments over the next 12 months, and over 56% already have four or more concurrent hyperautomation initiatives."
While the idea of automation AI replacing you may sound intimidating, there is no need to panic about the future changes in the workplace. As jobs disappear, new ones will likely appear. Once jobs become automated and no longer need working people, there may be newly created positions that require humans to tend and quality control the AI.
With AI, there comes a new wave of opportunities. AI falls within the field of data science, and machine learning is a branch of data science, so AI and machine learning often go hand in hand. Machine learning careers and education are important because they are often used alongside AI. Machine learning involves mathematical or mechanical processes only, so there is no AI involved in its functions. If you have machine learning knowledge, you're likely to work alongside AI rather than being replaced by it.
Change is Coming
Above all, understand that incorporating AI and automation is unavoidable no matter the industry. In service industries, in particular, employees are used to adapting to change very quickly because that's the nature of supporting customers. In today's business world, the influx of technology is aimed, after all, toward improving processes, providing better service overall and strengthening business and the economy. That's good for everyone.
The more business and employers alike are ready to embrace an ongoing conversation about what incorporating new AI and automation might look like in their workplace, the more everyone will be prepared to embrace change and move forward with confidence – no matter the industry or profession.
Read the full report here to learn more about what service companies and all industries can do to support employees in preparation for AI and automation change.
Mike Ferrigno is a content director in higher education. Connect with him on LinkedIn.
Explore more content like this article
August 19, 2021
If you're wondering how to become a computer programmer, the field requires academic knowledge, a passion for math and engineering, adaptability and hands-on experience.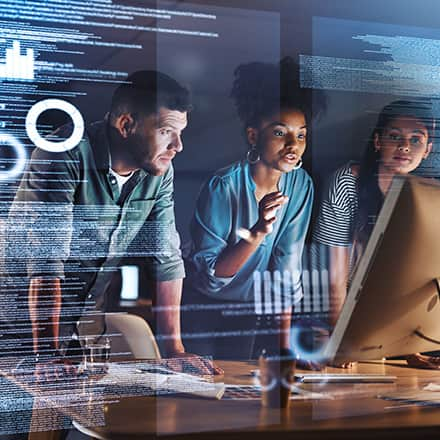 August 11, 2021
With a computer science degree, you can embark on a career with dozens of potential job roles suited to your interests. You can use the knowledge you develop earning your degree to work in technology, manufacturing and more.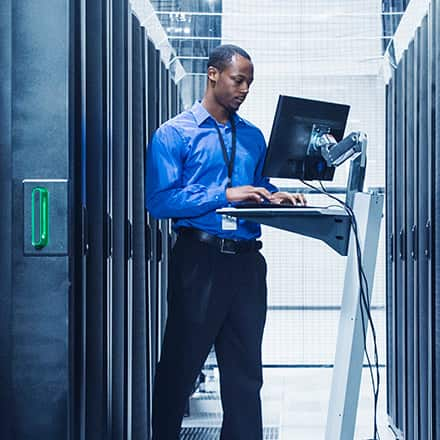 July 20, 2021
The field of cyber security is about leveraging top-notch problem-solving skills with technical aptitude to keep people and data safe. Despite being relatively new, the field of cyber security is here to stay.