Game Art & Development Max Callahan: A Faculty Q&A

A childhood love of movies and animation led Max Callahan to a career with an independent movie studio before he began teaching graphic design at the college level. Now the associate dean of STEM in Southern New Hampshire University's online game art & development program, he shared his thoughts on teaching, the importance of education and more as part of our Faculty Spotlight series.
Tell us a little bit about your professional background.
I started my career as an art director and prop master in independent films in Los Angeles before transitioning to a 3D character designer, modeler, rigger and animator.
What led you to academics, and in particular, SNHU?
I began teaching as an adjunct in schools in and around Philadelphia and then switched to teaching online due to some health issues that made teaching 3- to 4-hour studio courses difficult for me. I worked as a full-time faculty member at the Art Institutes Online and then accepted this position in 2016.
What drew you to this field of study? What keeps you excited about it?
I loved movies, comic books and animation growing up, and I studied art and film in college. 3D graphics allow me to apply that artistic background and passion to ideas and projects that are unbound in the virtual realm.
What do you find rewarding in your position as full-time faculty?
Being able to give students with passions for games and movies the opportunity to enjoy a career doing what they love.
Can you think of a particularly impactful or eye-opening moment as a faculty member?
Anytime I see students, who often find the 3D graphics software we teach incredibly challenging and intimidating, create something that excites them and reflects the idea they had in their head is always a really satisfying experience.
What advice do you have for students interested in pursuing their graphic design degree? How can people stand out in this field?
Make sure you have a passion for whichever field you decide to pursue. Understand the level of competition and the responsibility to keep up with the changes in technology that are inherent in these fields. These are highly competitive industries, and they demand a strong drive to realize your career goals.
What, if anything, did you not expect from your career path?
I had no plans to work with technology when I first entered the working world, so this is all surprising, looking back on how I got started. So it's still a bit surprising to me how nearly all of my work involves working in the digital realm.
What do most people not understand about working in the graphic design field?
That career paths often entail working on a per-project basis in which you are hired for the duration of a project, and then you have to secure work on another project when that is completed. So you constantly need to keep your portfolio updated and improving, and you have to devote some of your free time to maintaining your skills and keeping up with changes in technology.
How have you found ways to effectively connect with students online?
By far, the most effective means of helping students is through synchronous screen-sharing sessions in which I can demonstrate with the software on my computer, and the students can show me what they're struggling with on their computer. Even brief synchronous screen-sharing sessions will often produce more success than any other teaching method.
What do you enjoy doing when you're not working?
I still teach tennis on the weekends, and my wife and I rescue and foster animals here in Philadelphia.
What is one (or two) books every student in the graphic design program should read?
For Game Art & Development and 3D Modeling & Animation students, Disney's "Illusion of Life" and "The Animator's Survival Kit" by Richard Williams.
Why is education important to society as well as to you personally?
Even though we teach highly technical software in these programs, there's an underlying foundation in art and design principles that grounds everything that we do with that software. Anyone can find tutorials online and learn how to operate the software, but learning and immersing yourself in those underpinnings is what allows someone to create art using the technology.
Joe Cote is a staff writer at Southern New Hampshire University. Follow him on Twitter @JoeCo2323.
Explore more content like this article
October 20, 2021
Interested in starting a new job or advancing in your current field? An Associate of Arts (AA) degree can give you the broad-based education and in-demand career skills you need to reach your goals. Learn more about earning an AA degree and what you can do with one.
October 07, 2021
A communications major is a great way to prepare yourself for a career in fields ranging from media relations and journalism to marketing, corporate communications and many more.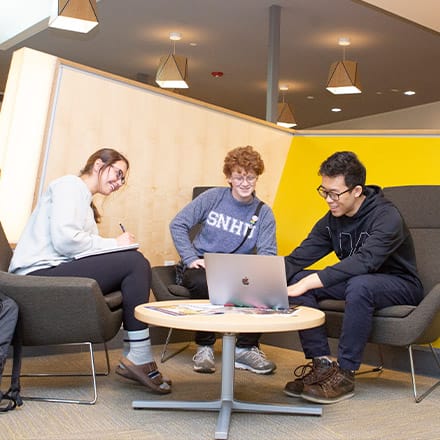 October 04, 2021
Liberal arts majors are strong communicators, who bring creativity and critical thinking to the table. If you're willing to be flexible in your search and smart about branding yourself, you can find there are many opportunities.