What Does an Electrical Engineer Do?
An electrical engineer designs, develops, tests and manages the manufacturing of electrical equipment and systems, such as electric motors, smartphones and power generation equipment.
In today's digital age, electricity truly keeps the world running, from basics of maintaining our homes to the more complex systems of traffic lights, transportation and technology that keep our cities running.
Electrical engineers are the innovators and designers that create these systems and keep them running smoothly, working on everything from the nation's power grid to the microchips inside our cell phones and smart watches.
With today's reliance on electricity and technology, an electrical engineering bachelor's degree can lead to diverse career opportunities.
What Electrical Engineers Do
Electrical engineers design, develop, test and manage the manufacturing of electrical equipment, from electric motors and navigation systems to power generation equipment and the electrical components of vehicles and personal devices.
Electrical engineering is an immensely broad field with job roles in a dizzying array of industries. From electric power generation and distribution to cars to smartphones, electrical engineers are integral parts of thousands of companies.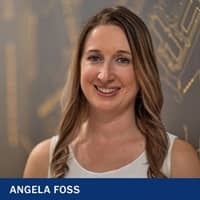 "Especially in today's age, electrical engineering is integrated into almost everything we do because of the takeover of technology," Angela Foss, associate dean of operations and innovation for Southern New Hampshire University's on campus STEM programs. "Nowadays, those applications are everywhere in every industry."
According to the U.S. Bureau of Labor Statistics (BLS), electrical engineers typically:
Design new ways to use electrical power to develop or improve products
Develop manufacturing, construction and installation standards
Direct the manufacturing, installation and testing of electrical equipment
Manage the production of electrical projects to ensure work is completed well, on time and within budget
While the basic electrical engineer job description is fairly standard across a wide range of electrical engineering jobs, where an electrical engineer works can vary significantly.
"There is a lot of variety in an electrical engineer's job – from talking to a customer about the requirements of a project, to designing the product, coordinating with manufacturing to get it made, ensuring quality assurance testing goes well, and making sure the product is delivered to the customer on time," said Monali Mujumdar, an electrical engineer for E Source. "Electrical engineers also provide technical support and after-sales service to clients. Since the engineer works on several projects in parallel that could be in different stages of the product life-cycle, a typical 'day in the life' involves wearing several hats, which adds spice to the job."
How to Become an Electrical Engineer
While communication and project management skills are important when applying for electrical engineering jobs, a strong educational and professional foundation is key.
Earning an electrical engineering degree is the first step to ensure you are prepared to work in the critical role of an electrical engineer. A master's degree in electrical engineering can also provide further learning and help you to specialize in a specific area of electrical engineering, such as electronics development or renewable energy, or an MBA in engineering management online could help you advance as a leader in the industry.
After earning a degree, you can also seek a licensure and certification as a professional engineer (P.E.). Becoming a licensed professional engineer can help you stand out in the applicant pool when becoming an electrical engineer, and help you join a growing field that is vital to today's technology-driven world.
Entering the field of electrical engineering means that you can not only play an important role in the development of innovative new technology, but also have a profound impact on the electrical systems that we rely on in our every day lives.
Where Do Electrical Engineers Work?
With so many varied opportunities available, jobs for electrical engineers are continuing to grow. In 2019, electrical engineers made a median salary of $101,000 and the field is expected to add 200,000 positions through 2028, according to BLS.
The continued fast-paced growth and advancement of technology means that electrical engineers with a strong background in electronics and computer systems will be in demand for research and development of new technologies, according to BLS.
In fact, a 2018 study from employment site Glassdoor ranked electrical engineering as the 6th best job in the United States thanks to the growing demand for skilled engineers with electronics experience.
Demand is also high for electrical engineers with well-rounded skills that go beyond the technical work of an engineer, including communication skills, writing skills and project management.
"Project management and overall excellent organizational skills are a must," said Mujumdar. "The ability to communicate with customers, vendors and technicians is essential so the electrical engineer can understand the (project) requirements and meet project goals on time."
Developing Renewable Electrical Power
One of the largest areas of work for electrical engineers is in the development, design and management of the world's electrical power systems. Today, that includes a growing number of jobs in the evolving renewable energy field.
A 2018 report from the International Energy Agency (IEA) found that renewables – including sources such as solar, wind and hydropower – will account for 30% of power demand by 2023.
As demand for renewable energy grows, so too do jobs for electrical engineers, who work to design, build and manage electrical power systems.
Powering Technology
Another important role of electrical engineers is in the development of the computers, smart phones and more advanced technology that power our personal and professional lives.
The use of technology has continued to grow and evolve in recent years, creating many unique job opportunities for electrical engineers. According to a 2018 Pew Research report, more than 92% of Millennials (ages 22-37) and more than 85% of Gen Xers (ages 38 to 53) own smartphones.
In the professional world, automated technologies continue to boom, from robot-assisted surgery to self-driving cars that may one day transport us around major cities. In fact, according to a 2017 report from the International Federation of Robotics, the worldwide stock of industrial robots is expected to grow from about 1.8 million units at the end of 2016 to 3 million units by 2020.
This growth of digital technology would not be possible without the innovative work of electrical engineers, who design and develop the electrical components that power these machines.
Danielle Gagnon is a freelance writer focused on higher education. Connect with her on LinkedIn.
Explore more content like this article
August 19, 2021
If you're wondering how to become a computer programmer, the field requires academic knowledge, a passion for math and engineering, adaptability and hands-on experience.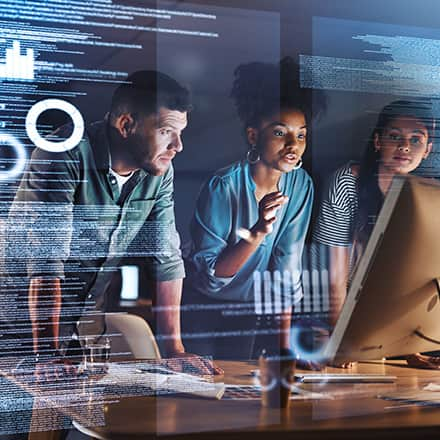 August 11, 2021
With a computer science degree, you can embark on a career with dozens of potential job roles suited to your interests. You can use the knowledge you develop earning your degree to work in technology, manufacturing and more.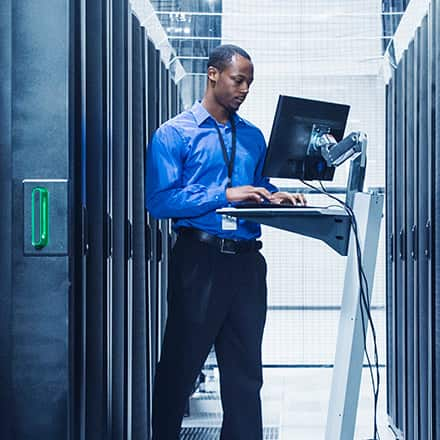 July 20, 2021
The field of cyber security is about leveraging top-notch problem-solving skills with technical aptitude to keep people and data safe. Despite being relatively new, the field of cyber security is here to stay.