Talking about Opportunity and Education at Recent DOE Visit to SNHU
As part of its seventh annual "Opportunity Across America" back-to-school bus tour, the U.S. Department of Education (DOE) visited Southern New Hampshire University (SNHU) on Friday, September 16.
Deputy Assistant Secretary Kim R. Ford spent the day speaking with community members at each of the university's Manchester locations, including a tour of the 300-acre campus, a meet-and-greet with student ambassadors, a roundtable discussion with College for America (CfA) students, business partners and staff, and a discussion with advisors and career services staff at SNHU Online.
The annual bus tour is intended to highlight the Administration's key initiatives over eight years, to celebrate the progress made to expand opportunity across the nation and the groundwork laid for continued momentum.
Deputy Assistant Secretary Ford spent the day-long tour learning more about SNHU's innovative programs that aim to increase access, affordability and quality, and what SNHU is doing to provide best-in-class student support services to every student.
At the College for America roundtable, CfA students, staff, employer partners and SNHU President Paul LeBlanc discussed CfA's competency-based education model, student support services and educating working adults with workforce-relevant programs.
Students and employer partners commended the program's flexibility, affordability, strong student support services and feedback and applicability to the workplace as CfA's top strengths.
"At CfA, you're the calendar," said Darby Conley, CfA student, Anthem employee, wife and mom of three. "I finished my AA and went on to begin my bachelor's degree, but when work got busy and we had our third child, I was able to take a break from school with no problems. CfA fit my lifestyle, and I am able to complete the program on my time."
When Secretary Ford asked if students were feeling supported in an online program, students were eager to jump in and share their experiences about the CfA community.
"Working with a learning coach is something I've never had before," said Stephen Leslie, a CfA student employed at Comcast. "Our CfA coaches are proactive and keep you driven and focused throughout the program. But in addition to the coaches, I feel like I have an entire community supporting me - I have my fellow co-workers at Comcast who are also in the program, we have a robust online community of CfA students and a vast social network. The best part is you are able to engage as much or as little as you want to."
When Lisa Guertin, President and CEO of Anthem, Inc. in New Hampshire, first heard about College for America and saw how it worked she said, "It's a no-brainer."
"As an employer, it is such a great concept," Guertin continued. "In the first year since Anthem launched CfA to all 50,000 employees nationwide, Anthem saw much higher employer engagement and people were using what they were learning in their jobs immediately."
Small businesses are seeing the benefits of CfA as well. "College for America was like a breath of fresh air," said Nick Brattan, CEO of New England Document Systems in New Hampshire, who funds 95% of his employees' tuition at CfA. "The CfA price point allows us and other small businesses to afford this benefit for our employees and we are already seeing the investment pay off."
When President LeBlanc asked students and employer partners what CfA could do better, students were hard-pressed to find an answer to his question. Then Conley chimed in, "The only thing that could make the College for America program better is if it was open to the public. This is an amazing program that allowed me to get a degree at no cost to me, that didn't make me choose between my daughter's recital or my son's soccer games and getting my degree, and has allowed me to grow in my career at Anthem. I was able to really do it all."
"I can only hope that a program like this is available when it's time for my kids to go to college," Conley said.
Explore more content like this article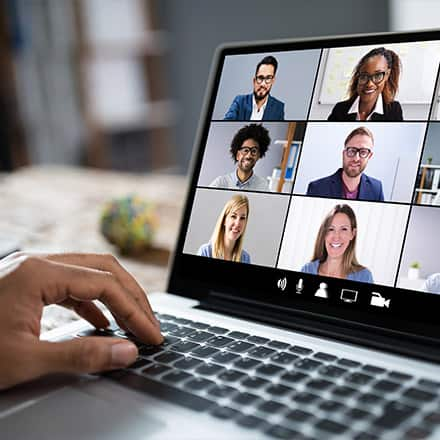 February 17, 2021
Thousands of SNHU educators from various disciplines virtually convened for the university's second annual Gather Conference. The three-day conference focused on online instruction approaches and other developmental opportunities.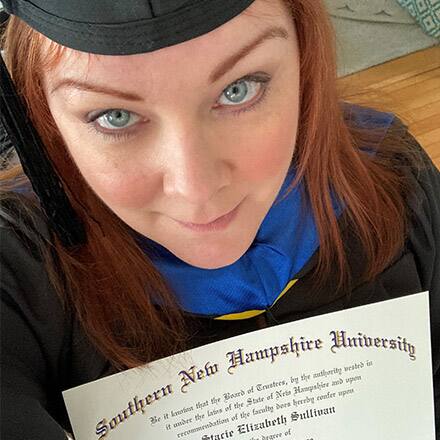 September 08, 2020
For years, Stacie Sullivan '19 felt stuck in her career, sensing her opportunities to advance were limited. After a series of challenging life events, Sullivan enrolled in the BS in Health Information Management program at SNHU.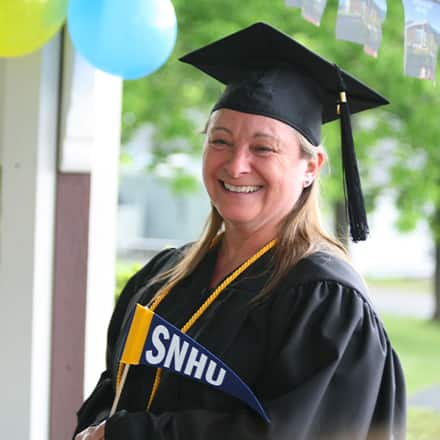 August 03, 2020
When SNHU's Commencement was postponed, Dr. Gwen Britton decided she would arrange a special ceremony for her longtime friend who had earned her bachelor's in information technology.