SNHU Student Dedicated to Graduating While Stepfather Lives
When Jennifer Wickman '16 decides something needs doing, there's not much that's going to stop her. In this case, that means graduating from college while the man who helped raise her is here to witness it.
Wickman is set to graduate with a B.A. in History with a concentration in American History from Southern New Hampshire University at the end of the year. Since she enrolled, she's taken extra courses each term, moving up her graduation date in the hopes that her stepfather will still be alive. For several terms now Wickman has taken a whopping four courses, double the regular full-time course load. She often finds herself doing coursework at her stepfather's house or at the hospital, sometimes during one of his surgeries.
Wickman's family had a particularly difficult 2013 when her biological father died and her stepfather, Gale Pretzer, was diagnosed with a rare cancer called liposarcoma, which attacks the body's connective and soft tissue. Wickman, a former surgical assistant, was already in school but knew she needed to find an online program so she would have time to travel from Florida to visit her family in Michigan much more frequently. "I kind of stumbled on SNHU," she said. "The online program kind of saved me and I'll end up graduating six months ahead of time."
Wickman's academic advisor, Abbey Tincher, said the amount of effort Wickman can put into her studies is exceedingly rare. Of the roughly 170 students she works with, only three are taking more than two courses per term. Many take one due to work and family responsibilities. "It's definitely not common," Tincher said. "She's balancing a lot - a lot. She's just kind of amazing. That's what everyone's consensus is. She's very motivating."
Tincher granted the initial OK for Wickman to take on a third course once Wickman had proven she could maintain an adequate GPA with an average course load. When Wickman still maintained her GPA, approval for four courses per term required review and approval from Tincher's supervisor, the head of new student advising.
Wickman said it's important to her to graduate early because it was important to her stepfather. "He just wants to see me complete my degree," she said. "He's just super proud I think and thinks this should have been my first career."
Since his diagnosis, Wickman has frequently been flying to Michigan to be nearby during some of her stepfather's treatments and multiple surgeries. She's made the trip six times in the last seven months alone. She said being able to take advantage of small chunks of time to do her school work and being familiar with online courses having taken them before makes the amount of work possible. "I just wanted to get finished before something happened," she said. "It's a pretty big load, but I'm a fan of the chaos, so it's not too bad. I do it when I can."
Wickman said her eventual goal after graduating is to open a sort of colonial sleep-away camp for kids in Virginia. Campers would spend a week living at the facility doing "all things colonial," and learning about settlers' way of life including how they ate, lived and entertained themselves. In the meantime, she plans to apply to work writing for Colonial Williamsburg or at George Washington's Mount Vernon.
Meanwhile, Tincher has used her experience working with Wickman to encourage other students facing their challenges. "She's just a perfect example of a student who is truly determined to reach a goal for multiple reasons and that if you have that goal you want to meet and you set it, you can get there," she said. "If you're willing to stay up late at night and get up early in the morning and kind of make those sacrifices to do it, you can do it."
Explore more content like this article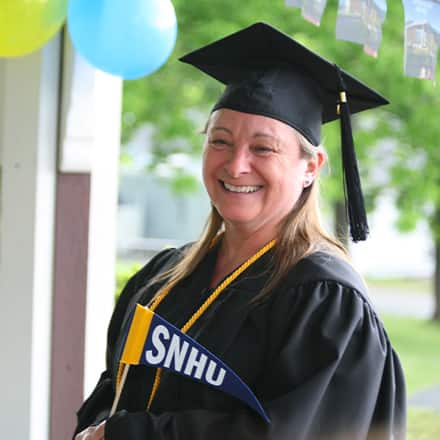 A Special Diploma Delivery for New Hampshire Grad
August 03, 2020
When SNHU's Commencement was postponed, Dr. Gwen Britton decided she would arrange a special ceremony for her longtime friend who had earned her bachelor's in information technology.