SNHU's Tibbitts Runner-Up for Stay Work Play Award
One of Southern New Hampshire University's most accomplished undergraduate students, Elle Tibbitts '18, was named the runner-up for Stay Work Play New Hampshire's "College Student of the Year."
Tibbitts isn't content to settle on one major, she is seeking two. In 2018, Elle will graduate from SNHU with a B.S in Economics & Finance, a B.A. in Mathematics, and a minor in Political Science. The hard work she has put into earning these degrees has not gone unnoticed.

"I cannot emphasize enough how phenomenal I think this student is," Elizabeth Richards, director of SNHU's Center for Community Engaged Learning, said.

Stay Work Play is a nonprofit organization dedicated to promoting New Hampshire "as a favorable place for young workers and recent college graduates to stay, work, and play, when considering employment and lifestyle opportunities." The award is given annually to an "academic rising star" who demonstrates both academic aptitude and a determination to give back to the community. Since its inception in 2013, the award has been given to students from the University of New Hampshire, UNH Manchester, and SNHU.

Richards was not the only SNHU faculty member to be effusive in her praise.

"It has been an absolute pleasure to get to know the wonderful student and person Elle Tibbitts is (and the community leader she wants to become)," Ashley A. Liadis, assistant director and academic support coordinator at the SNHU Learning Center, said. "She has already accomplished so much by giving back to her community, and is well on her way to instituting global change."

It's no mystery why many at SNHU think so highly of Tibbitts. She is fiercely dedicated to her own education, maintaining a 3.96 GPA through her first few years of college, but also to the community at large. Tibbitts has designed human trafficking advocacy events to educate fellow SNHU students about modern-day slavery. She has helped develop a program for incoming freshman to provide education on food insecurity in New Hampshire, and volunteered at several nonprofits to support the cause. She has even donated her time as a service learning coordinator to manage SNHU volunteers, leading after-school programs for refugee children and teaching English to their parents.

Even in her time away from SNHU, Tibbitts' dedication to the community remains strong. While many students use school breaks to catch their breath and spend some well-earned time relaxing, Tibbitts recently participated in an alternative break, during which she volunteered to help rebuild a house damaged by Hurricane Sandy.

"It is hard not to gush about a student like Elizabeth Tibbitts," Dr. Susan D'Agostino, an associate professor in Tibbitts' Mathematics program, said. "(She) represents the absolute best that SNHU and the latest generation of students have to offer."
Explore more content like this article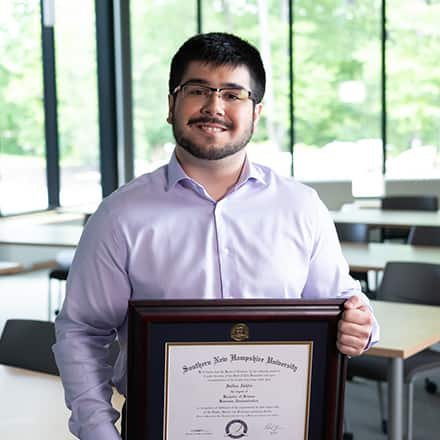 From Gamer to Game-Changer & First-Generation College Graduate
September 20, 2019
During an ice breaker exercise in Sultan Akhter's very first Southern New Hampshire University class, he said he was interested in gaming. Little did he know, he'd become a game-changer in college and discover a career path that will support students just like him.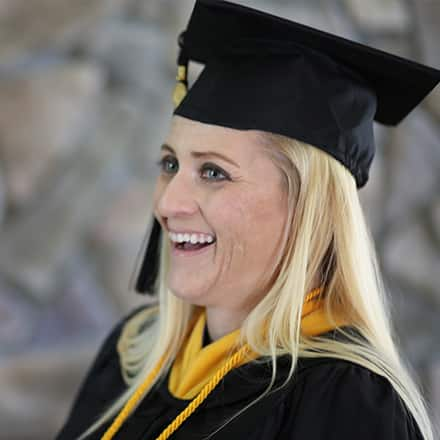 High Honors: Kimberly Cartier '19 Gave It Everything She Had
September 18, 2019
When Kimberly Cartier traveled to an over-55 community in Litchfield, New Hampshire on Monday with her parents, she thought the family was gathering in recognition of her grandmother, Ruth Roulx, a resident at the community. Little did she know a surprise diploma delivery was in the works, along with a celebration in her honor.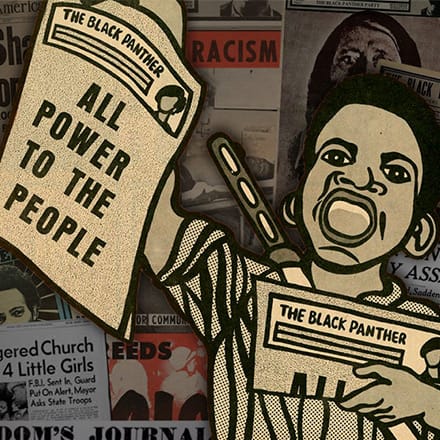 The 13th Black New England Conference to be Held at SNHU
September 06, 2019
The 13th Black New England Conference, BLACK INK: African American News from Slave Songs to Social Media, will be held at Southern New Hampshire University on Oct. 25-26. This is the first time the Black Heritage Trail of New Hampshire (BHTNH) is hosting the conference at SNHU in Manchester.