Military Spouse Scholarship Recipient To Advance in Special Education
Megan Morris says she never wins anything. So imagine her surprise when she received a phone call this past week from Jenny Valderas, senior manager of family support services for Operation Homefront San Antonio, telling her she would be awarded a full online scholarship from Southern New Hampshire University on Friday evening in Tampa, Fla.
"I was just in shock," said Morris, the mom of two daughters, McKinley, 3, and Bristol, 8 months. Her husband, Anthony, an E-5 in the United States Coast Guard, had just deployed and she reached out via Facebook Messenger to share the exciting news with him.
This was no game of chance, however, in which Morris was vying for a prize. Over the past three years, SNHU has sponsored 13 Operation Homefront Celebrations throughout the country, honoring more than 2,000 military spouses in attendance. Scholarships have been awarded to one or more attendees who expressed a desire to go or return to school, as well as completed an application outlining his or her career goals, the degree each wished to pursue and what's been a roadblock prior to this time.
Morris's application rose to the top as she told of her work in special education, which she gravitated to from high school influenced by the struggles experienced by those who had challenges in learning - particularly within her family. She not only wants to increase her skills and knowledge with a Master of Education in Curriculum and Instruction with a concentration in Dyslexia and Learning-Based Language Disabilities, but she'd also like to teach others in this area, too.
"The scholarship allows me to specialize in a field of study without incurring financial hardship," Morris said. The scholarship funds are especially important as she had taken a break from her teaching career to care for her young daughters, and extra money to put toward her education just wasn't possible at present. She had just about resigned herself to putting her master's on the back burner, with the thought that it might finally be a reality when her children were a bit older.
"I'm really excited now to have this opportunity," said Morris, who said that the flexibility and freedom of this online degree program would allow her to complete her degree no matter where military life takes her family.
She'll return to work in August, teaching in a preschool environment, which has the additional perk of onsite childcare for her children. While the primary focus will not be special needs students at present, Morris wants to eventually work again with elementary-level students. "There's a lot more to dyslexia than people think," she said. "I want to find those children and help them get the strategies they need to help them succeed."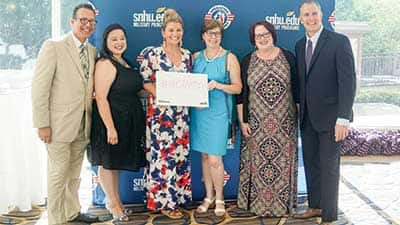 She said she fell into special education when a guidance counselor suggested that focus. It resonated, though, as she recalled watching others struggle - including her brother. She saw where that led and what potential outcomes often were: continued frustration or embarrassment that can lead to behavior issues and, eventually, leaving school before graduating. Her goal is to help those students early on and allow them to learn in a way in which they can succeed and stay in school.
Teaching youngsters at preschool or elementary age had been the furthest thing from Morris's mind when she initially began her work in education. She had an internship at a middle school, which offered inclusion for all students in the classroom. Although she thought she would teach at a high school, she fell in love with the age dynamic the middle school students provided. "You can really make an impression," she said. "There's a chance to make a difference."
Soon, however, military life would step in and challenge the plans she had in mind. While those challenges seemed a bit daunting for someone who liked to plan out what was next and how it would unfold, Morris learned that the unexpected sometimes offers even greater rewards.
Anthony Morris has been in the Coast Guard for six years, recently re-enlisting for another six. Their first move sent them to Alaska for three years. It was the last place the couple thought they'd end up - and they hadn't anticipated how quickly he'd be out on the water in Kodiak, Alaska, either. A couple of weeks after their arrival, Morris was on her own in a place she never imagined living.
She found work at a developmental preschool, which allowed her to use many of the skills she developed with her undergraduate degree. "It's not easy for kids who struggle," she said. "I can help them succeed, help start them right." In many ways, Morris said her role at the preschool prepared her for another important role - motherhood.
Throughout their time in Alaska, the couple fell in love with their surroundings, so much so that their daughters are named in recognition of places within the state. What was once unimaginable soon became a place they want to make their home - and the people they met along the way have become good friends, from local civilians and to others who also moved across the country following new military orders. While the couple is in Florida for another year or so, they hope to return to Alaska again with their daughters.
Morris acknowledges her life as a military spouse brought some initial trepidation. "It was scary at first," she said. "I feel like our life would have been totally different, but we're fortunate for the life we have. People you've met stay friends and they transfer all over the world. Had I never done a transfer, I wouldn't have known this. It brought me out of my shell; it's made me more outgoing."
She said that being in the military has made her marriage stronger, too. "It's great. We're partners," Morris said. "We're a really good team."
It excites her to imagine the opportunities military life will offer their children. "They'll meet different people, learn different cultures," she said.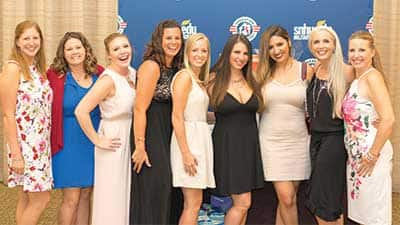 When asked what thoughts she might have for other military spouses considering pursuing a degree, Morris said she was personally glad to have completed her undergraduate degree before starting a family - though she understands that it's not always an option. The benefit, Morris said, was that it helped her get a job right away in their first placement. "Having a job was something for me, something I could rely on, something that was mine," she said. She encourages other military spouses to earn their education as soon as they can, so they can pursue their goals as well and be better equipped wherever they go.
Military life has made her more flexible, too. She's learned not to sweat the small stuff - and she's found that's something she and her husband both take heed of. They don't fight over little things and take the time to enjoy being together when he's not out to sea.
As for her profession, it doesn't take long to recognize that it's also a passion for Morris. Her favorite thing about it is learning alongside the kids, and "I love the light bulbs - when kids don't get it, and then they understand, and the confidence grows."
Pamme Boutselis is a writer and content director in higher education. Follow her on Twitter @pammeb or connect on LinkedIn.
Explore more content like this article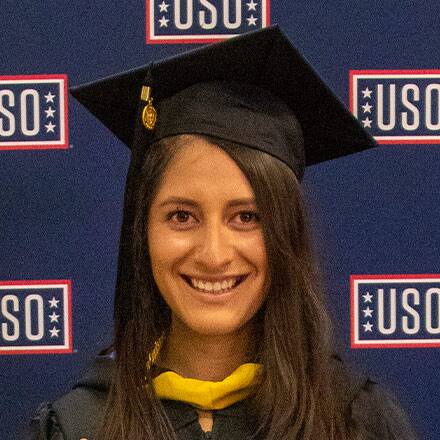 July 27, 2021
In Fort Shafter, Hawaii, Staff Sergeant Diana Tafoya Sanchez took her final steps toward her undergraduate degree. Working toward a bachelor's in business administration at SNHU while serving in the U.S. Army she celebrated her hard-earned success with a special diploma delivery.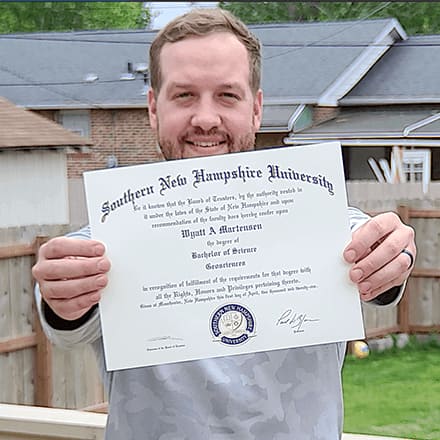 July 15, 2021
When your chief warrant officer asks you to do something with him, you're most likely going to do it. That's how Wyatt Martensen '21 tells the story of how he ended up returning to school to earn his bachelor's degree online.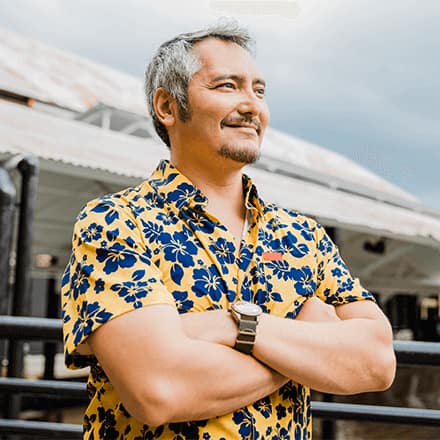 July 12, 2021
Armed with prior college credits but no degree, Derald Wise '14 '18G wanted to make meaningful connections as he finished his education. Like many military-affiliated students, he also knew he needed an online degree program that was flexible.