Destination: SNHU Homecoming 2017
Homecoming is a time-honored tradition at many schools; but at Southern New Hampshire University, we put our own spin on the event to welcome alumni, students, and Penmen fans from across the globe - both on campus, and in regional and virtual events for those celebrating from afar. This year, our theme was Destination: SNHU, a nod to each student and alumnus' educational journey. More than 2,200 guests visited campus for an action-packed line up of events Oct 13-15, and alumni and students checked in on social media from Tennessee, Minnesota, and Italy - just to name a few locations.
Alumni, Family, and Friends Golf Tournament
The weekend kicked off with the Alumni, Family, and Friends Golf Tournament, an annual event that benefits student scholarships. Alumni, students, parents, and community and corporate partners came together on the course at Passaconaway Country Club in Litchfield, NH.
Jacqueline Braswell '16 earned her Bachelor of Arts in Creative Writing and English online, with a perfect 4.0 grade point average. This was her second time traveling to New Hampshire for Homecoming from her home in New Jersey, and her second time golfing in the annual tournament. She said visiting the Granite State at peak foliage is good for her soul.
"I love SNHU Homecoming because it's a chance to get out of the city, come to a beautiful setting, and have fun with SNHU people," she said. Last year, Braswell met her academic advisor for the first time face to face, which she described as an honor and a thrill. And this year, she planned an ambitious schedule for the weekend: "I did everything I could while I was in town - golf, the paint bar, I walked the 5K, I went to the Street Fair. I love the people I meet here," Braswell said.
President's Reception
There was much to celebrate at the President's Reception this year. SNHU President Paul LeBlanc gave a warm welcome to the trustees, alumni, donors, staff members, families and students in attendance, and reminded the crowd that SNHU is committed to empowering students and alumni to improve their lives through education. "We are in the business of hope," LeBlanc said, "and there is nothing more transformative than a quality education."
LeBlanc highlighted some of the most exciting initiatives coming up for SNHU: the Challenger Learning Center in the new College of Engineering, Technology, and Aeronautics (CETA) to help K-12 students develop problem solving skills, critical thinking, communication, and teamwork; the SNHU Center for New Americans at YWCA NH to help local refugees and immigrants gain access to education and support services; plans to bring a mini-pitch to support youth programs and local initiatives to Manchester, NH in partnership with Major League Soccer, MLS WORKS and the U.S. Soccer Foundation; and a multi-million dollar refugee education project to bring accredited degree programs to refugees at home and abroad.
"All of this is achieved through the power of community," said LeBlanc.
The power of community was a theme echoed by each of the 2017 Alumni Award recipients in their acceptance speeches: Marek F. Rivero '11 '15G '15MBA (Young Alumni Award), Elizabeth (Goff) LaClair '08 '10G and Wayne E. Robinson '81 (co-recipients of the Distinguished Service Award), and Thomas M. Dionisio, Jr. '76 (Alumni Hall of Fame Award).
After the presentation of the Alumni Awards, SNHU Alumni Board President Tim Gerardi '04 unveiled the newly named Alumni Hall in the Gustafson Center. Gerardi and his predecessor, Jeff Penta '05 '08G '11G, led a fundraising effort for a newly created fund: the Alumni Leadership Scholarship.
Gerardi explained that the Alumni Leadership Scholarship was created to recognize outstanding students with proven leadership skills, meaningful involvement in student life, commitment to academic success, and a demonstrated appreciation for the power of the SNHU network. Over the past three months, more than 200 donors have given nearly $50,000 to support the future leaders of the Alumni Association. "The naming of Alumni Hall honors the collective generosity of our donors, and stands as a reminder that leadership in the SNHU community continues far past graduation," Gerardi said.
Destination: SNHU Street Fair
One of the most anticipated events of the weekend was the Destination: SNHU Street Fair. A team of student clubs and organizations transformed the green quad on campus into a New England fall festival, with food trucks, pumpkin painting, carnival & rides, live music and dance performances, the first-ever Homecoming cornhole tournament, and a scavenger hunt for SNHU swag.
Jess Camera, president of the student group Coordinators of Activities and Programming Events (CAPE) said that Homecoming is one of her favorite weekends of the year. "For me, I think Homecoming signifies bringing together everyone as one, and making memories as a community." CAPE and other student-run organizations play a huge role in the weekend, planning everything from the Major Concert on Friday night (this year featuring artists Fetty Wap and SNHU alumnus Matt Corman '17), to activities at the Street Fair and flagship events like Greek Night in The Pub.
Colleen Lubin, associate director of student involvement and co-chair of the Homecoming Committee, said that it was truly a collaborative effort to pull off an event the size and scope of the Street Fair. "The idea that SNHU is considered home for so many people is what makes Homecoming special each year. I love seeing how this team carefully plans each element of the Street Fair - and really, the entire weekend - to highlight all the things students currently love, as well as what the alumni, family members, and friends want to enjoy. It's exciting to see all the different members of the SNHU community coming together to celebrate their Penmen Pride!"
Reunion Celebrations
Alumni were able to reconnect with friends, classmates, and faculty members at a variety of Reunion events throughout the weekend, including a mixer at The Puritan Backroom, an all-class reunion reception on the terrace outside the Wolak Library Learning Commons, and perennial favorite Greek Night in The Pub. The Office of Alumni Engagement hosted the mixer at The Puritan, featuring some of the most famous goodies that alumni often reminisce about from the Manchester hotspot, including a mini-mudslide toast.
Executive Director of Alumni Engagement and Homecoming Co-Chair Kristi Durette said that this was a particularly engaged year for reunion classes. "It's our 85th anniversary year as an institution, and we're also gaining a lot of traction both regionally and nationally with so many exciting, innovative initiatives," she said. "This year, we saw lots of people who graduated in years ending in '2s and '7s come back - often for the first time in years, and often with alumni from adjacent years. Many stayed for the entire weekend. I think it's a testament to how much SNHU is doing for its students and alumni."
Alumnus James Farrell '79 attended a reunion event for the first time ever, and said that he now regrets not having come back sooner. "The reunion was first class, and I felt proud to be part of the SNHU community. I will be looking forward to attending more events in the future," he said.
"That's the spirit of camaraderie and connection that we hope to foster in our alumni, with all the events throughout the weekend," said Durette, "and most especially, with reunions."
Regional and Virtual Events
Keeping in mind that SNHU has a global network of more than 90,000 alumni and 85,000 students, the Homecoming Committee planned a number of ways for people to join the festivities even if they couldn't be on campus in New Hampshire.
Jen Kidwell '91 '16G is an alumna, a donor, a staff member, the parent of a current student on campus and one of the biggest Penmen fans around. As the Assistant Director of Online Engagement, Kidwell helps to create connections for online students, through clubs, organizations, events, and travel. Homecoming is an opportunity for those 'nontraditional' students to participate in a very traditional college experience.
"We try to balance the excitement of an in-person event and the novelty of virtual participation," explained Kidwell. About 50 online students and alumni - along with a few campus-based folks - attended a game of BINGO hosted by Kidwell's team in The Last Chapter Pub on campus, and about 15 people joined the virtual game from as far away as California and Wisconsin. The prizes were all SNHU swag, which Kidwell said was in high demand. "Everyone wants to be able to rep their university. It was fun to see people so excited, and feeling so connected," she said. The third annual 'Virtual 5K' was another big hit for people wanting to connect from afar. As a companion event to the on campus race, the Virtual 5K allows participants to complete the distance anywhere, anytime. Nearly 50 runners submitted photos on social media, from across the country and the world, including New York, New Mexico, Toronto and Belize.
New this year, Associate Director of Alumni Engagement Erin Neuhardt coordinated regional events in Los Angeles, San Francisco and Atlanta. Local alumni and students organized each event, and rallied their communities to share some Penmen Pride.
There were also live stream links to watch athletic games and the President's Reception, as well as opportunities to donate to Birthday in a Box, the service project facilitated on campus by the Center for Community Engagement Learning.
CCEL Director Elizabeth Richards said that the campus volunteers put together more than 130 'parties in a box' for kids in need, and that she was touched by the number of people who contributed to the organization via Amazon Wishlist. "Service is one of those things that cuts across all demographics. It doesn't matter where you live or how you connect with SNHU. Everyone wants to do good things for others," Richards said.
Getting Involved in 2018 and Beyond
Homecoming is truly a university-wide celebration. To relive the fun, view the albums on Facebook. To learn more about getting involved for 2018, please contact Kristi Durette.
And save the date for next year... Homecoming 2018 will be held on Oct. 12-14. We hope to see you there!
Audrey Bourque is the director of advancement communications at Southern New Hampshire University. Connect with her on LinkedIn.
Explore more content like this article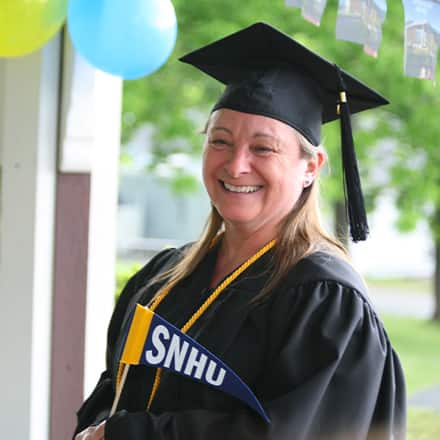 A Special Diploma Delivery for New Hampshire Grad
August 03, 2020
When SNHU's Commencement was postponed, Dr. Gwen Britton decided she would arrange a special ceremony for her longtime friend who had earned her bachelor's in information technology.