SNHU Global Days of Service 2018 Serves Communities Around the World
Southern New Hampshire University's Global Days of Service is a month-long collective of service, during which alumni, students, faculty, and staff organize projects with local causes and organizations to strengthen their communities.
This year, from April 1 through May 14, more than 1,350 SNHU volunteers served at 112 project sites from Maine to Hawaii, from Texas to Colorado, and from Calgary, Canada to Kigali, Rwanda, totaling more than 6,400 hours of service.
Local Impact, Global Movement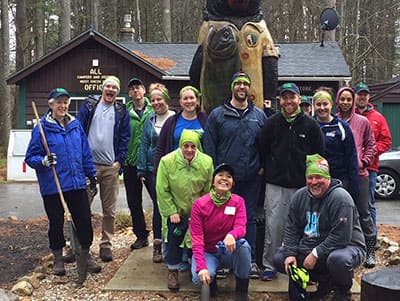 Sara Telfer, associate director of Alumni Engagement and the project manager for Global Days of Service, said that community service is a unifying activity for the diverse SNHU population.
"We have people of all ages and backgrounds completing their degrees on campus, online, at regional centers, and from military bases across the planet," Telfer said. "And what we've found is that no matter who we speak to, service matters. The act of giving back brings people together."
This sentiment is echoed by Elizabeth Richards, director of the Center for Community Engaged Learning at SNHU. Her office on campus coordinates service learning courses, Alternative Break programs, and individual service project experiences, and Richards is one of the driving forces behind the Global Days of Service movement.
"Service is part of our DNA as an institution," Richards said. "We've been committed to integrating this idea of 'giving back' into the student experience since our very beginning. Today, we have about 30 student workers in our office who are organizing projects and rallying volunteers throughout the year. Global Days of Service has become a focal point for our students, something that everyone wants to be part of."
Assistant Director of Online Engagement Jennifer Kidwell '91 '16G worked with students and staff members to organize projects in Colorado, Indiana, New Hampshire, New Jersey, New York and Texas.
"SNHU online students are engaged in our virtual community," Kidwell said. "But my favorite thing is seeing them connect in real life. We have these incredible populations of students in places like Dallas, Denver, Los Angeles, and I just love hearing the surprise in students' voices when they meet someone from their online education program who happens to live just around the block."
Meaningful Service, Passionate Volunteers
Global Days of Service projects this year included cleaning up public parks, donating books, feeding the homeless, delivering groceries to the elderly and so much more.
Kidwell worked with a group of students, alumni, SNHU staff members, and friends of the University at Toni's Kitchen in Montclair, New Jersey. "That afternoon, we filled 50 backpacks for food-insecure families, and we also restocked the shelves with donations," she said. "In fact, my aunt and uncle live in Montclair, and they joined our SNHU group, as well!"
That's the unifying power of service, Telfer reiterated. "We had alumni bringing their spouses, students bringing their family members. People want to give back to the causes they're passionate about, and if we can help them connect with fellow Penmen at the same time, then it's a win for our community members and their neighborhoods," she said.
Richards said that people often forget how much in their everyday lives is, in fact, done in service for others. "We want to recognize members of the SNHU community who devote their time and effort to giving back, from volunteering at a homeless shelter, to caring for a disabled neighbor's pet, to donating blood. We want to celebrate the good that people are doing, every day."
Service Across a Global Community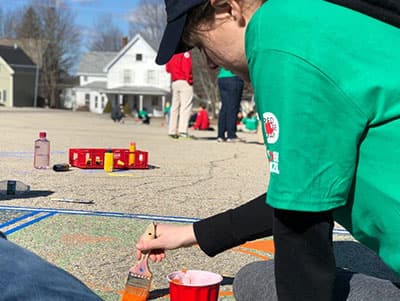 Ryan Bailey, Class of 2019, is studying economics and finance on the SNHU main campus in Manchester, and works in the Center for Community Engaged Learning with Richards. Bailey has a long list of accomplishments, including working as a Resident Assistant, serving as a Presidential Ambassador for the Office of the President, and coordinating Alternative Break trips. This year, he also organized one of the Global Days of Service projects through the Center for Community Engaged Learning.
"There were about 10 of us who went to the Caregivers Caring Cupboard in Manchester, working to deliver groceries to the elderly and to families in need. We had a chance to visit with these people and make sure they were doing well. It was a powerful experience," Bailey said.
Elsewhere in Manchester, the colleges and universities in New Hampshire's largest city came together for the first time in the inaugural Colleges of the Queen City Day of Service. Representatives from each school worked with Granite United Way to create about 15 projects for students, faculty, staff, and alumni across the city. Two of these projects took place on the SNHU campus, under the banner of Global Days of Service. In the Rise Against Hunger project, volunteers packaged 15,000 meals to be delivered to Burkina Faso, a country in West Africa. And, SNHU volunteers also helped to hand-make 1,200 birthday cards which will be delivered to recipients of Meals on Wheels during their birthday week this year.
Richards helped to plan the Queen City efforts on behalf of SNHU, along with Helen Davies, director of community relations. The two also encouraged the newly opened SNHU Center for New Americans at YWCA NH to showcase its work through a Global Days of Service open house. Courtney Perron, the center's director, invited a group of SNHU volunteers to cook dinner for 40 children in their afterschool program, as well as to collect donations, make goodie bags for patrons, and help decorate the Center.
Alumna Barbori Streibl '16G participated in two of the global projects from her home in Calgary, Canada. Already an active member of the SNHU alumni community through her work on the Alumni Board and in connecting students and alumni in Canada for virtual meet-ups, Streibl said that Global Days of Service was a natural fit for her.
"I love seeing the many different ways I can build community and connections through volunteering. I brought a box full of books to a local charity as part of the Global Days of Service 'Global Book Drive,' Streibl said. "Knowing that the books will be enjoyed by others and at the same time contributing to a local charity was the best part."
Streibl also organized a project with a local focus and a global component. The Pet Wishlist Drive encouraged people around the world to contact local animal shelters and organize supply collections. "At the same time I laid out a game plan for anyone around the world to use," Streibl explained, "I was also doing this for my local shelter in Calgary. We worked with the Pawsitive Match Rescue Foundation to clean kennels and walk dogs. It was so much fun!"
Meanwhile in Rwanda, SNHU students and staff members from the Kiziba Refugee Camp campus organized a collection drive for supplies needed at a local hospital in the city of Kigali. Alumnus Sylvaine Nayituriki '16, organizer of the event, said that in addition to bringing supplies to the hospital, the 35 SNHU volunteers also visited with patients.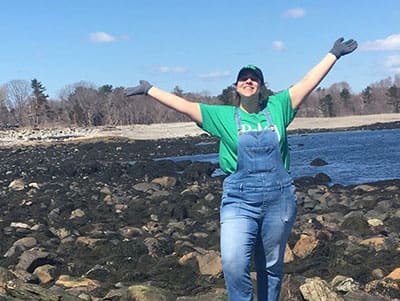 "We met with women and children in the hospital. The staff and patients were so grateful for the SNHU community and the support we provided them. This was a very important experience for us," Nayituriki said. The close-knit SNHU community in Rwanda plans to continue finding ways to connect with each other and improve the lives of those around them.
Daylong Service, Lifelong Connections
In 2018, 1,350 volunteers served at 112 sites for more than 6,400 hours of service, and more than 200 SNHU employees reported Volunteer Time, representing a significant increase in participation across the board. In 2017, SNHU counted 800 volunteers at 95 sites logging 4,592 hours of service; and in 2016, the inaugural year of Global Days of Service, 469 volunteers at 53 sites completed 2,143 hours of service.
This growth, Telfer said, reaffirms what the Global Days of Service committee suspected from the beginning: that SNHU students, alumni, and employees are already contributing in many ways to their local communities, and if the university can provide ways for Penmen to meet and make meaningful connections, then everyone wins.
"At the end of the month," Telfer said, "it's all about those connections. We want people to have fun, contribute to a cause, and make connections within the SNHU community, so they can stay involved in meaningful ways that make a difference."
Check out the SNHU Global Days of Service 2018 photo album, and members of the SNHU community are encouraged to share a Global Days of Service story.
The SNHU Global Days of Service committee is led by the Alumni Engagement, Center for Community Engaged Learning, and Online Engagement teams, with representatives and contributions from across the University.
Learn more and get involved in next year's events here.
Audrey Bourque is the director of advancement communications at Southern New Hampshire University. Connect with her on LinkedIn.
Explore more content like this article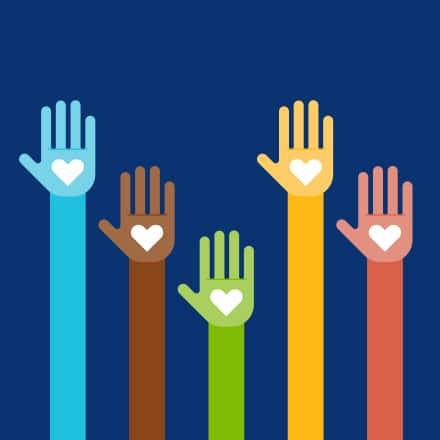 June 21, 2021
SNHU's 2021 Global Days of Service brought attention to a different societal issue each month: hunger, shelter, environmental justice and the pandemic's essential workers. Throughout the four-month-long event, Penmen from across the world shared their stories of service, community and strength.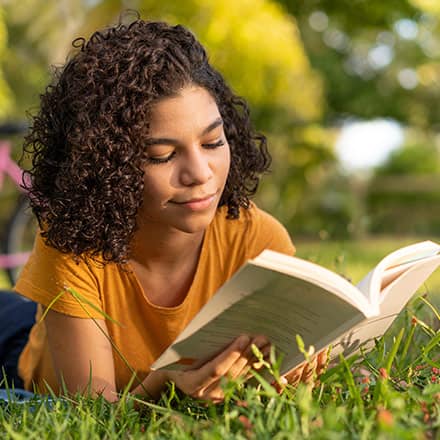 June 18, 2021
If you are searching for book suggestions, look no further: The annual summer reading recommendations have arrived. This year's list features more than 35 selections that span several genres suggested by some of SNHU's academic leaders.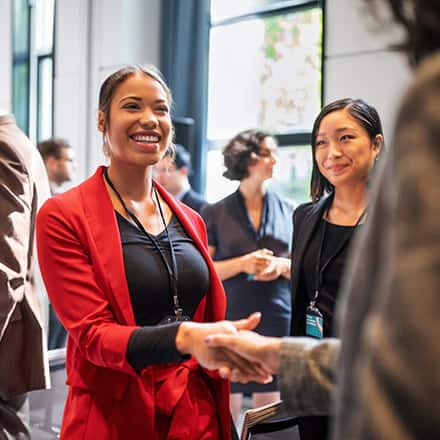 June 04, 2021
The day you receive your diploma from your university is a proud one, marking the culmination of your degree. But, your relationship with the university doesn't have to end there. Alumni are an integral part of a university community and are true advocates for student success.