Scholarship Recipient Beats Breast Cancer, Ready to Pursue Her Degree
Sarah Gaul's college career started back in 1996, when she began taking courses at a local community college while still attending high school in Marysville, Washington. When Gaul graduated from high school, she joined the Coast Guard Reserves and it would be more than 20 years before she set her sights once again on earning her college degree. A recent surprise phone call changed Gaul's desire to continue her education into a reality when she learned she would be the recipient of a full-tuition scholarship from Southern New Hampshire University to finish her degree online.
To understand the true impact of that good news, you need only a glimpse of what the past year has held for the Gaul family. Their full story ensures an even better acknowledgment of what they've experienced and sacrificed as a military family - and the care they have for each other, the life they've created together and Gaul's hopes for the future.
From the Classroom to Active Duty and a Family
Those courses in 1996 would be just the beginning. Jeramy Gaul met his future wife in a college course they both were taking. Since the school was located in a rough neighborhood in Washington and got out at 9:30 pm, he started walking Sarah to her car after class each night. Before long the two became a couple.
"He was in the Washington National Guard at the time," she said. "After I graduated...I went off to boot camp and A school, then started drilling with Port Security Unit 313 in Tacoma, Washington."
He liked what she was doing in the Reserves and in 1999, switched service branches to join the Coast Guard Reserves, too.
"We married on August 26, 2001, and just a few days after getting back from our honeymoon, 9/11 happened and we were both recalled on Title 10 orders," Gaul said. "Our first four months of married life, we barely saw each other because we were sent to different areas of Puget Sounds and our days off almost never coincided."
In the aftermath of that time, she would move to the Marine Safety Office where she drilled until their first child was born in 2004. Her husband was at the Electronics Support Unit in Seattle from '01-'04 until he was recalled to active duty once again and sent to Anchorage, Alaska.
"On April 1, 2005, he integrated full time into the active-duty Coast Guard and we were stationed in Juneau, Alaska, in the District 17 command center/Sector Juneau command center from 2005-2009," Gaul said. "Our next station was the USCGC Acushnet in Ketchikan, Alaska, from 2009-2011. He was part of the decommissioning crew, so we transferred from there a year earlier than we were scheduled to. From there, we went to Seattle where he was at the District 13 command center from 2011-2014. In 2014, we got our dream orders for a critical-fill billet here in Anchorage and have been here ever since."
Throughout those years, the Gauls grew from a couple to a family of five, with three sons, Frank, Sean and Henry, ages 14, 11 and 5, respectively.
Battling and Beating Breast Cancer
This past October, Gaul was diagnosed with breast cancer. Upon discovering a small lump in her breast in September, she said she was fortunate that there was no delay in ordering a mammogram (her very first), which showed a calcification doctors weren't sure about.
"I had a biopsy the next week and the surgeon on base called me the next day telling me that he needed to see us the next day rather than the end of the week," Gaul said. "We caught it early, but we found out that I am BRCA 2+, meaning that even if we just did a lumpectomy, chemo and radiation that the likelihood of the cancer coming back was very high. So we made the decision to have a bilateral mastectomy done in November, followed by four rounds of chemo that started in December."
Since the cancer hadn't spread to her lymph nodes and the margins around the tumor were clear enough, there wasn't a need for radiation. In early April, Gaul had a full hysterectomy, as her risk of ovarian cancer was high. Within a couple of weeks she would have the first reconstruction surgery and in the fall will have her final surgery.
Embrace the Challenges
Gaul takes a pragmatic view of what life brings her way and encourages other military wives to just embrace the challenges, especially if they're new to the situation.
"Life as a military spouse has been a roller coaster ride. Murphy's Law always seems to take effect as soon as hubby has to leave, but I'm handy and as Jeramy says, give me a few days in a new town and I'll know almost everyone in whatever town we are living in," she said. "I've loved being in small towns where we could become part of the community, be it through church, the kids' schools, scouts, sewing/quilting, or my scuba diving."
Military Ties that Bind
Times can be really tough, Gaul acknowledged, but she feels she's been able to rise to the challenges - and forge strong relationships along the way. Case in point is an experience she shared in traveling to Houston in May to attend the funeral of a good friend's 14-year-old daughter (a victim of the recent Santa Fe High School shooting).
"I was reminded how small and connected the Coast Guard community is," she said, having met the family many years ago, with their eldest children as good friends throughout their earliest years. The families had spent a lot of time together back then and remained close since. "Many of our friends we were stationed with in Juneau pulled together to get Frank and I there and back, a few of them made it to the service as well. Even if it has been years since we've seen each other, we are family and love each other so much and will be there for each other in our times of need."
Gaul said she is thankful every day for the opportunity to be both a service member and a military spouse, adding, "Someday, I hope to be a military mom or grandma."
A New Chapter
On June 1, Gaul's husband was medically retired from the Coast Guard. "He suffered multiple Traumatic Brain Injuries over his 25 years of combined service and as we have aged, the spots on his brain have gotten worse. We don't have many answers still as to why his health has declined so rapidly," Gaul said. "One of his neurologists he has seen believes he may have had a mini-strike in October 2016, but we just don't know."
Nevertheless, he's excited that his wife has received the full-tuition scholarship to pursue her degree. "He's understandably worried that I'm going to overextend myself trying to do everything like I always do," Gaul said, with a laugh. Chances are she'll have a degree path well in hand fairly fast, like everything else she does, yet will have the flexibility to work around the other responsibilities in her life.
At present, "I'm almost positive I'm going to work for my bachelor's degree in fashion merchandising and management," she said. "I'm a quilter and a seamstress and just started working in a quilt shop in Anchorage learning how to service Bernina sewing machines and work the counter. I'm so excited about the possibilities to use what I learn to help the shop I work at and maybe eventually have my own business."
The Difference Her Scholarship Will Make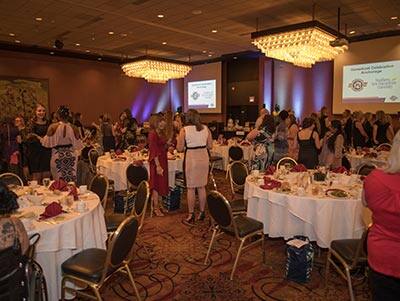 Gaul is still having a hard time believing she is the recipient of the scholarship, which was presented in Anchorage, on June 8 at the SNHU-sponsored Homefront Celebration for military spouses, hosted and organized by Operation Homefront (OH). The event, which attended by more than 100 military spouses, offered a much-deserved evening out, allowing attendees to enjoy a full dinner, dancing, a vast array of door prizes and giveaways and allow SNHU and OH to demonstrate their appreciation to this special group of spouses. OH, which provides critical support to military families, is a nonprofit organization with which the Gauls have long been familiar and engaged with previously.
"When I was pregnant with our youngest, I attended a baby shower in Seattle (hosted by Operation Homefront)," she said. "It was almost six years between our younger two boys so we had gotten rid of everything baby-related and the shower helped us tremendously. We have also gotten school supplies and Christmas presents for the kids in the past (through them)."
Gaul said that it's hard as a military spouse moving every few years to find a job, especially without a degree. "It's been impossible to find anything that pays enough to cover childcare expenses. I've been a stay-at-home mom for the past 14 years because of the schedule my husband has had at his various units. Two of our three boys - our oldest - are on the autism spectrum, so balancing all of their appointments with his work schedule made it even more difficult to go to school or work," she said. With the ability to complete her degree online - at her own pace, on her own schedule - those barriers will cease to exist.
"I applied for the scholarship," Gaul said, "because I have wanted to go back to school for a long time but did not see it as being feasible while my husband is dealing with his medical retirement, me beating breast cancer, and raising three boys who will be in college before we know it."
Her scholarship, the fourth of which has been presented over the past year to a military spouse, and the 21st in a series of scholarships presented by SNHU at Homefront Celebrations, will ensure Gaul has an opportunity to lead the way for her boys by completing her degree first.
Pamme Boutselis is a writer and content director in higher education. Follow her on Twitter @pammeb or connect on LinkedIn.
Explore more content like this article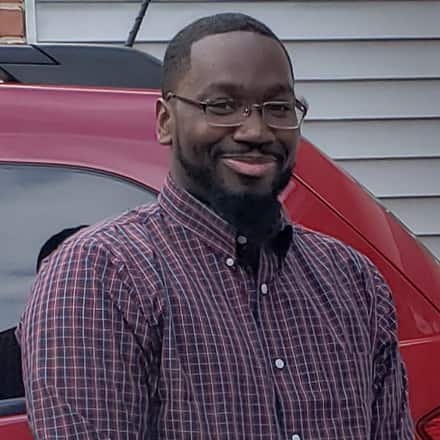 May 27, 2021
Steven Moore is approaching a decade as a human resources assistant, and while he loves his job, he is stuck in his pay grade. Now he's the 31st military spouse to receive a full-tuition scholarship to SNHU through Operation Homefront and is ready to take the next step toward career advancement.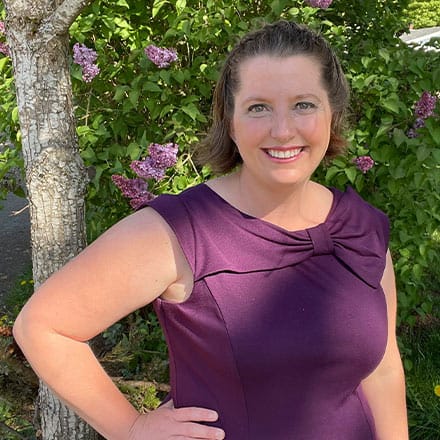 May 07, 2021
When it comes to helping others, Tevera Holcomb Hesslink has passion and determination – she seldom puts herself first. With her husband's retirement from the U.S. Navy on the horizon, Holcomb Hesslink's looking toward the road ahead and is ready to bring her aspirations to the forefront.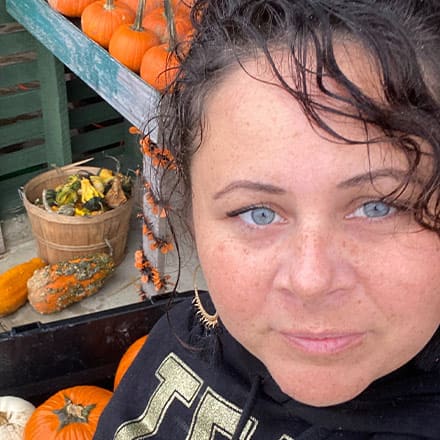 March 31, 2021
Helping people is what Codie Maile believes to be her purpose in life. As the 29th military spouse to receive a full-tuition scholarship to SNHU through the university's partnership with Operation Homefront, she is ready to finish her degree and follow her dreams.