2018 Art Exhibition Contest Winners
A father, a homebrew enthusiast and a professional windsurfer are among the winners of the 2018 SNHU Art Exhibition Contest.
Each of the winners was chosen from among hundreds of submissions and will receive a $1,000 scholarship to SNHU and an annual membership to AIGA, the Professional Association for Design.
"The Art Exhibition Contest is a great way to showcase the terrifically creative work being done by the members of SNHU's creative community," said Sloan Kelly, associate dean.
Second place winners in each of the categories will receive a $500 scholarship to SNHU and the AIGA membership.
These are the winners in the 2018 SNHU Art Exhibition Contest:
3D Modeling & Animation
1st Place
Jeff Shepherd – Snowy Christmas Night
Jeff Shepherd, husband, father and SNHU student, was surprised to find out he had taken the top spot in such a tough category with many great submissions. "I am still in shock as well as deeply humbled and overly grateful," Shepherd said about his first place win for "Snowy Christmas Night."
Complete with all of the traditional Christmas nods, including colored lights, a poinsettia and snow gently falling outside a frosted window, the 44-second long 3D animation is seasonally appropriate. Shepherd even added personal touches, like photos of his wife and kids inside 3D-rendered frames.
"I wanted to combine my love for Christmas, my faith and my family into my project," he said. "I am a working husband and father with very little extra income, so any opportunity to earn a scholarship so I am able to continue my education is an opportunity I cannot pass up."
Shepherd's love of 3D animation began when he was a child, starting in elementary school when he would create simple flip-books. As he got older, he learned computer animation on various programs and has now been practicing for about 10 years.
Continuing to work towards his bachelor's in graphic design and media arts, Shepherd hopes that earning his degree will help him move into a field where he can exercise his skills all while providing for his family. "An SNHU education as a background will definitely play an important role in achieving my career goals."
2nd Place
Noah Kennedy – Light Your Own Way
For Noah Kennedy, the second-place winner in 3D modeling, it was his still image of 3D-rendered lightbulbs, "Light Your Own Way," that caught the eye of judges and voters. He was surprised to even make it as a finalist, let alone win 2nd place since he has been practicing 3D modeling for less than a year. The lightbulbs were an obvious choice for Noah, who wrote that he has always been encouraged to "stand out." Currently enrolled in the game art and development degree program, Kennedy is hopeful that his degree will place him right where he wants to be: in a video gaming studio.
Photography
1st Place
Alexandre Mertens - Never Let the Sun Set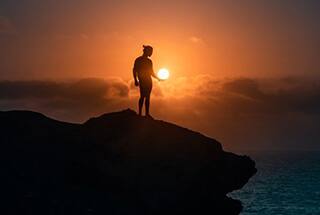 Alexandre Mertens wasn't intimidated by the other submissions in the photography category; he was inspired. "Everyone has their own shooting styles and seeing what everyone else put up only made me more inspired to get out and shoot more," he said. Alexandre Mertens - Never Let the Sun Set
Mertens hopes his 1st place win will serve as an inspiration to the other finalists since "art is subjective and everyone's art will (have) strong connections to certain people."
For Mertens, it wasn't just about winning. He's all about getting exposure for his art and learning from his classmates. When he received an email about the contest, he knew he had to enter because he's always on the lookout for opportunities to connect with classmates, especially if he can do so through art.
A professional windsurfer competing throughout the world, Mertens is working toward his bachelor's in graphic design with a concentration in 3D modeling and animation, documenting his travels along the way. He also works as a freelance travel videographer and photographer. He aspires to turn the latter into a full-time role leveraging his YouTube and Instagram channels.
2nd Place
Johnbel Mahautiere - Falling
The woman in Johnbel Mahautiere's winning photo, "Falling," is his friend Lucy. "When we shot this picture it was actually cold, even though she looks calm, I admire her bravery for getting in the water that day," he said.
For Mahautiere, his photographs are much more than just pictures: they convey meaning and tremendous emotion. "I took this photo to show reflection and a representation of sadness, pain and letting go of the suffering because it's not always so easy to let go," he said.
Mahautiere's background is in computer science, but he aspires to a career in photography. Largely self-taught, he's been practicing for about 3 years.
Mahautiere heard about the contest through a friend and decided it couldn't hurt to enter and see what happened. Upon learning he's an award winner, he said, "Words can't describe how excited, grateful and happy I am."
He sees his scholarship opportunity as a chance to learn more about photography and plans on putting it to use exploring the online photography programs offered at SNHU.
Print Design & Web Design
1st Place
Gregory Pepin - "Little Ghost Blonde Ale" Craft Beer Label & Buzz Brewing Co.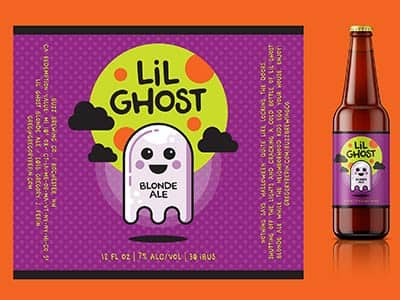 Gregory Pepin loves beer. He also loves design. Putting these together became the recipe for success in this contest. Pepin's brew-themed submissions featured original label and web designs for his homebrew, Buzz Brewing Co.
Pepin won 1st place in both the Web Design and Print Design categories. This was truly a surprise for Pepin who has entered the SNHU Art Exhibition Contest before but never placed.
Pepin has been working on the designs for his homebrew brand for several years, having as much fun creating the designs as he does brewing. "I found that many of the disciplines that contribute to good design translate into crafting a fine brew: simple ingredients, bold flavors, attention to detail, practice and patience," he said. He has no plans to launch Buzz Brewing, as the demand from friends and family is overwhelming enough and even though upscaling beyond a hobby is a compelling idea, "I'd worry that turning it into a job would take some of the fun out of it!"
Pepin has been honing his design skills for many years and has been able to do a great deal of design work professionally. But Pepin routinely ran into roadblocks in the corporate world because he didn't have a bachelor's degree.
"I had spent a number of years in the workforce without a degree. This closes a lot of doors when trying to join the corporate world, within which a formal education is imperative," he said.
This fact ultimately led Pepin to pursue a bachelor's in communications at SNHU. When he made the decision to return to school, he chose communications as a way to broaden his skill set and workforce marketability. "After all, design and communication strategy go hand in hand and make a powerful combination," he said.
Pepin will be graduating from SNHU in a few weeks and is already experiencing the impact having his bachelor's degree will have on his career. "I can say without bias (but perhaps not without sounding corny) that my SNHU education led directly to my current role as a communications consultant at a Fortune 100 company," he said. When asked how it felt to win in two categories, Pepin said, "I'm still amazed! I'll definitely be cracking a bottle of Lil Ghost Blonde Ale this evening to celebrate!"
Web Design 2nd Place
Alexa Machado – Alexa Machado Photography – Landing & Personal Branding Pages
Alexa Machado didn't know how she would fit in as an entrepreneur. To her, this was a world of business suits and formal appearances. A self-proclaimed "sparkly unicorn," Machado said, "I just couldn't make myself fit into that mold."
When Machado decided to create her personal branding page, she wanted to do so in a way that represented her personality. "I'm really proud of who I'm becoming as a business owner and artist. I'm happy this entry, which embodies my personal journey, was the one to place," she said. As far as her career goals, Machado plans to continue her focus on fine art and personal branding photography.
Although she is already a business owner, she decided to pursue a degree in digital photography to help "open more windows of opportunity." SNHU's online classes allow her the freedom and flexibility she needs to balance her busy life: running her business, working on personal projects and advancing her education.
Print Design 2nd Place
Trista Due - Split
Trista Due was excited at the opportunity when she learned about the contest back in October. "This was my very first SNHU Art Exhibition Contest! I love that SNHU offers contests like this one," she said.
"Split" is Due's original design of a beautiful woman adorned with flowers and butterflies. For Due, her submission was purely about showcasing her design skills. In hearing about her 2nd place win, Due said, "This is amazing. I put a lot of hard work into my submission, and it's nice to see that all my hard work paid off!"
Print design is her niche, and she plans to explore careers in the field once she graduates. Due looks forward to utilizing her creativity while creating unique designs for diverse clients. After beginning in October 2015, she is nearing the end of the graphic design and media arts program. She is looking forward to using her scholarship to help her along as she finishes.
Digital Design & 2D Animation
1st Place
Chardonnay Heale - Drowning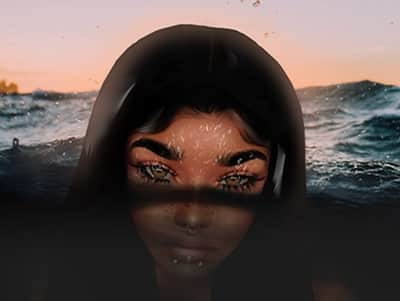 Chardonnay Heale has been practicing design for 7 years. This fact didn't make her any less surprised to win first in the digital design category. She found out about the Art Exhibition contest through an email she received as part of her bachelor's in graphic design and media arts degree program at SNHU.
For her winning piece, "Drowning," she aimed to create an attractive, visual representation of what it looks like to feel overwhelmed and stressed. "Drowning" was a creation that came out of Heale's tendency to overthink things, and how sometimes this results in her feeling like she is "gasping for air."
Digital design is a career goal for Heale, who is hopeful that once she gets her degree, doors will start to open for her. She's looking forward to how her 1st place win will help her complete her bachelor's degree program, allowing her to turn her passion into a profession.
2nd Place
Eli Quinn – Protecting the Future of Oak
The 2-minute long "Protecting the Future of Oak" 2D animation by Eli Quinn focuses on the dwindling growth of young oak trees in his home state of Wisconsin. Eli writes, "in an effort to create more aware(ness) about this conservation program, I designed this engaging public service announcement that would be entertaining as well as informative."
Quinn is currently pursuing his bachelor's in graphic design and is seeking to advance his career whether that be in graphic design, motion design, or art direction. Having worked in the video game industry for years, he is now focused on pursuing a career that combines design, branding, typography, advertising and/or marketing.
"My education experience at SNHU has been terrific, and I have improved as a designer in many ways," Quinn said. "Having a Bachelor of Arts degree in Graphic Design will certainly be beneficial to my career goals and the different programs and organizations that SNHU provides to succeed in your chosen field will also be of great assistance."
To see the complete collection of first and second place artwork, visit the Art Exhibition Showcase page.
Emily Dennison is a marketing manager at Southern New Hampshire University. Connect with her on LinkedIn.
Explore more content like this article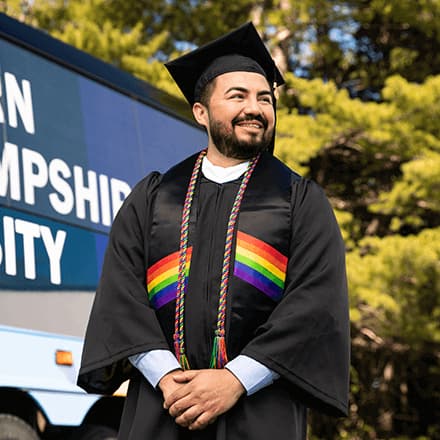 July 19, 2021
The moment Jesús Suárez '21 received his diploma in the mail was one he and his family will never forget. This was more than a degree—it was a cap to an incredible journey. While there was a series of hardships along the way, there was a persevering sense of love and accomplishment.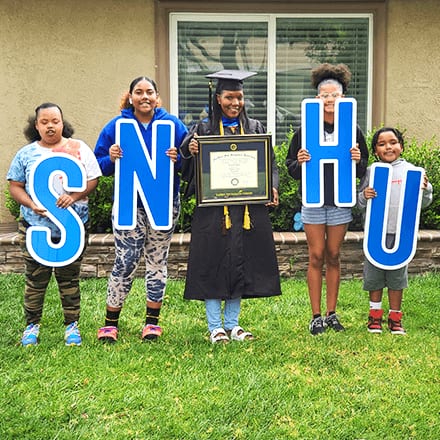 July 12, 2021
Latisha Aguilar '21 has always wanted to be a voice for special needs students and advocate for them. With the goal of becoming a middle school guidance counselor, she said finishing her psychology degree later in life allowed her more time to figure out what she wanted to do with her education.
July 01, 2021
Interested in starting a new job or advancing in your current field? An Associate of Arts (AA) degree can give you the broad-based education and in-demand career skills you need to reach your goals. Learn more about earning an AA degree and what you can do with one.