Twenty-Third Military Spouse Full Scholarship Awarded in Jacksonville
Jenny Barrezueta didn't know whether she should laugh or cry – so she did both.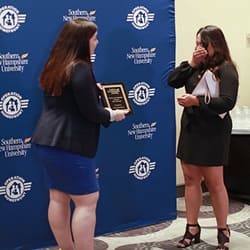 Barrezueta was overcome by a lot of emotions Friday night when she was surprised with a full scholarship to Southern New Hampshire University (SNHU) ahead of an Operation Homefront celebration at the Omni Hotel in Jacksonville, Florida. She plans to study marketing and hopes to one day help promote the businesses of other military spouses and help them achieve their dreams.
"I didn't know whether to laugh or cry, and I think … I may still do both at some point later on tonight," Barrezueta said. "I think I'm still trying to process it all. I'm thankful. Scared. But just really excited because I know this is it. This is the new chapter."
'It's My Turn'
Barrezueta was in high school when she met and fell in love with her husband, Galo Barrezueta. She was 18 when the couple had their first child 14 years ago. When Galo enlisted in the U.S. Navy, Barrezueta's life primarily focused on taking care of the couple's son and supporting Galo during deployments and moves to new duty stations.
"Where he went, I went," Barrezueta said. "I stood by his side, and now that we're more settled, it's my turn. This, for me, is just amazing. It's a new opportunity."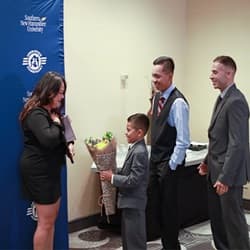 Galo and the couple's 2 sons – Matthew and 7-year-old Mark – knew Barrezueta was getting the scholarship but managed to keep it secret from her. As SNHU Assistant Director of Military Initiatives Emily Devito told Barrezueta the news, her family came up behind to give her hugs and flowers.
Galo said he wanted his wife to achieve her dreams because she has been such an integral part in what he has accomplished in his own life. "She motivated me to finish high school in the first place. If it wasn't for her, I wouldn't be in the military," he said. "I want to give her the opportunity that I got. I was blessed that the military has given me the opportunity to go to school. I feel like she deserves that, too."
Although she hasn't had the opportunity to earn her degree, Barrezueta has already returned to the workforce at a mortgage company where she's developed a passion for marketing. She plans to pursue her bachelor's in marketing and wants to one day help other military spouses achieve their dreams.
"With marketing, there are so many tools you can provide to people to make things grow bigger and bigger, so that's my goal," she said. "As a military spouse, my plan at some point is to market military spouses who have small businesses, who have dreams of their own and just don't know how to make it happen."
Celebrating and Supporting Military Spouses
After Barrezueta was surprised with the SNHU scholarship, dozens more military spouses filled one of the hotel's ballrooms for the Homefront Celebration sponsored by SNHU that included dinner, a photo booth that proved very popular, as well raffle prizes, a networking exercise and dancing.
Jenny Valderas, Operation Homefront's director of family support services, said the Homefront Celebrations have two goals. The first is simply to give military spouses a fun night out and a chance to celebrate with one another. But the celebrations are also great networking chances, which is particularly vital to spouses who move so often and need to develop new support systems over and over again.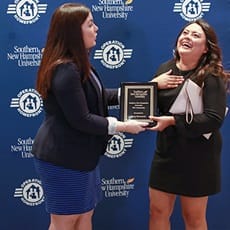 "Who knows a military spouse more than another military spouse? Who knows the struggles, the trials and tribulations that are faced being that support system for your family more than another military spouse?" she said." Tonight, we hope that they meet someone new and they're able to build that support system in their local community."
Barrezueta is the 23rd military spouse to receive a full-tuition scholarship to SNHU through a partnership with Operation Homefront. Devito said the partnership works because both groups want to support military families. Operation Homefront offers housing and other assistance programs; SNHU offers a college education.
"Giving out the scholarships that we do with this partnership really illustrates what our mission is, to support military families," Valderas said. "I am so excited to see how Jenny (Barrezueta) flourishes with this scholarship, and what she's able to do in her career."
Joe Cote is a staff writer at Southern New Hampshire University. Follow him on Twitter @JoeCo2323.
Explore more content like this article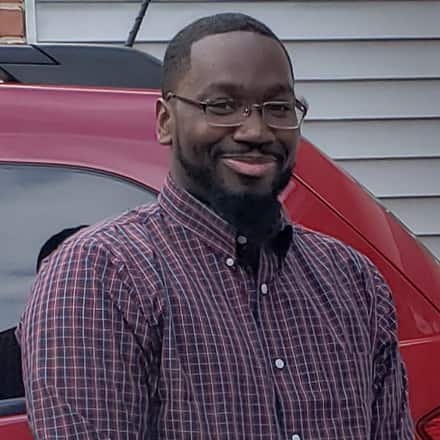 May 27, 2021
Steven Moore is approaching a decade as a human resources assistant, and while he loves his job, he is stuck in his pay grade. Now he's the 31st military spouse to receive a full-tuition scholarship to SNHU through Operation Homefront and is ready to take the next step toward career advancement.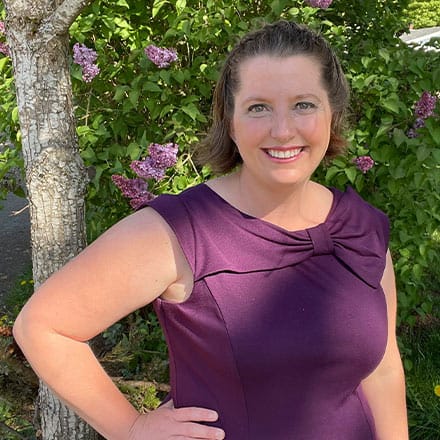 May 07, 2021
When it comes to helping others, Tevera Holcomb Hesslink has passion and determination – she seldom puts herself first. With her husband's retirement from the U.S. Navy on the horizon, Holcomb Hesslink's looking toward the road ahead and is ready to bring her aspirations to the forefront.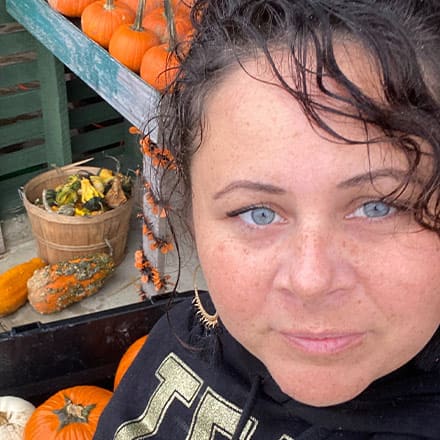 March 31, 2021
Helping people is what Codie Maile believes to be her purpose in life. As the 29th military spouse to receive a full-tuition scholarship to SNHU through the university's partnership with Operation Homefront, she is ready to finish her degree and follow her dreams.