Scholarship Awarded to Military Spouse with Passion for Community
Omoni Williams pours a lot into others, often neglecting her own needs. By nature, she cares deeply. She makes it her life's mission to support everyone she can, from her family to her neighbors to the strangers she meets on the street.
It wasn't until her active-duty husband, Aaron, went on tour for 17 months that she burned out. Williams was acting as the primary caregiver for her daughter and three autistic sons while continuing to look after the people in her community.
"This deployment really got to where my cup was empty," she said.
With a desire to do something for herself, Williams applied for a full-tuition scholarship to Southern New Hampshire University (SNHU), awarded to military spouses through a partnership with Operation Homefront (OH).
In an emotional phone call leading up to Friday evening's Homefront Celebration in Alexandria, Virginia, Williams learned she was selected for the scholarship. "I literally was speechless," she said. "... I just kept thinking, is this real? Did they really choose me out of all the other applicants?"
Partnering with Operation Homefront to Support Military Spouses
Emily DeVito, the assistant director of Military Initiatives at SNHU, said Williams was selected as the 24th military spouse scholar because she demonstrates grit. "Omoni is someone whose barriers to success have nothing to do with her personal drive and determination," DeVito said.
DeVito recognizes the sacrifices Williams made over the years to prioritize her family and is happy she had the opportunity to be celebrated at the OH event.
SNHU values its partnership with OH because it understands the challenges military spouses face and helps them overcome those barriers, DeVito said.
Partnering with an organization like OH helps SNHU increase access to education. "It is an opportunity for SNHU to put into action our core values and our mission of supporting military spouses," she said.
Wife, Mother, "Neighborhood Auntie" Puts Others First
The Williams' were high school sweethearts and married when they were just 18 and 19 years old. Nearly two decades later, the couple are celebrating their 19th wedding anniversary this week. "Being a military spouse is all I know," Williams said.
Adjusting to the military life wasn't easy, especially when their first station change (PCS) whisked her away from friends and family. But it's also opened doors to new experiences.
"We've had so many different experiences that I don't think I would have had otherwise," she said. Each of her children were born in a different place around the world, from the East Coast to the West Coast, Japan and Germany.
Between taking her sons to appointments and therapies five or six days a week, to homeschooling her daughter to give her one-on-one attention, Williams has a full plate.
Despite this, she puts a lot of time and effort into the people around her. "I've gained friends and amazing relationships with people literally all over the world," she said.
Williams is called the "neighborhood auntie" in Virginia, where her husband was most recently stationed. She's always coming up with activities for the children in her community, and this summer, she created a camp where she teaches children about their self-worth.
Not only does she care for the children, but she focuses on the adults, too. She checks in with neighbors, watches their kids when their parents have appointments, informs them of free events and recommends resources whenever she can.
"We're not here to be alone… we're here to be a part of a community," Williams said.
The Support She'll Need to Succeed
Williams first tried to enroll in an online degree program while Aaron was going through military training in Florida. When a PCS sent Aaron to Texas, she was left alone to pack up their home and make the move with two young children. During this move, internet access was not a guarantee and she couldn't stay up to date with her coursework.
"I remember having to drop out because I just couldn't keep up with the demands of school in the midst of our family's transition," she said.
Williams didn't lose sight of earning a college degree, though. "It's been on my mind, and I've been thinking about it," she said, which is why she jumped at the full-tuition scholarship opportunity when she heard about it.
Earning a degree completely online offers Williams the flexibility she needs with a busy schedule and unpredictable lifestyle. The difference this time around is that at SNHU, Williams will be supported by a team of military advisors who understand the challenges she may face and are prepared to help her through them.
"With my husband's schedules and my kids' schedules, I can't commit to going to school in a physical classroom," she said. Instead, she'll be able to bring her classwork with her anywhere she goes, including to her children's appointments.
With this full-tuition scholarship, Williams can finally pursue her dreams without worrying about finances. Plus, earning a degree can even put her in a better position to make financial contributions to her family one day.
Having a college education is important to Williams as a military spouse, too. "Finding employment at each new duty station can be difficult," she said. "Actively equipping ourselves with higher education sets the stage for more opportunities to come our way no matter the market."
Pairing Her Love of Community Engagement with a Degree in Social Media
After analyzing every online bachelor's degree SNHU offered, Williams decided a BS in Marketing with a concentration in Social Media Marketing would be the perfect fit.
Community is so important to Williams, even though hers is often changing with nature of military life. She finds social media to be a great tool to continue engaging with others beyond face-to-face.
She's interested in reaching target audiences, overseeing campaigns and community managing. "I just really feel like this is something that would, one, light my fire, (and) two, it's something that is fun to me," Williams said. "It's totally fun seeing the interactions between people, engaging people and getting feedback."
She's already getting her feet wet in this arena, too. Williams thought her church should create a Facebook group for its children's program to encourage further family engagement. This recommendation was just approved.
Not only would a career in social media allow her to continue helping others, but it could also fit her family-focused lifestyle. Since social media can be done on the go, Williams can work in an office or at home.
Setting an Example While Helping Herself
Williams was with Aaron when she learned she was the scholarship recipient. "My husband was very happy for me," Williams said. "He's a great supporter and just hugged me as I cried in disbelief."
Williams wants to set an example for her children. "I hope that in earning my degree that my children see that setbacks don't have to knock you out of the game," she said.
She knows there will be challenges in her new journey, but she's ready to show her children the hard work she's willing to put in to achieve her goals. "I also want them to see that, as long as they are still breathing, there is always time to follow your dreams," she said.
While Williams knows a college education will help her family, she's thrilled she will finally be doing something for herself. "This scholarship, above all, means that I will be finally filling my own cup after pour(ing) into others so often," Williams said.
Rebecca LeBoeuf '18 is a staff writer at Southern New Hampshire University. Connect with her on LinkedIn.
Explore more content like this article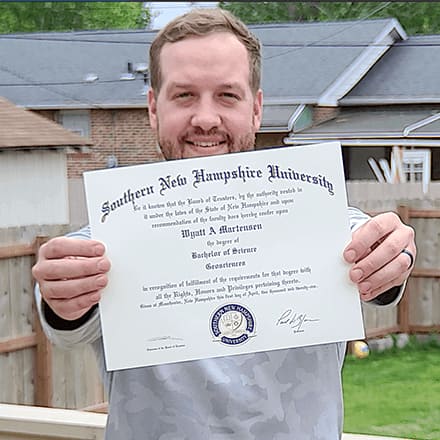 July 15, 2021
When your chief warrant officer asks you to do something with him, you're most likely going to do it. That's how Wyatt Martensen '21 tells the story of how he ended up returning to school to earn his bachelor's degree online.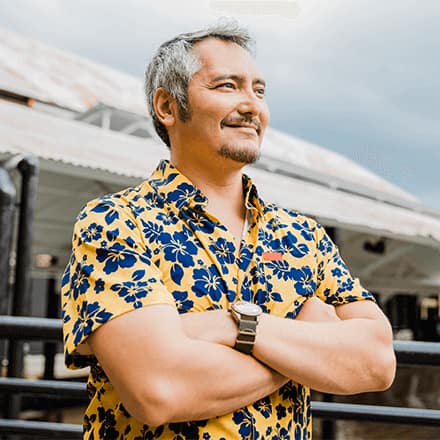 July 12, 2021
Armed with prior college credits but no degree, Derald Wise '14 '18G wanted to make meaningful connections as he finished his education. Like many military-affiliated students, he also knew he needed an online degree program that was flexible.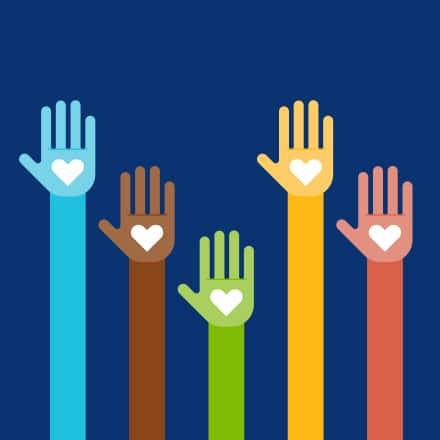 June 21, 2021
SNHU's 2021 Global Days of Service brought attention to a different societal issue each month: hunger, shelter, environmental justice and the pandemic's essential workers. Throughout the four-month-long event, Penmen from across the world shared their stories of service, community and strength.