Certificates vs. Degrees: What's the Difference?
There are many factors to consider when comparing certificates and degrees including: time commitment, financial aid and purpose of the credential.
Making the decision to pursue higher education can be challenging. There are many factors to consider when choosing which path is right for you, including time commitment and cost. Two of the most popular types of credentials are degrees and certificates, and each can be significant in helping you achieve your goals.
Degrees and certificates can be earned through an academic program at a postsecondary institution, such as a college or university. Learning the difference between degrees and certificates—and evaluating how each aligns with your goals—can help you determine what the right path is for you.
What is a Degree?
If you are looking for a complete curriculum developed around a chosen field of study, then a degree may be for you.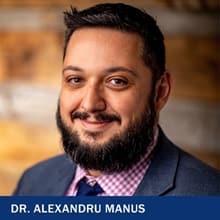 "A degree program reflects back into a specific discipline rather than a specific skill, competency or topic," said Dr. Alexandru Manus, vice president of innovation knowledge management at Southern New Hampshire University (SNHU). Depending on your school or program, it may also include general education courses and electives.
The four types of college degrees are:
Associate
Bachelor's
Master's
Doctoral
The two undergraduate-level degree programs are associate and bachelor's. Associate degrees are the shortest of the degrees, typically taking two years to complete, and are 60 credits in length. Bachelor's degrees are longer, usually taking four years or less to complete, and are 120 credits long.
A master's is a graduate-level degree that varies in length, ranging from 30-60 credits depending on the program. They are usually only available to those who have already completed a bachelor's degree.
The amount of time to complete any degree is dependent on your time commitment, degree level and whether you are enrolled in a part-time or full-time schedule. For online students at SNHU, part-time is one class – or three credits – per term, and full-time is two classes – or six credits – every term.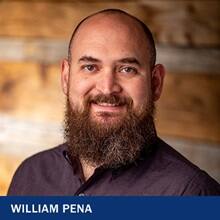 The final level is a doctoral degree, which is also considered a graduate degree. A doctoral degree is a type of terminal degree and requires an intense level of study in a specific field that can take up to seven additional years.
William Pena, associate vice president of academic operations and policy at SNHU, said degrees, when compared to certificates, are "typically larger in terms of both time commitment and the amount of content and curriculum that must be completed before the formal awarding of the credential."
How Much Do Degrees Cost?
Degree cost varies by institution, and some schools change their tuition frequently while others haven't raised tuition in over a decade.
Actual tuition costs can vary based on:
Financial aid offered
Scholarships earned
Active-duty military discounts
Financial aid, awarded through the Free Application for Federal Student Aid (FAFSA), may be available to you if you're completing a degree program. Filling out your FAFSA every year will help you determine your eligibility for government financial aid programs. You could reduce your out-of-pocket cost based on the amount of financial aid you qualify for.
There are tools available to help you determine your academic financial situation, such as net price calculators. If you have any questions, look for more information on the school's tuition and financial aid page or reach out to a member of student financial services.
What is a Certificate?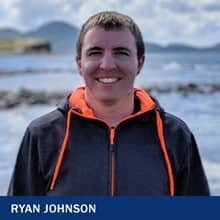 A certificate is awarded after completing a shorter program that's more concentrated on a specific field of expertise rather than an entire course of study. Certificates can be anywhere from 12 to 36 credits in length – but are typically 12 to 18 credits, said Ryan Johnson, assistant vice president of university academic operations at SNHU. While certificates do not result in a degree, they are also awarded at both an undergraduate and graduate level. And, at some universities, the credits earned through a certificate can be later applied toward earning a degree.
A few examples of the many certificates available include:
Certificates are the less expensive option due to their shortened time commitment and course load, but some may not qualify for financial aid. It is important to plan accordingly and ensure that you are aware of all the costs of your program ahead of time by reaching out to your desired school's student financial services office.
Are certificates worth it? This question is based on your individual background and goals. The value of a certificate may largely depend on how it's perceived in the specific work setting you're interested in. By doing your research on the experience valued in the workplace, you'll be able to judge whether a certificate is right for you.
Getting a certificate could be beneficial for your career by:
Broadening your skillset
Building your confidence
Improving your performance
The Difference Between Certificates and Certifications
Certificates are not to be confused with certifications. "Even though they sound similar, a certification is usually awarded by a professional association or independent organization to certify someone for work in a particular industry," said Manus, "... [while] academic certificates are awarded by institutions of higher education for the completion of the selected program of study."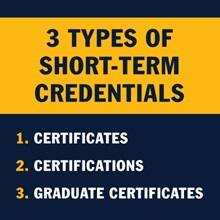 Take Six Sigma, a business method, for example. You can choose to earn your Six Sigma Black Belt Graduate Certificate, a certificate program that's 12 credits (four courses) and is designed to help prepare you for the Six Sigma Black Belt certification exam. The certificate program is offered by an educational institution while the certification exam is administered by the American Society for Quality (ASQ), which is a professional society.
Another difference is that certificates typically do not expire, whereas certifications are often time-based and must be renewed upon expiration.
Can You Get a Job with a Certificate?
Certificates can bolster a resume, allowing you to stand out in the job market. According to a New America report, long-term certificates increase your odds of being employed (New America PDF source). A long-term certificate is usually one that requires at least one year of full-time study.
A Lumina Foundation report notes that health care, education and government services are the leading sectors in which there are employees who have lack postsecondary degrees but have obtained short-term credentials (Lumina PDF source).
The increase in the odds of a certificate assisting you in gaining employment is, in part, due to the spike in the interest of obtaining work-related credentials, such as short-term credentials. Short-term credentials is a broad category that includes licenses issued by states, certificates awarded by postsecondary institutions and certifications awarded by industry organizations, according to New America.
Community colleges have seen a trend in the growing number of students interested in earning a certificate. New America reports that the number of short-term certificates awarded by community colleges increased by more than 150% from 1995 to 2018, and by 2010, 41% of all credentials awarded at these colleges were non-degree certificates. Short-term certificates, unlike long-term certificates, are those that usually require less than a year of full-time study.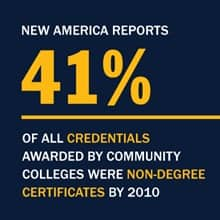 Certificates are beginning to resonate with students not only in community colleges but at four-year colleges as well. There was an increase of nearly 30% in the number of certificates awarded by public colleges since 2010, New America reports.
Short-term credentials are part of a movement to increase educational opportunities and are designed to prepare Americans immediately for in-demand work and emerging fields, according to The Lumina Foundation.
Is It Better to Get a Certificate or a Degree?
Each type of credential offers a different experience. Pena said that a degree, by design, is "a much more expansive educational experience," whereas a certificate is "more targeted and more specific to a particular domain or field of expertise."
It is important to know that certificates and degrees can supplement your career. Expanding your skill set while working full-time can be challenging, but earning an educational credential while holding a job could be a good way to sharpen your skills and apply what you are learning in real-time. And, if you're not ready to commit to a master's degree program, you might choose to earn a graduate certificate to start.
Whether you desire the foundational education of a degree, or wish to strengthen your skills with a certificate, there is an educational credential out there for you.
Nicholas Patterson is a student at Southern New Hampshire University, pursuing a bachelor's degree in creative writing and English with a concentration in fiction. Connect with him on LinkedIn.
Explore more content like this article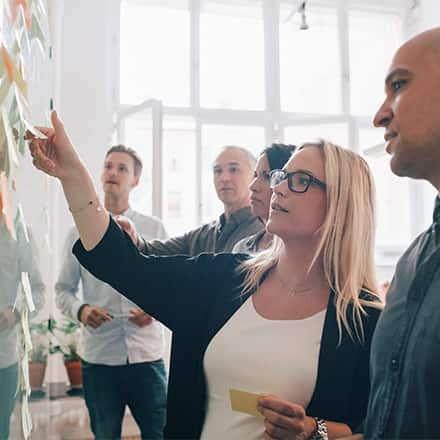 November 09, 2021
In today's competitive workforce, it can pay - literally - to advance from an associate to bachelor's degree. Learn more about the career and salary growth you could experience with a bachelor's degree.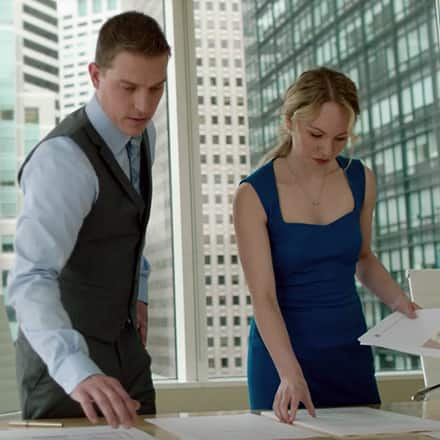 October 29, 2021
A master's degree, or graduate degree, is typically a 2-year academic program that allows you to specialize in a subject area. An MA, MS, and MBA are common types of master's degrees.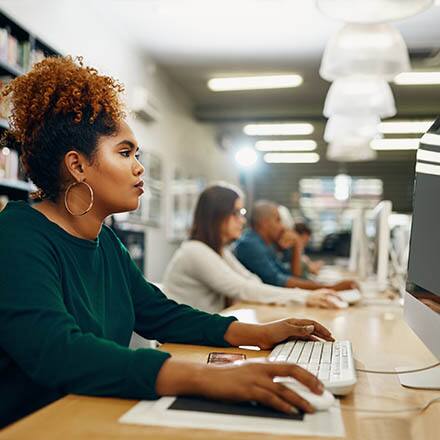 October 28, 2021
While an associate degree is often referred to as a 2-year college degree, it doesn't mean it will take you that long to graduate. By choosing programs that offer liberal transfer policies, flexible online options and more frequent semesters, you can greatly reduce the amount of time it takes.