How Long Does it Take to Get an Associate Degree?
While often referred to as a 2-year college degree, there are several factors that determine just how long it will take to get an associate degree. Choosing a program with liberal transfer policies can reduce how many credits you'll need to take, and exploring online options that offer more than two terms each academic year can help you finish faster.

Understanding the numbers
When reviewing job growth and salary information, it's important to remember that actual numbers can vary due to many different factors — like years of experience in the role, industry of employment, geographic location, worker skill and economic conditions. Cited projections do not guarantee actual salary or job growth.
While an associate degree is often referred to as a 2-year college degree, that doesn't mean it has to take you that long to graduate. By choosing a university that offers liberal transfer policies, flexible online options, and shorter, more frequent semesters, you can greatly reduce the amount of time it takes to earn an associate degree.
Alternatively, if you need to take fewer classes during the year because of competing work or personal obligations, many online schools can offer the flexibility to get your degree at your own pace. Schools that provide this option can help you earn an associate degree on a timeline that allows you to balance school and work.
Whether an online associate degree takes you more or less than 2 years to complete, the U.S. Bureau of Labor Statistics (BLS) reports that obtaining this degree leads to higher earnings and lower unemployment. In 2021, individuals with associate degrees earned a median weekly salary of $963, compared to high school graduates who earned $809. Only 4.6% of associate degree holders were unemployed in 2021 compared to high school graduates, who had a 6.2% unemployment rate.
What is an Associate Degree?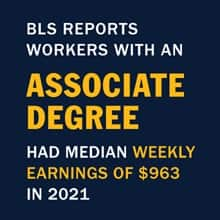 Simply stated, an associate degree requires that you earn 60 credits. That's half as many college credits as a bachelor's degree. Not only is it a stepping stone toward a bachelor's degree, but an associate degree gives you the latitude to either pursue general studies degree or narrow to a particular career field.
For example, graduates with an associate degree in IT can apply to be a computer user support specialist — a position with a median salary of $57,910 in 2021, according to the BLS. And, the credits you earn can usually be applied toward a bachelor's degree in information technology or another related program.
If you aren't sure what you want to major in and are considering if an associate degree is worth it, keep in mind associate degrees can prepare you for entry-level jobs as well as fulfill the general education requirements in bachelor's degree programs.
Associate Degree Credit Hours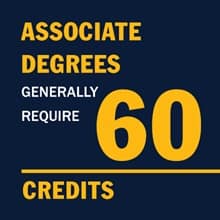 Rather than measuring the time it will take to earn your associate degree by months or years, consider it instead in terms of credit hours. According to the U.S. Department of Education, most American colleges and universities award college credit by the semester hour. In order to receive an associate degree, you must earn at least 60 credits, which typically can be fulfilled by completing 20 three-credit courses.
While many traditional American higher education institutions follow academic years that are divided into two equal semesters of 15 or 16 weeks, some are divided into quarters. Others, including certain online universities, may offer up to 6 terms annually.
The term schedule of the institution you ultimately choose can greatly increase or decrease the number of classes you are able to take each year — thus shortening or lengthening the time it will take for you to earn your 60 credits. Some universities that offer online courses might also offer you a greater number of opportunities to earn credits throughout the academic year.
How Long Does it Take to Earn an Associate Degree Online?
It's no longer unusual to pursue your associate degree online. The number of students in online courses grew exponentially over the 14 years (Bay View Analytics PDF Source) prior to the pandemic. Since then, online courses have become even more common.
In the fall of 2020, 75% of undergraduate students were enrolled in at least one online course according to the National Center for Education Statistics (NCES). Inside Higher Ed, a news platform dedicated to higher education, further noted that 73% of students planned to continue distance learning after the pandemic.
Taking courses in an online format can allow you to manage work/life balance and the responsibilities of college courses more effectively, while still maintaining a steady academic pace.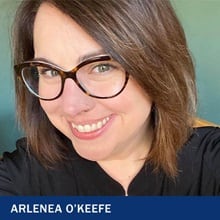 For example, at Southern New Hampshire University (SNHU), you can start new courses every eight weeks, which gives you the flexibility to take classes when it's convenient for you, said Arlenea O'Keefe, an SNHU academic advisor.
"A student who is taking two classes per term and who doesn't repeat any classes or take any terms off can complete her associate degree in a little more than a year and a half (one year, eight months)," she said. "Without taking summers off and without paying for on-campus activities, students can save both time and money."
Many online programs also accept transfer credits from other on-campus or online institutions. This is particularly helpful if you had to pause your education years ago.
At some schools, such as SNHU, "you could transfer up to 45 credits (equivalent to 15 classes) and still earn your associate degree," O'Keefe said.
There are still other ways to obtain credit and reduce the time it takes to graduate if you haven't completed any college courses. Students who pursue a criminal justice associate degree, for instance, are often able to receive credit for police academy training, O'Keefe said. You can also choose to take a College Level Equivalency Program (CLEP) exam in a particular subject area to test out of college courses, specifically certain prerequisites, and receive college credit for those classes.
How to Get an Associate Degree
Getting your associate degree can give you the general education needed to jumpstart your career or as a foundational piece toward a bachelor's degree.

If you are considering an associate degree, a good starting point would be to take some time to research schools and the programs that they offer. If you find a program that you are interested in at a school that aligns with your life, then the next step would be to apply.
If your application gets accepted, then there are generally two types of associate degrees to choose from: an associate of science degree (AS) or an associate of arts degree (AA). Choosing the right area of study for you can help you improve your skill set and achieve long-term success.
Some degrees to consider are:
The Bridge Toward a Bachelor's Degree
Once you've earned your associate degree, you're considered a college graduate. While some consider their academic careers complete at this point, you may ultimately wish to pursue a bachelor's degree. If this is of interest to you, consider an associate degree program that allows you to seamlessly transfer the credits you've already earned toward your bachelor's degree.
Typically, credits earned in associate degree programs can be applied toward general education requirements.
"Students here may choose to pursue their associate degree in liberal arts to get their general education requirements out of the way for their bachelor's degree," said O'Keefe. "This is a great solution for a student who may not know which degree program to choose."
After earning an associate degree, you might be surprised to learn how quickly you can finish your bachelor's. To find out how many more courses you'll need to graduate, some schools offer free credit evaluations for prospective transfer students. At SNHU, it's as easy as this:
Complete the free 5-minute online application. There's no obligation after filling it out.
Get your transcripts requested — for free. Chat with an admission counselor, and we'll request your transcripts on your behalf.
Receive your free evaluation. Soon after all your transcripts are in, you'll get your official evaluation. It will show you what was transferred in—and what classes you need to complete.
With an associate degree in hand, you could have up to half of your bachelor's degree completed by the time you start classes at SNHU, even if it's been a while since you were last enrolled.
"It's been some 20 years since I've been in school," said Camellia Varnado '20. "I had an associate degree from community college. Sixty of those credits transferred."
Whether you are looking for a degree that can prepare you for the workforce or to pave the way toward a bachelor's degree, you can complete your associate degree at the pace you desire in many programs — often in less than two years.
A degree can change your life. Find the SNHU associate degree that can best help you meet your career goals.
Krysten Godfrey Maddocks '11 is a writer and marketing/communication professional. Connect with her on LinkedIn.
Explore more content like this article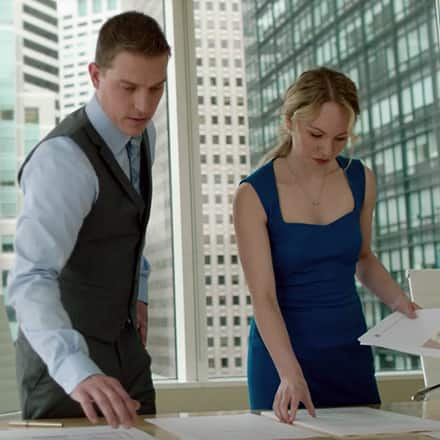 A master's degree comes after a bachelor's degree and is typically a two-year academic program that allows you to specialize in a subject area of your choice. Some common types of master's degrees you can choose from include: Master of Arts, Master of Science and Master of Business Administration.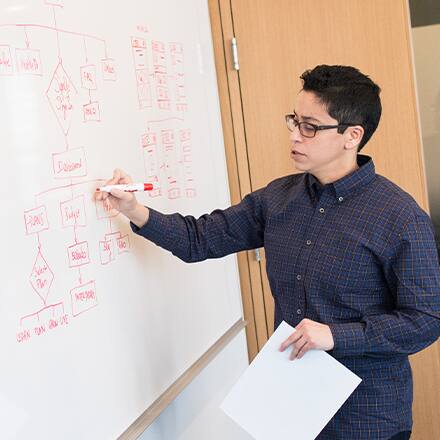 Everyone has a different style of learning. Through understanding the styles of study and note-taking that suit you best and knowing about different strategies for activating your learning, you can maximize your learning experience with formal education, and in all areas of life.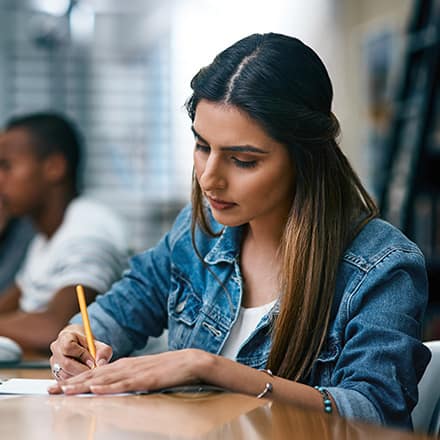 If you're thinking about earning a degree, you'll need to consider how to pay for college. For many, that can involve student loans. A student loan is money you can borrow from the U.S. Department of Education or a private organization to pay for college and repay later with interest.
About Southern New Hampshire University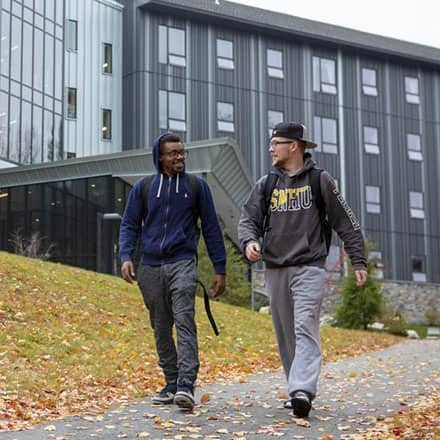 SNHU is a nonprofit, accredited university with a mission to make high-quality education more accessible and affordable for everyone.
Founded in 1932, and online since 1995, we've helped countless students reach their goals with flexible, career-focused programs. Our 300-acre campus in Manchester, NH is home to over 3,000 students, and we serve over 135,000 students online. Visit our about SNHU page to learn more about our mission, accreditations, leadership team, national recognitions and awards.