How to Get Research Experience as an Undergraduate
There are many opportunities to get research experience as an undergraduate, including class assignments, working with an instructor on their research projects, presenting at conferences and submitting research to publications. They all begin with a question.
When Tim Harper began his bachelor's in computer science and mathematics, it had been 10 years since he had done academic research. Under the guidance of a faculty member, he discovered a research club that introduced him to the process and immersed him in opportunities that would shape his undergraduate career.
Now, his resume boasts both local and national conferences, and he has gained skills he can use every day.
What is Undergraduate Research?
Chances are, you've done research before. You may have shopped around for a new phone, comparing features and customer reviews, or looked up the best way to remove a stain from your shirt. Regardless of the topic, you had a question and searched for a solution.
Undergraduate research is similar. Following a research process, you can dive deep into an academic or career-related topic that interests you. Once you have a question in mind, you can begin your own research and make contributions to that particular field as an undergraduate.
Colleen Tapley, director of Undergraduate Research at Southern New Hampshire University (SNHU), strives to show all students they can engage in research, and that it doesn't have to be "big and scary." "Everyone can do research," she said. "... I don't feel that research is limited to one major or one type of student."
How to Get Research Experience
Since you complete undergraduate research during your bachelor's degree program, it's typically structured and academic. To get started on a research project, follow these steps:
Step 1: Ask a Question
Start with a question or a problem that insights your curiosity. If you pick a topic you're interested in, you'll feel more invested in the project.
As a military veteran, Harper understood the barriers that separated him from many of his colleagues. He became curious about how student veterans, like himself, influenced the campus classrooms, thus inspiring a question that became his first undergraduate research project, and one he later presented at the National Conferences on Undergraduate Research (NCUR).
Step 2: Do Some Preliminary Research
Once you've landed on a topic, you can utilize scholarly databases such as Google Scholar and Academic Search to see what other researchers have learned about your topic. Universities often offer access to a host of online databases.
After Dr. Peter Frost, a professor of psychology at SNHU, explored existing research surrounding his interest in smartphones and cognition, he discovered a glaring gap in information. This observation helped him find a focus for his student research group.
Step 3: Construct a Thesis
Once you've reviewed the research that already exists, you can identify a unique approach or perspective to take in your research.
Pat Donahue '17, one of Frost's research assistants, recommends looking for the point at which other researchers left off. "From there, it's a blank canvas," he said. Take your idea and construct a thesis statement. These one or two sentences will guide your project.
Step 4: Seek Out a Mentor
Tap into a wealth of experience and knowledge by finding a faculty mentor who can support you throughout your project. Mentors can help you bring your idea to fruition and get it to a point in which you can present it, according to Tapley. She recommends working with someone you feel comfortable with and can trust.
If you're having trouble coming up with a research question, you can also approach a faculty mentor for ideas.
Research Opportunities in College
You don't have to look too far for research opportunities if you're going to college. Many exist within the comfort of your university.
Take Advantage of Class Assignments
Many classes and programs have research components built into their curriculum, allowing you to be an active learner, according to Dr. Chris Matthews, the director of SNHU's University Honors Program.
"Research provides the opportunity for students to process and apply the content of the course by actively questioning and seeking answers that are not instantly available," he said.
Before graduating, honors students complete an independent thesis to hone their critical thinking skills and prepare them to take ownership of their learning.
"Students are required to do research not just to complete the assignment but to change the world," Matthews said. "We expect students to conduct research that they are passionate about, and that connects to their academic goals."
Work with an Instructor
Some of your instructors may already be working on research of their own and could be looking for help. By becoming a research assistant, you're not only helping your instructor with their goals, but you're gaining real-world experience under the guidance of a professional in the field.
Frost offers internship opportunities to his psychology students interested in additional experiential learning. He focuses on topics that interest him, but might also appeal to students. "It's easier for me to mentor a student about statistics and research methods if we really want to get the answer to something we care about," he said.
Since he often works with his research assistants for multiple years at a time, Frost forms professional relationships with them that last long after their graduation. "I get to see how this (research experience) plays out not only during their college career, but we keep in contact after," he said.
The skills students learn while working with data can open doors to many career paths, according to Frost. "They could work in data analytics for companies, they can literally do research at hospitals and then, of course, many of them do it because they want to go into graduate school," he said.
When you're ready to embark on your next journey, the instructor you worked with may be able to speak of your accomplishments in a letter of recommendation, too.
Present Your Findings
Since research is an ongoing, collaborative experience, your project doesn't end once you've finished your research. You'll want to share what you've learned with others interested in developing the field.
There may be opportunities to do so within your own college community. For instance, SNHU hosts an Undergraduate Research Day each spring, offering students the chance to present their research to colleagues, instructors and others for the chance to have their work published.
"We look for students across the entire campus to come and show what they do all year round," Tapley said. If their abstract – a 150-250-word summary – is accepted, students will be able to give an oral or poster presentation or work to find a solution to a real-world problem a local organization is facing.
Students interested in sharing their research beyond their campus can also submit their abstracts to other conferences and publications.
Frost's strategy is to start with the higher reaches first and work your way down the ladder. He and five research students recently had their study published by Wiley when they discovered that smartphones temporarily alter cognition.
Benefits of Undergraduate Research
Donahue realized the impact his group was making in the psychology field when he saw how engaged research professionals were in the group's presentations at conferences. "It was cool to see people's reactions (and) responses," he said. "To see how people really had a vested interest in what we're talking about, us being little college kids, undergraduates at the time."
Advancing real-world information isn't the only benefit of participating in research as an undergraduate. Since there are so many components to the research process, it can also help you develop skills that will add valuable weight to your resume.
In addition to learning how to pull information from data, Donahue ran research sessions which taught him time management skills and how to organize people. These soft skills, in addition to critical thinking, public speaking and grit can spill into other areas of your life, too, and becoming an expert in a topic can certainly have an effect on your confidence.
When Harper finishes his degree next year, he knows his experience will make him more marketable to employers. "(Employers) know that you're not going to be a detriment if they give you an assignment where you might have to do a little research," he said. It'll also show employers that he's capable of identifying credible sources and networking at conferences.
When Harper returned to school, he never expected to become so involved in undergraduate research. "Opportunities fell into my lap, presented themselves," he said. "Here I am, presenting at conferences across the country, and that's wild to me."
Rebecca LeBoeuf '18 is a staff writer at Southern New Hampshire University. Connect with her on LinkedIn.
Explore more content like this article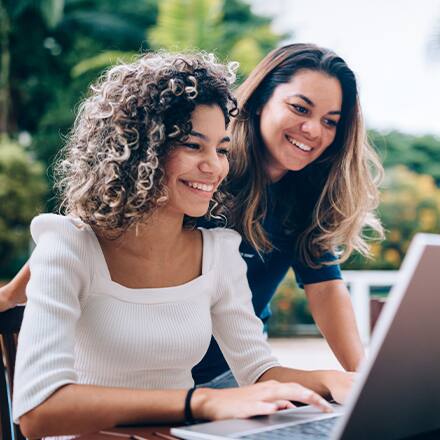 The Common Application is an online college application tool that lets you apply to more than 1,000 participating universities in the United States and abroad, including Southern New Hampshire University.  Convenient and easy-to-use, the app can help you save time and money.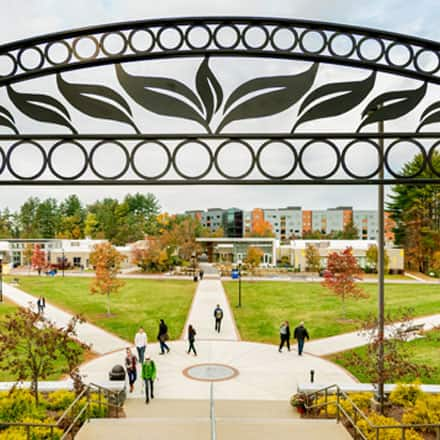 Participants earn master's degree in Secondary Education, NH licensure at affordable rate through grant program
A scholarly source is a reputable work created by scholars with advanced degrees in that field. Scholarly sources use various types of research, such as survey results and data, while often going through a peer-review process to ensure that other scholars verify the findings.
About Southern New Hampshire University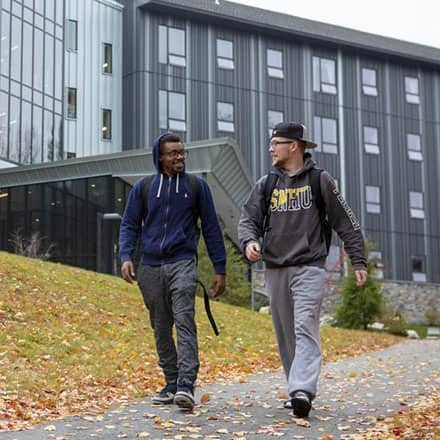 SNHU is a nonprofit, accredited university with a mission to make high-quality education more accessible and affordable for everyone.
Founded in 1932, and online since 1995, we've helped countless students reach their goals with flexible, career-focused programs. Our 300-acre campus in Manchester, NH is home to over 3,000 students, and we serve over 135,000 students online. Visit our about SNHU page to learn more about our mission, accreditations, leadership team, national recognitions and awards.