Announcing the Winners in SNHU's 2017 Fall Fiction Competition
Top-prize recipients in SNHU's 2017 Fall Fiction Competition include first-place winner Candice Lee for her story, "The Buffalo," second-place winner Meagan Lucas for "What She Lost" and third-place winner Caitlan Honer for "The Old Lady from Apartment 3B." Each of the top three winners will receive tuition scholarships that may be used toward an online degree program: $3,000, $2,000 and $1,000 respectively, along with a prize package featuring a variety of writer-related products and books. Fourth- and fifth-place winners, Alexander Olson for "The Dead Gunslingers" and Lonormi Manuel for "A Charitable Donation," will also receive a writer-related prize package. Each of the finalists' stories will be published in The Penmen Review, SNHU's online journal for creative writers. Tonya Moore was the sixth finalist, recognized for her short story, "Shelter."
With more than 400 entries in Southern New Hampshire University's 2017 Fall Fiction Competition, preliminary reviewers had their work cut out for them in choosing the semi-finalists, whose stories would go on for final judging. Judges' scores, based on originality, thought process, structure and grammatical correctness, determined the six finalists who then vied for the top five spots. Public voting led to specific point values, when combined with judges' scores ranked winning submissions for SNHU's 3rd annual competition.

"For the third year in a row, SNHU's fiction contest was successful and saw hundreds of stories submitted for consideration," said Derrick Craigie, MFA, associate dean of faculty for creative writing and literature. "Talented writers from within the university and beyond shared their work with us and I admire both their determination and their skill. The scholarships awarded to the top three finalists provide an opportunity to further their craft and education. I'm excited for them as they continue to explore the art of writing and congratulate them on their success."
First-Place Winner Candice Lee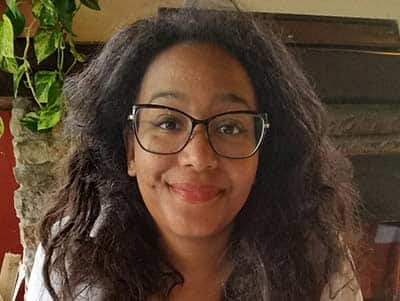 For Lee, the competition was the boost she needed to move forward with a writing career. "I am finishing a novel I started many years ago and sending out other short stories," she said. She hopes to one day write a novel that expresses, to her satisfaction, "my ideals, struggles and mythologies as an American woman of multiple cultures."
Thus far, Lee has self-published a novel, "The Innocent," which she said is "a multicultural retelling of 'Beauty and the Beast.' It is a novel about love, individual identity and spiritual freedom." She also wrote another novel under a pen name, "Unicorns Don't Come to Black People," a collection of modern fairy tales, she said, "about the horror, the love, the struggles and the humor of growing up in the ghetto."

"I am tri-racial - Native, African- and European-American - so my stories usually synthesize bits from all three storytelling traditions," Lee said. "I believe my great grandmother started me on a path to writing. She told me stories about our people, the Wampanoag, when my father brought me to visit her when I was a child. I know I complained that the stories were not 'happily-ever-after' ones like I'd read before, but I still remember them now when I have forgotten all the others. She started me on the path to loving stories and myths."

A program Lee read about, one that releases bison back into the wild, served as the inspiration for her first-place winning story. "I thought about the relationship between Native people and the buffalo and what the animal symbolized to them and what it could symbolize to us today," she said. "There is also a nod to one of my favorite stories, 'Beauty and the Beast.'"

While Lee is not currently in school, she "would love to join a master's program at SNHU. I have heard a lot of positive things about the new creative writing MFA. I am really excited to have a chance to join it."
SNHU Master's Student Awarded Second Place
Lucas, whose story garnered second place, is currently working on her eighth class in the master's in English and creative writing with a concentration in Fiction. She has had seven stories published over the past two years, in journals such as The Santa Fe Writers Project, Four Ties Lit Review and Dime Show Review. She's also won the 2017 Scythe Prize for fiction for her story, "Kittens."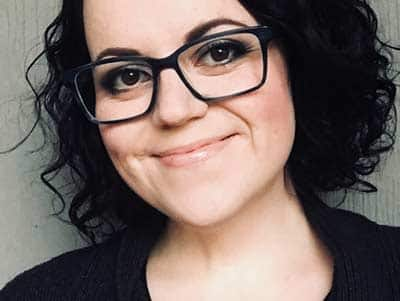 It was a prompt from one of her English courses that became the genesis for "What She Lost." "We were asked to write a story that takes place in another country, but we were not allowed to say the name of the country," Lucas said. "Additionally, our protagonist had to lose something."

She writes literary fiction with a Southern twist, and most of her work is set in her adopted home of Western North Carolina. "This assignment felt like a stretch for me. My first thought was Italy because I'm a bit food and coffee obsessed, and I felt I could do the setting justice without having been there," Lucas said. "I also wanted to play with the idea of losing as gaining. If you've read the story, you know that Clementine loses her wedding bands, and possibly so much more. But she also gains something, a realization, and that I think is more valuable than the rings."

Lucas hopes to one day publish and to teach. She said, "This program helps me do both. The creative writing classes strengthen and mold my skills as a writer. Over the last year, I've been very lucky to be inspired and pushed and prodded by my professors and classmates here at SNHU to produce more and produce better quality work. Additionally, the academic classes give me the background I need to get my foot in the door teaching at local colleges."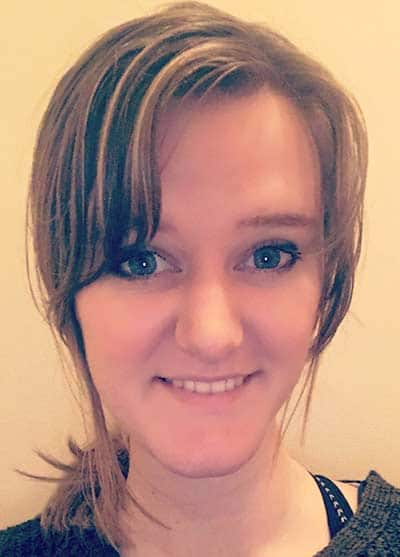 SNHU Bachelor's Student Earns Third Place
Third-place winner Honer is currently enrolled in SNHU's bachelor's in creative writing and English program. "The creative writing program has shown me more about the industry I hope to be part of one day, as well as letting me challenge myself to try new things in my writing," she said. "Expanding my skills has always been the goal and this program is helping me do that."

Honer said her story came about almost accidentally. "I had the idea to involve ghosts, and I knew pretty early on I wanted it to have that 'full circle' moment, which is where the main character Ben googles how to bring a ghost back, rather than how to get rid of one. But most of the story just spiraled from that initial idea of ghosts into what we see as the final product," she said.

She self-published "Hello, Honeybee" in 2014 and followed up with a sequel about a year later. "The Old Lady from Apartment 3B" will be her first published short story. As for her goals in writing, Honer said, "Whether through novels or scripts, or something else entirely, I'd like to reach a point where I can make a living off my writing."
Review and Judging Panel
Initial Review Panel
Martin Hyatt, a Louisiana native, is the author of the Lambda Literary Award-nominated novels, Beautiful Gravity and A Scarecrow's Bible. His books focus on working-class life and have both received Stonewall Honor Book Awards from the American Library Association. Martin is also the recipient of the Edmund White Award for Debut Fiction, an Edward F. Albee Fellowship, and he was named a "star of tomorrow" by NY Magazine. His best-known essays include "An Open Letter to Mike Pence" and "How to Skin a Deer," both published in the Huffington Post. He has recently completed a memoir entitled Greyhound Country. Martin currently lives in NYC and teaches writing at various colleges and universities, including Southern New Hampshire University.
Crystal Curry is the author of two prizewinning poetry books, But I Have Realized It (Switchback Books, 2016) and Our Chrome Arms of Gymnasium (Slope Editions, 2010). She holds an MFA from the Iowa Writers' Workshop in creative writing and an Ed.M. in human resource development. She has been an adjunct professor of creative writing and English at SNHU since 2012. She lives in the Bronx, NYC, with her family.
Cyndle Plaisted Rials lives between the mountains and the ocean; both pull her equally. She teaches creative writing for Southern New Hampshire University and operates a small business in which she designs and creates eclectic fashion accessories with fiber and resin. Cyndle earned her MFA at Vermont College of Fin Arts, and her poems have appeared in such places as Hunger Mountain, Glass: A Journal of Poetry, Amethyst Arsenic, Conte, and Be Wilder: A Word Portland Anthology. She is currently at work on her first novel.
Angelina Oberdan is a writer and instructor, hailing from Charlotte, NC. She received an M.F.A. in Creative Writing (Poetry) and an M.A. in English from McNeese State University in Lake Charles, Louisiana. Awarded the Joyce Scantleberry Award for Poetry, judged by Cody Walker (2010), Angelina's work has appeared in many journals, including Cold Mountain Review, Louisiana Literature, Mobius, Italian Americana, Southern Indiana Review, and Yemassee, among others. She co-edited a collection of essays by and about Daniela Gioseffi, Pioneering Italian American Culture: Escaping La Vita Della Cucina published by Bordighera Press (2013) and to a bilingual collection of poetry by Elisa Bagiani (Guest in the Woods, Chelsea Press, 2013). She has participated in various poetry readings, festivals, and conferences including panels on pedagogy and a reading with Umberto Piersanti at the University of Urbino. She publishes book reviews in journals like Rain Taxi Review of Books and Friends of Atticus. And she was a former contributing editor for EMRYs and The South Carolina Review. She keeps a blog-as well as transcribes one for her dog-at OAngelina.com where she writes about creating a life she loves.
Anna C. Morrison is an author of children's books, including "Silly Moments," "Green Gooey Goop" and "Squirrel Superhighway." She is also an adjunct professor for multiple colleges and universities, both face-to-face and online. While she instructs various levels of English composition, she also teaches classes on literature, film, feature writing, and technical writing, among others. In addition, she has worked with Adapt Courseware as a writing consultant on three video course projects, including college skills and composition. Morrison received her MFA in Writing from Spalding University in Louisville, Kentucky, and her BA in English, Creative Writing, from California State University, San Bernardino. She is an active member of SCBWI and lives in Southern California.
Semi-Finalist Judging Panel
Chance Lee Joyner earned an MA in English and Creative Writing (Non-fiction) from SNHU in 2014. He works as a freelance writer, a library assistant and an adjunct faculty member. Joyner has led workshops in memoir writing with the New Hampshire Writers' Project.
Joan Smith is the Lead Faculty for Creative Writing and Literature at SNHU. She is a published fiction writer, nonfiction essayist and poet under the penname J. F. Smith. Her work can be found in literary magazines and in online publications such as the Washington Post, Thought Catalog and Bartleby Snopes. Smith holds an MFA in creative writing from Emerson College, and two BA degrees (English and social science) from Providence College. She lives south of Boston with her husband and children, teaches dance in her spare time and is working on a young adult novel.
Christopher Sullivan, MFA, has worked as an adjunct instructor at SNHU since 2011 and has served as a member of The Penmen Review editorial board since 2012. Sullivan teaches numerous creative writing, screenwriting and English composition courses at SNHU, and he encourages his students to be fearless (and keep an open mind) as they study and sharpen their respective craft. In his spare time, Sullivan enjoys to write, read and spend time with his beautiful family. He is also an avid Boston sports fan.
In addition to teaching creative writing for SNHU, Marcella Prokop writes poetry and nonfiction with a focus on social justice and environmental issues. When she's taking a break from these forms, she dabbles in flash fiction, travels and works with her husband on their produce farm and orchard.
Pamme Boutselis is a writer and content director in higher education. Follow her on Twitter @pammeb or connect on LinkedIn.
Explore more content like this article
October 07, 2021
A communications major is a great way to prepare yourself for a career in fields ranging from media relations and journalism to marketing, corporate communications and many more.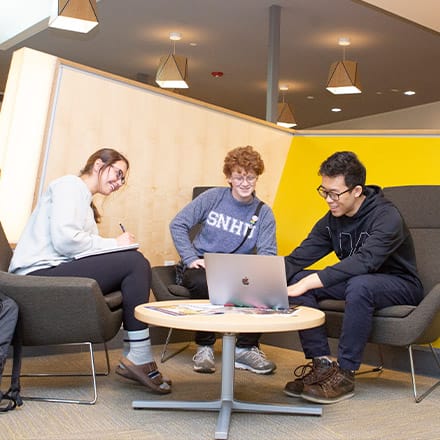 October 04, 2021
Liberal arts majors are strong communicators, who bring creativity and critical thinking to the table. If you're willing to be flexible in your search and smart about branding yourself, you can find there are many opportunities.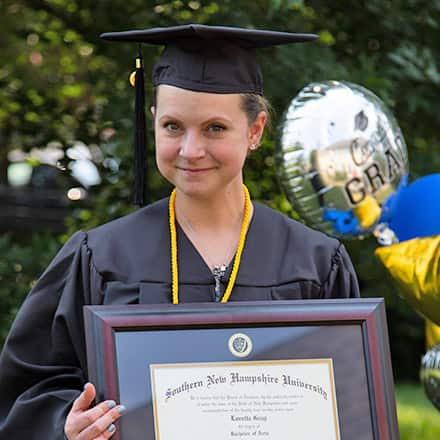 September 15, 2021
Loretta Gray started her college career in 1997, but finances took her away shortly after. Just a few weeks ago, the two-time cancer survivor completed her bachelor's degree in history. Little did she know, her husband and SNHU were planning a special diploma delivery for her.