2018 Women in Cyber Security

Seven students from Southern New Hampshire University's online STEM programs and College of Engineering, Technology, and Aeronautics (CETA) traveled to Chicago, in late March, to attend the 2018 Women in Cyber Security conference, along with Dr. Gwen Britton, executive director of online STEM programs at the university.
For some of the SNHU women, the event proved to be an awakening; the first time they had been in the presence of so many others like them - women with a passion for STEM and an ever-growing interest in the field of cyber security. For others in the group, events like this conference, including cyber competitions and the Grace Hopper Celebration of Women in Computing, not only opened their eyes to new possibilities but also allowed them to confirm that they, too, had something incredible to offer.
The conference, which provided a series of cyber security-related presentations and workshops, also created ample opportunity for networking and to meet with individuals from organizations focused on hiring more women. "The SNHU students were able to connect with employers from Facebook, Cisco Systems, CIA, Booz Allen Hamilton, Google, IBM Security, Intel and Raytheon - in all, nearly 80 companies and universities. The experience was not only energizing and inspirational but also proved to be a confidence builder and a chance for the women to forge new relationships with each other and with potential mentors and employers.
"The students thought the conference was exhilarating and an excellent experience," Britton said. "They liked the lightning talks because they could learn a lot in a short period of time, and it allowed them to dig deeper into the subjects later. They also really enjoyed the career fair - this really opened their eyes to possibilities."
"You Have a Mind for This"
For Aidan Sherr, a N.H. student at SNHU's College of Engineering, Technology, and Aeronautics earning her bachelor's in computer science, the conference allowed her to meet others from SNHU, some of whom are online students who share her interest in technology. She'd ideally like to become a developer and has a fascination with machine learning. "I think it's so cool. I can write a program, gather terabytes of data and have all this data to help make decisions," Sherr said.
She initially delayed her degree while her husband earned his, also in computer science, and the couple hopes to move to Colorado to pursue their career goals after graduation in May. She was on the lookout at the career fair for opportunities in that region of the country - and the conference introduced her to consider possibilities that she hadn't necessarily been aware of before.
"I didn't get a lot of encouragement in high school toward STEM," Sherr said. "I was pushed into English courses...but then one teacher, in geometry, was the first person to say, 'You have a mind for this.'" And much to her surprise, she realized she did.
Sherr's husband is now a software engineer and it was during his time in college that she picked up a Java book he was using in a course and found herself drawn into its content, thus leading to her own program choice. Her dad is also a software engineer and had told her years ago to consider the field - "He's thrilled I'm in this program," she said.
"I'm Going to Make it Happen"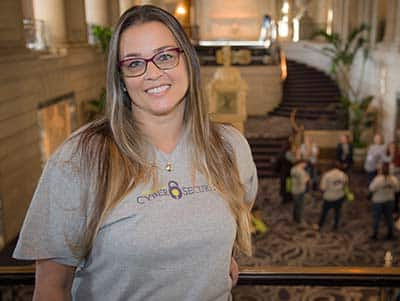 Just three years ago, Kristina Greenshields said she was working at a quiet job as an IT admin at a country club in southern Florida - "I was perfectly happy." Yet she realized she had a growing interest in website design and coding and decided to go back to school to learn more. Little did she know that her desire to earn a bachelor's in information technologies would lead to a concentration in cyber security, too, and a goal of working in digital forensics in the agency world.
Perhaps more eye opening is the personal metamorphosis she's experienced through her coursework and the conferences and events she's participated in as a student. Greenshields recalls her first conference experience. "I was totally intimidated," she said. "It's amazing to come back again and feel like I belong here. I feel so much more confident."
Part of that self-assurance came from realizing she was poised to enter into the discussion, based on the knowledge and experience she's acquired in her courses and through experiential learning at events and conferences. It also comes from the relationships she now has with other women, also students at SNHU, who she refers to as her "backbone." She said they have all grown tremendously over the past year and she's seen a big difference in the ways each approached the cyber security event and its activities and program this year.
Academic advisor Donna Dukeshire's support has also played a big role as Greenshields completed her degree. "Thanks to her, I am what I am today," she said.
And today, her focus is on digital forensics. "I like taking things apart, solving puzzles," Greenshields said. "Knowing I helped bust people - and can make a difference. I met someone last year at the conference and learned about what they did in digital forensics and thought, 'I want that' and I'm going to make it happen."
"I'm Capable of Achieving Nearly Anything"
Briana Beyerl earned her BS in Information Technologies with concentrations in Software Development and Cyber Security. She fell in love with cyber security and is currently building her resume with additional certifications. Beyerl plans to return to school for a master's in cyber security as well.
Originally a graphic designer, she began to see shifts in her field. "At that point, I decided it was time for a change and I opted to return to school for an undergrad degree," Beyerl said. "As I have advanced my education, I have come to realized that I'm capable of achieving nearly anything, with a little bit of work. Just four years ago, I didn't think much of myself and didn't have much direction in life. Now, I have my entire career tentatively mapped out and my confidence levels have increased astronomically since starting this journey."
Currently working for Gartner, Beyerl plans to move up the ladder until she is part of the analyst research community. "My schoolwork has provided me with a solid technical writing foundation to build upon down the road when I'm writing research for Gartner clients," she said.
While the conferences Beyerl has attended as a student have been for women in technology, she said, "They are always an excellent reminder that I'm not an anomaly in this field because I'm a woman. I also come home from these conferences inspired and full of energy, with new knowledge and/or skills to share with anyone who will listen."
"As Women, We Can Change the World"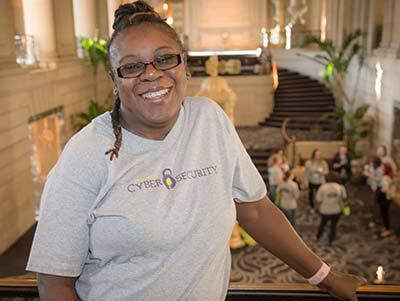 Originally from Zambia, Patricia Odani Mukuka now lives in Texas and is earning her bachelor's in information technology with a concentration in cyber security. Her mom is a teacher, and she saw her struggles when she returned to school. "I watched my mother and thought, 'She can do it. I can do it.' And if I can do it, you can do it."
That's Mukuka's goal, to inspire other people. "As women, we can change the world," she said. Like Greenshields, she spoke about how quiet she was at her first conference and how by the event's last day, she began to realize that she was in the right place, in spite of having a bit of imposter syndrome at first. As her confidence has developed, it's become even more important for her to help other women believe in themselves.
Currently, Mukuka works in a call center for a financial services company. She's ambitious, and has worked her way up three levels in a fraction of the normal time. She uses research from her courses to supplement her knowledge on the job and often shares what she's learning with her colleagues. "They appreciate what you know," she said.
Mukuka's gotten to know other women in STEM degree programs at SNHU by participating in cyber league activities and attending other conferences. "These ladies stick together," she said, noting that one in particular, Lydia Alonci, accepted a job offer while at the Grace Hopper conference this past fall and said that the organization had to be sure to take a look at other women from SNHU. As a result, Mukuka also was offered an internship.
Risk assessment is what most appeals to her about cyber security. "I get to look at things in critical areas and know to write it out to help people make important decisions," Mukuka said.
It's not just the relationships she's created with other students that has allowed her to feel connected to SNHU. She said the university is like family to her - "You start as a student, but you leave as family."
"You're Going to Do Great Things"
Alyssa Cote is a sophomore from Connecticut, earning her bachelor's in electrical and computer engineering at SNHU's Manchester, N.H., campus. She knew early on which direction to focus her degree work in - something in STEM. After attending a trade high school, she thought health science might be the way to go, but soon realized she was far more interested in electrical engineering. "I really like circuitry," she said.
Cote's family was supportive; her mom simply said, "You're going to do great things" and encouraged her to go in the direction that interested her most.
She's already moving toward a solid foundation in the field, with her chosen degree path and an electrical engineering internship with General Dynamics Electric Boat. The conference was a first for Cote, who was surprised by how open everyone was and eager to speak to attendees. She especially enjoyed the resume clinic and the opportunity to learn so much about new technology in the various presentations and workshops.
"I Still Love the Research"
Jenny Gardner is doubling up on her degree program, earning a bachelor's in mathematics and IT. A peer math tutor, she has always enjoyed the problem-solving nature of math and likes being able to help others who may be struggling with math.
Through coursework and participation in cyber competitions with other SNHU students, Gardner's gotten involved in data analysis and learned how much she actually loved it, although "I still love the research," she said, hoping to work in research one day.
Her experience at the conference made a real impression, both in spending time with Britton and the other students, along with being able to broaden her knowledge across the cyber security field and the opportunities available to women. Gardner said she never expected to make the kind of connections she has, especially as an online student, or to be offered the kind of experiential learning she's acquired through conferences and technology-related activities.
Now in what could be considered her senior year, Gardner's made the most of her time at SNHU, proactive in her outreach as president of the LGBT Club and as an officer in NERDS Unite. She's also a student advisory board member and especially likes being able to "meet people in so many fields" through each of these experiences.
"I Like to Solve Problems"
Kim Grove's day-to-day work as a secretary at a box manufacturer led her to return to school for a bachelor's in computer science. Given the organization has a small staff, there's often opportunity to get involved in any number of projects. She saw earning this degree as a way to do even more, and help find solutions to challenges that arise.
"I like to solve the problems," Grove said. After participating in SNHU's cyber league team this past fall, she learned that she not only liked solving problems but that her ability to do so translated really well in the cyber world.
The conference allowed her to deepen her knowledge and see how those skills play into any number of career roles - and offered a chance to meet other classmates and renew acquaintances in person, too.
Women Making a Difference in STEM
The women all spoke about the positive influence Britton is and how much her passion and enthusiasm inspires them. They look forward to additional opportunities to connect with her and each other once again, and meet more women, like themselves, making a difference in the world of STEM.
Pamme Boutselis is a writer and content director in higher education. Follow her on Twitter @pammeb or connect on LinkedIn.
Explore more content like this article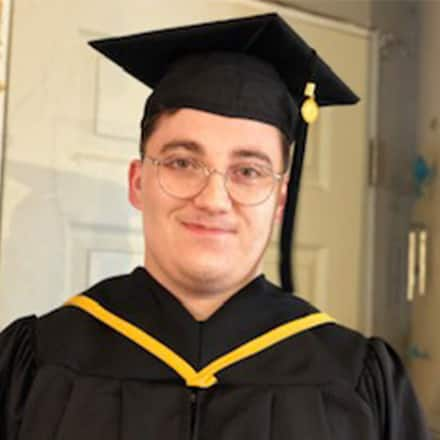 Jacob Kane-Conrad '21 was following a well-worn path to his college degree, but he also did it his own way.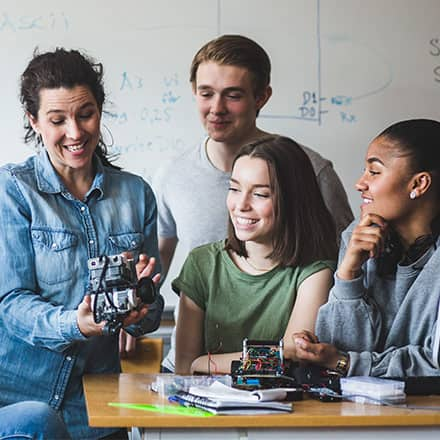 Let's start with a basic question: Exactly what does STEM mean? It's a term many are familiar with, but don't necessarily understand. STEM is a common abbreviation for four closely connected areas of study: science, technology, engineering and mathematics.
From Grace Hopper, an early pioneer in computer programming, to Katherine Johnson's contributions as a space scientist, women have been proving their value to the STEM fields for years and years. While there isn't one straight pathway into STEM, there are some general strategies that will help.
About Southern New Hampshire University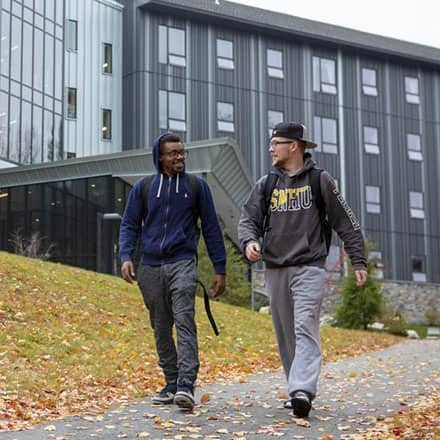 SNHU is a nonprofit, accredited university with a mission to make high-quality education more accessible and affordable for everyone.
Founded in 1932, and online since 1995, we've helped countless students reach their goals with flexible, career-focused programs. Our 300-acre campus in Manchester, NH is home to over 3,000 students, and we serve over 135,000 students online. Visit our about SNHU page to learn more about our mission, accreditations, leadership team, national recognitions and awards.