Affordability, Flexibility Key to McDonald's Employee Earning Degree
Zakee Bailey has spent more than half of his life working for the Caspers Company McDonald's, a family-owned franchisee of 64 McDonald's restaurants in central and northern Florida. Beginning when he was 15, Bailey began working his way into the company's management ranks and eventually became a general manager. But he knew that to continue to advance, he would need to earn his degree.
Bailey took advantage of his company's partnership with Southern New Hampshire University (SNHU) and earned his associate degree in general studies through the university's College for America program. The accomplishment was meaningful for Bailey personally and professionally.
"Earning my degree was important to me because I wanted to give myself a competitive edge in my professional life (and) career path," he said. "I also wanted to prove to myself that I could accomplish this goal even while working hard and moving into new positions in the company I work for."
Bailey said he hadn't previously earned his degree due to the cost. Casper Company's partnership with SNHU made it affordable. The College for America program is also specifically designed for working adults like Bailey. The courses are offered online and are completed via a series of hands-on projects that demonstrate mastery of individual competencies. The work can be done at any time of the day or night as quickly, or slowly, as a student's schedule demands. In addition to the cost, the program's flexibility was vital for Bailey.
"The online competency-based style helped with my busy schedule," he said. "I enjoy the flexibility of the program. I can take my college work with me wherever I go. I often enjoy going to a coffee shop and getting my work done in a different atmosphere."
And Bailey isn't done yet. He's working toward his bachelor's degree in communication with a concentration in business and has translated what he's learned through the College for America program into a promotion. He was working on a human resources project when a position he was interested in opened up at Caspers Company. Eighteen years after first being hired, he is now the company's human resources manager.
"I actually used what I was learning at the time in my interview for the position that I currently have," he said.
Bailey said someday he wants to earn a bachelor's degree and encouraged other employees to take advantage of the opportunity to continue their education.
"College for America has shown me that I can accomplish anything that I put my mind to. All I have to do is stay at it and never give up," he said. "I would tell them to give it a try and give it your best try. You never know what you are capable of until you have tried something new."
Explore more content like this article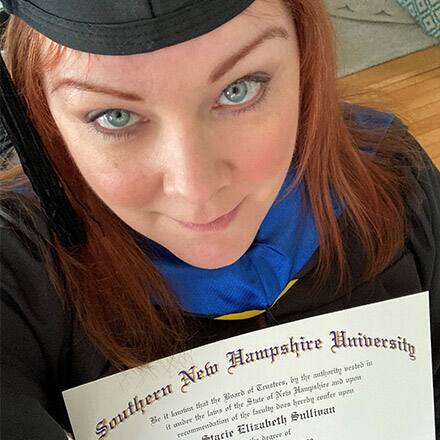 September 08, 2020
For years, Stacie Sullivan '19 felt stuck in her career, sensing her opportunities to advance were limited. After a series of challenging life events, Sullivan enrolled in the BS in Health Information Management program at SNHU.
July 01, 2020
Just a year after she decided to go back to school, Shereka Johnson-Bean '20 is preparing to submit the final project for her bachelor's degree.
June 12, 2020
Shannon Griffin's first job was as a crew member at a McDonald's restaurant. She's still working at McDonald's, but her role is a whole lot different thanks to her hard work and the degrees from SNHU.