Advance in Homeland Security
$637 per credit for 12 credits
Complete in as little as 6 months
Start your path toward an advanced career in homeland security
Upskill for the job you want
24/7 access to your coursework
Learn from experienced professionals
Graduate Certificate in Homeland Security Program Overview
The Advanced Counterterrorism and Homeland Security Graduate Certificate online at Southern New Hampshire University introduces you to the key challenges, strategies, principles and theories used to help keep the U.S. safe from terrorism, natural disasters and other threats.
Taught by experienced professionals who are up to date on the latest technology, trends and tactics in the industry, our courses provide a broad foundation to help you enter the field or further your studies. The homeland security graduate certificate examines techniques such as intelligence analysis, threat management, advanced surveillance and anti-terrorism.
Upon completion of this certificate, you'll have the knowledge base and skill set to help you compete for jobs in emergency management, infrastructure protection, border patrol, law enforcement, intelligence analysis and other related professions.
Career Outlook
With the ever-looming threat of terrorist attacks and natural disasters, a certificate in homeland security helps prepare you to meet the growing demand for skilled professionals dedicated to protecting the U.S. citizenry.
Whether you already have experience in homeland security or you want to develop a new skill set, earning your homeland security certificate online can help you carve your spot in the counterterrorism and defense realm. After completing this program, you might look into roles like:
Customs and border patrol officer.

Identify and stop threats to national security at the nation's border. Your work will focus on terrorism detection while also preventing drug smuggling, enforcing immigration laws and ensuring trade compliance.

Emergency management specialist. Coordinate relief for disasters ranging from hurricanes and forest fires to terrorist attacks. You'll be in charge of assessing resources and ensuring individuals and communities impacted by disasters receive immediate assistance.
Law enforcement information systems specialist. Detect and identify threats at the border using technology. Analyzing live surveillance video and other intelligence, you'll provide actionable intelligence to border patrol agents in real time. Create reports to support ongoing investigations.
Mission support specialist. Assess intelligence using sources and documentation to verify its credibility. Using extreme attention to detail and an analytical mindset, you'll be in charge of explaining errors or inconsistencies.
Note: Candidates for law enforcement positions may need to meet additional training and eligibility requirements.
Duties within homeland security will differ depending on your job. This means your earnings are dependent on factors such as your role, seniority and experience. For example, the Bureau of Labor Statistics reported that emergency management directors earned a median wage of $76,730 per year in 2021 while federally employed police and detectives earned $93,970.1
Overall, government employment is known for its stability, great benefits and opportunity for career advancement. But it's also worth noting that the counterterrorism knowledge you gain from this program can help prepare you for work in the private sector. Industries with sensitive properties – like aerospace, chemicals, cybersecurity and transportation – could use your expertise.
Understanding the numbers
When reviewing job growth and salary information, it's important to remember that actual numbers can vary due to many different factors—like years of experience in the role, industry of employment, geographic location, worker skill and economic conditions. Cited projections do not guarantee actual salary or job growth.
Start Your Journey Toward an Online Advanced Counterterrorism Certificate
Why SNHU For Your Graduate Certificate in Advanced Counterterrorism
Flexible
With no set class meeting times, you can learn on your schedule and access online course materials 24/7. You can also craft your educational pathway to fit your life and career. Some of our certificate programs, for example, can stack into an associate, bachelor's or master's program — helping you build the skills and credentials you need to succeed.
Affordable
As part of our mission to make higher education more accessible, we're committed to keeping our tuition rates low. In fact, we offer some of the lowest online tuition rates in the nation.
You could also earn college credit for previous work experience or professional credentials — saving you time and money.
Respected
Founded in 1932, Southern New Hampshire University is a private, nonprofit institution with over 160,000 graduates across the country. SNHU is accredited by the New England Commission of Higher Education (NECHE), a regional accreditor, which advocates for institutional improvement and public assurance of quality.
Recently, SNHU has been nationally recognized for leading the way toward more innovative, affordable and achievable education:
U.S. News & World Report named SNHU the 2021 Most Innovative University in the North and one of the nation's "Best Regional Universities"
Awarded the 21st Century Distance Learning Award for Excellence in Online Technology by The United States Distance Learning Association (USDLA)
A $1 million grant from Google.org to explore soft skills assessments for high-need youth
Network
At Southern New Hampshire University, you'll have access to a powerful network of more than 300,000 students, alumni and staff that can help support you long after graduation. Our instructors offer relevant, real-world expertise to help you understand and navigate the field. Plus, with our growing, nationwide alumni network, you'll have the potential to tap into a number of internship and career opportunities.
93.6% of online students would recommend SNHU (according to a 2022 survey with 17,000+ respondents). Discover why SNHU may be right for you.
Expanding access to quality higher education means removing the barriers that may stand between you and your degree. That's why you can apply at any time and get a decision within days of submitting all required materials:
Acceptance decisions are made on a rolling basis throughout the year for our 5 graduate terms.
If you're ready to apply, follow these simple steps to get the process going:
Courses & Curriculum
The certificate in homeland security online coursework gives you a broad sense of the on-the-job challenges faced by counterterrorism and homeland security professionals. Throughout your courses, you'll learn about emergency management planning, threat assessments, constitutional rights and civil liberties, and the role elected officials play in shaping public policy dealing with counterterrorism.
Each class in this 4-course certificate will help you master fast and thorough analysis, decision making and action steps that can have life-saving consequences:
Global Terrorism.

Explore the influence geopolitics and terrorist attacks have on our everyday lives. In this course, you'll examine historical events while learning about existing misconceptions surrounding terrorism. Finally, you'll learn how to appropriately address global terrorism.

Terrorist Techniques and Counterterrorism. Dissect common biases and mindsets involving terrorism. Learn how to deter acts of terrorism by employing counterterrorism techniques used today in the U.S. and abroad. You'll gain an extensive understanding of extremist thought and the motivations behind terrorism.
Threat Assessment. Learn how to determine the validity and seriousness of terrorist threats. After assessing the context of various situations, you'll explore and identify appropriate responses. Understand how to better verify intel in order to properly deter a terrorist act.
Intelligence Collection and Analysis. Analyze data using practices homeland security professionals employ every day. Learn various methods for examining intelligence as well as how to communicate your findings to an array of audiences. You'll gain a good understanding of what techniques should be used to produce the intel you need in order to address terrorism.
Whether you have your bachelor's degree and want to try advanced-level coursework or you already have a master's degree and want to supplement your education, the certificate in homeland security is a great option for building expertise in the field of counterterrorism.
List of Courses
Courses May Include
Graduate Certificate Advanced Counterterrorism and Homeland Security
CJ 530
Global Terrorism
Explore how geopolitics and terrorist attacks influence the world today. Examine historical events and the impact on foreign and domestic policy. Students dispel misconceptions and create a new evidence-based response to address global terrorism.
CJ 681
Terrorist Techniques and Counterterrorism
Deconstruct biases and mindsets about terrorism. Explore modern international and domestic counterterrorism as techniques to mitigate actions by terrorist organizations and extremists. Students gain a comprehensive view of the motivation and nature behind terrorism.
CJ 682
Threat Assessment
Analyze international and domestic terrorist threats utilizing threat assessment techniques. Examine viable responses and communication strategies identified from a critical assessment. Using these responses and strategies, scrutinize intelligence to create a viable solution to mitigate a terrorist threat.
CJ 683
Intelligence Collection and Analysis
Examine and interpret intelligence gathered using industry standard practices. Apply structured analytic techniques to review data and information for the purpose of synthesizing and communicating findings to a variety of audiences. Students acquire the know-how in applying the right technique(s) to produce the type of information needed to take action in addressing terrorism related problems.
Total Credits: 12
Minimum Hardware Requirements
| Component Type | PC (Windows OS) | Apple (Mac OS) |
| --- | --- | --- |
| Operating System | Currently supported operating system from Microsoft. | Currently supported operating system from Apple. |
| Memory (RAM) | 8GB or higher | 8GB or higher |
| Hard Drive | 100GB or higher | 100GB or higher |
| Antivirus Software | Required for campus students. Strongly recommended for online students. | Required for campus students. Strongly recommended for online students. |
| SNHU Purchase Programs | | |
| Internet/ Bandwidth | 5 Mbps Download, 1 Mbps Upload and less than 100 ms Latency | 5 Mbps Download, 1 Mbps Upload and less than 100 ms Latency |
Notes:
Laptop or desktop?  Whichever you choose depends on your personal preference and work style, though laptops tend to offer more flexibility.
Note:  Chromebooks (Chrome OS) and iPads (iOS) do not meet the minimum requirements for coursework at SNHU. These offer limited functionality and do not work with some course technologies. They are not acceptable as the only device you use for coursework. While these devices are convenient and may be used for some course functions, they cannot be your primary device. SNHU does, however, have an affordable laptop option that it recommends: Dell Latitude 3301 with Windows 10.
Office 365 Pro Plus is available free of charge to all SNHU students and faculty. The Office suite will remain free while you are a student at SNHU. Upon graduation you may convert to a paid subscription if you wish. Terms subject to change at Microsoft's discretion. Review system requirements for Microsoft 365 plans for business, education and government.
Antivirus software: Check with your ISP as they may offer antivirus software free of charge to subscribers.
Tuition & Fees
At SNHU, we're committed to making education more accessible, by making it more affordable.
Beyond low tuition rates, we help our students save through transfer credits, credit for prior learning, grants and scholarships, tuition assistance and more. U.S. service members, both full and part time, as well as the spouses of those on active duty are also eligible for a 25% tuition discount.
This certificate is not eligible for federal financial aid. Students seeking alternatives to federal financial aid can explore tuition assistance, grants and scholarships, as well as private loans. To learn more about private loans, visit our Funding Your Education with Student Loans page.
Online Graduate Programs
Per Course
Per Credit Hour
Annual Cost for 15 credits
Degree/Certificates
$1,911
$637
$9,555
Degree/Certificates
(U.S. service members, both full and part time, and the spouses of those on active duty)*
$1,410
$470
$7,050
Tuition rates are subject to change and are reviewed annually.
*Note: students receiving this rate are not eligible for additional discounts.
Additional Costs:
No Application Fee, Course Materials ($ varies by course). Foundational courses may be required based on your undergraduate course history, which may result in additional cost.
Frequently Asked Questions
What is a certificate in homeland security?
A graduate certificate in homeland security is a highly focused graduate-level program dedicated to building skills and knowledge in counterterrorism and defense.
If you're interested in homeland security and already have your bachelor's or master's degree, a certificate program might be a great next step. Whether your background is in criminal justice, IT, history or something else, a graduate certificate in homeland security can help you gain expertise that sets you apart.
Southern New Hampshire University offers a 4-course homeland security certificate online. With 5 graduate term starts per year and some of the lowest tuition rates in the nation, you can finish the program quickly and affordably. Even better? If you enjoy the graduate certificate program and want to continue to further your education, you can roll the program's credits into our online master's in criminal justice with a concentration in advanced counterterrorism.
What do you do with a degree in homeland security?
A degree in homeland security can take you places in your career. But what exactly do those jobs look like? Here's what your duties might look like in some of the different agencies under the U.S. Department of Homeland Security:
Customs and Border Protection:

With over 300 ports of entry, CBP employees are tasked with enforcing regulations that involve trade, customs and immigration. Agents are responsible for the important task of keeping the country safe by detecting threats at the border.

Federal Emergency Management Agency: Primarily,

FEMA is in charge of coordinating responses to disasters – be it extreme weather phenomena or terrorist attacks – that states are unable to handle on their own.

Secret Service: The Secret Service is known for protecting the president, but they're also in charge of detecting and thwarting threats against other government officials and their families as well as other country representatives visiting the U.S.
Transportation Security Administration: Whether it's by land, air or sea, the TSA is responsible for the safety of public transportation in the United States. Some TSA jobs include screening officers, federal air marshals and experts in explosives and weapons.
What is the age limit for homeland security?
While there are some exceptions, homeland security agents are generally required to be between the ages of 18 and 37.
It's important to note that this maximum age requirement only applies to customs and border protection officer, firefighter or law enforcement officer positions as appointed by the Department of Homeland Security (DHS).
If you are over 37 and want to work in homeland security, know that there are many other professional staff and support opportunities within DHS that do not have an age limit, including:
Emergency management
Government information
Information technology
Intelligence operations
Transportation security
There are also many jobs in the private sector available to people interested in homeland security and counterterrorism.
Is homeland security a good career?
Whether homeland security is a good career depends on what you value.
Many people in homeland security are employed by the United States Department of Homeland Security. The DHS's mission is to secure the nation from the many threats the country faces. If this is a mission you believe in, working in homeland security might be a good fit for you.
Another advantage of working for DHS are the notoriously great benefits. Some touted benefits of working for the federal government include job security, vacation and holidays, health coverage and generous retirement benefits.
Some jobs in DHS can require a lot of traveling or even temporary relocation. And considering the stakes in counterterrorism and emergency response, many positions in homeland security are high pressure. If these are conditions you don't mind – or perhaps even thrive in – then working in homeland security could be the career for you.
What falls under the Department of Homeland Security?
The United States Department of Homeland Security (DHS) is a federal executive department responsible for the public security of people in our nation. Agencies under the DHS include:
United States Citizenship and Immigration Services
Customs and Border Protection
Immigration and Customs Enforcement
Federal Emergency Management Agency
Transportation Security Administration
United States Coast Guard
United States Secret Service
Duties that fall under DHS include detecting and deterring terrorism, securing borders, strengthening cybersecurity, managing immigration and customs, and preventing and responding to disasters.
What degree is needed for homeland security?
A bachelor's degree is often the minimum requirement for roles in homeland security. Depending on what you want to do in the homeland security space, your degree could be in any number of subjects.
From criminal justice and cybersecurity to data analytics and operations management, many backgrounds are needed in homeland security efforts. No matter your area of study or profession, getting a homeland security graduate certificate can help you hone your expertise in counterterrorism.
Southern New Hampshire University's online Advanced Counterterrorism and Homeland Security Graduate Certificate can be finished in less than a year, giving you focused insights that can help you take your career in homeland security further.
How do I become an intelligence analyst?
If you want to become an intelligence analyst for an agency like the FBI, CIA, Secret Service or TSA, you'll need to start with earning your bachelor's degree.
Don't have your bachelor's? You'll want to study subjects like criminal justice, political science and homeland security. Already have your bachelor's, or even your master's? Consider enrolling in a graduate-level homeland security certificate program.
Southern New Hampshire University offers the Advanced Counterterrorism and Homeland Security Graduate Certificate. This 4-course (12-credit) program is an affordable way to gain expertise in the realm of homeland security. And with 5 graduate term starts per year, you can easily earn your certificate in a year or less.
Note that intelligence analysts have access to highly classified information. To become an intelligence analyst for a government agency, you'll go through a rigorous selection process that includes a thorough background check.
What degree do you need for counterterrorism?
If you're interested in a career in counterterrorism, there are plenty of degree options for you. Southern New Hampshire University provides 3 counterterrorism and homeland security degrees online to help you achieve your goals.
Whether you have criminal justice experience or are looking to break into the field, the homeland security degree concentration is a great choice for anyone with an interest in counterterrorism.
Already have a bachelor's degree? No matter your academic subject background, earning your master's in criminal justice with a concentration in advanced counterterrorism could give you new insights to help you hone your expertise.
The Graduate Certificate in Advanced Counterterrorism & Homeland Security is a great way to get master's-level knowledge without committing to a full graduate degree program. Even better? The graduate certificate stacks right into the master's program, meaning if you later decide you want to complete the full graduate degree, you'll be well on your way.
Related Articles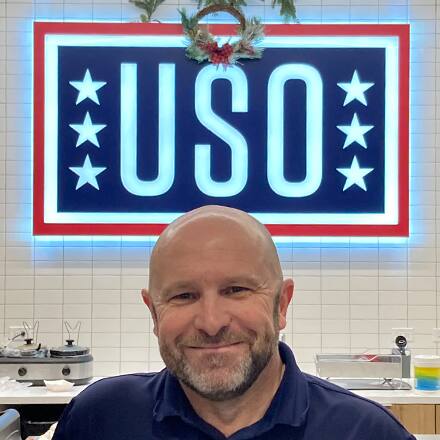 Charting a unique path from the Air Force to earning his degree, Michael Shimkus reflects on his journey. From leveraging the GI Bill at SNHU to later connecting with the USO, Shimkus's story is one of adaptability, dedication and a commitment to lifelong learning and service.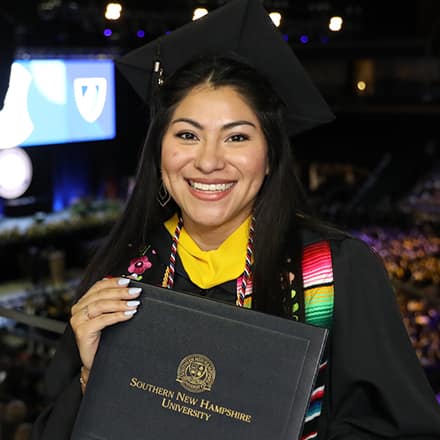 On Military Spouse Appreciation Day, SNHU honors its military spouse community and recent graduates each year. This year we are celebrating Eliana Cornejo '23, a military spouse for the past 13 years, who recently earned her bachelor's in business administration.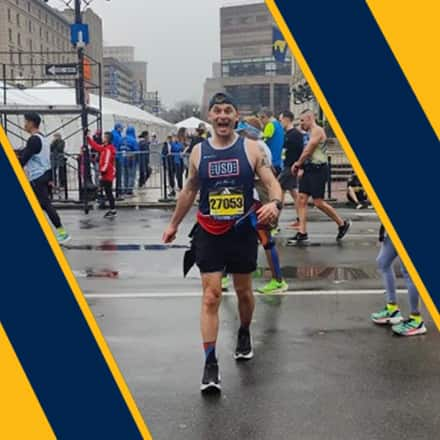 Robert Bruce is an active-duty service member and student at Southern New Hampshire University (SNHU). Despite having never participated in an official race, he ran the Boston Marathon with Team USO to support his USO mission. Bruce attributes achieving his goals to life balance and determination.
References
1 Bureau of Labor Statistics, U.S. Department of Labor, Occupational Outlook Handbook, on the internet at:
https://www.bls.gov/ooh/management/emergency-management-directors.htm (viewed Nov. 2, 2022)
https://www.bls.gov/ooh/protective-service/police-and-detectives.htm (viewed Nov. 2, 2022)
Cited projections may not reflect local and/or short-term economic or job conditions and do not guarantee actual job growth.