What Can You Do With a Homeland Security Degree?
Homeland security professionals work to keep the nation and its people safe from national threats such as terrorism, natural disasters and public health crises. Career opportunities can include emergency management, information security, infrastructure protection, intelligence analysis, law enforcement and many others.

Understanding the numbers
When reviewing job growth and salary information, it's important to remember that actual numbers can vary due to many different factors — like years of experience in the role, industry of employment, geographic location, worker skill and economic conditions. Cited projections do not guarantee actual salary or job growth.
Although safety measures have long been in place for U.S. citizens working abroad, homeland security itself is a relatively new focus. After 9/11 happened, a call for domestic protection arose, and with it came an extensive career field.
Southern New Hampshire University (SNHU) criminal justice instructor Brian Rich witnessed the shift to antiterrorism firsthand. In 2001, he was a special agent working for the Federal Bureau of Investigation (FBI). "When I was in the FBI, we had some terrorism agents," he said. "We had one squad for domestic (incidents) and one squad for international, and after 9/11, that whole thing changed."
By 2002, the Department of Homeland Security (DHS) was established, and criminal justice programs started yielding specialized degrees in homeland security to prepare professionals.
What is Homeland Security?
Homeland security is a mission-driven career field. Professionals are laser-focused on protecting the nation and its people from national threats such as terrorism, natural disasters and public health crises. Within the various agencies of the DHS — a cabinet of the U.S. federal government — there are more than 260,000 employees focused on different tasks to achieve the same goal.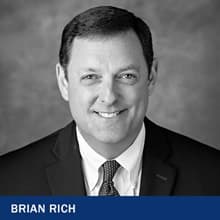 Working in homeland security, you'll consider potential threats related to your agency and develop security measures to prevent them from happening. For example, if you work in customs and border protection, you may frequently collaborate with carrier companies to inspect shipping containers. To create an efficient clearance process, you'll want to ensure proper procedures, such as background checks and careful vetting, are in place, according to Rich.
You may also work with private sector organizations to develop appropriate safety measures, whether it be securing potentially dangerous chemicals or implementing infrastructure security strategies at well-known landmarks.
You'll also likely create response plans and procedures so you're ready to act should an emergency transpire. "(Homeland security) doesn't mean that problems will not arise," Rich said. "It doesn't mean that criminal actions won't take place, but it does mean that criminal behavior will be mitigated."
Jobs in Homeland Security
While everyone working in homeland security helps keep the nation and its people safe, careers can vary quite a bit. You can join homeland security efforts with a number of professional experiences and academic backgrounds.
Five broad career fields include:
Emergency management
Information security
Infrastructure protection
Intelligence analysis
Law enforcement
With the help of a homeland security degree or a program that directly relates to the role that interests you, you can build a rewarding career in any of these areas.
Explore your options further:
1. Emergency Management
When disasters hit, emergency management teams are ready to respond. Whether it's a natural or human-made disaster, quick coordination must take place to address and alleviate the situation, according to the Federal Emergency Management Agency (FEMA).
To ensure this can happen, careful planning, organizing and training for varying scenarios are necessary. In the FEMA guide to Developing and Maintaining Emergency Operations Plans, emergency preparedness includes outlining a timeline, operational tasks, courses of action, resources and more (FEMA PDF source). If you work in emergency management, you'll also collaborate with various people, from elected officials and nonprofits to public safety and health officials, and coordinate resources and equipment within communities.
Some emergency management positions FEMA identifies include:
Communications technicians
Damage assessment coordinators
Environmental and historic preservation specialists
Geographic information systems analysts
Human services recovery support specialists
In the emergency management field, you won't just prepare for and respond to a disaster. You'll help see a community through its recovery. Emergency management directors mitigate the situation while it's happening and in its aftermath, the U.S. Bureau of Labor Statistics (BLS) said. People in this role earned a median of $76,730 in 2021, according to BLS, and typically have a bachelor's degree and relevant work experience.
2. Information Security
As the digital age progresses, information security is increasingly essential to protecting networks and systems from cyberattacks, according to Rich. Working in this field, some of your responsibilities may include monitoring for security breaches, conducting penetration testing and developing security standards, according to BLS, all to keep sensitive data and electronic infrastructure secure from cybercrime.
Information security analysts earned a median salary of $102,600 in 2021, and it's a career that's expected to grow 35% through 2031, which is much faster than average, BLS said.
You might choose to specialize in any of these types of cybersecurity roles:
Incident response
Network security
Security architecture
Threat intelligence
Vulnerability management
To enter information security, you typically need a bachelor's degree in a computer-related program, according to BLS, such as a bachelor's in computer science or a bachelor's in cybersecurity. If your goal is to work in homeland security, you may want to pair your technical background with a master's degree or graduate certificate in homeland security to gain a deeper understanding of how counterterrorism works.
If you're interested in this role, learn more about what information security is and why it's important.
3. Infrastructure Protection
Scenario planning is essential to homeland security, especially regarding infrastructure protection. In this field, you could identify potential targets across the country — from federal buildings to well-known landmarks — and plan for any number of "what-ifs," according to Alan Poland, an SNHU criminal justice instructor. This includes working with organizations within the public and private sectors to determine risks and implement security measures.
"You have to understand what that facility can withstand, what security measures they currently have, how you can improve on those security measures and what it would take in order to secure the facility if the attack were to happen," Poland said.
According to the Cybersecurity & Infrastructure Security Agency (CISA), roles within infrastructure protection include:
Business support coordinators
Chemical security analysts
Critical infrastructure specialists
Facility operations specialists
Improvised explosive device program analysts
When he teaches students about infrastructure protection, he calls attention to the critical role engineers play in understanding the types of attacks a building could withstand.
"If the building isn't going to survive an explosive attack, there goes whatever industry or whatever work was happening in that building," Poland said. "And that could be devastating whether it's a private company or a government building or a critical infrastructure."
4. Intelligence Analysis
If you're detail-oriented and organized, perhaps you should consider a career in intelligence analysis. As an analyst, you can gather data and use it as active intelligence, according to U.S. Intelligence Community Careers. The information you collect in this career is the same data provided to political and military leaders to help them make critical decisions.
As an intelligence analyst, you could collect data through a variety of sources, including fieldwork. You'd likely collaborate with law enforcement, too, since all missions and investigations rely on pertinent information, Rich said.
You may choose to specialize as an intelligence analyst in any of these areas, according to the Intelligence Community:
Economics
Geographic/region
Geospatial analysis
Military capabilities
Scientific and technical
"It takes a great deal of research and a great deal of time and patience" to be an analyst, Rich said. "... That analyst is really heading up where the crimes are, who is involved and initiates ultimately what the agents will go out to pursue."
5. Law Enforcement
Whether you already have local or state law enforcement experience or it's a career that interests you, working in law enforcement at the federal level includes initiatives such as securing borders, interagency training and enforcing economic, transportation and infrastructure security, according to the DHS. Depending on the path you take, you may also carry out investigations, lead safety training, protect national leaders or work in immigration.
Police and detectives working in the federal government earned a median salary of $93,970 in 2021, making it the top-paying industry for this career, according to BLS.
The DHS hires members of law enforcement for a variety of areas, including:
Federal Law Enforcement Training Centers
Transportation Security Administration
U.S. Coast Guard
U.S. Customs and Border Protection
U.S. Secret Service
To become a law enforcement agent, you might consider earning a bachelor's degree in criminal justice or a related field. BLS reports that the FBI and other federal agencies may require their candidates to have a college degree.
Roles That Run the Gamut
Beyond these careers, professionals in science, accounting, law, engineering and numerous other specialties are needed for homeland security to fulfill its mission. So, if you want to help protect the country but working directly in counterterrorism and intelligence may not be for you, Poland said there's a good chance you'll find a role that aligns with your interests.
"Homeland security as a whole has ... many different jobs and responsibilities (where) different types of degrees and experiences are very helpful," he said.
What Do You Need to Work For Homeland Security?
Depending on the path you'd like to take, the preferred skills and prior life experiences will vary. For example, if you're looking to break into the counterterrorism side of homeland security, coming from law enforcement or a military background can indicate that you have the necessary skills and mindset for the field, according to Poland.
Analytical skills, however, are a must across all career paths. "Having strong analytical skills definitely aids you in just about any job within homeland security, whether you're dealing with a financial side of something, the logistic side of something, or conducting an investigation on a terrorist attack," Poland said.
Poland believes pursuing higher education is one way to develop analytical skills. For example, in college courses focused on homeland security or counterterrorism, you'll likely complete scenario-based assignments where you're asked to conduct an investigation, including an intelligence analysis of raw data. "You have to use your skills to extrapolate and discover the pertinent information and make the connections necessary to solve a problem, solve a case or mitigate something from happening," he said.
Beyond education, demonstrating that you will go the extra mile is another way to make a good impression on an employer, according to Rich. "The (way) to stand out is to turn in good work," he said. "To go above and beyond the call of duty."
Since many homeland security positions require government clearance, you may also need to pass a background check. Rich recommends avoiding drugs and people who commit crimes. "That's really, really important because when it comes to a background investigation, all of that is going to flush out, and you just want to (be) standing there clean," he said.
Is a Master's Degree in Homeland Security Worth it?
Graduate-level work often takes a deeper dive into the field, allowing you to understand homeland security better and dig deeper into the areas that interest you. "The advanced degree gives you a broader look at the more strategic and global outlook or picture of what homeland security does and is about," Poland said. He believes a master's degree, in conjunction with your professional experience, can give you a competitive advantage.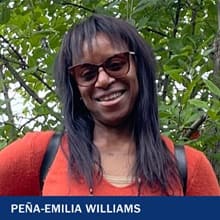 SNHU alumna Peña-Emilia Williams '19G knows the weight a master's degree carries. She returned to school for a master's in criminal justice with a concentration in advanced counterterrorism and homeland security to push her career forward — and employers took notice. "I believe my master's degree has helped in the salaries I have been offered by employers," she said.
Drawn to the flexibility of online education, Williams enrolled at SNHU so she could continue her work as a paralegal while earning both a master's degree and a graduate certificate in homeland security.
With a desire to protect the country and its freedom, she balanced it all while achieving good grades and learning the necessity of quality in her field.
"Earning my graduate degree proved that in one of the hardest fields, I did it," Williams said. "I am a woman who can achieve and accomplish anything no matter what obstacles are in my path."
Through her academic success, she also hopes to empower others. She mentored other criminal justice students in a pilot program at SNHU and has since adopted an underprivileged classroom in the Bronx. "I give them the tools they need for success," she said. From providing them with backpacks filled with school supplies to throwing them a pizza party, she finds the experience is priceless.
Williams is leading by example as she continues her own pursuit of education. After earning a master's degree, she began studying for the Law School Admission Test (LSAT) with the hope of becoming an attorney. "I often tell young and old people it's never too late to reach your goals — whether it's to further your education or advance in your career choice," she said. "Can't isn't in my vocabulary."
Williams wants students studying criminal justice or focused on homeland security to know that they can make a difference. "Reach for the stars and face all obstacles head-on," she said.
A degree can change your life. Find the SNHU criminal justice program that can best help you meet your goals.
Rebecca LeBoeuf '18 '22G is a staff writer at Southern New Hampshire University. Connect with her on LinkedIn.
Explore more content like this article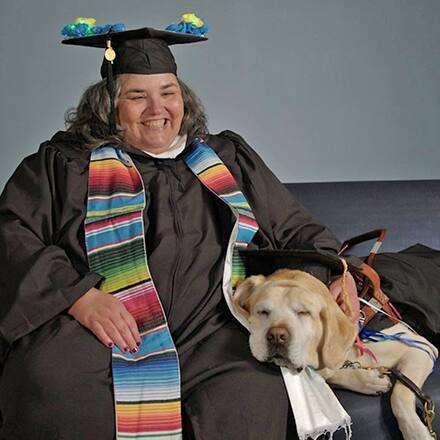 After facing accessibility challenges at other schools, Heather Schey enrolled at Southern New Hampshire University, where she earned her BA in Human Services. She now works to help people with disabilities live independently and advocates for accessible public transportation in Rhode Island.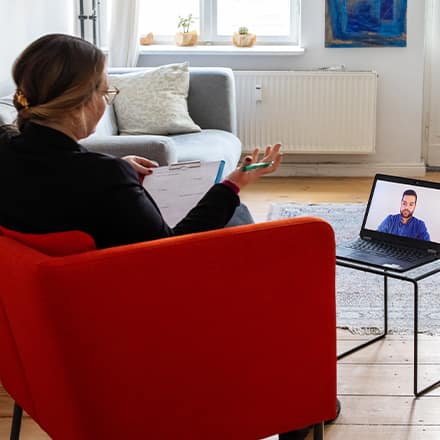 As a result of changing societal needs, online therapy has made tremendous gains in popularity and accessibility, reshaping the way individuals can receive counseling services. If you're interested in becoming an online therapist, find out what types of requirements you'll need to meet.
With the National Alliance on Mental Illness reporting that 1 in 5 adults grapple yearly with mental illness, the need for professional care is clear. Intrigued by the possibilities of a life-changing profession? Perhaps clinical mental health counseling could be the right fit for you.
About Southern New Hampshire University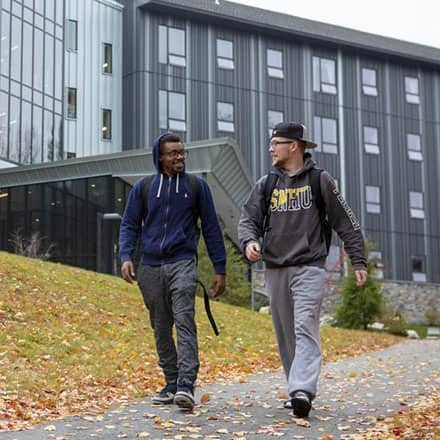 SNHU is a nonprofit, accredited university with a mission to make high-quality education more accessible and affordable for everyone.
Founded in 1932, and online since 1995, we've helped countless students reach their goals with flexible, career-focused programs. Our 300-acre campus in Manchester, NH is home to over 3,000 students, and we serve over 135,000 students online. Visit our about SNHU page to learn more about our mission, accreditations, leadership team, national recognitions and awards.