Sport Management Faculty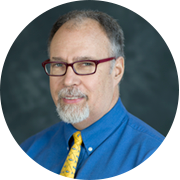 Bill Lightfoot Ph.D.
Dean (School of Business)
Dr. Bill Lightfoot brings to the table over 15 years of global senior leadership experience, including seven years overseas in multicultural organizations. He most recently served as Managing Director of Village Inc. Africa, where he developed a new business model for driving economic development in rural communities. He has also served as Dean of Brenau University's College of Business and Mass Communication and as Associate Dean of Graduate Programs, Institutional Advancement, and Strategic Planning at the International University of Monaco.
Dr. Lightfoot earned his B.S. in Electrical Engineering from Bucknell University before moving on to earn his MBA in General Management from the University of North Carolina. He also earned his Ph.D. in Organization and Management from Capella University and possesses a CCMP (Certified Change Management Professional) Certificate from the Association of Chance Management Professionals.

Doug Blais
Professor
Doug joined SNHU in 1996 and is a professor of Sport Management. Dr. Blais received SNHU's Excellence in Teaching Award in 2003 and 2010.
Blais has worked with some of the best sports teams and companies in the world. He has advised the Boston Celtics on their ticketing policies, traveled with NBC to help produce the Olympics and consulted with many sports teams and entertainment venues in New England and beyond.
Blais received his Bachelor of Science from New Hampshire College in 1998, his Master in Business Administration from Southern New Hampshire University in 1990, and his Doctor of Philosophy in Sport Management from the University of Connecticut in 2000.
In 2011, Blais traveled to Nicaragua with Soccer Without Borders where he assisted in providing programming to young girls that are traditionally excluded from sports-based and extracurricular activities. Blais continue to consult for the organization.
Blais' publications include ''Still on their honeymoon: a five-year case study of an American Hockey League team and the reasons for their continued success.'' International Journal of Sport Management and Marketing, Vol. 5, Nos. 1/2, 2009 and his presentations include Sport Marketing Association, ''Case Study in Implementation of a Sales-Practicum Class, SMA, New Orleans, LA (November 2010).
Blais was awarded the Faculty Athletic Representative Fellowship from the National Collegiate Athletic Association in 2006 and in 2012 attended the NCAA Advanced Leadership Institute. Blais was inducted into SNHU's Alumni Hall of Fame in 2003.

Elizabeth Sheehan
Professor
Elizabeth joined SNHU in 2005 as an instructor of Sport Management and is now an associate professor of Sport Management and the director of center for teaching and learning. She recently served as the director of college unbound and the director for community engaged learning.
Courses taught include Integrated Leadership & Project Management, Integrated Practicum, and Introduction to Sports Management, Sport Event Sponsorship and Governance and Management of Sport Organizations. Sheehan received her Bachelor of Arts in Rhetoric and Writing from Mount Saint Mary's College, Emmitsburg, Maryland, her Master of Science in Sport Management and her Doctor of Philosophy from the University of Massachusetts, Amherst.
Publications include Sheehan, B., & McDonald, M. (December 2011). An examination into the impact of an experience-based course on students' emotional competency development. Sport Management Education Journal, 5(1), 49-75., and McDonald, M., Spence, K., & Sheehan, B. (2011). Classroom-As-Organization: An Integral Approach. Journal of Integral Theory and Practice, 6(2), 67-81.
Conference Presentations include McDonald, M., Spence, K., & Sheehan, B. (July 2010). "Classroom-as-Organization: An Integral Approach" Paper presented at the bi-annual meeting of the Integral Theory Conference (ITC), Pleasant Hill, CA.
Sheehan serves as a member of SNHU's Undergraduate Research Committee and her professional service includes manuscript reviewer for the Journal of Management Education and the Journal of Experiential Education. Sheehan is a member of the National Society for Experiential Education (NSEE) and Campus Compact of New Hampshire.

Kevin Snyder
Associate Professor
An assistant professor of Sport Management, Kevin Snyder received his Bachelor of Science in Accounting and Information Systems from Virginia Polytechnic Institute and State University (Virginia Tech), his Master of Business Administration from University of Oregon and recently finished the doctoral program in Philosophy in Management at University of Massachusetts-Amherst. Snyder's interests continue throughout sport management and business strategy in innovation and knowledge services.
Snyder has numerous lectures and research in progress. Conferences include McKelvey, S, Sutton, W. and Snyder, K. (2011). Analysis of the interaction between sales and marketing departments in a professional team setting, Sport Marketing Association, Houston, TX. Snyder has multiple publications; his books include Mills, P.K. and Snyder, K. (2010). Knowledge Services Management: Organizing Around Internal Markets, 2010, Springer: New York, NY.
Snyder has worked on consulting projects with ESPN, EA Sports, National Hockey League and the ING New York City Marathon.

Kostas Karadakis
Associate Professor
An assistant professor of Sport Management, Dr. Kostas Karadakis joined SNHU in 2012. His research interests include sport event impacts and their influence on quality of life, sport tourism, legacy management and community development through sport. Karadakis has also been involved in a number of international research projects dealing with the Vancouver Olympic Games and the 2010 World Cup.
Karadakis earned a Bachelor of Social Sciences from the University of Ottawa, a Master in Business Studies at Liverpool John Moores University and a Doctor of Philosophy in Sport Management at the University of Florida.

Dr. Mark Hecox
Professor (Sport Management) | Co-Chair (Sport, Marketing, and Hospitality)
Dr. Mark Hecox teaches a range of courses on both the graduate and undergraduate level including: Sport Marketing, Sport Licensing & Strategic Alliances, Global Sport Business, Internationalization of Sport Business, Sport Management and Sport Seminar. His area of research interest focuses on global product development and strategic alliances. He joined SNHU in 2004 and is a professor of sport management. Dr. Hecox was also the director of new business development, licensing & equipment at Reebok International.
Dr. Hecox received his Bachelor of Science in Chemistry and his Master in Business Administration in Marketing from the University of Miami and his Doctor of Business Administration in International Business from SNHU
His publications include a book chapter, Dr. Hecox, M. (2004). "Case Study: Reebok International Ltd: International Challenges in the implementation of enterprise software systems." Routledge Press.
Presentations include Dr. Hecox, M. (Presenter Only), Colby Sawyer College, "2008 Beijing Olympics: Opportunities in Sport Business," Colby Sawyer College. (February 21, 2007).
Academy of International Business (AIB) NE Conference 2007, "The Reebok Core Board: Analysis of a Global Sport Product," Peer reviewed paper included in conference proceedings and presented in oral presentation, October 19, 2007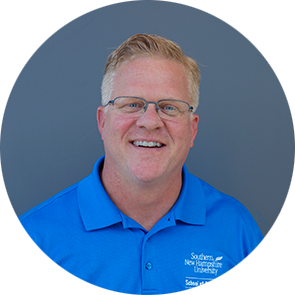 Dr. Andrew Lynch
Professor (Marketing) | Co-Chair (Sport, Marketing, and Hospitality)
Dr. Andy Lynch brings 20 year of higher education teaching and administrative experience, including multiple years in the Middle East at the American University of Sharjah. He currently serves as the Co-Chair of the Sport, Marketing and Hospitality Department and teaches a variety of marketing undergraduate and graduate courses. He most recently completed a 5-year appointment as the Associate Dean for Quality and Innovation in the School of Business of Southern New Hampshire University. During this appointment, he led efforts to pilot the newly created Integrated Business Core, Degree in Three programs, supervised school-wide assessment efforts, and worked with businesses to provide learners in-class project-based learning opportunities. Prior to his role as Associate Dean, Dr. Lynch served as the Chair of the Marketing Department, beginning his teaching career at SNHU in 2007. Dr. Lynch, served multiple roles in the sport marketing, advertising, and broadcast industries prior to his career in higher education.
Dr. Lynch earned his Bachelor of Science in Mass Communication/Public Relations and Master of Science in Public Administration from Southeast Missouri State University. As a student worker during this period, Lynch was active in various marketing, development and compliance roles. He earned his Doctor of Philosophy in Mass Communication and Media Arts from Southern Illinois University-Carbondale. Integrated marketing communication was the focus of his dissertation, exploring marketing communication that impact the prospective undergraduate student college choice process. Lynch recently earned a Master of Science in Instructional Design and Technology from Southern New Hampshire University. Current research interests include higher education marketing, curriculum design, and COVID19 marketing and consumer behavior.