TV vs. Reality: Criminal Justice Programs Offer a Real-World View
If you're a fan of crime dramas, you're not alone. From "Dragnet" in the 1950s to "NCIS" today, the work lives of criminal justice professionals have gripped viewers. For some, crime television is a pastime, a low-stakes and high-adrenaline way to play armchair investigator. For others, these shows can light a spark that turns into an enriching career.
Is real life work in criminal justice just like it is on television? Of course not – except for in the most important ways.
The Real Criminal Justice Career
In the words of a tag line for "Law and Order: Special Victims Unit": "Crime doesn't happen just one day a week." If you're considering a career in criminal justice, you probably realize that the scenarios you see on television are heightened and compressed for drama. Emotionally healthy characters sitting under fluorescent lights, doing paperwork between phone calls, don't make for gripping stories.
"The tragic character who has flaws, an ex-wife, lives in a loft over a railroad, but is the best homicide detective ever – I'm not saying that these people don't exist, but they don't last," said Dr. Jeff Czarnec, associate dean of SNHU's criminal justice program. Under scrutiny, the popular myth of the hard-bitten crime fighter evaporates. The truth: Wherever you work in the criminal justice system, you'll need high emotional intelligence, problem solving skills, excellent stress management, and terrific communication ability.
Criminal Justice Is More Than Exciting
In the real world, it's unlikely that you'll solve a misdeed in just 60 minutes. However, if you have a desire to make a positive difference in the world, a criminal justice career will definitely provide you with that opportunity.
"When I was a kid I watched 'Adam 12,' and I thought that's what police work was," said Mark Evenson, chief of police in Brentwood, Calif., and adjunct faculty in SNHU's criminal justice program. "Chasing down murderers and bank robbers, getting into shootouts every day, rescuing people out of burning houses – that's what I thought being a cop was."
According to Evenson, though, the less exciting requirements of the job are just as important – sometimes even more important. While TV viewers are hooked on the adrenaline, a massive corps of often unseen criminal justice professionals help law enforcement, forensics and other branches of crime fighters do their jobs.
Careers and the Criminal Justice System
Instead of criminal justice, "the discipline should be called 'criminal justice system,'" said Czarnec. We're used to seeing police officers, detectives and technicians portrayed in the media, but we less often see corrections, human services or probation and parole officers. "There are so many different areas (people) may qualify for, or not," said Czarnec, describing the field as a "matrix of support."
At the root of every career in the criminal justice system is a desire to help. Your first job is to figure out where your skills might help the most. If you want excitement and camaraderie, and have a calm head on your shoulders, law enforcement might be a good fit. If your heart you pulls to work directly with families, individuals, and communities affected by crime, you might excel in human services. If you're technologically gifted and thinking globally, a career in counterterrorism could be gratifying. These are just a few of dozens of options.
The Advantages of a Criminal Justice Degree
Careers such as law enforcement didn't always require a degree. If you wanted to be a cop, for instance, you only had to be the right age and temperament, physically fit and able to pass the tests at the academy. However, the landscape is changing regarding education. "More places have a requirement of college degrees," said Czarnec. In the old days, "the desire was that (going into criminal justice) was genetic or a family thing. Now you have highly educated people dominating the field. They want more out of life, they want more out of the field."
A criminal justice degree can both prepare you, and set you apart from the pack. The instructors in the criminal justice programs have vast real-world expertise, which ensures your classroom experience isn't just based on theory. "I'm really proud of the way SNHU has developed their courses to be more realistic and more helpful," said Evenson. "They do a much better job preparing people for careers in criminal justice than other schools that I've seen."
When you're to embark or advance in your own career in criminal justice, SNHU Career advisors work one on one with students and alums to procure internships or permanent positions in the field.
Criminal Justice Degrees
If you're considering a career in criminal justice, or wanting to advance or diversify your current career, consider your options.
For instance, SNHU's online BS in Criminal Justice provides an overview of the many aspects, branches and functions of the criminal justice field. You will gain a solid understanding of possibilities and procedures learned from real-world experiences. Through your virtual classroom, you'll have access to a network of faculty and fellow students, some of whom are already working in the industry. You'll also experience simulations of actual scenarios you're likely to face on the job, better preparing you for future roles.
The BS in Criminal Justice will help you pursue or advance a career in a wide variety of fields. You'll craft your own focus with electives ranging from crisis intervention to criminal psychology, public policy, terrorism and more. In addition, BS in Criminal Justice students earn an embedded communication certificate that includes training in professional writing, cultural awareness and discretion in criminal justice. If you already know where you want to specialize, you can choose from one of six concentrations.
Corrections
When asked about important criminal justice careers not seen on TV, Czarnec and Evenson were in agreement: "Corrections," they said.
Contrary to what we might perceive from television, corrections is a crucial aspect of the criminal justice system. It's also an unexpected place to help people. A career in corrections could mean a probation and parole officer, a case manager, or a correctional treatment specialist, to name a few. "We need more people who want to go into that field," said Evenson. "Probation and parole is not often portrayed on TV that much, but they serve a critical role – especially juvenile probation and parole officers. We need more quality people in that field, especially considering the high number of people we have in prison, and number of people we need to help them transition back into society."
A concentration in corrections focuses on criminal rehabilitation and reintegration. Covering everything from criminological theories of human behavior to ethical policing, emerging technologies and community relations, this concentration will enhance your practical and problem-solving skills. You'll also wrestle with actual challenges you're likely to face on the job, with guidance from experienced instructors.
"(Current) rates of recidivism are way too high," said Evenson. Capable, trained probation and parole officers can make the difference between a convict who successfully re-enters society, and one who returns to a life of crime.
According to the U.S. Bureau of Labor Statistics, job openings in probation and correctional treatment are usually "plentiful" given the specialized skills necessary to succeed in the field.
Criminology
Criminology gets at the root of criminal behavior, focusing on both science and psychology. This concentration is a deeper dive into the factors that draw someone into a criminal lifestyle and make it so difficult to get out.
Since this concentration studies the larger context of crime, your degree can add value to a wide range of careers, including social work, juvenile justice, child/family services, and parole and probation. Depending on your field, you may use your skills to analyze systems and organizations and get at the root of criminal issues.
A Criminology can boost your experience and preparedness, so you're able to work effectively with a variety of populations.
Homeland Security and Counterterrorism
You need only turn on the news to hear the latest stories of global and domestic terrorism. The highly focused concentration in homeland security and counterterrorism at SNHU will give you a deep understanding of this rapidly growing field. By building the strong analytical and policy skills the industry requires, you could start or enhance a career as an intelligence analyst, an investigator, a federal agent, or even a dispute resolution specialist.
What allows a terrorist group to succeed or fail? What are the qualities of an international versus a domestic campaign? What does it take to negotiate a hostage situation? Understanding the answers to these questions could boost your appeal to employers in national security--and might even save lives.
Human Services and Advocacy
Whether on TV or in real life, behind every dramatic crime story is a human being, and chances are someone is hurting. In every branch of criminal justice, said Czarnec, you have to be "willing to recognize the human condition and offer remedies." If you're passionate about face-to-face opportunities to help families, children, and people with behavioral or mental health needs, you might thrive in human services and advocacy.
As its name suggests, this field deals with the human element of the law enforcement system. Including advocacy roles, correctional treatment or mental health specialists and probation officers, this is a stable and high-growth field. According to the U.S. Bureau of Labor Statistics, jobs for social and community service managers will grow 13% through 2028, much faster than most other occupations. "These positions usually outlive recessions," said Czarnec. "(For instance) opiate issues need personnel and resources: programs, street level communications, intervention. They need good, strong, working knowledge of the system."
A concentration in human services will give you critical skills and knowledge regarding child welfare, domestic violence, social issues, family court and community support agencies and much more. Your role in the criminal justice system will be to remember – and remind people when necessary – that every case is more than a number or a crime.
Substance Abuse
With increasing recognition of the substance abuse crisis in the United States, the need for highly skilled community workers is on the rise. The substance abuse concentration was built to help you become a voice for justice and a conduit for recovery for people in treatment facilities, outpatient programs and the court system.
Police Administration and Operations
You know you want to move up in law enforcement, and you know you need additional skills and insight. A concentration in police administration and operations will empower you to work behind the scenes and understand what makes a police agency succeed. You'll not only learn the functions and goals of a modern agency, you'll study crime analysis, how to balance real demands with tight budgets and police development and leadership. By the time you're done, you'll have a strong sense of what role best suits you and the experience to excel in it.
This specialized law enforcement concentration will assist with careers in private security and law enforcement, police administration and related fields. According to the U.S. Bureau of Labor Statistics, projected job opportunities for police and detectives is projected to grow 5% through 2028.
Gain an Edge with a Criminal Justice Degree
If you're curious about exploring a criminal justice career because of a TV show, it can't hurt to follow that spark. "A lot of people are anthropologists because of Indiana Jones," said Evenson. "It's our culture, it's how the world works. Whatever gets people interested, great."
While crime shows may promise excitement and quick resolution, Czarnec described real-life criminal justice as a "vast field under the umbrella of (service.)" The system's ultimate mission is to assist people from every walk of life who are having problems. Whether they're considering law enforcement or legal services, Czarnec urged prospective students to "identify what about themselves draws them to a helping profession. Why do you want to help people?"
If you want to transform society in deeper and more practical ways than television ever suggested, consider criminal justice programs a valuable asset.
Pete Davies is a marketing and communications director in higher education. Follow him on Twitter @daviespete or connect on LinkedIn.
Explore more content like this article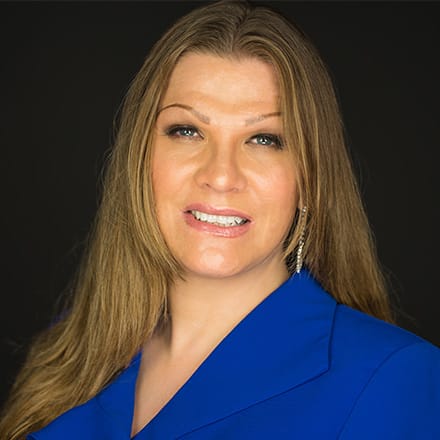 June 01, 2021
Dr. Stacee Reicherzer is a nationally known transgender psychotherapist, educator and writer, who serves as clinical faculty of the mental health counseling program at SNHU, who recently shared her insights on otherness.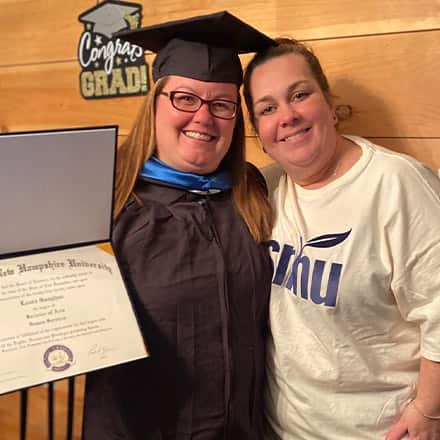 March 09, 2021
As a mom of seven, Laura Gaughan usually knows when her family is up to something. But on a windy March evening, nearly a year into the pandemic, she had no idea that a surprise graduation party was underway.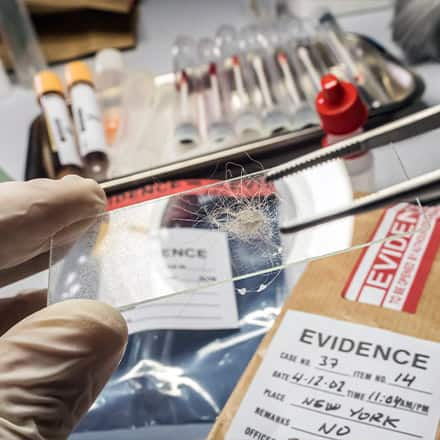 March 01, 2021
Whether you have a desire to work in law enforcement or support the community in other ways, earning a criminology degree can open the door to people-focused roles and organizations, and give you the flexibility to delve into other interests, such as human services, law and politics.