Informational Interviews: Questions and Tips
It's well established how valuable tapping your professional network is when you're in the market for a new job. One important way to expand that network is to speak to professionals who are already established in the career you're interested in and asking them if they're open to an informational interview. Questions directly related to their career and how they hot to this position can be tremendously beneficial to your own career path.
Getting the Most From an Informational Interview
The goal of an informational interview is not a job offer, but the process still offers plenty of value to a job seeker. Instead of a job, you will hopefully leave with more knowledge about the position you're seeking, how the person you're interviewing succeeded in establishing themselves in their company and what employers want to hear when you do go on a job interview.
Alyssa Thayer, a career connection specialist at Southern New Hampshire University, said informational interviews are an effective way to get inside information about a career or particular position when you don't have your own experience yet.
If you don't know someone working in the field you're interested in, try asking friends, family, professors and professional contacts if they have someone they can introduce you to. You can also contact your school's career center, as well as using LinkedIn to find people in the field, particularly in your school's alumni group on the site.
The important part, Thayer said, is to be willing to reach out. "That is the worst thing that's going to happen; they're going to say 'no.' That's it, and that's not that bad," she said. "There are other people, other professionals in that field or in that industry that you can reach out to."
You should also keep an open mind about who you are trying to interview. Someone in an entry-level role can talk to you about how he or she broke into the field. You can ask someone in a managerial position about what they're looking for in an ideal job candidate or about their own progression to a management role.
"That's going to be more power for you. When you do go into an interview, you can use what they say and what they know they're looking for in your interviews," Thayer said.
Once you have a contact, Thayer recommended reaching out via email as a low-pressure way to request an informational interview. Tell the person you're looking for their advice, not a job offer. Remember you're asking a professional to take time out of their day, so you should offer to do the interview in whatever way is most convenient for them. You can suggest a phone call, a meeting in office or to meet for a cup of coffee.
Thayer suggested researching the person you are interviewing, their company and their job just as you would ahead of a job interview. You should also bring a copy of your resume, and it's helpful to have a set of informational interview questions prepared ahead of time. "You want to prepare for it similar to how you prepare for a job interview," she said.
Informational Interview Questions
While each situation is unique and you likely won't have time to ask every question you want, Thayer said having some basic questions in mind ahead of time can make the process go smoothly. She suggested asking your interviewee what their typical day consists. Those tasks can inform how you craft your cover letter and resume in a way to highlight your skills in those areas. If there are gaps between your qualifications and duties that may be expected of you, you'll know what skills to work on or volunteer opportunities to focus on.
"It helps you go above and beyond just the academic and gives you real-world, professional knowledge," Thayer said.
Some possibilities she suggested include:
What education and experience are needed to enter this field?
What are the entry-level jobs?
What skills are most needed for this type of work?
What are some of the problems you are likely to face in a day?
What do you find rewarding about your job?
What do you wish you knew before entering this field?
How does your job affect your general lifestyle?
Where do you see yourself going from here?
What steps would you recommend that I take to prepare to enter this field?
What professional associations should I join or trade journals should I read?
Can you suggest anyone else who I could contact for additional information?
Building a Relationship After the Interview
The first step after an informational interview - as well as a job interview - is to send a thank you note that expresses your appreciation and includes your contact information. But Thayer said you shouldn't think of an informational interview as a one-time interaction. She said you should also reach out to the person you interviewed again in a few months to remind them you're interested in working in their field and to potentially develop a mentor-mentee relationship. Many people, Thayer said, are willing to help out someone trying to break into an industry because someone once helped them. But keep in mind this type of relationship doesn't appeal to everyone, so it's important to be respectful and professional in all communication.
"You never know who someone else knows. Even if they don't have the power to help you, you can learn from their experiences, and you don't know what impression you can leave on them that they'll (be) willing to reach out for you," she said. "You don't know what something can turn into from just putting yourself out there and learning."
Joe Cote is a staff writer at Southern New Hampshire University. Follow him on Twitter @JoeCo2323.
Explore more content like this article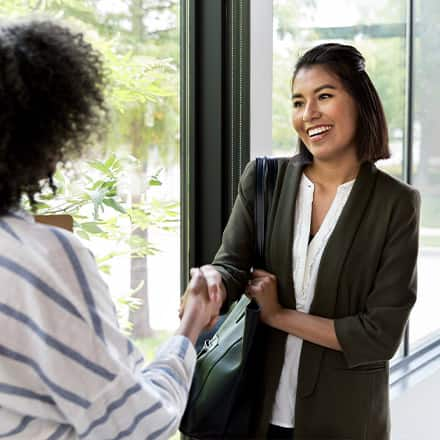 February 09, 2021
You can prepare for an interview by researching the company and the person interviewing you. Study the job description and consider what the employer is looking for, and how your skills and experience could help. Make sure to jot down potential talking points and questions, dress in business attire and pack a few copies of your resume, references and pens.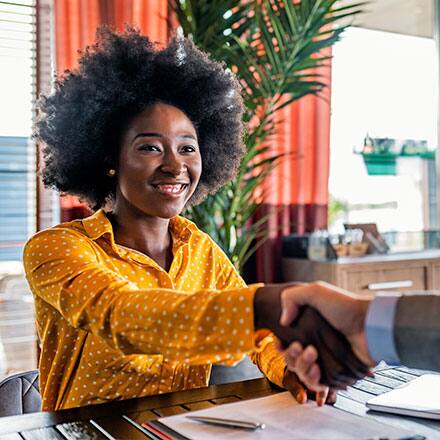 February 05, 2021
Your personal brand is the entirety of how you present yourself in the world. It encompasses who you are as a person, employee or expert in your field. Your personal brand can be the linchpin in achieving your professional goals, and give fuller picture of who you are to your potential employer.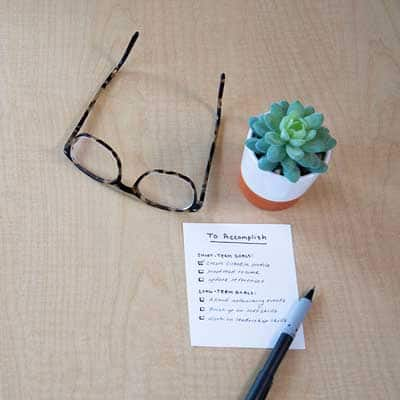 August 20, 2020
Picturing where you would like to see yourself go in your career is the starting point for laying out a game plan for achieving your dreams.