Literary, Business Talent Built SNHU Online MFA
When Dr. Sharon Califano set out to recruit authors to help build Southern New Hampshire University's new online Master of Fine Arts in Creative Writing program, she had specific goals in mind. She wanted to tap the who's-who in the world of professional writing, and she wanted writers who could build a program that supported as many kinds of students as possible.
"What we really wanted to do was get the perspectives of different kinds of writers," Califano, an associate dean, said. "In terms of the talent I wanted to recruit for this program, I wanted to think of every kind of student whose voice we could support."
That outlook led to the group that came together to build the degree program, including award-winning authors and some of the stars of the publishing world such as industry guru Jane Friedman, acclaimed speculative fiction writer Paul Witcover and brand and marketing strategy expert Brooke McIntyre, to name a few.
"There's really a sense of the people who have succeeded and done this; we really wanted to tap into (that) expertise and say, 'How did you do it?'" Califano said.
Romance author Weina Randel is one of those diverse voices. Randel's two historical novels about China's only female emperor, Empress Wu, "The Moon in the Palace" and "The Empress of Bright Moon," have been sold worldwide and translated into seven languages. She said a lack of diversity is a widely recognized problem.
"Books written by writers from different cultural background tend to be ignored or put aside," she said. "This is a stressful revelation to today's writers...How will they succeed, voice their concerns, share their stories and write, and continue to write, despite this? I hope my thoughts can offer help and inspiration."
Tapping Experts in the Business of Writing
The online MFA program is unique in a number of ways, namely that it is an online-only program while traditional MFA degrees are offered either on a campus or as a low-residency program that includes a series of in-person retreats. It also diverges from traditional programs by focusing on professional writing skills and business-focused strategies to equip students with tools to make a living as a full-time writer.
Califano said a large part of residential or low-residency MFA program is networking and the contacts students can make by working closely with instructors who are authors themselves. But what those programs sometimes miss are the sorts of real-world skills and strategies to make a living as a writer, ways to earn a living as a writer, editor or writing coach while also writing a novel, for instance. The fact is, there aren't many Stephen Kings in the world, but there are thousands of people who nevertheless earn good livings as professional writers.
"We took it to heart the mission of trying to teach writers how to sustain an identity as an author," Califano said.
That's where experts such as Friedman and McIntyre come in.
Friedman has 20 years of experience in the publishing world. She co-founded "The Hot Sheet," a newsletter for authors, is a columnist for "Publishers Weekly" and is a highly regarded expert in the industry who has been tapped by CBS, NPR, the Washington Post and many more. She said it's rare to find an MFA program that embraces the reality that the publishing industry is a business and sees it "as a balance of artistic and business concerns."
"Most are concerned only with artistic excellence. That's fine - up until the point you start thinking about how to build a paying career," Friedman said. "I have a special interest in how the digital age is transforming writing careers, publishing and storytelling. Rather than taking a dark view of how the Internet era has affected writers' livelihoods, I'm more interested in how revolutionary change can inspire new business models and how authorship will ultimately evolve."
McIntyre founded Inked Voices, an industry blog and community of writers, and is an expert on the promotion and marketing side of publishing, Califano said.
"She's somebody who's very passionate about what this MFA would look like and how it would meet the current needs of the market and what it means to actually do things as a writer as opposed to theory," she said. "She's somebody who is very practically minded and really wanted to get into the nuts and bolts of the daily life of a writer."
Business Focus and Literary Excellence
Because the online MFA program focuses on writing as well as professional skills, students can expect a dual-pronged set of courses. After an orientation and introductory courses students will spend about half of their studies taking writing-intensive courses that are genre-specific, such as speculative fiction, romance and young adult fiction. Other courses will cover subjects like the ecosystem of the publishing world, digital storytelling and the business of writing.
The program also has two certifications built into it. Students will be dual-enrolled in the online MFA as well as a certificate program in either professional writing or online teaching of writing, Califano said.
Throughout the program, students will also be thinking about, planning and writing a 50,000-word novel manuscript of publishable quality. "The whole time through they need to be thinking about their book and making connections with the writers and the faculty that are associated with that genre so that they can get some of the feedback and expertise and coaching that will help them succeed in that market," Califano said.
Expertise In a Wide Range of Literary Styles
Paul Witcover has published five novels and, in the 1990s, co-wrote and co-created "Anima," a series for DC Comics. He's taught at SNHU for five years and was integral to developing SNHU's online MFA program. He said the university's commitment to developing creative writers means its standards remain very high.
"The SNHU MFA is ideal for those students who can't take the time out of their lives and careers to attend a two-year program or even a low-residency program," he said. "It's all online, but that doesn't mean it's any less rigorous. It's specifically geared to genre fiction and dedicated to giving students the tools they will need to turn their love of writing into a sustainable career - freelance or otherwise."
Califano said she targeted authors who had a long history as full-time writers to bring their talents to bear on the program.
"We have a number of writers that are associated with the program and building the courses that are award-winning authors," she said. "These are authors with a following, that have sold books, that have had multiple book deals with mainstream publishers. They really know how to reach different audiences."
Writers like Paul Durham worked as a subject matter expert to build courses such as Young Adult Fiction I and II. Durham is the award-winning author of "The Luck Uglies," which was named a Notable Children's Book in 2015 by the ALA, a Best Book of 2014 by the New York Public Library and the winner of the 2014 Cyblis Award for Middle Grade Speculative Fiction. His newest book, "The Last Gargoyle," was published in January by Crown Books. Gregory Kompes has written a dozen books, including "The Middle Man," which won the Gay Fiction category of the 2016 San Francisco Book Festival. He was a subject matter expert to help design courses like the Business of Writing and Advanced Genre Literature.Joan Smith, a full-time SNHU faculty member, has published fiction, nonfiction and poetry in a variety of literary journals and academic papers through Oxford University and articles in Thought Catalog, Juli B and Haute Living.
You can learn more about SNHU's online MFA program here.
Joe Cote is a staff writer at Southern New Hampshire University. Follow him on Twitter @JoeCo2323.
Explore more content like this article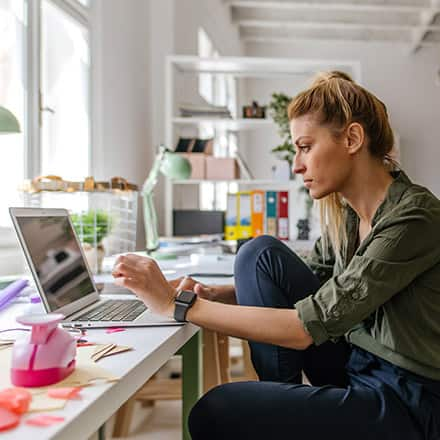 March 02, 2021
Graphic design is a great field to consider if you are interested in art, communications, and staying current with technology.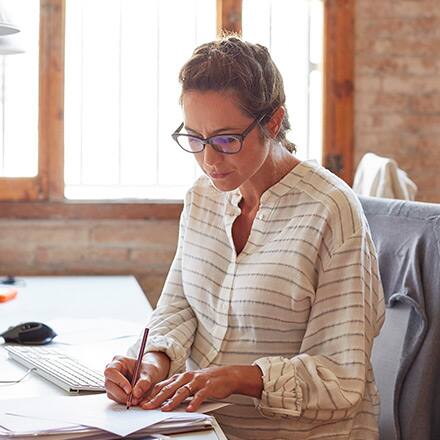 September 24, 2020
To become a copywriter you can consider earning a degree such as marketing, communications or creative writing and start building a portfolio of your work.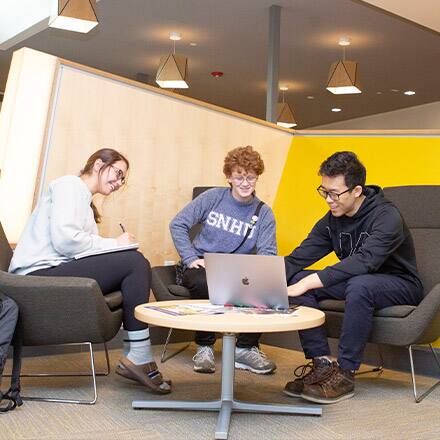 September 03, 2020
Liberal arts majors are strong communicators, who bring creativity and critical thinking to the table. If you're willing to be flexible in your search and smart about branding yourself, you can find there are many opportunities.