Your Tuition Assistance Program Can Have Better Employee Participation with These Ingredients

Idea in brief:
Practical tips on how to overcome the administrative, personal and workplace culture barriers to employee utilization of tuition assistance programs.
Globally, approximately half of employers offer tuition assistance for bachelor's and master's degrees, according to a 2018 survey by the Society of Human Resource Management (SHRM).
However, for reasons we'll explore below, many companies are getting low participation rates in these learning and development programs.
For example, a 2017 study by the Institute For Corporate Productivity (i4CP) and the Aspen Institute's Upskill America found that, when asked if frontline employees actually took advantage of tuition assistance programs (TAPs) or other career development initiatives, 73% said they didn't track how many workers took the opportunity, and 58% of those that did track responded that fewer than half their employees participated.
Even more dramatically, Lumina Foundation finds that utilization rates for tuition assistance programs may be as low as 2-5%.
The causes may lie with employees themselves, with unit managers and other stakeholders or with how companies promote learning opportunities to employees or facilitate participation.
By proactively getting their employees into a TAP, companies can reap the benefits of less staff turnover, greater promotion rates among frontline workers and, most important, a highly skilled workforce.
The ROI of TAP
There are a number of possible causes for low participation, but one may be a mistaken belief that tuition assistance doesn't pay off for the company in some way. But the evidence for a positive return on investment has become clearer in recent years.
For example, last year, the Walmart Foundation teamed up with Southern New Hampshire University (SNHU) to track the progress of students in the SNHU College for America program. The results underscore the ROI companies receive when employees work on college degrees:
48% of employers indicated students had higher retention rates than other employees.
43% reported that students were less likely to be absent.
43% reported students were more likely to be promoted.
Meanwhile, Lumina Foundation has assessed the tuition assistance programs at several large employers and found that:
Discover Financial Services realized a 144% ROI, while employees participating in the program saw average annual wage increases of 41% over non-participating employees.
Regional Bank saw a 10% ROI ($700K in net savings), and workers who enrolled in the program had increased career opportunities.
Advocate Health Care's program realized a 58% ROI for the company's business and administrative workforce.
Cigna's program achieved a 129% ROI, along with increased opportunities for employees who participated in the program.
In short, the fear that employees will take their degrees and move on to the advantage of some other employer isn't supported by studies of tuition assistance programs.
Employees want to learn
Employers who overlook the potential advantages of TAP or downplay the benefit to their employees may also not recognize their workers want to learn. Employees recognize increasing their knowledge puts them in a position for higher-level — and better-paying — jobs.
When Josh Bersin, founder and principal of Bersin by Deloitte, which analyzes HR issues, surveyed 2,400 professionals on LinkedIn on what makes them satisfied at work, a significant percentage pointed to learning opportunities:
47% who spend time at work learning said they were less likely to be stressed.
39% reported feeling more productive and successful.
23% said they welcomed additional responsibilities.
Conversely, 20% said an inability to learn and grow in their present job would make them more likely to leave for another company.
Tuition assistance is not "set it and forget it"
But if there are so many advantages to — and so much demand for — tuition assistance, why aren't participation rates higher?
Sarah Normand, director of strategic partnerships at SNHU, has worked with many companies to develop and grow their tuition assistance programs, and she points to several factors.
One common mistake is a set-it-and-forget-it approach to tuition assistance. Many companies, Normand said, are too passive about promoting TAP. "More often than not, it's something posted on the intranet and forgotten," she said.
A thoughtful promotion plan will be customized for each environment, but it will probably include frequent messages about learning opportunities. That might be in company newsletters, in Slack channels, in text messages or on posters in common areas.
(Your education partner should have experience designing promotion campaigns with other companies and should be able to assist you in this.)
Essentially, a company must be able to reach their workforce where they are. For example, Swift Transportation, an SNHU partner, wanted to promote their tuition assistance opportunity to employees. But many of those employees are drivers are on the road without regular access to the intranet. In that case, old-fashioned pay envelope fliers about the new TAP make sense.
Communicate why it's important
TAP participation increases when employees see that supervisors and upper management have strongly committed to the program.
Even more, managers need to explain to frontline workers how utilizing educational assistance elevates them professionally. As Normand said, "Managers and leaders within the company must stress this is an investment in the employee and something they want the employee to take advantage of."
Creating a career development path for each employee reinforces the company's commitment to the program. When they greet their direct reports on first day on the job, managers should outline the skills and education they'll need to advance within the organization.
If employees understand how the learning relates to the job they have now — or one they'd like to have in the future — they'll be motivated to take part in a learning program.
TAP for all employees
Some employers limit tuition assistance to a select few within a company, but that can be counterproductive. Frontline roles may be where the skills expectations are growing or changing most quickly and where the foundational learning of a degree program has the most impact.
For example, in interviews for our ebook on the changing nature of customer service roles, several experts made the point that higher-order skills learned in degree programs are becoming more essential on the front line.
Aetna is making a push to educate frontline workers. In 2015, the company boosted wages for minimum-wage workers to $16 an hour, but it wants those workers to earn more through its educational partnership with SNHU's College for America workplace-based learning courses.
"Education is a powerful vehicle to help employees advance their career," Kate Mooney, VP of Employee Benefits and Well-Being at the healthcare giant, said at a recent conference. "If, 5 to 10 years down the road, our employees are still only earning $16 an hour, we've failed them."
Aetna employees who had progressed through a learning program were promoted at a 27% faster clip. In addition, retention rates among the learners rose by 8%.
Two other SNHU partners, University Hospitals and TriHealth, have also expanded their tuition assistance programs to all employees. "They had many education programs for their nurses and professional staff, but they didn't have a lot of programs geared toward their frontline folks," Normand explained.
"By expanding their TAP, they've been able to give employees who want to take a non-clinical path an opportunity to get into different verticals within the organizations."
Expand TAP to employees' families
Many College for America partners now offer discounted access to the family members of their employees. Not only does this increase participation among employees, but it gives the employee an at-home learning support system if other family members are doing the same.
"It's a great benefit for the organization," Normand said. "And we really believe in being able to upskill not only those organizations we partner with but also uplifting those family members."
Align company needs with employee learning
When Aetna first partnered with SNHU, the emphasis was on upskilling their customer service workers. Today, automation handles many of the tasks customer service reps once addressed.
But again, that drives up the expectation that customer service reps be effective problem solvers for the tasks that do remain.
To help Aetna's frontline customer service employees develop the necessary skills, SNHU developed an associate degree in general studies with a concentration in transforming the customer experience. The degree, Normand said, "gives them the tools and resources they need to move up to manager or supervisor, and evolve within the organization."
This specialized degree is one example of how education can match up with a company objective — improving how consumers interface with the healthcare company — as well as providing employees learning relevant to their jobs.
Help employees sign up for TAP
Once a company has designed a good tuition assistance program and promoted it effectively, utilization may still be limited by administrative processes.
"Organizations talk a lot about retirement and healthcare plans, but when it comes to tuition assistance, it's up to the employee to figure that out on their own," Normand said.
In that case, you can increase participation by enlisting unit managers. They are often the people coaching employees in their professional development. If managers see tuition assistance as one of a list of benefits handled by the HR office and covered in the employee orientation, frontline employees are that much less likely to be aware of the opportunity.
In the best cases, however, managers provide enthusiastic support to help their team complete their degrees. For example, one unit manager at University Hospitals in Ohio established a Saturday morning study group to develop mutual support among her team.
Make sure managers are empowered to facilitate participation in your TAP. Likewise, make sure they see the benefit of it and aren't unnecessarily afraid to "lose" their employee time to a degree program.
Here are three other ways to administer tuition assistance to improve participation:
Centralize the TAP budget. Jaime Fall, director of Upskill America at the Aspen Institute, told us in an earlier article that if TAP resources come out of departmental budgets, managers can subtly discourage using them. "In other companies that are doing this well, the manager is just informed," Fall said. "And then the money comes out of some sort of a central budget."
Pay tuition up front. Having to write a tuition check and then wait for reimbursement may dissuade many employees from signing up. Instead of forcing employees to dip into their own pockets, companies should consider paying the tuition up front.
Increase tuition assistance limits and decrease the wait for eligibility. McDonalds recently increased it tuition assistance from $700 to $3,000 for managers and from $500 to $2,500 for crew members. Also, McDonalds shortened the waiting period for entering a learning program from 9 months to 90 days. "It's relatively new, but employees are starting to utilize tuition assistance around the 90-day mark," Normand said.
Know where the friction is
Finally, employees may be held back by personal factors. For example, the prospect of shouldering college-level study while working full time and raising a family can be intimidating for some employees.
And others may already have attempted college work in the past without completing a degree and will have convinced themselves they aren't cut out for higher education.
Still others may equate learning with sitting in a classroom for hours covering familiar or irrelevant material. However, a workplace-based education program like the one sponsored by College for America is based on the principles of competency-based education. Students complete projects to demonstrate they have mastered job-relevant skills.
Whatever the point of friction with your employees, an effective communication plan will account for it and help employees understand that success is possible. Let them know you are working with a higher ed partner with a flexible schedule and designed for adults with workforce experience. Naturally, celebrating the success of their peers can help communicate that message.
Design learning opportunities for your employees
Lastly, be sure to partner with a higher ed institution that understands the unique needs of working adults and that can help you design communications and onboarding plans to maximize success.
After all, it won't do any good to get employees excited to work on a degree and then have them bogged down at the front door of a program designed for full-time residential 18-year-old students.
The right partner will reach learners where they are (online and in short blocks of time, for example) and will customize support and coaching for their unique needs.
If you're ready to energize your tuition assistance program, contact the Workforce Partnerships team at Southern New Hampshire University.
Explore more content like this article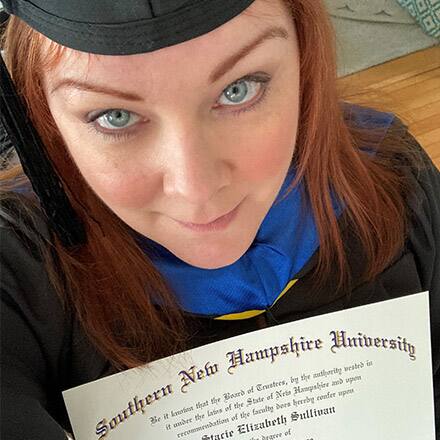 September 08, 2020
For years, Stacie Sullivan '19 felt stuck in her career, sensing her opportunities to advance were limited. After a series of challenging life events, Sullivan enrolled in the BS in Health Information Management program at SNHU.
July 01, 2020
Just a year after she decided to go back to school, Shereka Johnson-Bean '20 is preparing to submit the final project for her bachelor's degree.
June 12, 2020
Shannon Griffin's first job was as a crew member at a McDonald's restaurant. She's still working at McDonald's, but her role is a whole lot different thanks to her hard work and the degrees from SNHU.