SNHU, MLS Open 25th Mini-Pitch
When Patrick Quinn was growing up in Manchester, he played pickup soccer games on concrete. The boundaries and goals were marked with an assortment of cones and trash barrels. Now a sophomore at Southern New Hampshire University (SNHU) studying international business and playing goalie for the men's soccer team, Quinn was on hand this week to help unveil something permanent for city youth.
The new miniature soccer field unveiled at Sheehan-Basquil Park last week marked the 25th "mini-pitch" SNHU, Major League Soccer (MLS) and the U.S. Soccer Foundation have opened across North America in recent years. MLS, its clubs and partners have built more than 175 pitches nationwide in the past four years in conjunction with MLS WORKS, the league's charitable arm, with many more on the horizon.
"It's a great opportunity for the community to get a great facility and kind of get the people to enjoy the sport more," Quinn said.
Manchester Mayor Joyce Craig said the mini-pitch project was one of the first proposed to her when she was elected in 2018. It was easy to say yes, she said.
"It's been a long time coming, but we are so thrilled to have it. There's been overwhelming support from the get-go for this project," she said. "I think our community in general will benefit from this."
The new mini-pitch is also a sign of SNHU's commitment to its home city and, according to city officials, the beginning of a rejuvenation for the park that sorely needs it. Sheehan-Basquil Park has needed updates for some time, Craig said, and the mini-pitch is the first step in that process. She said a new parking area and playground and renovations to a community pool are being planned, among other updates to playing fields. "This is a great start to an amazing rejuvenation of what's happening right in the heart of the city of Manchester," Craig said.
A Safe Place to Play
Local kids from the SNHU Center for New Americans at YWCA New Hampshire enthusiastically christened the pitch with a pair of pickup games with members of the SNHU men's soccer team. The field will be a boon for the Center, as well as for students at two nearby elementary schools and the neighborhood at large, according to Steve Thiel, assistant vice president of social impact and community relations at SNHU.
"It's really in a central place in the community, one that has not received as many services as other parts of Manchester but is really vibrant," Thiel said. "For it to be our 25th, it really solidifies our commitment to Manchester and make sure that everything we do and bring outside across America, we'll always have a home base here in Manchester."
Phil Tuttle, an SNHU assistant men's soccer coach, began working with the Center for New Americans when an organization that previously ran youth soccer programs ceased operating. SNHU and other community groups partnered to fill that need.
"There wasn't a lot of opportunity for them soccer-wise. There wasn't a lot of opportunity for them to play," he said. "It's really amazing to have something like this here for the kids in the community. They just want to play."
Big Impacts for Neighborhoods and Kids
The U.S. Soccer Foundation and MLS WORKS partnered with SNHU and the city to create the pitch. It is the first to feature lighting, as well as metal fencing, seating, storage and is ADA accessible. The fencing and lighting was designed and donated Musco Lighting.
"We hope that this mini-pitch will not only provide greater access and opportunity for young girls and boys to play the game in a safe space but will also serve as a place the entire community can enjoy," said Ed Foster-Simeon, president and CEO of the U.S. Soccer Foundation.
According to the Foundation, 98% of its community partners said their communities were more active, and 96% said they felt safer following the opening of a mini-pitch in their neighborhood.
"The creation of this beautiful soccer pitch for Manchester with our partners at Southern New Hampshire University is a great point of pride for MLS," said Adrienne Barber, vice president of partnership marketing for MLS. "As with all of our fields we have built with SNHU, we know it will bring joy to the community and serve as a safe place for children to enjoy the game of soccer."
Dr. Patty Lynott, SNHU's campus president, said the mini-pitch is just the latest demonstration of SNHU's commitment to Manchester that began with the university's founding nearly 90 years ago.
"I think our success is directly related to this city," Lynott said. "So our giving back is just to contribute … to a community of people who have helped make us who we are today."
SNHU is the official education partner of MLS. Thiel said the partners would open a second mini-pitch later this year on Manchester's west side near Gossler Park Elementary School.
Joe Cote is a staff writer at Southern New Hampshire University. Follow him on Twitter @JoeCo2323.
Explore more content like this article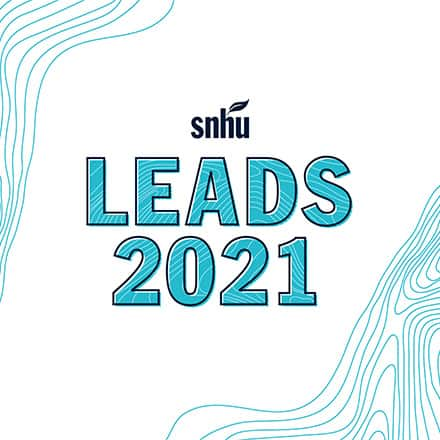 April 22, 2021
SNHU students, staff and alumni worldwide dropped by the 7th annual LEADS Conference earlier this month for personal and professional development that focused on academic achievement, leadership and career advancement.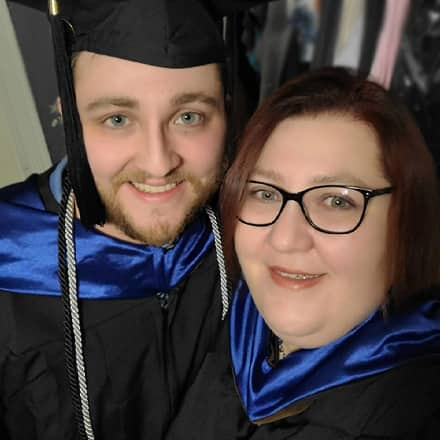 April 09, 2021
Tara and George Conrad – mother and son – began their degrees at the same time. Now they're celebrating their journey and accomplishments as graduates.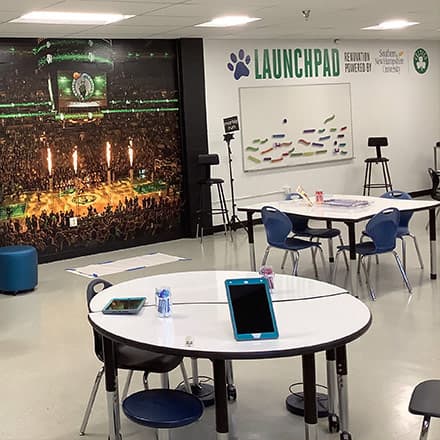 April 02, 2021
The Boston Celtics and Southern New Hampshire University recently unveiled their 14th tech lab, this time, the "Wildcat LaunchPad" at Webster Elementary School in Manchester, New Hampshire.