Service at SNHU
Campus life is important, but so is giving back to the community. SNHU students have made the most of countless opportunities to get involved with community service initiatives. Check it out for yourself.
Mission
At The Chandler Center we envision a campus where all students are civically engaged and committed to social action. We work to meet this vision every day by creating and sustaining service and leadership opportunities for students that focus on civic engagement.
The Center was created in 2005, largely in response to growing student interest in service. Student leadership is at the core of the Center's management with students coordinating the majority of the initiatives with the guidance of professional staff.
The Center's fundamental purpose is to engage and empower students to be active citizens. There are many ways to get involved in the work of our Center- from getting a job with us to volunteering to take a service-learning class to traveling with our alternative break program!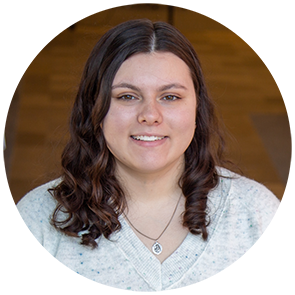 What SNHU Students are Saying
Sarah Evans '22
"Very thankful to SNHU for being able to lead and be involved in both our campus community and our Manchester community."
Alternative Break
This program combines education, direct service, and reflection to create immersive experiences that teach students how to become active citizens. Each winter and spring break SNHU students travel together domestically and internationally in small groups to serve in a new community for one week. Leading up to the trip participants spend weeks learning about the social issues their service will address. Service and education on our trips have focused on literacy, poverty, homelessness, gender-based violence, environmental issues, and disaster relief. Alternative Break participants describe this experience as "life changing" and often say, "It's the best thing I've done in my time at SNHU!" One regret we hear over and over is, "Why didn't I do this sooner?" Applications are accepted for this program every fall.
Community Service Work-Study
We work with nonprofit organizations in Manchester to offer students paid employment through the Community Service Work-Study program. If you have federal work-study funds you could have a job in a local after school program, creating marketing materials, providing administrative support, or planning events for local community organizations. To learn more about current position offerings please contact us!
Service Learning
Service-learning is both a teaching and learning method that involves students in thoughtfully organized service activities addressing community needs and complementing students' academic studies. Learning results from a curriculum that combines education and service and includes class time for reflecting on the service experience. Extending the classroom into the community provides opportunities for reflection activities which are designed to develop students' critical thinking skills. Service-learning increases the students' sense of social responsibility and citizenship. To learn more about the service-learning courses offered each semester, please contact us!
Service Projects
This year 263 SNHU students volunteered for more than 30 one-time service projects. These volunteers served food, sorted donations, wished elderly residents a happy birthday, assisted at Special Olympics events, and built with Habitat for Humanity (just to name a few). These student-planned and facilitated projects occur weekly during the academic year. Stop by the Center to find out what projects are coming up next!
Take 5
At The Chandler Center we think you'll be surprised at how much change you can make in just 5 days. Join us for 5 days of new friends while you spend 5 days learning about your new community and serving with local nonprofit organizations. We'll choose a small group of incoming first year students to come to campus 5 days early to learn, connect, and serve. If you're an incoming SNHU student and you're interested in applying, please contact us today for more information and an application.