Scaling an Undefined Landscape with Consumers as Our Guide
All organizations must be agile enough to evolve and effectively face the challenges of a VUCA future (volatile, uncertain, complex, and ambiguous). For those operating in higher education, rather than ask what might change the industry in the future, we should ask what external forces are most likely to disrupt the lives of learners. The last half century has shown that industries that are egocentric – anxiously focused on what might happen to them – are less likely to survive, while those who sense the zeitgeist of the consumer experience will find ways to transform and thrive. Industries like retail, music, and publishing have found themselves in this existential conversation. Higher education cannot escape it.
For most institutions, this means crafting learning experiences based on visions of what learning may be like in the future. For some, this will result in uncomfortable truths about what is or is not necessary, while others will see a great opportunity. In their disruptive business models, Uber and Lyft realized they didn't need to own cars to provide a driving service and Airbnb realized it didn't need to own spaces to provide lodging. One of the great ironies of the smartphone is that it is most often used to do everything except make phone calls. As Harvard Business School professor Clayton Christensen notes in general about disruptive industries, higher education has to have the courage to look in the mirror, ask itself that its job is, and then have the discipline and will to act on the results. Scott Carlson writes in the Chronicle "…Academics think of themselves as discovering and distributing knowledge, when people really just want the credential and a job… The key to innovation is not the innovative thing – the technical widget, for example – but the change in perspective or attitude that comes from within."1
The New Face of Higher Ed
Among its critical roles, higher education institutions continue to be centers for research, where new knowledge and technology innovations are dreamed of and created as well as places where students go to learn new skills. As new learning opportunities gain traction, more and more learners will take advantage of shorter, more immediately relevant bursts of learning that fit within their lifestyles and schedules rather than either commit to a time-intensive, multi-year experience or risk having no upgraded skills at all. It is a very different scenario than the days of instructors insisting that "school is your job." In this reality, colleges must acclimate to the concept that they will never be more important than the third highest priority in most of their students' lives, after family and work. We are very close to the paradigm Scott Derue envisions. The University of Michigan dean sees multi-tiered education products offering everything from just-in-time, Pandora-like learnings, microcredentials and competencies, to enhanced residential experiences2.
As with iTunes, customers in future learning centers will seek smaller chunks of market-relevant skill sets. They already sense that their expertise will be threatened quickly with obsolescence by a world exploding with new technologies, synthetic colleagues, and automation powered by more and more ubiquitous machine learning. This in turn means that these upgrades to their learning will require more frequency and more customization. At Southern New Hampshire University (SNHU), through our LRNG team, high school students can already create learning playlists just as they create music playlists based upon different scenarios and needs. At a number of colleges in the U.S., college students are already able to create their own degrees assembled from various courses.
The bifurcation between colleges as research centers and colleges as instructional centers will continue to grow. Research centers will increasingly focus on grant funding, particularly in areas like science and medicine, while instructional centers will be more and more influenced by employers focused on the assessment and certification of knowledge. For faculty and administrators, this will have ripple effects economically, socially, and organizationally. Skill sets and internal cultural demands will need to adapt as well.
Removing Learner Barriers
When we here at SNHU think strategically about the world in 2030 and beyond, and how we will disrupt higher education, one of the questions we ask incessantly is… what will disrupt us? How do we willfully disrupt ourselves? One of our institution's core values is to challenge the status quo, take risks, and grapple with the systematic barriers that learners face. It's in our DNA to be on the lookout for signals indicative of impending changes that could impact current and future learners. Part of our strategic thinking and planning has included the following concepts and questions:
Human-Machine Collaboration: How might artificial intelligence and machine learning challenge us to develop the skills and ethics to work in human-machine teams?
Masterminds of Reality: How might the Internet of Things enable us to simulate everything and challenge us to integrate simulation literacy into daily practice?
Shape-Shifting Organizations: How might distributed computing challenge organizations to redesign themselves to maximize human value in a world undergoing rapid change?
Spectrum Demographics: How might spectrum identities replace traditional demographics, enable highly personalized services, and change how people manage reputations?
Personal Economies: How might the rise of digital platforms challenge people to fashion their own economic opportunities?
In answering these questions, SNHU made five commitments that focused on creating the right experience for the right learner at the right time. They include creating an organization capable of partnering with learners to develop new personalized learning experiences; providing the right support systems without becoming burdensome or bureaucratic; developing agile teams capable of constant evolution; investing in the right technologies and infrastructure; and standing up the environment for long term research, development, and innovation.
Transformation through Collaboration
As we continue to grow, we partner and learn from innovative organizations including the Institute for the Future and the Center for Creative Learning.
There will always be many different audiences and needs but the enduring truth, to paraphrase Nelson Mandela, is that all of us in higher education believe that education is, and will continue to be, the most powerful way to transform the world.
1The Chronicle of Higher Education, What Higher Ed Can Learn from the Newspaper Industry, February 19, 2019
2Forbes,The iTunes Model for Education and Re-Thinking How We Pay for College, January 4, 2017
Originally published in The Future of Universities Thoughtbook. Republished with permission.
As President of Southern New Hampshire University's (SNHU) Global Campus, Dr. Gregory W. Fowler has oversight for academic functions in support of the university's learning experiences and modalities—online, competency-based and hybrid—meeting the rapidly changing demands of the workforce and global communities.
A two-time Fulbright Senior Scholar (Germany and Belgium) with 25+ years of experience in higher education management, Dr. Fowler has published and presented at events throughout the world, including Germany, where he also taught at the John F. Kennedy Institute for North American Studies at Freie Universitat-Berlin. He has held senior level academic and administrative positions at numerous institutions including Western Governors University, Penn State University and the National Endowment for the Humanities.
In addition to a Ph.D. (SUNY-Buffalo), an M.B.A. (Western Governors University), Dr. Fowler has also completed an M.A. (George Mason University), a B.A. (Morehouse College) and was a Charles A. Dana Scholar (Duke University). He has also completed several higher education and executive leadership/negotiation programs at Harvard University.
Dr. Fowler is an invited participant and active contributor to the MAPS Project, a group focused on Modeling, Analyzing, Prototyping, and Sharing ideas to chart the shifting landscape of higher education. The group is facilitated by the Sorenson Impact Center at the David Eccles School of Business, The University of Utah, with support from the Bill & Melinda Gates Foundation,
Dr. Fowler also currently serves as a commissioner for the New England Commission of Higher Education (NECHE).
Explore more content like this article
Tips for Being the Best Online Instructor
September 10, 2020
The best online instructor lets go of their ego to allow learning which benefits both them and their students. Dr. Thomas MacCarty offers his tips to be a better online instructor by letting go of ego and embracing an approach that best serves learners.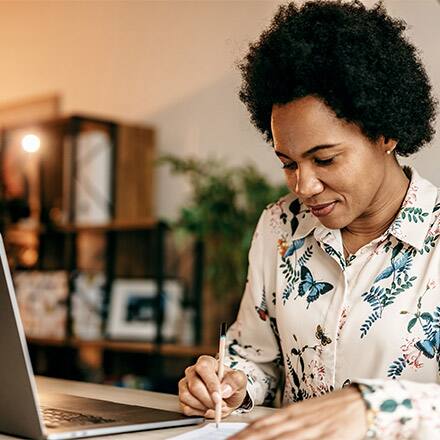 Higher Ed's Growing Pains: From Awkward to Able
August 05, 2020
Higher education is moving through growing pains. The VUCA (volatile, uncertain, complex, ambiguous) world we were already struggling to navigate has accelerated, and we find ourselves strategizing in months what we thought we had years to evolve into.