Jobs After Military Service: How to Transition Into a Civilian Career
Some of the best jobs after the military enable you to utilize the experience and discipline you acquired as a service member. Whether in the private or public sector, or as a federal employee, careers after the military can be tailored to your interests and strengths, and built off your service skill sets.
Employers are looking for the drive and knowledge military veterans and ex-service members have. Some of the best jobs after the military enable you to use the experience and discipline you developed as a service member. Whether in the private or public sector, or as a federal employee, careers after the military can be tailored to your interests and strengths and build on your skill sets.
Let's explore how your military experience translates into civilian career opportunities, how to find a post-military job, and what specific skills are transferable from your time in the service.
Why are Ex-Military Personnel in Demand by Employers?
Some employers look favorably on people who have served in the armed forces. They know that you have completed rigorous training, have been instilled with discipline, focus, accountability and dedication to task completion. These are all important strengths that you bring to the table, in any industry you choose to pursue after your military service.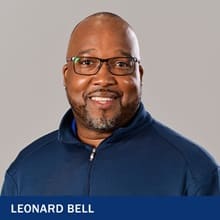 "Every military service member has skills the average person doesn't," said Leonard Bell, career advisor at Southern New Hampshire University (SNHU) and a 20-year military career veteran. "You're automatically getting (someone with) communication and interpersonal skills, who knows how to interact with different "sets" of people."
Employers value your military service because they know you're coming to them ready and responsible. Your reputation precedes you, Bell said, as someone who will be "on time, disciplined, structured and reliable. If you're 'on time,' you're late. In the service, you're relieving someone, so you arrive 30 minutes early. That's the culture, it's different," he said.
What Military Jobs Transfer to Civilian Jobs?
Whether you decide to pursue a literal match to your enlisted job while searching for a civilian position, or if you want to branch out into something different, your training in the military has already given you skills that will benefit yourself and any future employer.
In addition to your military work-ethic characteristics, which Bell called "soft skills," there are also certain "hard skills" acquired in the military that can translate into civilian career success. For example, depending on your MOS (military officer specialty), you may have been trained in highly complex equipment like information technology, or as a sonar technician, machinist mate, and many more disciplines. This training and education can often be transferred to a similar field in the civilian arena.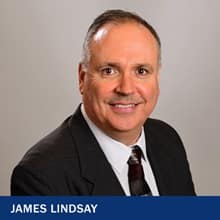 You can look for a precise lateral transition, if you enjoyed your MOS. "I worked with one student who found a construction management job that aligned with her Navy jobs," said James Lindsay, military employer relations partner at SNHU whose family's military service dates back to WWI. "She therefore went on and completed her degree in construction management."
Is a College Degree Important for Post-Military Job Searching?
Bell advises his students not to disregard the added asset of a degree to pair with their military experience on their resumes. "My biggest piece of advice is to have your degree before you're out of the military," he said. "Your 20, 30 years of service doesn't guarantee a job. I encourage every service member to finish their degree before they get out. You'll have the experience, job skills, certifications and credentials on advanced military technology, and other transferable skills. I'd rather be overqualified (with a degree). I look at job descriptions all day; they all want degrees, especially the more advanced careers."
There are several degree programs that service members pursue, Bell said. "Depending on their rank, the online MBA program is our (most common)," he said. "The largest program I would guess is a business degree."
Also popular are technology programs like a bachelor's in information technology. Service members will have a lot of certifications and get in the door, but to advance within an organization, you'll need that college degree, Bell said. "Check the job description for requirements; a lot of times you'll need a degree. For example, if you're looking to go into cybersecurity."
Military spouses often pursue psychology degrees or counseling programs, because of what they've seen in their experiences, Bell said. "Spouses bring logistical skills from the homemaker front, like scheduling, financial management, running support groups and clubs.... We don't discount that experience."
What Resources Are Available to Me to Find a Post-Military Job?
There are several private and federal programs established to assist you in finding related military experience jobs.
College advisor: Your college career advisor is a good place to start as you begin your civilian transition. They can help you create your resumé and cover letter, practice your interview skills and offer career guidance and development.
"Then the goal is to give them all the resources they need (to find a job)," Bell said. "For example, if you had IT experience in the service, we'll get you to look into internships in the civilian world and other things outside the degree you can do to advance your career."
O*NET: The Occupational Information Network (O*NET) is a database containing hundreds of standardized and occupation-specific descriptors on almost 1,000 occupations, developed under the sponsorship of the U.S. Department of Labor/Employment and Training Administration. "O*NET is huge for us," Bell said. "You can put in your military branch and occupation, interests, skills, etc., and this website will give you a related civilian occupation. Different job titles are given as examples. There's also job seeker assistance, resources and information."
USAJOBS: This website is the federal government's official employment site, part of the U.S. Office of Personnel Management (OPM). It connects job seekers with federal employment opportunities across the United States and around the world. Here you can input your military skill set and security clearances to find federal career opportunities. This site can also help you create a resumé that combines your military service with any civilian jobs you've also held.
Google: If you're trying to find the career best suited for the skills you've already developed, you can enter your military occupational specialty code into this Google tool. It helps to match your military experience to open civilian job positions that complement your skillsets. You can also review companies that are considered military-friendly employers.
Talent recruiters: There are many organizations that large employers use to help them find talent, and often specifically ex-military, Lindsay said. "There are (recruiting agencies) all over the country doing that, working with larger and some smaller employers. Many companies will transfer those in-service skills to their company. I try to identify enterprise companies with cross-country opportunities for my students."
Lindsay also encourages his students to check out companies like PeopleScout and their program, Veteran Talent Exchange.
Networking: Your military career is all about networking, teamwork and interdepartmental work. Remember as you transition to civilian life, those connections could lead to job opportunities.
"One thing I think is very important, is to take advantage of your network," Lindsay said. "It starts with your family and friends, and grows out to colleagues from past and current jobs. Always have a good quality LinkedIn profile updated, and have your elevator pitch memorized. You never know who you're going to bump into out there, and you need to be ready."
What Jobs Can I Get After the Military?
The best jobs after the military are really whatever speak to your interests and passions, and whichever direction you choose to pursue. For some, the easiest way to go through the transition to life as a civilian is to apply to government jobs. A college advisor like Bell or a military employer relations partner like Lindsay can help you find these opportunities.
Defense Contractor Jobs
Prior military experience is a big plus for defense contractors looking for workers. "They've always worked alongside (service members); they know what they're getting when they hire ex-military," Bell said. "They're like-minded people."
Defense contractor positions can include working for high-profile companies like BAE Systems, Raytheon, Pratt & Whitney and more.
Dept. of Homeland Security
The U.S. Government has many career avenues related to homeland security. "This is the area I refer (students to) the most," Bell said. Jobs include U.S. Border security, airport security, special investigators, and more.
From emergency management and law enforcement to intelligence analysis and infrastructure protection, homeland security jobs can be found on local, state and federal levels. Many positions within homeland security require a security clearance.
Logistics: A Wide-ranging Opportunity
In some cases, your service-honed skills translate to a broad variety of opportunities in jobs like the military, but not literally government jobs. Working for a company like firearms manufacturer Sig Sauer is one example. Working in the logistics arena is another.
Lindsay works with many companies searching for former service members for logistics positions – an area manager for Amazon, for example. "We're connecting students with employers, not specific jobs. But as long as you have experience and education, (a company like) Amazon is picking up a lot of ex-military. Logistics supply chain manager, that type of a role," he said.
Bell's department also partners with military contractors and subcontractors with a federal mandate to hire vets, he said. "We work with recruiters for large organizations like Verizon, Wells Fargo, Hilton… they all have a military component." Trained ex-military are seen as valuable candidates because they can run big logistics jobs with attention to detail and stringent, exacting requirements, such as managing huge warehouses for companies like Amazon.
Can I Join the FBI After the Military?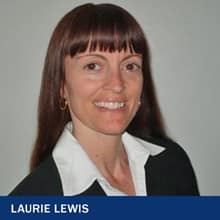 Yes, you can. "Any applicant for the Bureau would need to be eligible based on the requirements for the position, as well as pass the application steps and meet suitability requirements," said Laurie Lewis, early engagement partner in Career Advising at SNHU. The FBI has information on its website about veterans and military applicants that can be a great resource.
A transition to a federal job can be a natural pairing of employer needs and applicant skill set. "The skills, training and leadership our veterans have may indeed make them good candidates for the FBI," Lindsay said. "A position with the FBI will allow the veteran candidate to continue to protect and serve the nation, which I imagine is part of the reason they joined the service to begin with."
Your Civilian Career is in Your Hands
Former military personnel can often have an advantage over civilian applicants seeking the same job. "Who wouldn't want to have a veteran with all that training over a civilian?" Lindsay said. And if the company you're interested in is a government contractor or subcontractor and has an initiative or federal mandate to hire ex-service members, you're even more valuable.
The bottom line is, most employers know they're getting trained, diligent and reliable people when they come with a military background, Bell said. "There's a respected scope of responsibility in the military, a commitment to teamwork. Whether you're an officer or enlisted, the mentality is, it's not about me, it's about us."
Kathleen Palmer is an award-winning journalist and writer.
Explore more content like this article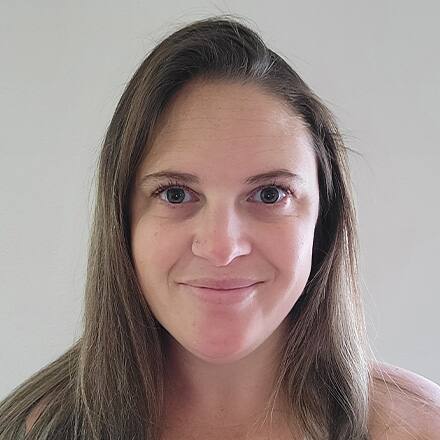 September 24, 2021
As a long-time military spouse with three children, Heather Poss has had little time to focus on herself and her aspirations. But, as her children get older and her family has been able to settle in Hawaii, she is ready to put her goals at the forefront.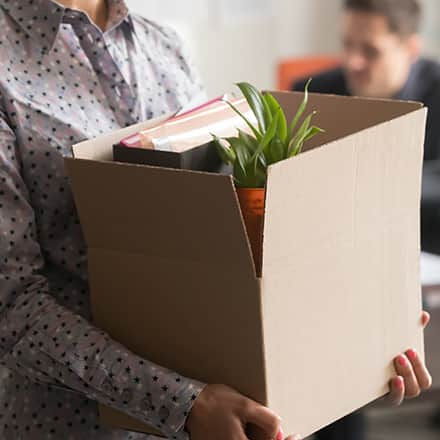 September 16, 2021
Deciding to leave a job is a tough decision. We spend roughly half of our waking hours each week at work. The time, energy – and often heart – we put into earning a living is considerable. Having a stable job is crucial. So, how can you know when it's time to leave?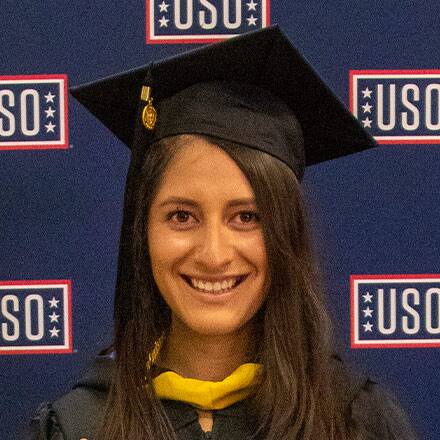 July 27, 2021
In Fort Shafter, Hawaii, Staff Sergeant Diana Tafoya Sanchez took her final steps toward her undergraduate degree. Working toward a bachelor's in business administration at SNHU while serving in the U.S. Army she celebrated her hard-earned success with a special diploma delivery.