Celebrating 2020 Graduates on Military Spouse Appreciation Day
Military spouses lead unique and often unpredictable lives. Many find themselves supporting a deployed spouse from a distance or moving to new states or countries as their service member receives new orders.
Given this lifestyle, attending a brick-and-mortar college is seldom possible, especially when they're also working or looking after children. At Southern New Hampshire University (SNHU), military spouses can take education with them wherever they go, allowing them to earn their degrees online in a way that works for them. Whether they're thinking about breaking into their field or advancing in their current one, a college degree can help.
This year, more than 2,000 military-affiliated learners finished their degrees at SNHU, and today, on Military Spouse Appreciation Day, we're celebrating the 2020 military spouse graduates who are now one step closer to achieving their goals.
Here are three stories of hard work, passion and dedication.
Leading by Example
Elizabeth Breha '17 '19G was the fifth military spouse to be awarded a scholarship to SNHU at an Operation Homefront Celebration. What started as a $5,000 scholarship soon expanded to cover her full-tuition as she finished her bachelor's in healthcare administration.
But she didn't stop there. A few years later, she completed her MS in Healthcare Administration.
By pursuing a college degree, Breha hoped to show her five children that no matter where the military or life takes them, a degree is a key to unlocking career opportunities. "School doesn't just end with having a family or being a part of the military," she said. "Education can continue if one allows it. I knew that by continuing my education, it would lead me to a successful future with my career field."
Military spouses sometimes have to set their personal goals aside to attend to the demands of their lifestyle, and Breha said returning to school is one way to keep pushing toward those dreams. Hers is to work in a hospital setting, helping to improve medical billing and insurance processes.
"I wanted to show my children that I was able to multitask – being a mother, military spouse and a college student all at once," she said. With the continuous support of her husband and people like Thomas Keville, a military academic advisor, and Heather McKillop, a military education benefit specialist, she did it twice.
Chasing Her Dream to Help Others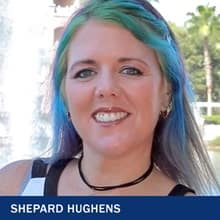 When Shepard Hughens '20 was in high school, she had a negative experience with a guidance counselor. From then on, she knew she wanted to work with other teenagers in need of support. After receiving a full-tuition scholarship from SNHU at an Operation Homefront event, she embarked on her MA in Clinical Mental Health Counseling, a degree that would help her live out her dream of becoming a therapist.
Set to complete her program in June, Hughens is immersed in the required internship component of her program, gaining real-world experience alongside professionals in the counseling field. "I'm a therapist for a range of ages, you know, all the way from age 7 to geriatric age," she said, working primarily with clients experiencing anxiety or depression.
This experience allows her to practice the theoretical approaches she's studied, including cognitive behavior therapy (CBT), mindfulness-based CBT and Adlerian therapy. "I kind of pull from a little bit of everything," she said. "I'm very person-centered."
Some of her assignments have asked her to playback counseling sessions, prompting her to self-reflect. "You watch over your video, and you look through the micro and meso skills (and) decide if you were able to employ those skills during that particular session," Hughens said. Her supervisors also review her performance, sharing their thoughts and suggestions for improvements.
She's gained more than in-person and telehealth counseling practice through the internship. When she expressed an interest in becoming a certified anxiety treatment professional, her supervisor was able to cover the course expenses. She was also invited to join the team as a full-time therapist once she finishes her degree. "My site is really wonderful," she said, and one of the owners is a military spouse like herself.
To fit this experience into her schedule, Hughens' family had to get creative. She said her husband really stepped up to support her through the internship, making the time commitment possible. "He's excited for me to finish my degree and start getting paid," Hughens said.
Beyond needing a master's degree to achieve her career goals, Hughens knows a diversified education is important for personal growth and development. "I've always been interested in knowledge and gaining as much as I can," she said. "... When you stop learning, you stop living."
Preparing for 'What-ifs'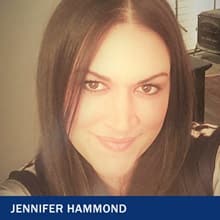 While Jennifer Hammond '20 was living in Alaska – her family's second duty station – she began thinking seriously about completing her college degree. As a military spouse, she often thinks about the "what-ifs."
"One day, I was thinking about what would happen if my husband never came home, as many of us spouses do when our soldier is gone," Hammond said. "How will I pay (the) mortgage? How will I raise and support all three of my kids alone?" Within 24 hours, she was accepted into SNHU's AS in Business Administration program and ready to start.
It wasn't always easy, but she was determined to see it through. "I found myself battling winters alone in Alaska through experiences I never thought I could endure," she said. "I had a third pregnancy, which was challenging, and countless nights of nursing a baby on one knee and typing papers on the other."
She was happy to find the online classroom easy to navigate and enjoyed the course selections, flexibility and support from her advisor.
Submitting her final assignment in April was a cause for celebration in the Hammond household. "To see how proud they are of me and knowing that I pushed through to the end and I did it with high honors was the greatest achievement in the world," Hammond said.
She's now looking to make a career move from data entry to human resources, a field she's had her eyes on for more than a decade. Finishing her degree also came as a comfort to Hammond, whose husband has been deployed since October. "Knowing you can support your family on your own if needed is the biggest weight taken off your shoulders," she said.
Rebecca LeBoeuf '18 is a staff writer at Southern New Hampshire University. Connect with her on LinkedIn.
Explore more content like this article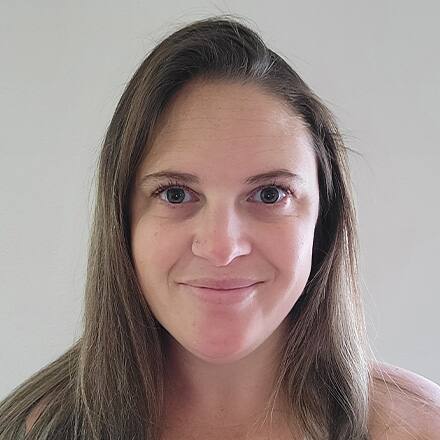 September 24, 2021
As a long-time military spouse with three children, Heather Poss has had little time to focus on herself and her aspirations. But, as her children get older and her family has been able to settle in Hawaii, she is ready to put her goals at the forefront.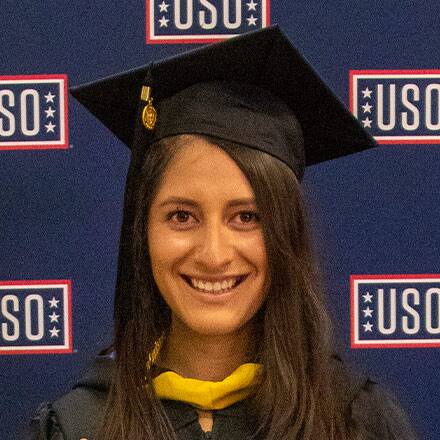 July 27, 2021
In Fort Shafter, Hawaii, Staff Sergeant Diana Tafoya Sanchez took her final steps toward her undergraduate degree. Working toward a bachelor's in business administration at SNHU while serving in the U.S. Army she celebrated her hard-earned success with a special diploma delivery.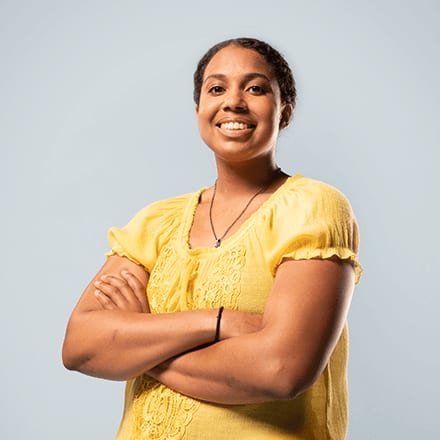 July 19, 2021
Even before she enlisted in the military, Bethanie Thomas knew she wanted to earn her degree. She even knew which field she wanted to study. The only thing missing was the right school.