What is a Technical Degree and Why is it Beneficial?
In all kinds of fields, from electronics to construction to manufacturing, technical and logistical knowledge is crucial for the job, but advancing to a management position often requires a technical degree. Such a degree can give you the credentials and know-how that businesses are looking for when they promote someone into a management track.
Getting an online bachelor's in technical management can help you make that jump without interrupting your career. You'll gain skills by taking courses in project management, principles of management and supply chain management along with core business programs. There are also technical degrees in technology fields, such as information technology, computer science and many more.
A technical degree program might be the way to win a big promotion or find a position at a different firm that lets you take on a leadership role.
Benefit #1 – Help Lead Your Company
The benefits of seeking a management position are clear. The U.S. Bureau of Labor Statistics finds that construction managers, who typically need to have a bachelor's degree, earned a median salary of around $95,000 in 2019. The equivalent position in manufacturing pays about $105,000, according to BLS.
Beyond the financial rewards, becoming a manager means having the power to help influence your company's operations and make sure processes go smoothly for employees and customers alike. The technical degree program will teach you skills such as planning a major project's costs, scheduling, logistics and risks, and shepherding it through from start to finish. Courses cover ways to optimize resource usage, keep expenses down and troubleshoot issues that may arise. You'll also learn Six Sigma methodology, which is in demand at many businesses of all sizes.
Benefit #2 – Prepare for the Jobs of the Future
In an increasingly global economy, it's no longer enough for businesses to do the same things they've always done. Manufacturers must update their technology and supply chain practices to compete with firms in China and India – not to mention the firm next door that's introducing new practices all the time. Construction companies are creating new divisions to install solar panels and maximize building efficiency to meet customer demand for green buildings. A whole new industry is emerging to harness wind energy and reduce our dependence on coal and oil.
Technical professionals who understand the complicated questions that come out of these changes are poised to find exciting new work to do. There's enormous demand for employees ready to take on leadership roles.
For example, one survey by the Associated General Contractors of America found that 52% of contractor firms were having trouble filling salaried positions, particularly for supervisors and project managers. Managers with technical degrees, who understand the challenges of becoming leaner, managing budgets for growth or entering a whole new market, are a valuable asset.
A bachelor's in technical management can provide you with the skills you'll need to handle these big-picture issues and apply them in real time at your own company.
Benefit #3 – Build Critical Management Skills
You need more than technical skills if you want to take on leadership roles or executive positions on the business side of your organization. Among the areas covered in an online technical management degree program are:
Accounting and finance: Keeping financial records is important both for optimizing internal processes and for providing necessary documentation to outside parties. Understanding smart strategies for making investments and managing money can mean the difference between success and failure for any project.
Human resources: Managers need to know how to build effective teams, motivate workers, and communicate within and across departments. Effective companies keep employees engaged and productive without creating undue stress.
Project management: Going from an idea to a completed project demands step-by-step planning, monitoring, and attention to detail. You'll learn how this process works, including the use of technical tools to keep everything flowing smoothly.
Marketing and service operations: From market research and pricing to effective front-office procedures, these courses will help you work with clients and customers to provide high-quality service and keep new business coming in.
Information technology: You'll learn how to manage computer systems that can improve efficiency in a modern business environment, including becoming familiar with various spreadsheet and database management tools. You'll also have the opportunity to branch out into linear programming and learn commonly used techniques that apply digital tools to project management.
Six Sigma quality management: Popularized in the U.S. when Jack Welch used it to improve operations at GE in the 1990s, Six Sigma is a proven methodology for gathering data and using it to maximize efficiency and raise quality in any industry. You'll learn the "Define-Measure-Analyze-Improve-Control" (DMAIC) methodology and see how methods to identify areas for improvement can help make your company function better.
Make Your Own Schedule
An online program means you can get your work done in the evenings, on your day off or whenever it makes sense for you. By remaining at work while pursuing your education, you'll be positioned to apply for jobs at your company, or elsewhere, that demand a bachelor's degree. Meanwhile, you'll be able to show what you know by applying your new understanding of Six Sigma or project management software on the job.
If you've always wanted to expand your skills in the technical realm and become a company leader, this could be the time to make the move. Having a strong grasp of management skills can open the door to salary increases and also provides the chance to guide a company toward greater success in an increasingly complex market.
Susan Bogle is a marketing and student recruitment specialist in higher education. Follow her on Twitter @Suze1776 or connect on LinkedIn.
Explore more content like this article
August 19, 2021
If you're wondering how to become a computer programmer, the field requires academic knowledge, a passion for math and engineering, adaptability and hands-on experience.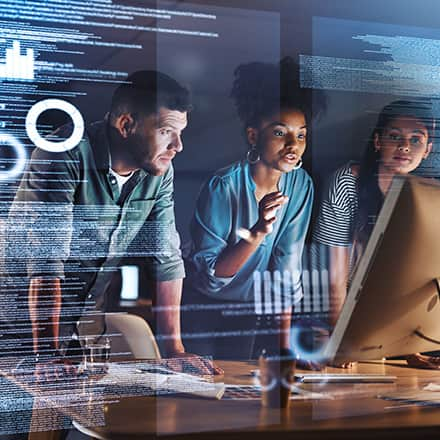 August 11, 2021
With a computer science degree, you can embark on a career with dozens of potential job roles suited to your interests. You can use the knowledge you develop earning your degree to work in technology, manufacturing and more.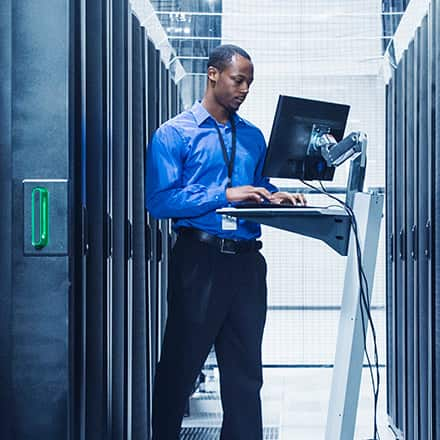 July 20, 2021
The field of cyber security is about leveraging top-notch problem-solving skills with technical aptitude to keep people and data safe. Despite being relatively new, the field of cyber security is here to stay.