How a Military Spouse and Veteran Helps Students Succeed at SNHU
Education is an integral part of military veteran Kendra Thomas's life. It's helped steer her career path, opening doors that she might never have discovered otherwise. As a military spouse and parent, Thomas has also faced the inherent challenges that come with deployments and cross-country moves in her pursuit of higher education. In her role as a business development specialist with SNHU Career, she draws on her own experiences to help Southern New Hampshire University students succeed in reaching their career goals - particularly military-affiliated students.
Throughout the years, beginning when she served in the U.S. Army, Thomas earned her Associate in Applied Science in Computer Information Systems, her Bachelor of Science in Information Technology with a concentration in Web Development and her Master of Business Administration. At present she's working on her Doctorate of Education, focused in Educational Leadership and Management.
Thomas said that education has changed her life - and those around her as well. "I came from very humble beginnings, where expectations of success weren't that high," she said. "I have been able to motivate and inspire younger and older family members and friends with my success."
While Thomas did not have a clear idea of what her career path might entail down the road, she knew she needed an education to succeed long term. With eight moves in a 13-year time span, she understood the importance of having long-term goals and working toward achieving them. She especially appreciates the flexibility that SNHU is able to provide its students, particularly its military students. "To have a school that understands how necessary it is to have flexibility, SNHU does this effortlessly while still providing quality education," Thomas said. "What sets them apart is the level of support they provide to each and every servicemember and their families."
As a veteran and military spouse, she said, "Military support is everything to me." Knowing that SNHU's military-affiliated students are connecting with advisors (during admission, throughout their program and through SNHU Career) who understand that lifestyle really makes a difference, she said. Each of these advisors is former military or military affiliated, so they really know what these students are going through - and what they need to succeed.
"From an academic standpoint, our faculty also understand these unique needs, so our students feel fully supported throughout their education," said Thomas. "The support is continued after graduation with their military career advisor."
Whether it's helping transitioning servicemembers turn the many skills and accomplishments earned while serving into civilian-friendly language, advising military spouses on the best approaches to employment throughout multiple moves or assisting active-duty military servicemembers, SNHU Career has the breadth of experience and access to opportunity and information geared specifically to military-affiliated circumstances and challenges.
As a business development specialist, Thomas is responsible for finding military-friendly employers who want to not only hire SNHU students and alumni, but also partner to develop internships, training and support services to better develop servicemembers and their families.
"I love the challenge and meeting with employers who recognize how amazing our military-affiliated students and family members are," said Thomas. "As a military spouse, I know what it's like to apply for jobs, and even be turned away from some because my resume did not show staying power." She especially loves that she is able to be an advocate for military spouses and to say with confidence that military spouses "will give you 110% of ourselves if you give us a chance to show you just how great we are."
If there's one thing Thomas wished she could tell military spouses, it's this: "You can land great roles, even though you may need to move often. There are steps you will need to take, but it is possible to land great opportunities in both large and small towns. Your education will help you get there. Use your transferrable skills to get your foot in the door."
As a military spouse who has moved many times, Thomas encourages others to use all of the resources available. "If childcare is an issue, do what I did and reach out to the childcare network in your area. Let them know what your needs are." Since Thomas and her husband did not have family or friends available in many areas they lived to assist with childcare, she located the childcare network to find babysitters who could watch their children hourly while she went on interviews. She said that military spouses could also see if assistance for hourly care is offered on base.
Thomas is an advocate of taking the time to really think about what one wants in life. "Write out a list, and take the necessary steps to get there," she said. "If you want to be the CEO of a company one day, you must first take ownership and be the CEO of your own life first. Meaning, you must set realistic goals on how you are going to get there. SNHU Career can help with that."
For servicemembers and military spouses, Thomas said that when you use the transferrable skills gained while serving and/or supporting a spouse, and add education to the equation, you are a force to be reckoned with - and SNHU Career can help you identify where and how to use that mighty force to create the best opportunities to meet your career goals.
Explore more content like this article
Clinical Mental Health Counseling Faculty Dr. Eric Jett: A Faculty Q&A
January 24, 2020
Dr. Eric Jett didn't enjoy academics and when he found a passion for mental health counseling in college, thought he would spend his career helping his clients. Now he finds himself working in higher education helping to train the next generation of clinical mental health counselors at SNHU.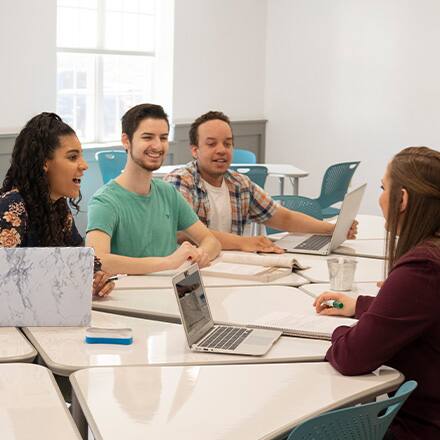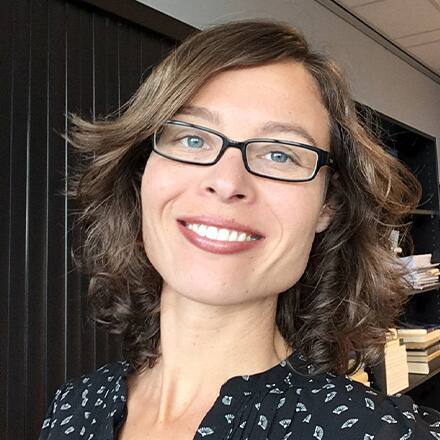 Philosophy Professor Dr. Kiki Berk: A Faculty Q&A
January 17, 2020
Dr. Kiki Berk has spent her career studying philosophy and traveling the world presenting at academic conferences. We asked the associate professor of philosophy at SNHU to share her thoughts on teaching, the importance of education and more as part of our Faculty Spotlight series.