Campus-Based Learning for Military Veterans
If you're a military veteran, Southern New Hampshire University will honor your experience and help you save money as you continue your education. Admission, financial aid and benefit resources are just the beginning. As a proud military supporter, SNHU will also help you connect with your peers to ensure success in your academic career.
Getting Started
From day 1, we keep the application process as simple as possible. When you apply to the campus program in Manchester, NH, you'll be assigned an admission specialist who's trained to meet your needs as a military veteran.
Complete the following steps:

Send an attestation form (required for all applicants). Or an official high school transcript or equivalency (if less than with 12 completed credits were earned).
Initiate a request for official college transcripts from every institution attended.
Initiate a request for joint services transcript. (Please note: Air Force Veterans should initiate a request for official college transcripts for the Community College of the Air Force rather than a JST)

Submit documents to:
Southern New Hampshire University
ATTN: Enrollment Support Services
33 South Commercial Street
Manchester, NH 03101-2626
Applying for Federal Financial Aid
Southern New Hampshire University encourages you to file a Free Application for Federal Student Aid (FAFSA) to determine eligibility for federal, state, and institutional aid programs. You may be eligible for financial assistance that includes grant money and/or work-study funds.

FAFSA Priority deadline:

Fall: May 15th
Spring: November 15th

SNHU School Code: 002580
Veteran's education benefits are excluded from the definition of estimated financial assistance when determining federal financial aid eligibility.

There are several need-based and non-need based federal, state, local, private, and institutional financial assistance programs available to SNHU students. Learn more about Federal, State, Grants, and Scholarship, Federal Work-Study, and Student Loans.
To understand your student aid rights and responsibilities, awarding of aid, reporting additional financial awards, over-awards, financial aid shopping sheet, verification, secondary confirmation, enrollment requirements, disbursement, use, credit balances/refunds, penalties for drug law violations, aid duration and renewal process, please review Financial Aid Terms and Conditions.
You should review the 'Financial Assistance Information' outlined in our consumer information for additional information.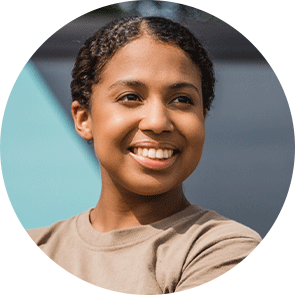 What SNHU Students are Saying
Bethanie Thomas
"They have a line specifically for military members; Right away, you feel a lot more comfortable... Just speaking to somebody who can relate with you."
Veteran Benefits & Resources
As a veteran, you're eligible for valuable education benefits that provide financial assistance for your degree program. In addition, you'll have a team behind you to answer questions, identify ways to save and help support you every step of the way.
To learn more about how you can maximize your benefits, visit our Military Benefits and Discounts page.
We believe in honoring your service. That's why we're here to help you maximize your VA benefits. Veterans must enroll in four courses per 16-week semester to qualify for full-time VA benefits. Per the VA's certification regulations, a non-matriculated student cannot be certified for educational benefits after two terms of attendance.
SNHU is proud to participate in the Yellow Ribbon Program, a provision of the new Post-9/11 GI Bill® that is meant to bridge the gap between these benefits and SNHU's on campus tuition and fees. Veterans who have served on Active Duty since Sept. 11, 2001 and are attending school on campus or online are eligible to apply for this program.
For more information, visit U.S. Department of Veterans Affairs.
Student Experience
Air Force ROTC Program at SNHU
Work toward earning placement as an officer in the U.S. Air Force when you enlist in the Air Force ROTC program at Southern New Hampshire University. Join other students who have the same drive and discipline to earn their college degree while developing the leadership skills the military requires. Learn from world-class military faculty, who'll challenge you both academically and physically. Plus, our ROTC program is an excellent way to help pay for your college education – as well as secure a managerial position upon graduation from SNHU.
SNHU's Army ROTC Cadet Cadre offers students challenging and exciting training and leadership opportunities. When you participate in the ROTC program, you will build on your education at SNHU with formal classroom instruction, physical fitness and field and leadership training. Students who graduate from SNHU's Army ROTC program will be well-prepared to start their career in the armed services as a 2nd lieutenant.
In addition to educational opportunities, ROTC cadets become motivated leaders who are eligible for two- to four-year scholarships and all cadets receive a book allowance each semester. ROTC cadets receive a monthly stipend for their participation when they enroll in their junior and senior years. Students will be commissioned as a 2d Lieutenant on reserve or active duty when they successfully complete the program.
DeColfmacker Veterans Lounge
SNHU is proud of its student veterans and has worked with them directly, along with Veterans Affairs and organizations in the Manchester community, to create The DeColfmacker Veterans Lounge. Located on our main Manchester campus, the lounge is a resource where veterans and service members can meet, study and relax. The lounge has room to study and socialize, with a television, movies, video games and complimentary coffee and soda.
The Veterans Lounge is also a resource for benefits and services available to student veterans at SNHU. Representatives from the Career Development Center and a Military Academic Advisor have regularly scheduled office hours in the Lounge.
GI Bill® is a registered trademark of the U.S. Department of Veterans Affairs (VA). More information about education benefits offered by the VA is available at the official U.S. government website.