National Nurses Week
SNHU celebrated its nearly 3,000 nursing students along with a group of professional nurses on Monday, May 9, at Fisher Cats Stadium as part of National Nurses Week (May 6-12, 2016).
Bonnie Fecowicz, a full-time working nurse and student in SNHU's Online MSN program, pulled on a purple latex glove before she took to the field Monday evening to throw out the ceremonial first pitch. Fecowicz has become a symbol of SNHU's nursing program as a full-time working nurse, mother and an online student in the BSN and MSN programs.
"At Southern New Hampshire University the quality of the program has allowed me to advance my career into more diverse roles as a director of nursing," Fecowicz said. "I use everything I learn every day in my position."
A group of nurses and nursing students enjoyed the game from a box at Fisher Cat Stadium after Fecowicz's very "sterile" first pitch.
SNHU also organized a nurse appreciation event at St. Joseph Hospital in Nashua, NH. Two enormous chalkboards were placed in the hospital lobby and nurses were asked to write why they chose to be a nurse.
"Everyone deserves to be taken care of like family," one nurse wrote. "I wanted to make a difference," said another.
Others were asked to say why they appreciated nurses. "They helped me through my chemo," one person wrote. Another said, "They cared for my grandma like she was family."
While the appreciative comments were abundant, the nurses' chalkboard had significantly fewer comments - we can only assume they were too busy helping their patients to do much writing.
Rooted in traditional academic systems, SNHU's nursing programs bring the same academic traditions of quality and integrity to the online environment. Designed by working nurses for nurses, the Bachelor of Science and Master of Science programs are accredited by the Commission on Collegiate Nursing Education.
If you're ready to begin - or advance - your career in nursing, learn more about online nursing programs.
Explore more content like this article
SNHU in the Southeast: Celebrating Students, Building Community
June 17, 2019
Not a single fish tale was told when Southern New Hampshire University celebrated more than 200 students and alumni on Saturday at Atlanta's Georgia Aquarium. Yet the Oceans Ballroom was awash in personal stories of incredible feats by those special guests.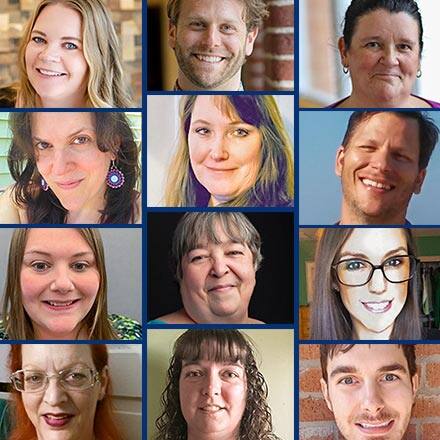 8 Benefits of Being a Student Advisory Board Member
June 13, 2019
Hailing from states near and far, including Massachusetts, Arizona and Colorado, eight Student Advisory Board members spent a long weekend in New Hampshire for their 2019 retreat. During their busy weekend, they reflected on the benefits of being involved in the SAB.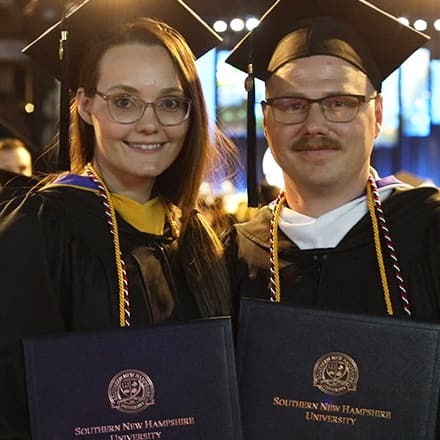 Military Couple Earns Degrees Despite Deployment, Graduates Together
June 11, 2019
Parker and Jessica Bryant had only just enrolled at Southern New Hampshire University when they learned about Parker's deployment. Though the military couple was about to undergo a significant transition, they were determined to continue their degrees together.