Bridal Bliss
As the founder of Brides Across America, Heidi Janson '86 helps military brides achieve their fairy tale wedding. In 2008, Heidi Janson's life took an unexpected turn.
That year, Janson read a powerful news article on the National Public Radio website about U.S. soldiers serving in Afghanistan, a thought-provoking piece at a time when much of the nation's attention centered on U.S. military involvement in Iraq. In the story, an Afghanistan-based U.S. soldier lamented that he felt forgotten, a sentiment that hit Janson particularly hard.
"Here we are, living day-to-day in the U.S. and rarely giving a thought to what's happening beyond our front doors," Janson said. "I wanted to know what I could do to make a difference beyond simply sending a care package."
In quick time, Janson found the solution in her lifelong passion.
From her 500-square foot bridal boutique, the Bridal Stock Exchange in Seabrook, NH, Janson hosted a special event distributing free wedding gowns to fiancées of U.S. soldiers serving overseas. Over two days, Janson distributed nearly 60 dresses, inventory she corralled from industry allies - fellow retailers, designers and distributors alike.
Janson's first bride-to-be that day was a 19-year-old who flashed a photo of her fiancé serving in Iraq. At a time in this young woman's life packed with its share of loneliness and worry, anguish and unease, Janson's spirited event provided a necessary dose of energy and optimism.
"The wedding was something she could look forward to," Janson said. "Knowing that day would come gave her hope."
Eight years later, Janson's spontaneous bridal dress giveaway event has evolved into a national movement that has outfitted more than 15,000 military brides in designer wedding gowns. Janson, meanwhile, has visited the White House alongside other heralded U.S. charities helping military families, been featured in People Magazine, appeared on the nationally syndicated "Steve Harvey" show, and had her nonprofit organization, Brides Across America, profiled in an HGTV documentary.
"A lot of heart, sweat and tears have gone into building Brides Across America into something much greater than me," said Janson. "And I'm proud to say that this organization keeps chugging along and fulfilling its mission."
Every year, Brides Across America hosts events in about 75 participating bridal salons across the country. Military brides register online, and qualifying women can visit a participating store and select a Brides Across America dress for free. Upwards of 1,500 dresses are given away each year.
"And the numbers continue growing year after year," Janson said.
That growth, Janson admits, has been challenging to manage, especially as she balances her Brides Across America work - efforts for which she has never taken a paycheck - with running Tulle Bridal, the Andover, MA-based bridal boutique she opened in 2008.
"They're both locomotives at this point," Janson said of her retail store and her nonprofit enterprise. "I'd love it if I could duplicate myself."
Given the competitive donor climate, Janson said she must constantly recreate and brand Brides Across America to secure funding, a reality that forces her, a self-described wallflower, to step out and champion her organization's cause.
"Our purpose is always top of mind," said Janson, who leans heavily on her SNHU marketing degree to elevate Brides Across America. She calls branding and communications central to developing a cohesive, strong organization.
"Without this outlook and creativity, it's tough to get a business off the ground," said Janson, who also credits SNHU's study abroad program - she spent a semester in London during her junior year - with helping her establish a more global worldview, transcending her New England roots.
And so, Janson preaches steadfast financial vigilance. She carefully studies how her organization spends its capital and deploys its resources. In 2012, Brides Across America took an important step when it earned 501(c)(3) status, the federal government's nonprofit designation that provided Brides Across America an important shot of "legitimacy and credibility."
"Up until that point, we were very grassroots," Janson said. "The office was the sunroom of my home and I was sitting and answering e-mails until midnight."
Today, from the Brides Across America office inside Tulle Bridal, a space filled with wedding gowns, shipping boxes and passionate energy, Janson calls the organization the best thing she has ever done and credits the charity for helping her overcome personal struggles, including having two children with chronic illnesses. She's now focused on broadening the nonprofit's reach to include first responders. She's eager to deepen partnerships with like-minded organizations that can amplify Brides Across America's impact.
This May, for instance, Brides Across America will participate in NASCAR's military appreciation event in North Carolina, hosting a fundraising dinner featuring a pop-up wedding officiated by NASCAR standout Kyle Busch.
"Brides Across America has become my life's work and proven immensely rewarding," Janson said. "When you start seeing the transformation in brides and the hope you're giving, it's inspiring. We're giving them their dream come true and a moment in life they will always remember."
Janson has seen it firsthand hundreds of times throughout the years and grown personally attached to couples like Hugo and Ani from Florida.
After a terrorist attack in Iraq left Hugo legally blind, Ani remained an encouraging presence at Hugo's side throughout his lengthy recovery. Hugo wrote Janson about Ani's loyalty and love and how he dreamed of marrying her in front of her family in the Dominican Republic. When the couple married in 2011, Ani donned a designer wedding gown supplied by Brides Across America.
"We helped create the fairy tale," Janson said. "The smiles, the happiness, the love you see in stories like [Hugo and Ani's], that's what drives this mission."
Explore more content like this article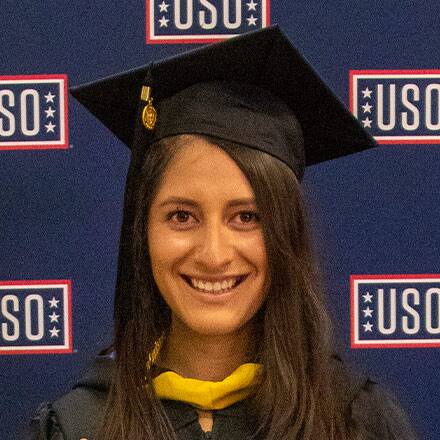 July 27, 2021
In Fort Shafter, Hawaii, Staff Sergeant Diana Tafoya Sanchez took her final steps toward her undergraduate degree. Working toward a bachelor's in business administration at SNHU while serving in the U.S. Army she celebrated her hard-earned success with a special diploma delivery.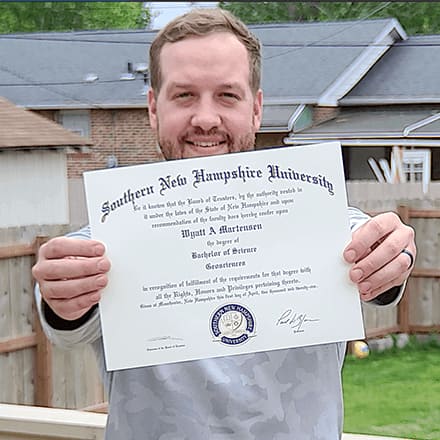 July 15, 2021
When your chief warrant officer asks you to do something with him, you're most likely going to do it. That's how Wyatt Martensen '21 tells the story of how he ended up returning to school to earn his bachelor's degree online.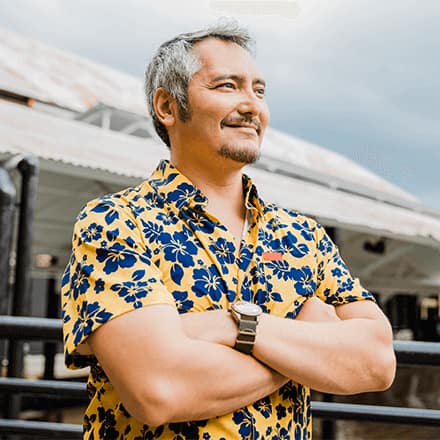 July 12, 2021
Armed with prior college credits but no degree, Derald Wise '14 '18G wanted to make meaningful connections as he finished his education. Like many military-affiliated students, he also knew he needed an online degree program that was flexible.