MLS Goals Equals USO Donations
A unique program put on by Major League Soccer and Southern New Hampshire University raised $190,000 around the July Fourth holiday for the USO.
Operation: Back of the Net, now in its third year, raised the money through a combination of donations by SNHU and social engagement by MLS fans. SNHU donated $3,000 for each goal scored in the thirteen MLS games hosted by U.S. teams from June 30 through July 5 and an additional $1 each time someone retweeted or engaged with specific MLS content or teams on social media.
"The MLS is in their prime of the season right now so it's a great time around the Fourth of July to remember the sacrifices service members have made to our country," said Steve Thiel, senior director of strategic partnerships for SNHU. "Really it was a natural fit between the three partners."
SNHU is the Official Education Partner of MLS and the Worldwide Education Partner for the USO. The money raised this year, totaling $190,000, brings the money donated to the USO through Operation: Back of the Net to $479,000.
A new addition to the program this year included full-tuition scholarships to six military-affiliated fans. One scholarship each was given out at MLS games in New England, Seattle, Houston, Dallas, Denver and Los Angeles. Three of the six scholarships were given to military spouses, which aligns well with the USO's current spotlight on the military spouse community. The USO's Salute to Military Spouses campaign kicked off in May and will culminate in November and aims to raise public awareness of the challenges and contributions of often-unheralded military spouse.
One of those scholarship recipients, Taryn Fairchild, was awarded her scholarship during halftime of the New England Revolution's game against D.C. United on June 30 - an experience she called "over the top." She said she learned she had been chosen while driving by herself to a friend's home and had a chance to appreciate the fact that after years of supporting her family during her husband's military service she's finally doing something for herself.
"I was just out in the country. I was kind of neat that way," Fairchild said. "I'm owning all of this myself, so it was kind of a neat beginning to something new in my life."
Fairchild said she and her husband have long planned to do service trips around the world when he retires. She plans to study business administration with a concentration in nonprofit management to help bolster those efforts.
"I feel like I'll be a more equal companion with my husband," she said. "He has a lot to offer the world. It's my turn. This feels like winning a lottery, but in a more meaningful way."
Sylvia Willis, who was given her scholarship during halftime of the Seattle Sounders vs. the Portland Timbers, said the experience made her feel like an "MVP."
"That was a pretty amazing experience, and what made it so special is (my) family was able to participate in all of it," she said.
Willis, a military veteran, was a registered occupational therapist in Germany where her husband was stationed when he was transferred to a Washington base.
She was devastated to learn her certification did not apply in the United States and she would have to start from scratch.
"That it didn't transfer was a pretty big blow for me ... My schooling didn't count for anything," Willis said.
Now she's taking advantage of the scholarship to also change career tracks and plans to study accounting and wants to eventually become a Certified Public Accountant. "I kind of needed that acceptance," she said of the scholarship. "I needed something like this."
Thiel said the addition of the full-tuition scholarships strengthens the program's educational impact. Honoring the scholarship recipients on the field also gives soccer fans an opportunity to appreciate both ways MLS is giving back to community members and the recipients themselves. "It's a great platform for fans to acknowledge those in the community."
Chad Hartman, vice president of development for the USO, said donations help the organization fulfill its 77-year-old mission to strengthen service members by keeping them connected to family, home and country. The money from Operation: Back of the Net is earmarked for the USO's Pathfinder Program, which helps service members transition to civilian life after retiring from the military.
"Honoring our service members and trying to keep them connected to the things that are most important to them ... is a core mission of the USO," Hartman said. "These relationships have made it possible for the USO to continue to deliver on its mission over the past 77 years. We want to take this time to honor our service members and their families."
The Pathfinder Program is available to the estimated 200,000 members who transition each year, according to the USO. The program helps service members learn about any benefits they are due from the Department of Veterans Affairs, helps find employment or educational opportunities and more.
Hartman said the partnership also benefits the USO by raising its profile among a younger audience, something that can be challenging for an older organization.
"It's hard to stay relevant. Working with our partners helps bring relevancy to (the) USO and a younger audience that we hope to grow," he said.
Haley Eklund, manager of partnership marketing for Major League Soccer, said the program is ideal because it's a good way for MLS and SNHU to demonstrate their commitment to the military and its service members.
"It's an awesome program because it's something MLS is really passionate about and SNHU is really passionate about as well," she said. "We feel it's something that's really important and we want to continue to assist SNHU with."
Other military service members and family members who received scholarships as part of the Operation: Back of the Net program this year include:
Rusty Davis - Active U.S. Army Guard Reservist
Michaelangelo Hermoso - U.S. Army Reservist
Kelly Koschmeder - Spouse of U.S. Army soldier
Gina Cheek - Spouse of U.S. Coast Guard member
Joe Cote is a staff writer at Southern New Hampshire University. Follow him on Twitter @JoeCo2323.
Explore more content like this article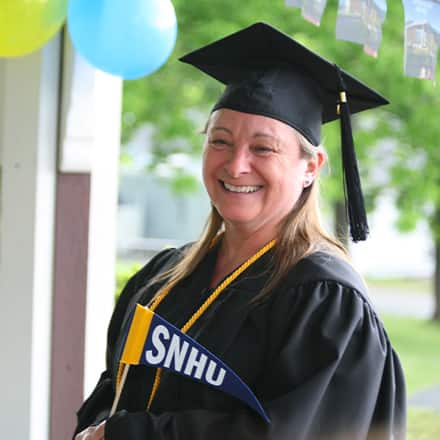 A Special Diploma Delivery for New Hampshire Grad
August 03, 2020
When SNHU's Commencement was postponed, Dr. Gwen Britton decided she would arrange a special ceremony for her longtime friend who had earned her bachelor's in information technology.