Bite Sized Learning

Idea in brief:
Adult learners with different learning styles haven't always had their needs met by traditional L&D programs. Bite-sized learning, or microlearning, may be the key.
How can learning and development programs (L&D) quickly and efficiently deliver training to a diverse group of employees with different learning styles?
Traditional classroom training, workshops and eLearning courses are aimed at a wide audience. They often require individual learners to adapt to the content, rather than adapting the training to the individual.
Traditional classroom training is a challenge, because L&D strategy isn't just about delivering content. In forward-thinking companies, L&D creates a culture of continuous learning.
This is where bite-sized learning formats can help. Bite-sized learning, also called microlearning, is short, highly focused content based on a single topic or problem. Each unit should have a single learning objective and contain just the information necessary for the learner to achieve that objective.
That makes bite-sized learning more suitable to the different learning styles of adult learners.
Plus, it's more aligned with what employees actually want out of their company's L&D programs. In a survey by consulting firm Software Advice, 58% of respondents would be more likely to use their company's LMS if the lessons were shorter.
Accounting for different learners with microlearning
Adult learners require different educational strategies. Adults — particularly working adults who are more likely to be developing skills to advance their careers — are most interested in learning that has immediate relevance.
Adults learn best when they're given an experience-driven and problem-centered curriculum. Essentially, adult learners want to learn the exact information they need at the time they need it, rather than sitting through (and paying little attention to) hours of training that they don't feel is relevant to them.
Bite-sized learning enables students to access training in a way that feels comfortable to their different learning styles, whether that's watching a 2-minute how-to video, reading a short article or completing an exercise.
How bite-sized learning creates a culture of continuous learning
Microlearning weaves training into the fabric of a worker's day, rather than isolating it. This makes the training more relevant to the worker's job, meaning the worker will be both more likely to remember and more willing to take the time to learn the concept.
It also makes it easier to refresh a learner's understanding of a concept they may have forgotten without having to search through an entire training module for a single section.
This type of content delivery is enabled by the proliferation of mobile devices, where learners can access training from anywhere, at any time. It's now possible for employees to review the essentials of project management on the bus to work, to watch a video on planning good meeting agendas while planning a meeting and to complete a resource budgeting practice after putting the kids to bed.
Because learning can happen anywhere — not just in the classroom — continuous development can become routine.
Developing a culture of learning is one reason the goal of HP's new L&D platform was to facilitate learning, rather than dictate it. The platform combines content from internal subject-matter experts and external courses from Lynda.com, letting learners throughout the company get just-in-time learning they need to do their jobs, along with developing skills to advance their careers.
Microlearning and the future of L&D programs
Bite-sized content isn't just useful for short and simple concepts. Microlearning helps learners flesh out their understanding of more complex subjects by introducing them slowly to smaller pieces of content that build on each other.
In fact, spacing out learning over time has been shown to help learners grasp a new subject more quickly and retain more of what they learn.
Adding microlearning alongside traditional training and eLearning courses helps engage learners with different learning styles, while fitting more flexibly to the schedules of today's workers and cultivating a mindset of continuous learning.
Looking for highly relevant and adaptable learning solutions for your employees? Get in touch with our Workforce Partnerships team.
Explore more content like this article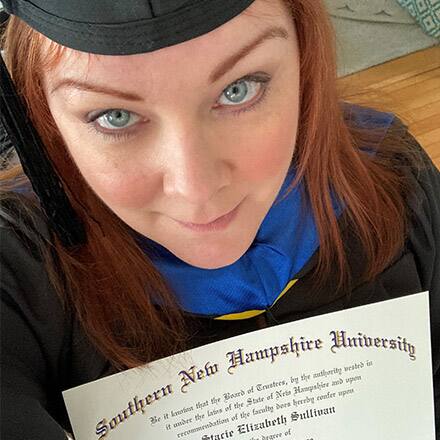 September 08, 2020
For years, Stacie Sullivan '19 felt stuck in her career, sensing her opportunities to advance were limited. After a series of challenging life events, Sullivan enrolled in the BS in Health Information Management program at SNHU.
July 01, 2020
Just a year after she decided to go back to school, Shereka Johnson-Bean '20 is preparing to submit the final project for her bachelor's degree.
June 12, 2020
Shannon Griffin's first job was as a crew member at a McDonald's restaurant. She's still working at McDonald's, but her role is a whole lot different thanks to her hard work and the degrees from SNHU.